June 16/21 17:41 pm - Fighting Blindness Canada's Cycle for Sight Virtual Event

Posted by Editoress on 06/16/21

On Saturday, June 19th, Fighting Blindness Canada's anticipated Cycle for Sight event will once again be going virtual across Canada!

This virtual event is fully inclusive. Participants of all ages and abilities are encouraged to get active by doing their favourite physical activity, including cycling, running, walking, yoga and more, either indoors or outdoors, provided local regulations are respected.

The COVID-19 pandemic across Canada has increased challenges for mental health. Exercise of any kind is a good strategy to maintain your health. Vision loss is a leading cause of mental illness for over 8 million Canadians living with a blinding eye disease that can lead to blindness.

Members of Canada's current and past Paralympic teams will be part of Cycle for Sight, participating and cheering everyone on:

• Lowell Taylor, Parapan Silver Medalist, Paralympic 2020 hopeful and Amazing Race Canada season 4 contestant
• Victoria Nolan, Paralympic bronze medalist in rowing and 2020 Paralympian
• Jessica Tuomela, 3x Paralympic Games in swimming, 2020 Paralympic hopeful in triathlon
• Donovan Tildesley, 5x Paralympic medalist in swimming and 2008 Paralympic flagbearer
• Maya Jonas, Paralympic athlete and Canada Winter Games silver and bronze medalist in Nordic skiing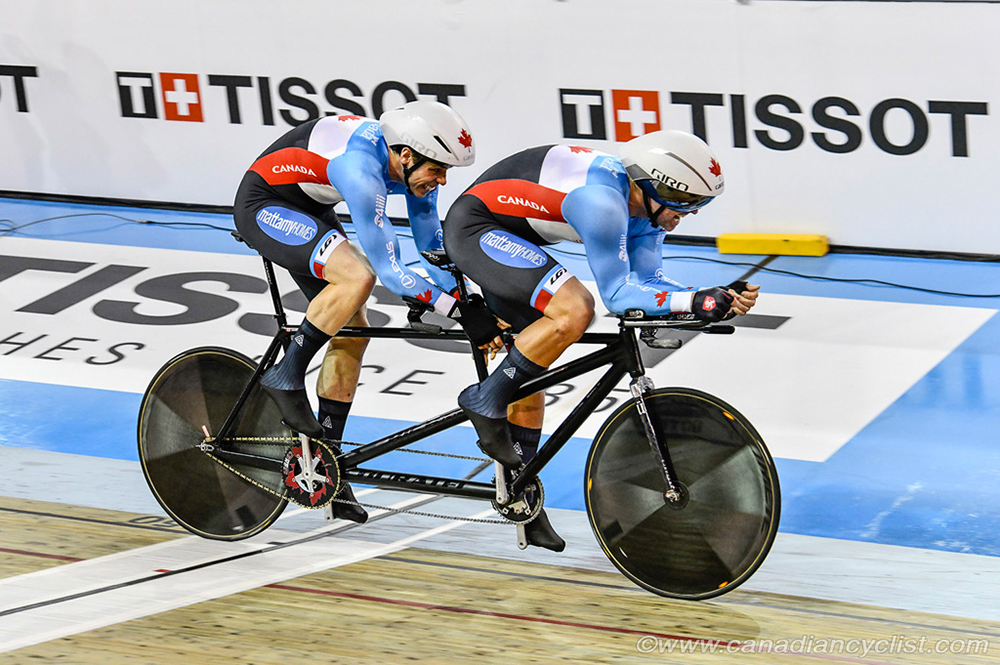 Lowell Taylor with Ed Veal competing at Para World Championships
"We're thrilled to have support from visually-impaired Paralympic athletes this year," says Doug Earle, President & CEO of Fighting Blindness Canada. "And we're looking forward to hundreds of people moving with us across the country on June 19th. Funds raised through Cycle for Sight play an integral role in supporting Canadian vision research and this year we are expecting our amazing community to raise more than $425,000."

Cycle for Sight Date: Saturday, June 19, 2021
Virtual Kick-Off: anytime that morning.
Virtual Finish Line Celebrations: starting at 1 p.m. Pacific; 2 p.m. Mountain; 3 p.m. Central; 4 p.m. Eastern; 5 p.m. Atlantic; and 5:30 p.m. Newfoundland time.

Choice of activities: Participants are encouraged to join the active fun by doing a safe physical activity of their choice, including cycling (indoors or outdoors), running, walking, yoga, or any activity that gets Canadians moving.

Fundraising Goal: $425,000 in support of Fighting Blindness Canada for research into cures and treatments for blinding eye diseases.

For more information and to register, visit cycleforsight.ca or call 1.800.461.3331 ext. 271.