July 6/21 11:12 am - Pre-Olympic Interview - Hugo Houle

Posted by Editoress on 07/6/21

Hugo Houle and Guillaume Boivin are two of the three Canadian men who will represent Canada at the Olympic Games later this month, joining Mike Woods. Houle and Woods were preselected, while Boivin was announced as a team member today. All three will ride the Road Race, while Houle will also compete in the Time Trial. All three are also currently competing at the Tour de France, and we spoke with both Hugo and Guillaume on yesterday's Rest Day about how the Tour is going and the upcoming Olympics. [We spoke with Mike a couple of days before the Tour started - Mike Woods Pre-Tour Interview - Riding for GC & Preparing for Tokyo]

Hugo Houle

Hugo will be attending his second Olympics. He finished 21st in the time trial at Rio and rode the road race in a supporting role for Mike Woods but did not finish. He is having a strong Tour (his third), with a 12th place on Stage 7 after riding in the breakaway.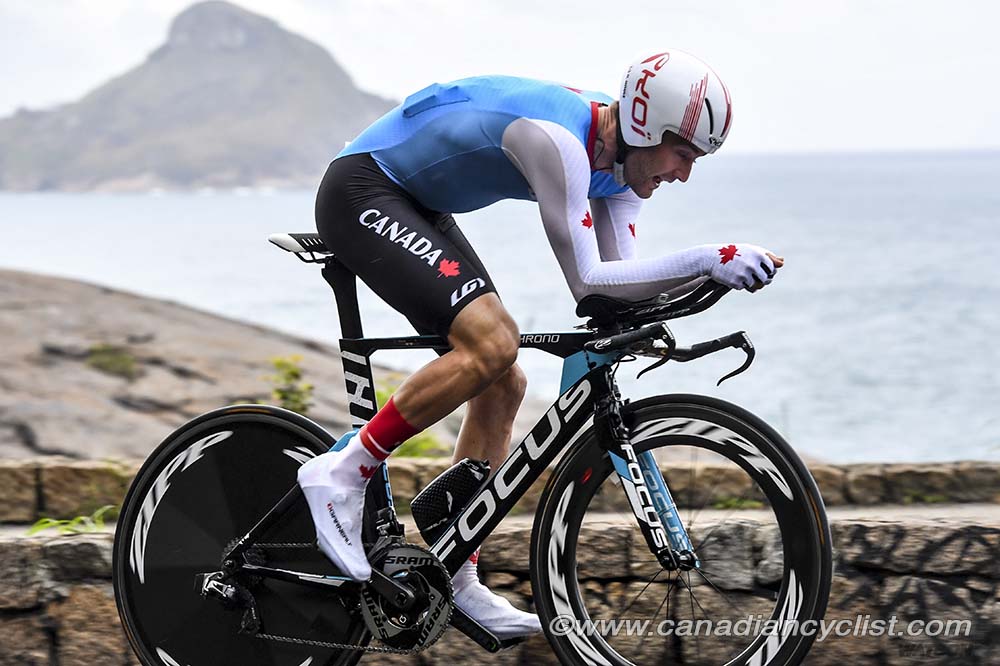 2016 Rio Olympics
Canadian Cyclist: Let's talk about the Tour first - it's been a pretty good Tour for you so far. Are you surprising yourself a bit with how well it is going?

Hugo Houle: Yes and no ... that's what I wanted to do; come here and race aggressively and get in breakaways. For me, I think there are more opportunities coming up then there were in the first week. The first two or three days there was a lot of stress and, as you could see, [Mathieu] van der Poel and Wout van Aert were really strong, so for a guy like me there wasn't much I could do when those guys hit the punchy climbs on those stages, and also with [Julien] Alaphilippe. So it was more about staying safe and staying on the bike, and saving energy for stages like Stage 7, which was one I was thinking there would be some opportunities in and that it suited me better.

I was able to join the breakaway on that stage and it was a high quality breakaway. I was really happy to be up there at the end with the best guys; I was missing just a little bit in the [last] climb, but I think raced pretty well and I gave it everything I had on that day, and hopefully I can repeat that and do even better in the two weeks coming up.

CC: You have double duties, or are you the breakaway guy and you don't have to worry about looking after [team GC rider Alexey] Lutsenko?

HH: Over 21 days there are different missions. I'm not going to go in a breakaway every day, so there are moments when I absolutely want to help Lutsenko and he needs the help of his team mates. That's the beauty of a Grand Tour; some days you can just help him and then in the last 30K just take it a bit easy, but then there are key sections when I really need to help him. He's riding well, so he deserves to have support from us.

It's a mix, there's no big stress around that, and it's more relaxed then in the past [previous years]. Like last year, [Miguel] Lopez really wanted to do the GC [finishing sixth overall] and I could not go anywhere. This year, I am free to go every day if I want, but I try to be smart and manage my energy, because it's not simple to get in a breakaway. I definitely have way more freedom and the fact that I am stronger and can read the race now ... I want to take my opportunities when they come in the stages coming up. So far, we have been riding really, really fast, so it might slow down a little bit.

CC: This is the first year of Astana - Premier Tech, and Steve Bauer has joined the team and is managing at the Tour. How has that affected things for you?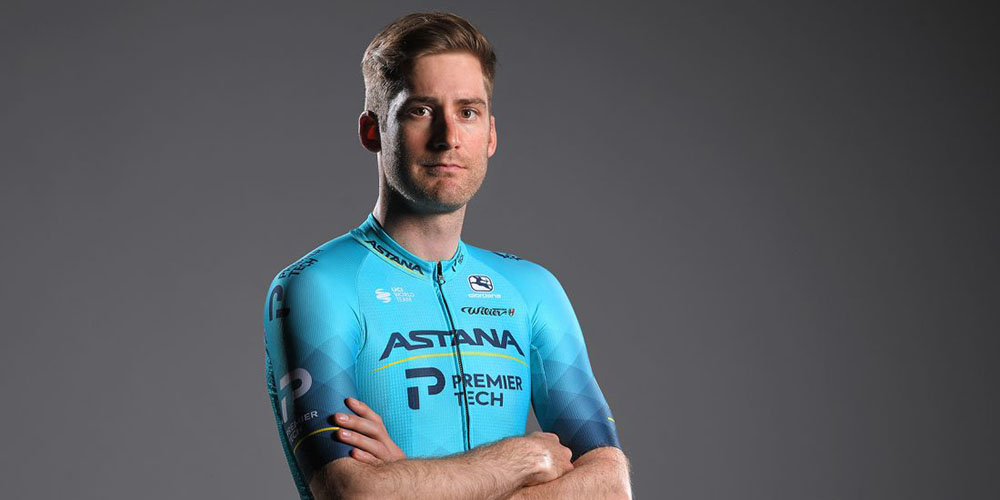 HH: In reality, it doesn't change much. I don't get a free pass or privilege because Steve is there. Of course, it is great to have Steve with us; he knows a lot and is key to have with us. But on the other hand, we are professionals and I am equal to the other riders; I don't get any 'passes'. It's really nice to have him with us for his advice. Because we know each other it's more friendly, and it is great to have people that I know around me.

CC: This will be your second Olympics, and you know a bit more what to expect. Does that make a difference?

HH: Yes and no ... after Rio I know what to expect with the Olympic Village and how it works. How it works being there with the national team, outside of the bubble we are in with our [professional] team, where we have staff that we know and a routine. That changes it a little bit, but the fact that it is in Tokyo with COVID-19 and everything is changing from the [Olympic] normality. So, I don't know what to expect there. I can only take it as normal racing. If anything, it will be more quiet then usual [due to lack of spectators], and that will allow us to stay more focussed and relaxed.

CC: You are doing both the road race and the time trial. I assume your role in the road race is to support Mike?

HH: Yes, totally.

CC: But in the time trial - you were 21st in Rio. You obviously haven't had a lot of time to focus specifically on that event with the Tour being on, but do you feel pretty good about your TT, given that you say you are stronger this year?

HH: I feel pretty good. I've done a test now in the time trial at the Tour [Stage 5] that was 27K. I was feeling pretty good, power wise, I was really happy with my ride. I had to ride in the rain, so I lost quite a lot of time compared to some other people. I think I can do - I hope I can do - better then in Rio. There's a lot of things that can happen, but it will not be because I am in the Tour that I won't be ready for the TT. I trained before [the Tour] and I had my TT bike that I was training on quite often.

We have good equipment, and equipment is a huge piece in the time trial; if you don't have good materials then you can struggle even if you are the strongest. So I think that I will be on better equipment then I was on in Rio and hopefully have good legs. I'm motivated to do a good ride and the longer the TT is, the better I am. I'm curious to see where I am after the Tour de France; normally I have a really, really good feeling [after], and I hope I can carry that form all the way to the Olympics.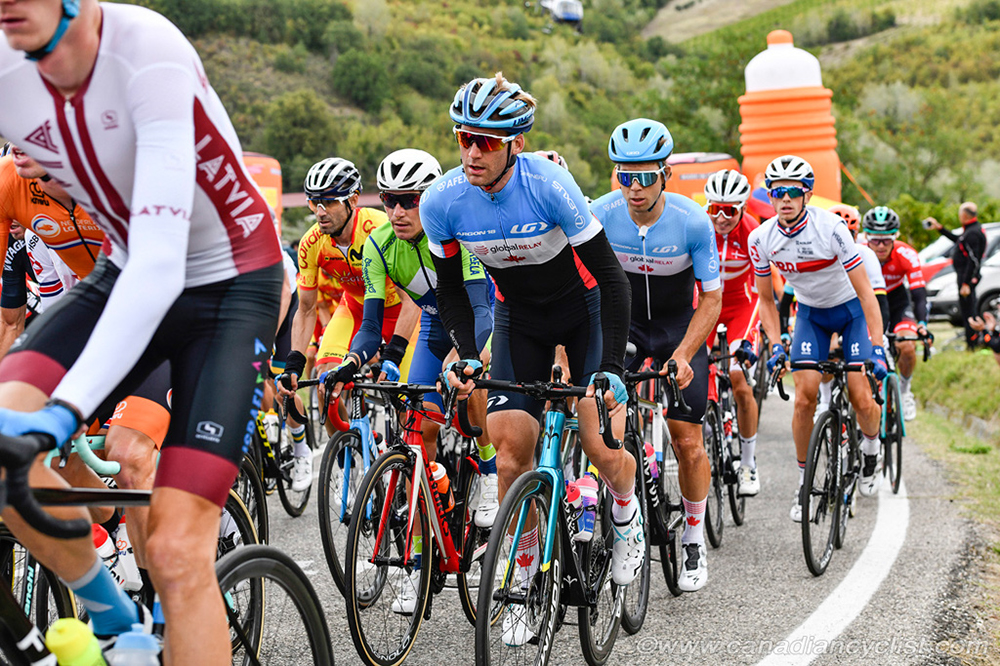 2020 World Champs
CC: All three of the Canadian men for the Olympics are in the Tour. Have you guys had a chance to talk about it, or is that something that comes later?

HH: We haven't talked about the race itself. We are three guys who respect each other; we have a really good relationship and friendship. There's not much to talk about; we know what we have to do. Of course, Guillaume [Boivin] is a team mate of Mike [on Israel Start-up Nation] and they are racing together all season, so they know each other pretty well. I'm really happy to have a chance to help Mike; he is one of the best climbers in the world now. So, to me it is quite easy - I know what I have to do, and I don't think there is much talking to do. We will see in the race and Mike will tell us how he is feeling. So we have to put him in the best position for the last climb so he can deliver.