July 25/21 13:38 pm - Mike Woods in the Canadian Media - Not Always the Race You & I Saw

Posted by Editor on 07/25/21

It's been interesting looking at how the general Canadian media have covered Mike Woods's fifth place in the men's road race. It was the first potential medal performance for Canada, and took place before the swimming really started, so there was more attention than usual. This is both a good thing and a 'shake your head' thing...

Each outlet wants, of course, to put their own spin on things and make it appear that they have exclusive access and insight. Unfortunately, at these pandemic Games that's not the way it works. Pretty much everything is remote - Zoom, conference calls, releases. With the bubbles in place, no one actually gets near the athlete.
I was able to do so a couple of times leading up to the Games - like our pre-Tour interview HERE but other than that we all feed from the same stream during the event.

So, like I said, it's been interesting see the different spins put on the same material. Columnists are particularly interesting, because they aren't just reporting the facts, they have a position, a narrative, they are trying to craft. Sometimes, it means that they are not too accurate with the facts - like Cathal Kelly's piece in the Globe and Mail online [full disclosure, I'm a big fan of Kelly's writing], where he talks about 'More cunning competitors boxed him in just before the sprint'. Actually, I was in the same post-race Zoom meeting and nothing was said about that - Mike will be the first to admit that his sprint is not something other riders worry about, and he said "Once I knew it [the sprint] was against Wout and Pogacar - Pogacar's got a great sprint as well - I knew my best bet was to try and come from behind in the headwind. I almost got Bauke Mollema, but not quite. I'm not disappointed with the sprint at all, I'm not a sprinter." Having said that, Kelly did get it right about how the last part of the race was incredible sporting drama. Richard Woods, former Canadian national coach and commentating for CBC TV, saw the same thing I did: "he's got himself boxed in".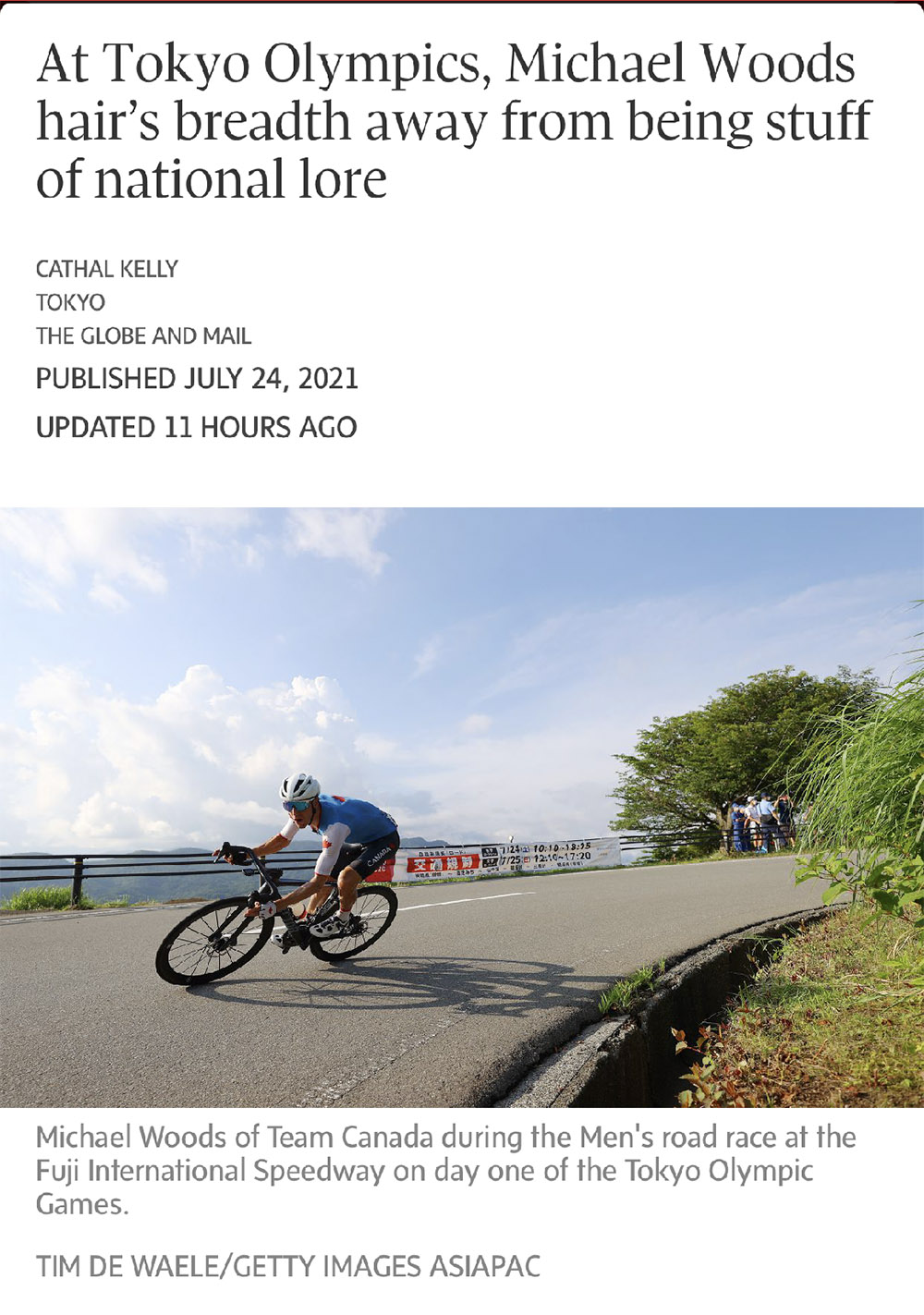 Mike also got the cover of today's Toronto Star, with a sub-headline from columnist Dave Feschuk that included: 'Rival riders gang up to reel in Canadian Michael Woods'. That was a little dramatic and also included factual errors: Mike did, indeed, attack over the top of the final two climbs, but that was close to 30k out from the finish, and he was rolled up on the descent each time.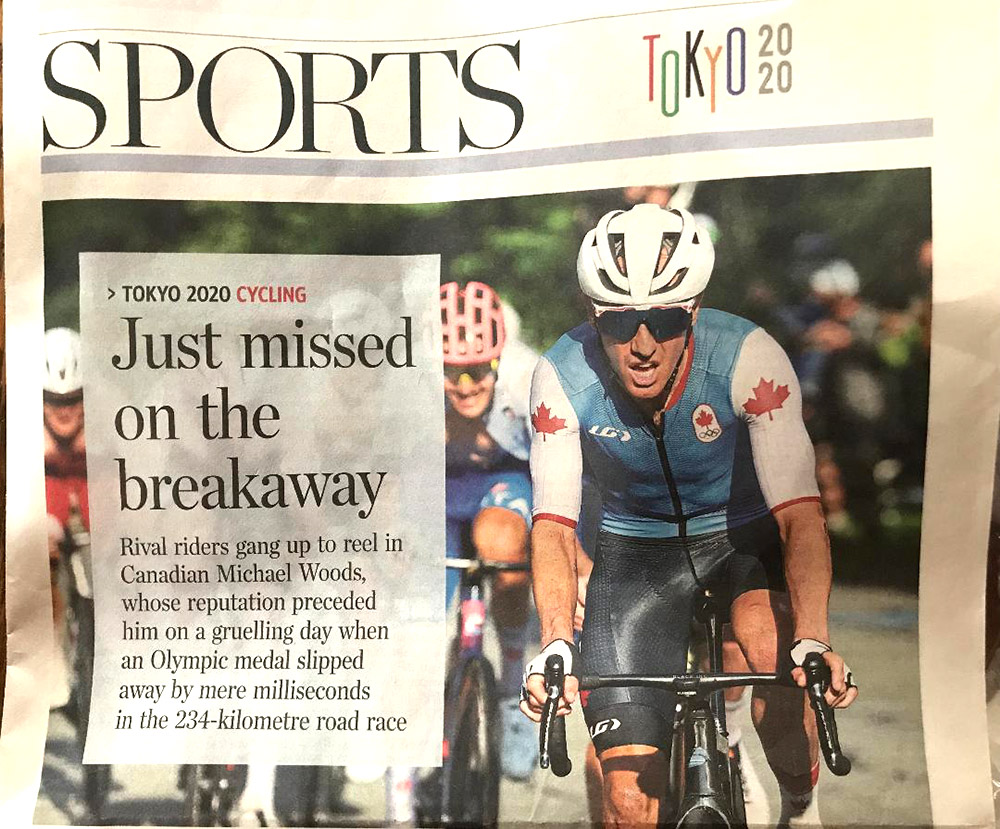 Jamie Strashin, reporting for CBC Sports online, stated that Mike was 'among a group of five riders who were in a flat sprint over the final 100 metres, jockeying for silver and bronze'. It was actually eight riders. He also stated: 'The 34-year-old was barely mentioned during this race before, like a coiled spring, thrusting himself into the top group with about 30 kilometres left of the 234-kilometre race'.

Uh, no ... Mike was clearly identified by the cycling media as possible medal contender, AND was near the front all race (except when he dealt with the shoe incident) - in fact, he, Pogacar and McNulty were in the break on Mikuni Pass with the rest chasing, so I'm not sure where 'thrusting himself into the top group' came from!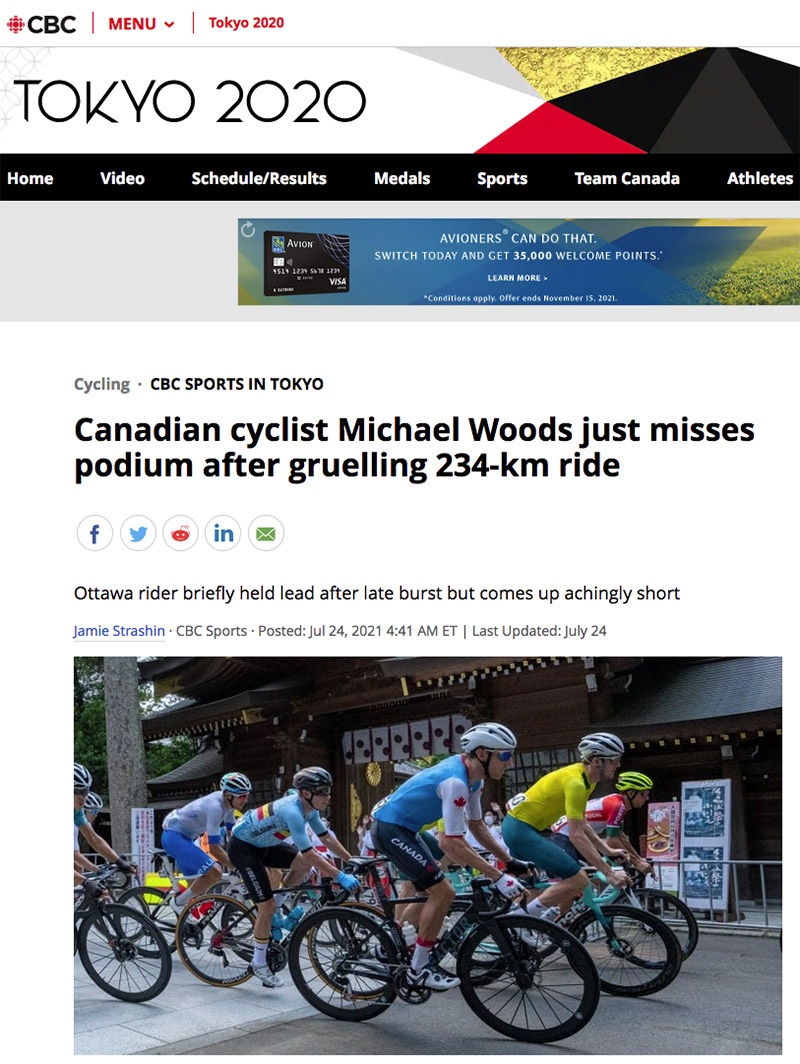 On the other hand, Radio-Canada, the French language arm of CBC got it completely right...

These are just the ones I checked, so it just goes to show - when your non-cycling friends start to talk to you about cycling and get it wrong, don't necessarily blame them.