August 2/21 4:21 am - Canadian Men 6th in Team Pursuit Qualifying

Posted by Editor on 08/2/21

The track program at the Olympics began on Monday, with Canada racing in the qualifying round for both the women's and men's Team Pursuit. The Canadian men had a strong showing in sixth place, with a time of 3:50.455, 0.481 seconds outside of their personal best, when they set a Pan American record in 2019. World champions and world record holder Denmark came within 0.342 seconds of beating their record to qualify first. Australia had to re-ride after one rider (Alexander Porter) broke his handlebars and crashed. Canada will race Germany in the next round tomorrow, after beating the Germans by 0.375 seconds.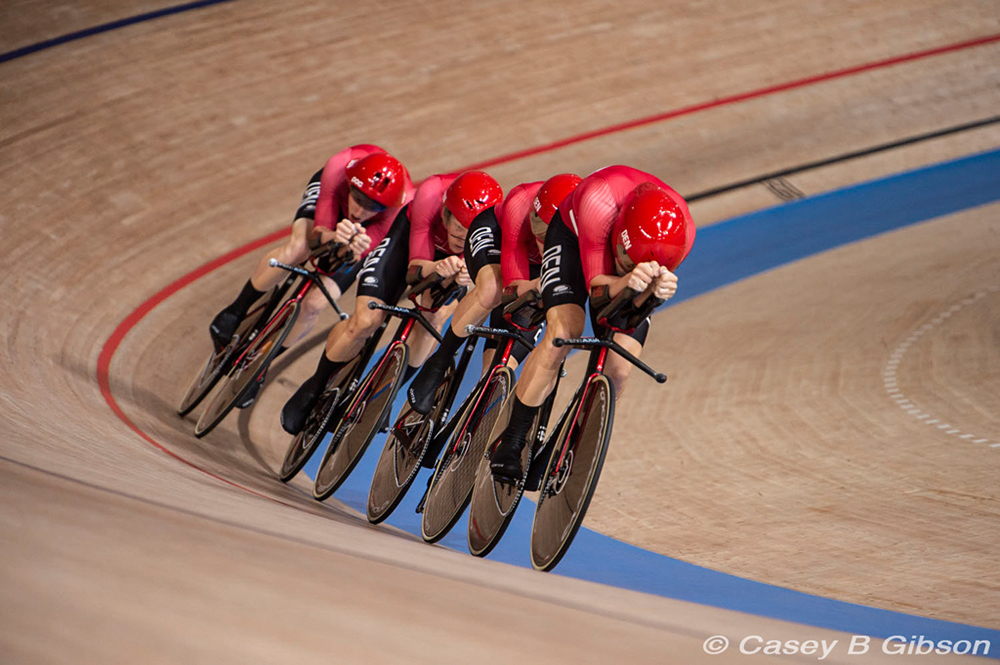 Denmark set a new Olympic record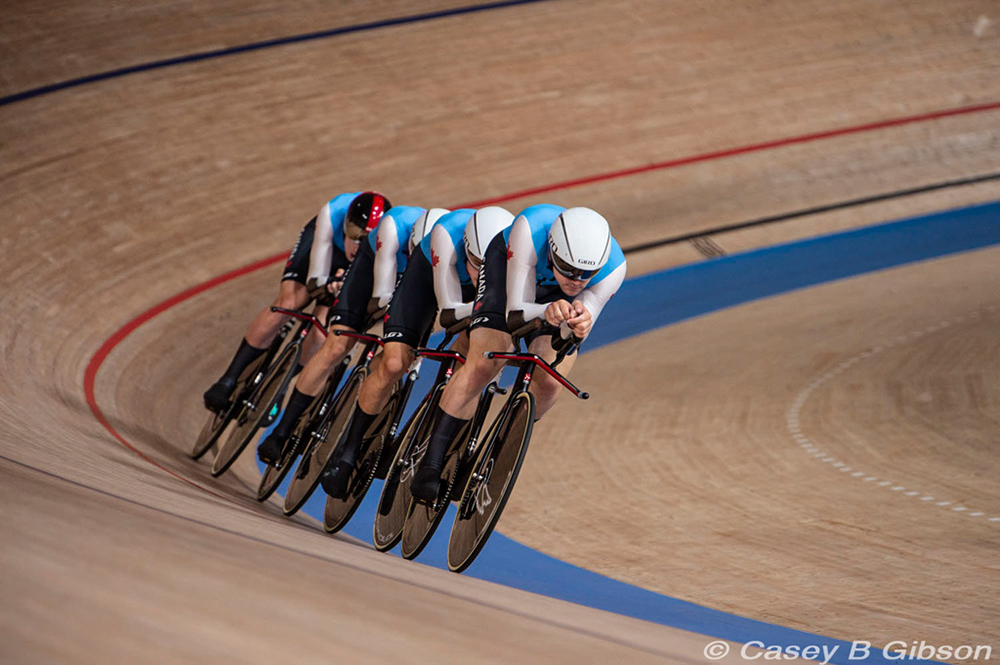 Vincent de Haitre leading Team Canada
"The boys rode pretty much to plan," said Brendon Cameron, Head Track Coach. "They knew they would be first off, and they were hoping to break the Olympic record and maybe hold it for about seven minutes! They were only a couple of tenths off [0.18 seconds], and were a little bit disappointed. But they rode really, really well. We have a strategy that is really unique compared to other countries - we have a speedskating / Kilo rider [Vincent de Haitre], and he's the fourth fastest Kilo rider in the world, but he can't quite get through 4K. So, we had a 'moneyball' strategy on how we used him. So a couple of notches in beating Germany and the Swiss in qualifying."

The two-time Olympic bronze medal winning Canadian women's squad did not have as good a ride, finishing eighth out of eight teams with a time of 4:15.832. This is over three seconds behind their best time. Germany obliterated the world record with a time of 4:07.307, nearly three seconds faster then the previous best time, set by Great Britain at the Rio Games. Canada will face France in the next round; the French finished fifth in qualifying, 3.33 seconds faster then the Canadians.
Allison Beveridge at the front for Team Canada

"It's been a long season for the girls," said Cameron. "Without making any excuses, it's been a really tough season for Canada. We've been in restrictions all year and had athletes spread all over different provinces and a coach stuck in New Zealand as well. We've done bloody well to put the team together, and just didn't put it together on the day. We are looking at a couple of changes tomorrow, and looking at coming back better. We were looking for a ride around 4:12, which would have put us in the pack and competitive [note: still out of the top-4]. A couple of rides really surprised us; it's the Olympics of the unknown."

"One of the biggest changes of the year is that some countries had a lot of road riding in their legs, compared to the world champs being in the winter. So we saw what we saw; everyone knows where they are at now, and it's just a matter of everyone staying confident and coming back and trying to piece together a ride. [Today] we just didn't piece it together."

"All in all, it's been a bit of an up and down day. We just need to keep our chin up and keep the faith that we've got more days, more competition going."

We have been told that Ariane Bonhomme will replace one of the other riders for tomorrow's second round, when Canada hopes to qualify to defend its bronze medal.

Both men and women are out of contention for the gold-silver final, but can still compete for bronze with a good second round tomorrow.
Olympic Games: Track Day 1 results