August 3/21 11:16 am - Canadian Quotes From Day 2 on the Track in Tokyo Olympics

Posted by Editoress on 08/3/21

It was a hard day of racing at the Olympic velodrome on Tuesday. Multiple world records fell, and both the women's and men's Team Pursuit squads set new Canadian records. The women rode for bronze in a hard battle against the Americans, just falling short, while the men set the fifth fastest time - just missing the medal round - and will ride against Germany to determine fifth and sixth places on Wednesday. See our report Here
We have interviews with a number of athletes:

Derek Gee

"I've finally had some time to process the ride and come down from the high a little bit. It was an unbelievable ride from all the guys; we had a great day. To be able to set that Canadian record at the Olympic Games is something special. We knew we were putting the work in to break the Canadian record, even thought the record was set in Bolivia (at altitude), which is by far the fastest track in the world. So to put three seconds into it at sea level here is something really, really special. We all believed we could do it, so it's great to see it come together."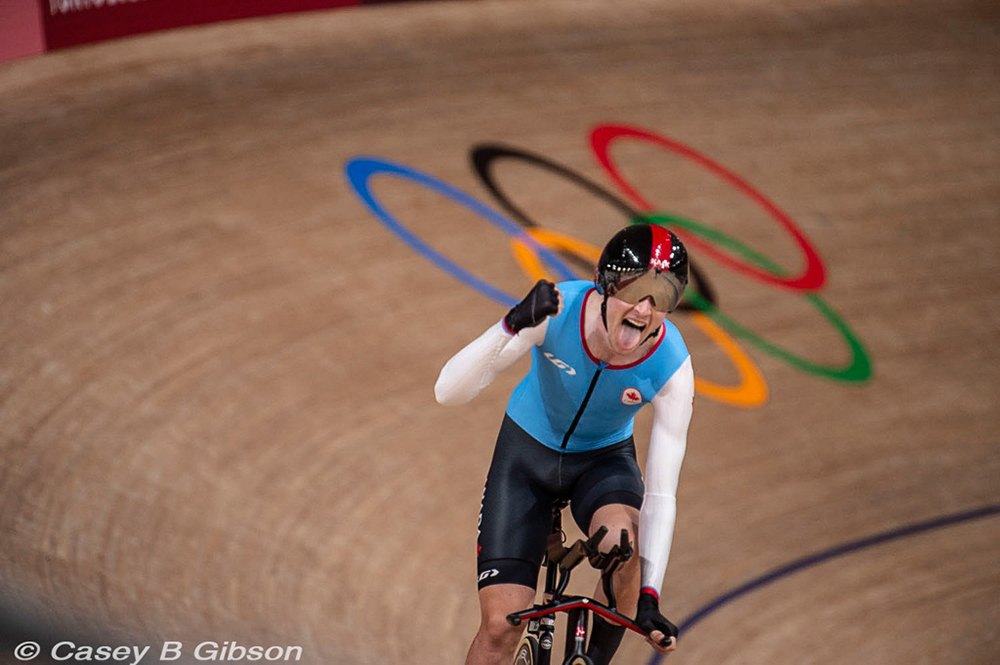 Derek Gee
"In terms of team goals, I think we have surpassed them. We came in ranked in eighth place and having not seen what every other team could do. We didn't know where we would stack up, so to come in ranked eighth and to be racing for fifth is something really special, and I think it's a testament to the work the team has put in over the last 12 to 18 months. It's really cool to see how far team pursuit as a sport has progressed, with the Olympic record already falling eight seconds at this point, which is insane."

"We are all looking forward to tomorrow, and hopefully we can finish the Olympics in fifth."

Georgia Simmerling

"I'm tired ... we raced our bikes today. We were very disappointed with yesterday's ride [qualifying], but we came together as a group. I told CBC we are fighters, and that's what we did, we came out and fought. We smashed our Canadian record in that Round 1 ride. I was so happy and proud of my team mates and myself. We fought, we fought hard in the next ride, but came up a bit short."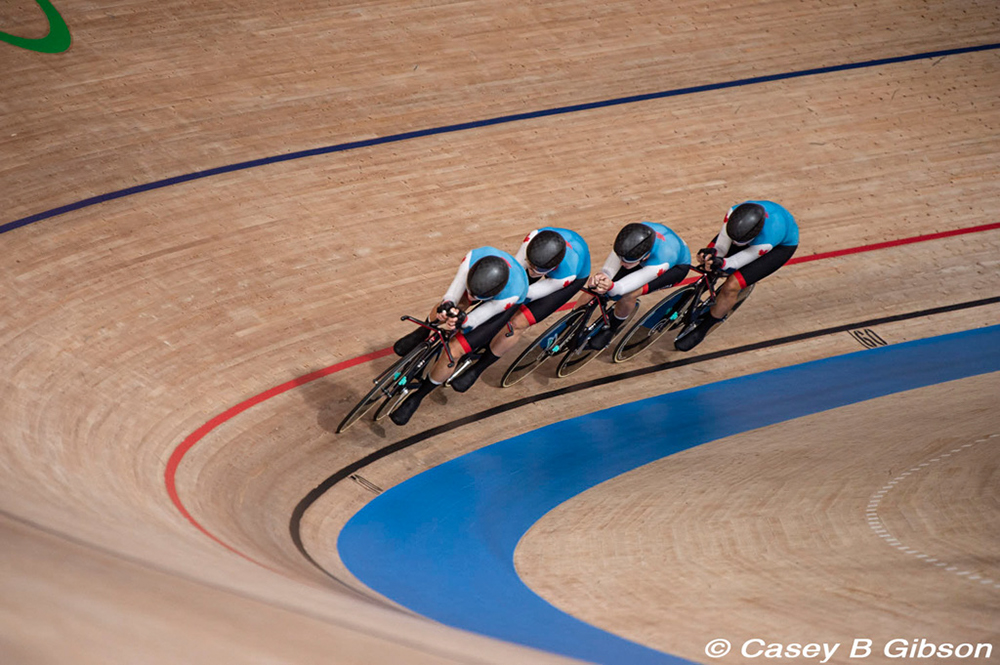 "it was unbelievable [the Round 1 record breaking ride]. Just to come back from the day before ... I'm not good at math, but it was six seconds [6.583 seconds]; it was unbelievable. It just felt frigging awesome."

"Now I'm going to go home, have a beer and watch my girlfriend [Canadian soccer goalie Stephanie Labbé] win frigging gold!"

Ariane Bonhomme

"It's a bit of a mix of emotions ... to be able to come back from qualifying in last to ride for a bronze medal is pretty special. And also to have the chance to ride on the second day [she replaced Jasmin Duehring], because I didn't get to ride on the first day, was pretty special for me [in her first Olympics]. I wasn't sure if I was going to race at all here or if I was more of an alternate, so it was good; to be able to have the chance to step up and show what I knew I could do was pretty amazing."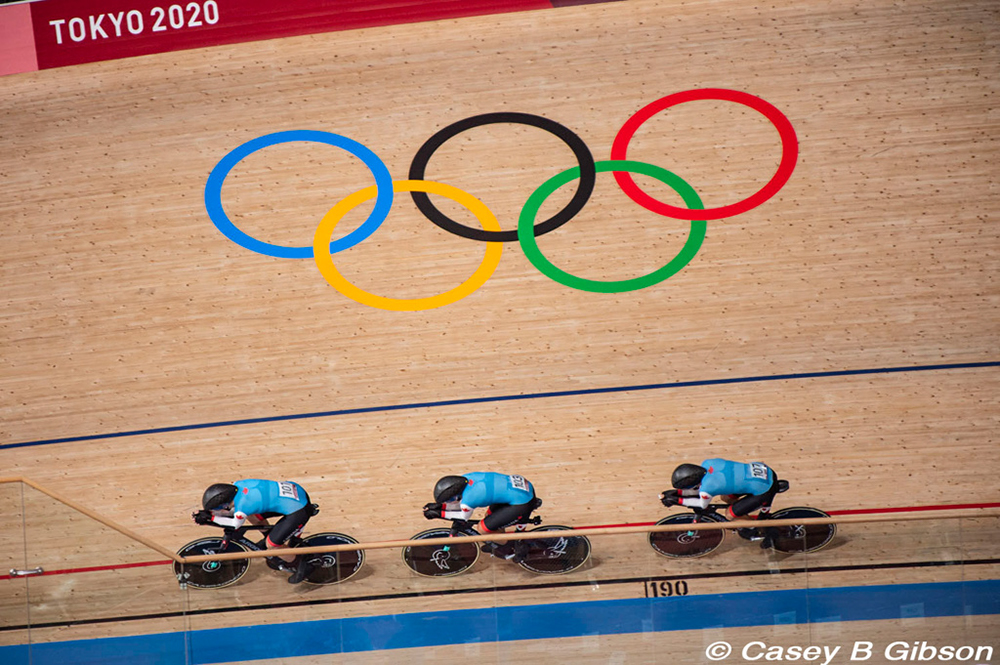 Ariane Bonhomme at the front
When she learned that she was going to ride on the second day, Ariane said she was, "happy, but a bit nervous. I knew what I had in my legs ... I think maybe the coaches weren't as sure, but we were in a situation where we had to swap a rider and it was maybe a leap of faith [by the coaches], but I knew what I had in me to deliver, and to show what I could actually deliver was amazing. I was able to turn the page on some not as good performances in the past. To be able to do that at the Olympics with all the pressure was good."

"It was pretty amazing [to set a new Canadian record]. A few years ago we said we wanted to ride a 4:09 at the Olympics and, to be honest, after the qualifying run, I didn't know if we could do it. To be able to regroup after a bad performance and to go out there and do the time that we set out to do ... I'm talking like two years ago we set that goal ... that's pretty special. For it also to be a national record is pretty cool."