August 4/21 5:11 am - Canada 5th in Men's Team Pursuit

Posted by Editor on 08/4/21

Canada took fifth in the men's team pursuit final standings; the best Canadian showing at the Olympics in this event since a fourth place in 1932 [Note: In an earlier edition of this report we said the previous best was a bronze medal in 1908]. In other racing, both Kelsey Mitchell and Lauriane Genest won their opening heats in the women's Keirin, so they move on directly to tomorrow's second round. In the men's Sprint competition, Nicke Wammes qualified 12th and Hugo Barrette 15th. Barrette was knocked out in the first round, but Wammes, the youngest rider in the competition, won his opening race before losing in the second round.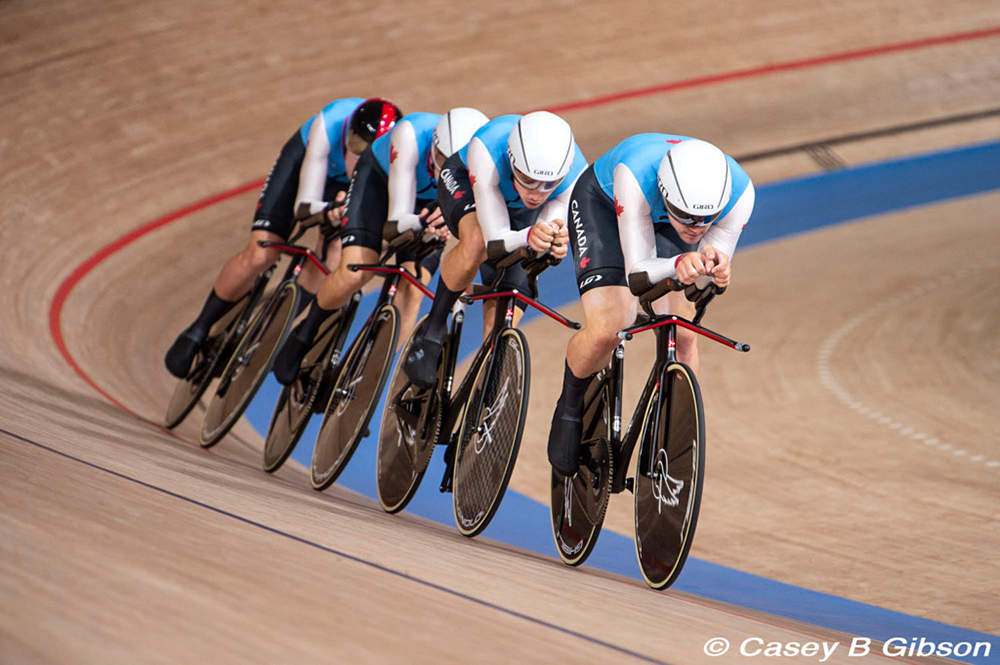 Vincent de Haitre leading
The Canadian team pursuit squad was led out by Vincent de Haitre for the first 1250 metres in their race against Germany, before the speedskater turned cyclist pulled off. The remaining three riders - Derek Gee, Michael Foley and Jay Lamoureux - were never in trouble after that, steadily pulling away to win with a time of 3:46.324, just off the Canadian record they set yesterday and 3.347 seconds ahead of Germany. Italy, led by world time trial champion Filippo Ganna, won an extremely tight gold medal battle with world champion Denmark, set another world record time of 3:42.032 . Australia took bronze in what was a close race against New Zealand until one of the Kiwi riders crashed.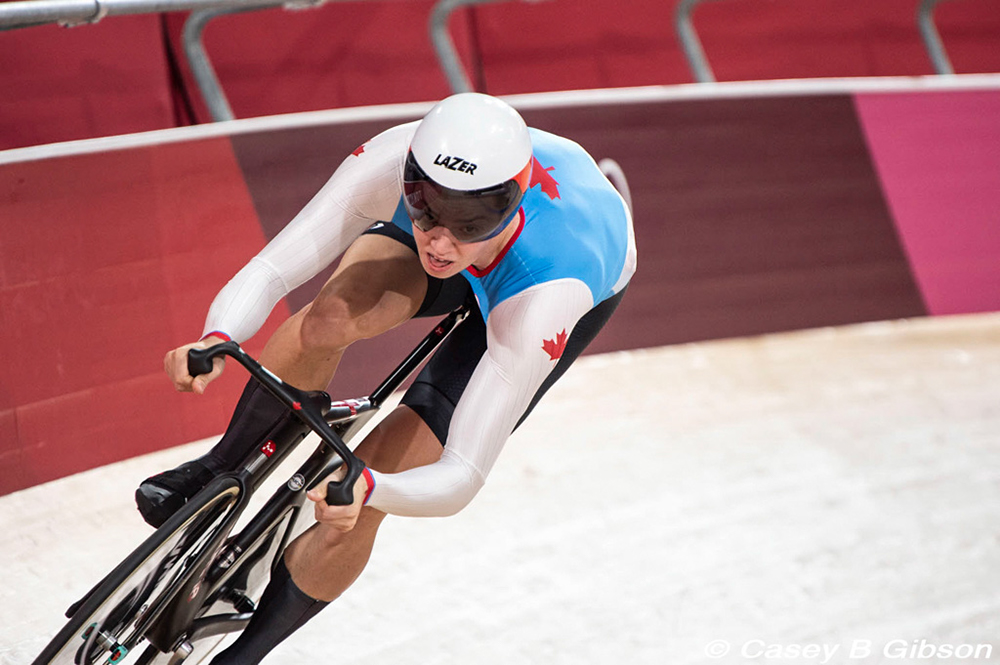 Nicke Wammes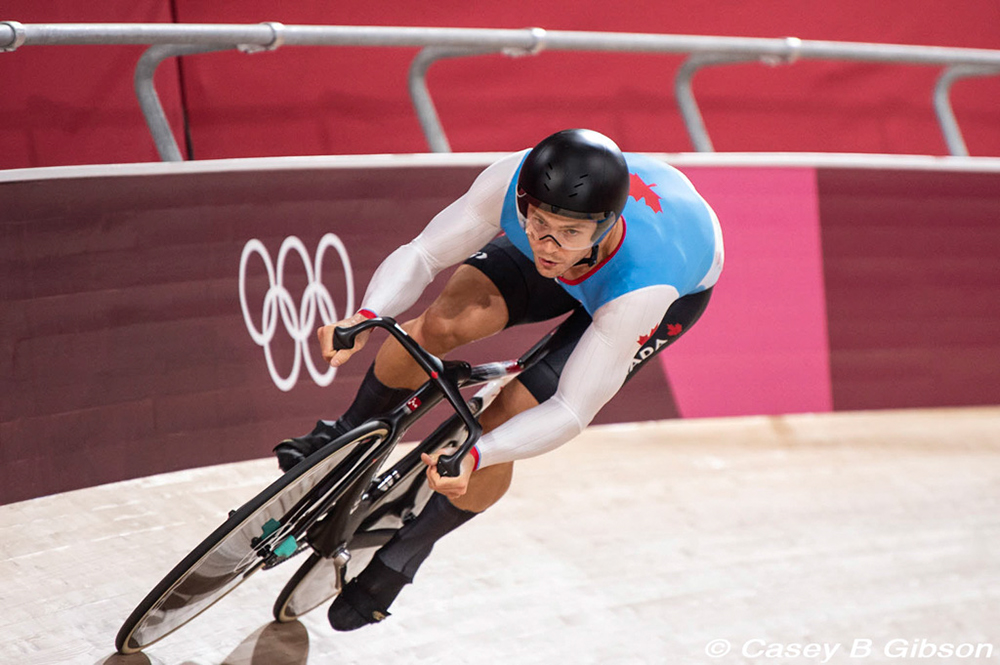 Hugo Barrette
In the men's sprint, Wammes was the early leader in qualifying with a time of 9.587 seconds; Barrette was a few hundredths behind at 9.596 seconds. In the 1/32 finals first round, Wammes beat former world champion Stefan Boetticher with a strong and controlled ride from the front to go straight to the 1/16th round. Barrette lost his first race in a photo finish to Sebastien Vigier of France and then finished second in the three rider repechage to end his competition. Wammes went up against another world champion in the next round - Denis Dmitriev of Russia. He did everything right, but was just beaten by a stronger, more experienced rider. In the repechage, he faced yet another world champion - Mohd Azizulhasni Awang of Malaysia - and finally bowed out after an excellent showing in his first Olympic competition, losing the repechage by a bike length.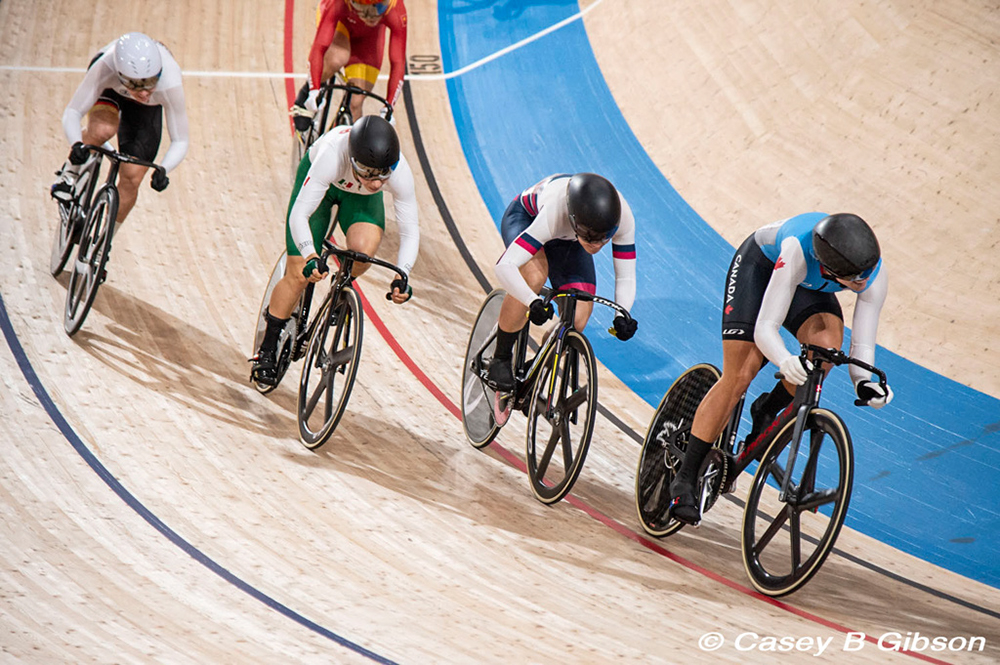 The women's Keirin couldn't have started better for the Canadian women. Kelsey Mitchell showed tremendous power in her win, going to the front and motoring away from the rest of the group from almost a lap and a half out. Genest's win was more tactical - she hung at the back until the start of the final lap, when she came over the top of the field and rode the competition off her wheel.
Canadian Interviews from Day 3 on the Track - Michael Foley & Jono Hailstone
Canadian Interviews from Day 3 on the Track - Kelsey Mitchell, Nick Wammes & Franck Durivaux
Olympic Games: Track Day 3 results
Canadian Women 4th in Women's Team Pursuit Final
Canadian Quotes From Day 2 on the Track in Tokyo Olympics
Olympic Games: Track Day 2 results
Canadian Men 6th in Team Pursuit Qualifying
Olympic Games: Track Day 1 results