August 6/21 13:52 pm - Dorel Reports Strong 2021 Q2 Led by Cycling Category

Posted by Editoress on 08/6/21

Dorel Industries Inc. announced on Friday results for the second quarter and six months ended June 30, 2021. Second quarter revenue was US$765.0 million, compared to US$724.0 million, up 5.7% from the same period a year ago. Reported net income was US$22.2 million or US$0.67 per diluted share, compared to US$11.1 million or US$0.34 per diluted share last year. Adjusted net income was US$23.0 million or US$0.70 per diluted share, compared to US$15.6 million or US$0.48 per diluted share last year.

Revenue for the six months was US$1.5 billion compared to US$1.3 billion, up 13.0% from prior year. Reported net income was US$25.0 million or US$0.76 per diluted share, compared to a reported net loss of US$46.7 million or US$1.44 per diluted share a year ago. First half adjusted net income rose sharply to US$35.2 million or US$1.07 per diluted share, compared to US$2.0 million or US$0.06 per diluted share last year.

"Given the continuing chaotic supply chain environment, we are very pleased with the second quarter performance of our businesses. We are reporting substantially improved earnings while dealing with record increases in container freight rates and higher product costs in many categories. Demand for our products remained robust, but we were not able to fully satisfy consumer needs due to inventory shortages from a lack of ocean container availability. Dorel Sports had a remarkable quarter, again achieving record sales and earnings."

"Demand for bikes shows no signs of slowing and Cannondale's models remain extremely popular in all markets. There has been continued improvement at Dorel Juvenile with gains in all geographies as consumers responded well to new products. Europe's progress was limited only by COVID-related issues. Dorel Home revenue was significantly reduced as container issues were compounded by COVID shutdowns at suppliers in Vietnam and Malaysia. The segment still promises to be a solid performer as these conditions ease," commented Dorel President & CEO, Martin Schwartz.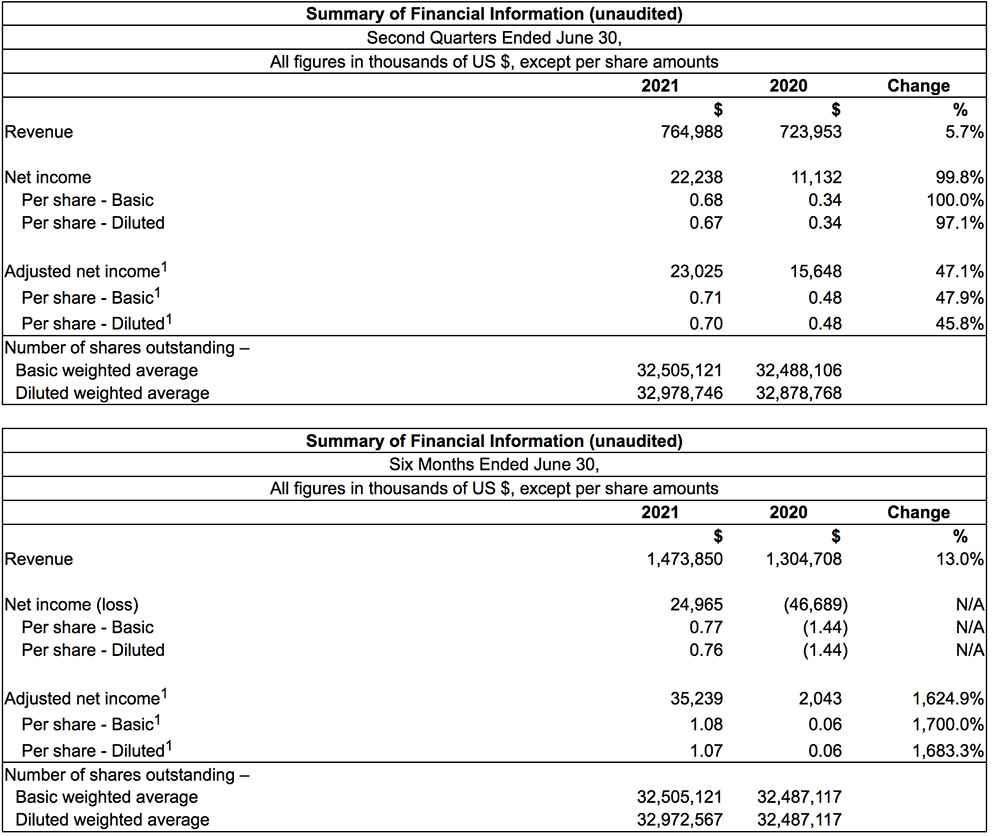 The Sports segment had a spectacular quarter, posting its ninth consecutive quarter of revenue growth as well as another record profit. Revenue was US$317.3 million, an increase of US$31.7 million, or 11.1%, from last year. Excluding the impact of varying foreign exchange rates, organic revenue improved by 8.5%.

Despite supply constraints and shortages of bike components, revenue at all three divisions increased with Cycling Sports Group (CSG) and Caloi making the greatest percentage gains. Demand remains strong for high-end bicycles with Cannondale gravel and E-bikes being particularly popular. Similarly, in the mass channel, demand was strong but was again limited by supply constraints and low retailer in-stock levels. Six-month revenue increased to US$587.7 million, up US$113.8 million, or 24.0%, from prior year.

Second quarter gross margin improved due to pricing, limited discounting and a favourable foreign exchange rate impact. Operating profit, both reported and adjusted, was US$31.7 million compared to US$26.8 million and US$27.1 million respectively last year. CSG and Caloi were the main drivers of the operating profit improvement with Caloi reversing last year's high operating profit loss with a modest operating profit. Six-month operating profit, both reported and adjusted, was US$53.5 million compared to US$26.2 million and US$26.6 million respectively a year ago.