August 7/21 5:05 am - Kelsey Mitchell Will Race for Medal on Sunday

Posted by Editor on 08/7/21

Canada's Kelsey Mitchell is through to the semi-finals of the women's Sprint, and will race for either gold or bronze tomorrow, depending on how she does in the semi-final. She and team mate Lauriane Genest met in the quarterfinals, guaranteeing that one of them would go on to the medal rounds. Genest rode tactically very well, but Mitchell was just too strong and came by her in the final straight in each of two races. Genest will race in the 5-8 final.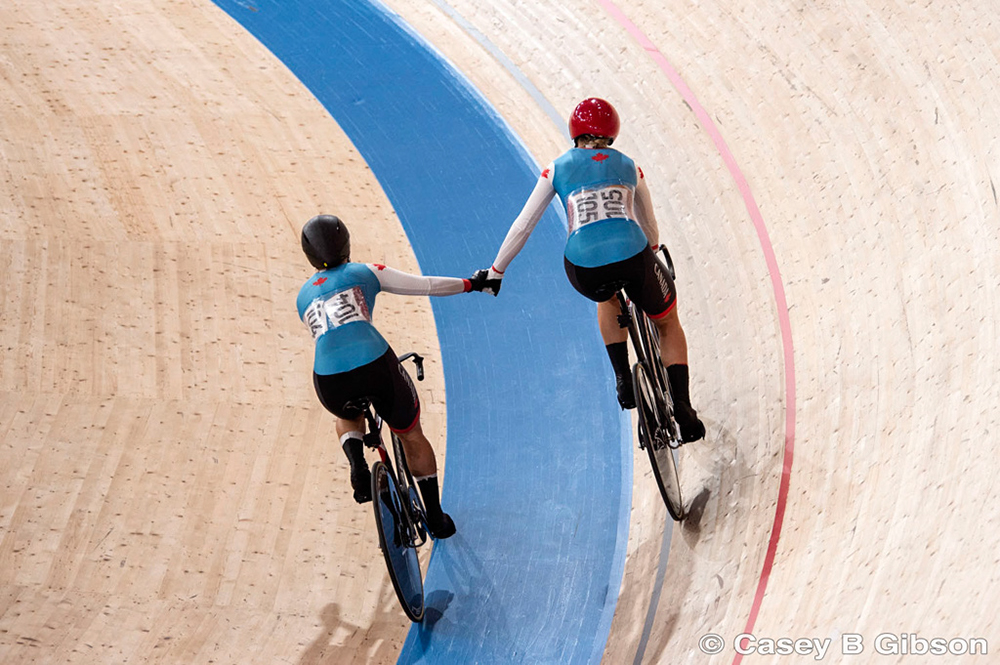 Kelsey Mitchell and Lauriane Genest met in the quarterfinals
"Oh my gosh, it's all a blur," said Mitchell. "In the 1/8th I raced New Zealand [Ellesse Andrews] and had a long sprint with her; she has similar characteristics to me, so that was a tough, close one. Unfortunately, I then had to race against my team mate, who I haven't raced against but train with every single day. We had joked about saving our match sprint for the Olympics, preferably in the Final, but unfortunately it was in the Quarters. I'm happy with the win but sad that we can't go to the Semis together. I know she'll kill it in the 5-8, and I'm excited for tomorrow. I'm going out there and giving it my all in every single race; I really hope all the hard work pays off and it shows tomorrow. We'll see."

Genest "My day started a bit rough with a loss against Katy Marchant of Great Britain [in the 1/8 final]. I thought I had it under control, and then in the last minute she surprised me, and I wasn't able to come around. But then I won my Repechage with 0.001 seconds! So I made it to Quarters; that was my objective coming here in the Sprint. I took the long way but I made it, so I'm really happy about that."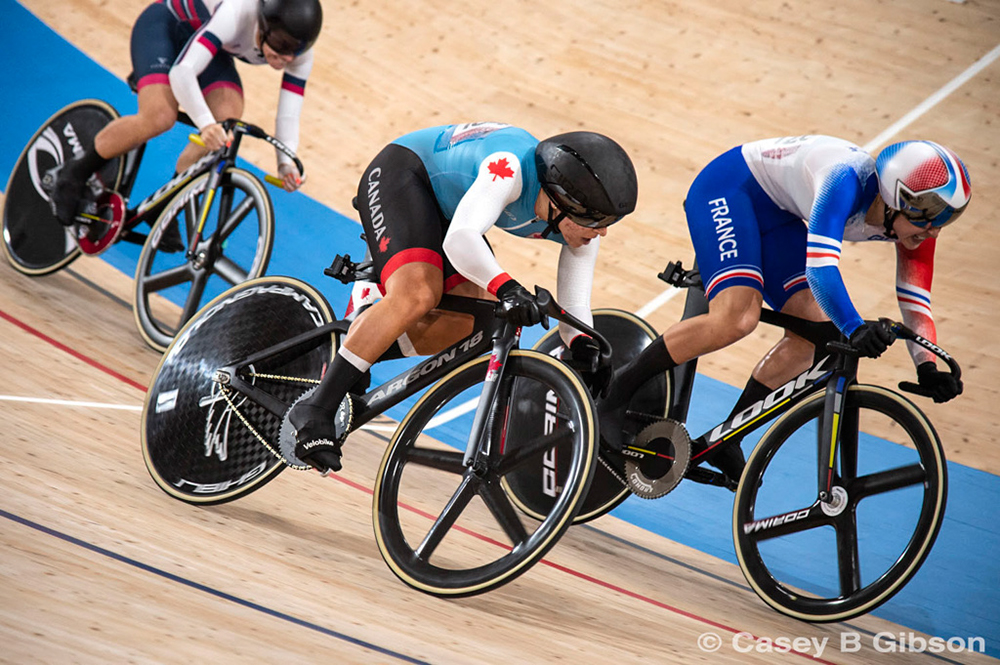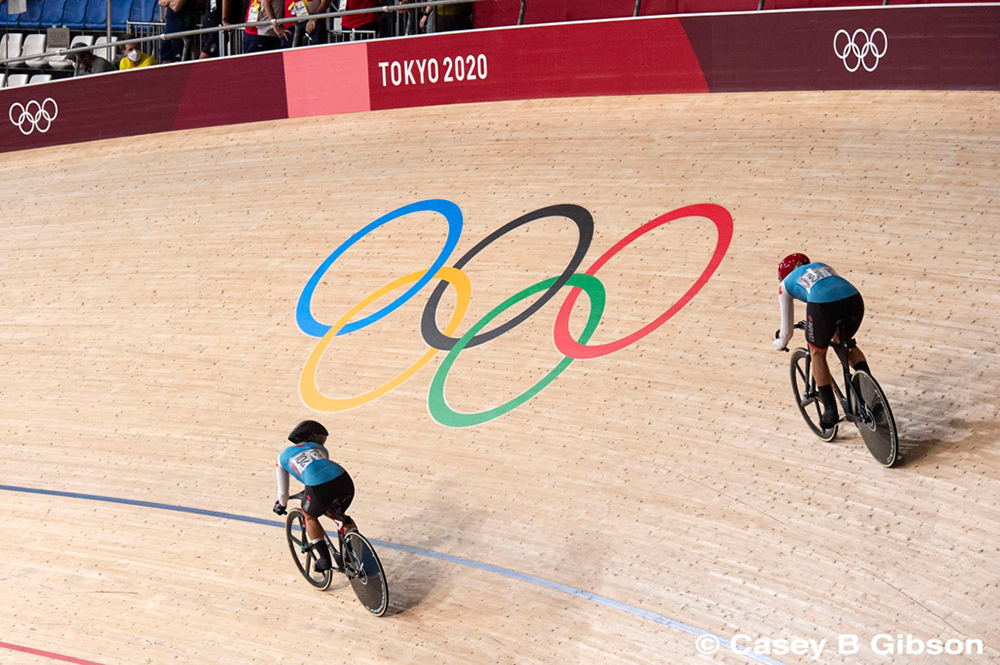 "Then, unfortunately, lost against my good team mate Kelsey. But I raced super well my two rounds, and I don't think I could have done anything really different. She fully deserves to be in the Semis. I was upset for sure [about racing her team mate], but less then Kelsey. I know what she's got. I gave everything, but I accepted that I was probably going to lose, so I just went out there and had fun."

For the men's sprint squad it was a more disappointing day. Nick Wammes did not advance past the first round Repechage; just beaten by older, more experienced riders. Hugo Barrette had a much more difficult day, with the same result - he was in good position to win his opening race and move directly to the second round when a crash behind him forced a re-ride. Canadian coach Franck Durivaux argued that there shouldn't be a re-ride, but the officials overruled him. In the re-ride, he clipped the back wheel of Jack Carling (Great Britain) and crashed heavily, sending him to the Repechage. Racing in his torn-up skinsuit, Barrette tried to challenge, but was unsuccessful.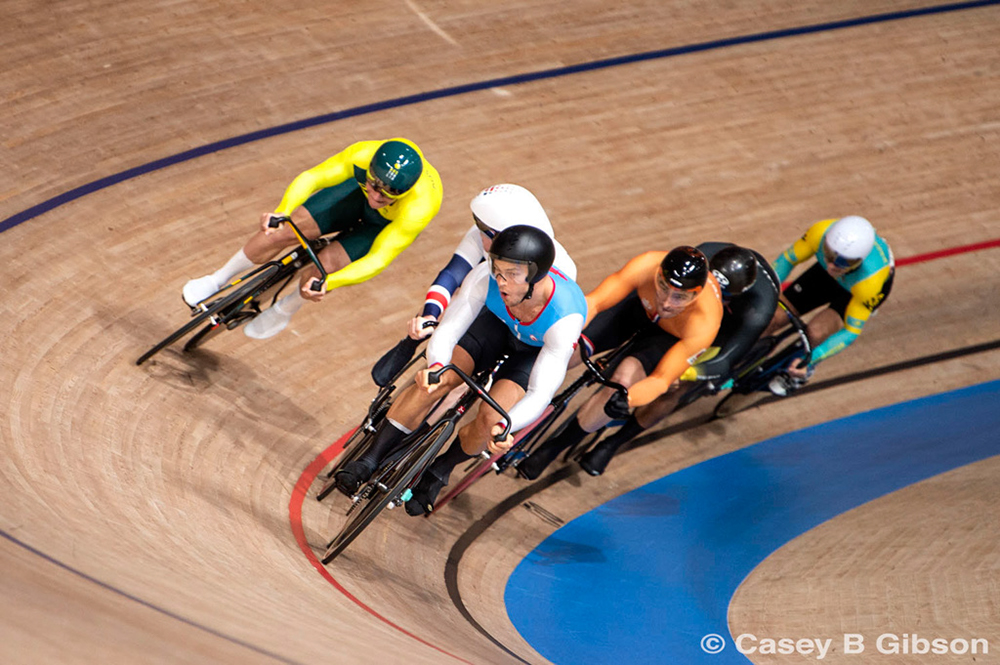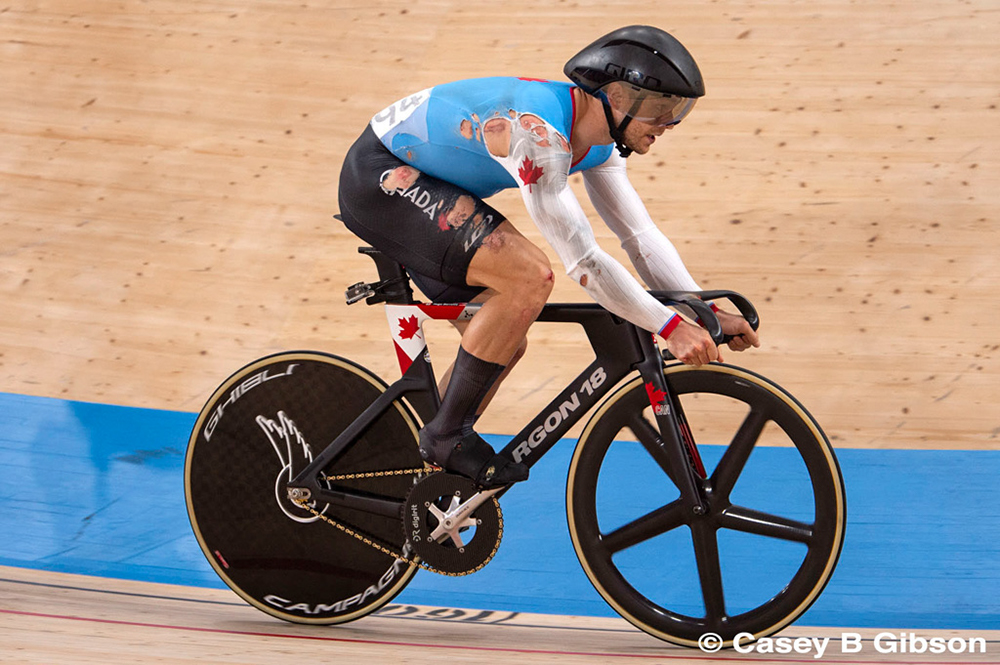 "It was not good," admitted Wammes, the youngest rider in the competition. "I'm disappointed for sure. I definitely didn't race that to the best of my abilities. I haven't raced a Keirin in almost two years, and I think that little bit of lack of race experience kind of shows. I got scared a little bit, and didn't commit to the move I needed to. I kind of got pushed around out there ... that one stings and I'm definitely not happy with it."

Wammes also reflected on his first Olympic experience, "I think it's been good; I keep reminding myself how young I am. Even just being here is a privilege in itself. I think as an athlete and a racer you always want more ... but sometimes it doesn't go your way, and today it definitely didn't go my way. So, I'm going to go back [to Canada] with more experience in the bag, and hopefully it's something to carry forward in the the next few years leading into Paris [2024]."

The final race for the men's endurance squad was the 200 lap/50 kilometre Madison, with Michael Foley and Derek Gee representing Canada. The pair were overpowered by the more experienced countries and lapped in the first half of the race before being pulled by officials.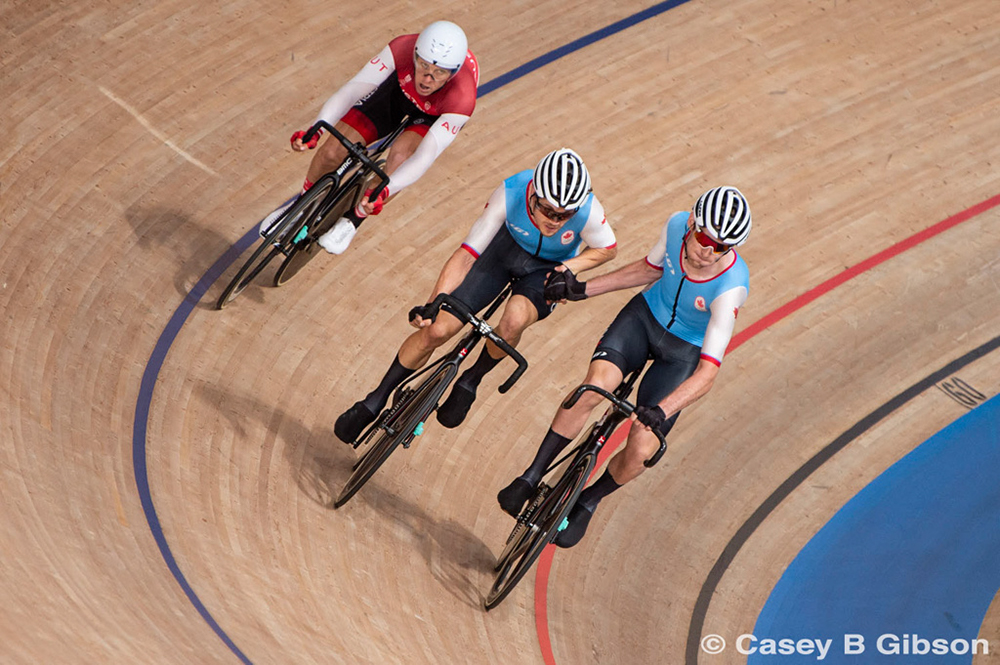 "It's a 200 lap race and we made it 70 laps," said Gee. "It was a shock for sure, we were expecting it to be hard. We've never raced a Madison even close to this level; it was kind of an automatic spot [into the race] from the Team Pursuit. But you can't prepare yourself for how fast it's going to be, how many moving parts there are, and I guess the inevitable happened."

"That about covers it," agreed Foley. "I'm glad we rode a safe race today. As you could see, there's a lot of risky parts to this race and so many moving pieces. I think technically, for where we are, we rode a good race, in the sense that we didn't affect anybody who was really in the race, which is always good. But we gave it our best and I'm proud of that."

Both also spoke about their first Olympics.

Gee: "We were riding high there with the Team Pursuit [5th]. Obviously it hurts to represent Canada in an event you are not prepared for [Madison], because it's always such an honour to put on the jersey and you want to be competitive. But the Olympic experience has been unbelievable, and I'm really proud of the team and how we came out of it."

Foley: "It's the same for me. It's too bad [about the Madison]. Maybe we could have been a bit more prepared, but with COVID it wasn't worth going to a race with this many people, so there wasn't really any way for us to prepare. There wasn't much we could change ... so we went out and did the best we could. It is what it is. Good experience."

Tomorrow is the final day of competition, with Canada having Allison Beveridge in the women's Omnium and both Mitchell and Genest in the Sprint.
Olympic Games: Track Day 6 results