August 28/21 13:44 pm - Richards Wins First Elite XCO Title for Great Britain, Pendrel Top Canadian at Final Worlds

Posted by Editoress on 08/28/21

Evie Richards became the first ever British world champion - male or female -in the Elite cross-country on Saturday in Val di Sole, Italy, after a dominating performance in the women's race. Behind her, Anne Terpstra recorded the first ever podium appearance for a Dutch woman, and the best result for the Netherlands since Bart Brentjens won the men's world title in 1995. The powerhouse Swiss team had to settle for a bronze medal from Sina Frei.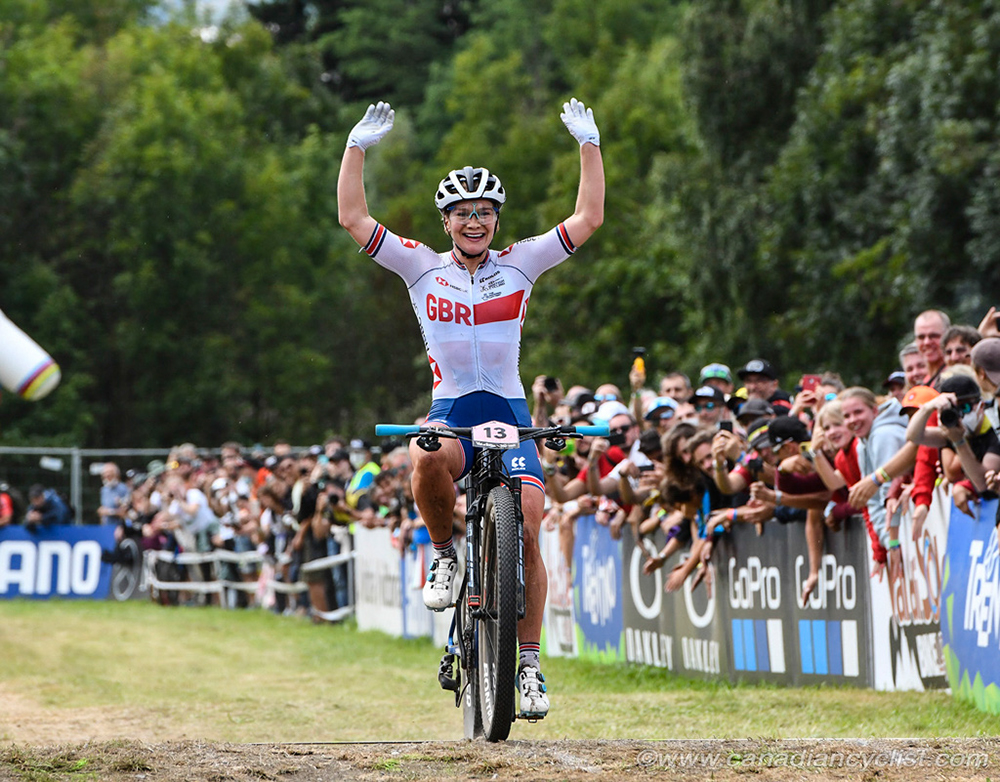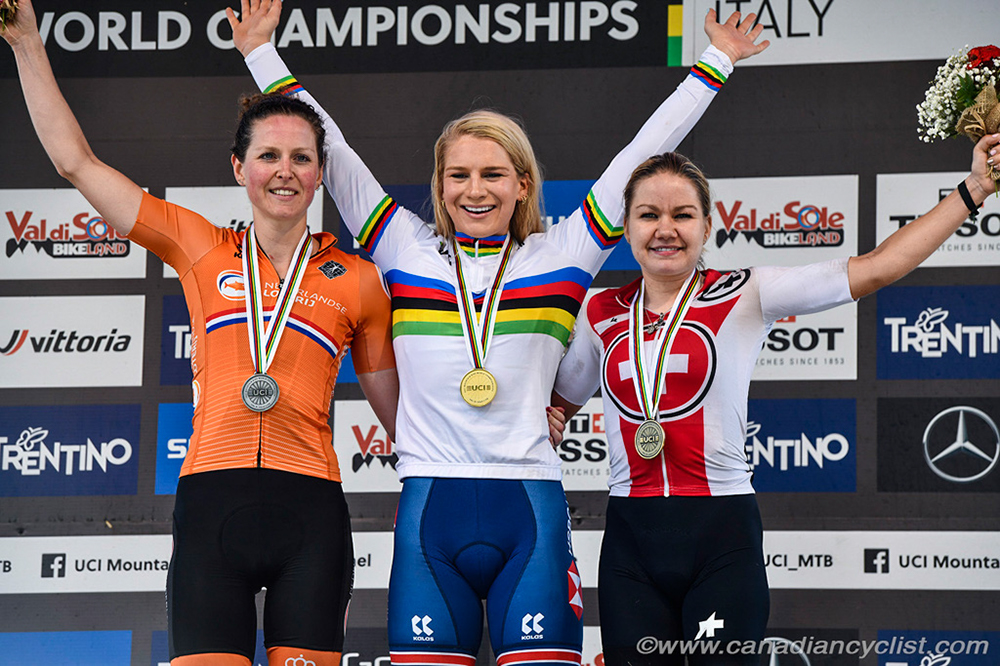 Catharine Pendrel was the top Canadian/N American, finishing 22nd after riding as high as 15th mid-race. Sandra Walter also had a strong race, finishing 25th. Laurie Arseneault was 43rd, Jennifer Jackson 46th and Cindy Montambault 48th. Emily Batty was 49th, a lap down, and Haley Smith, suffering an ankle injury, dropped out early.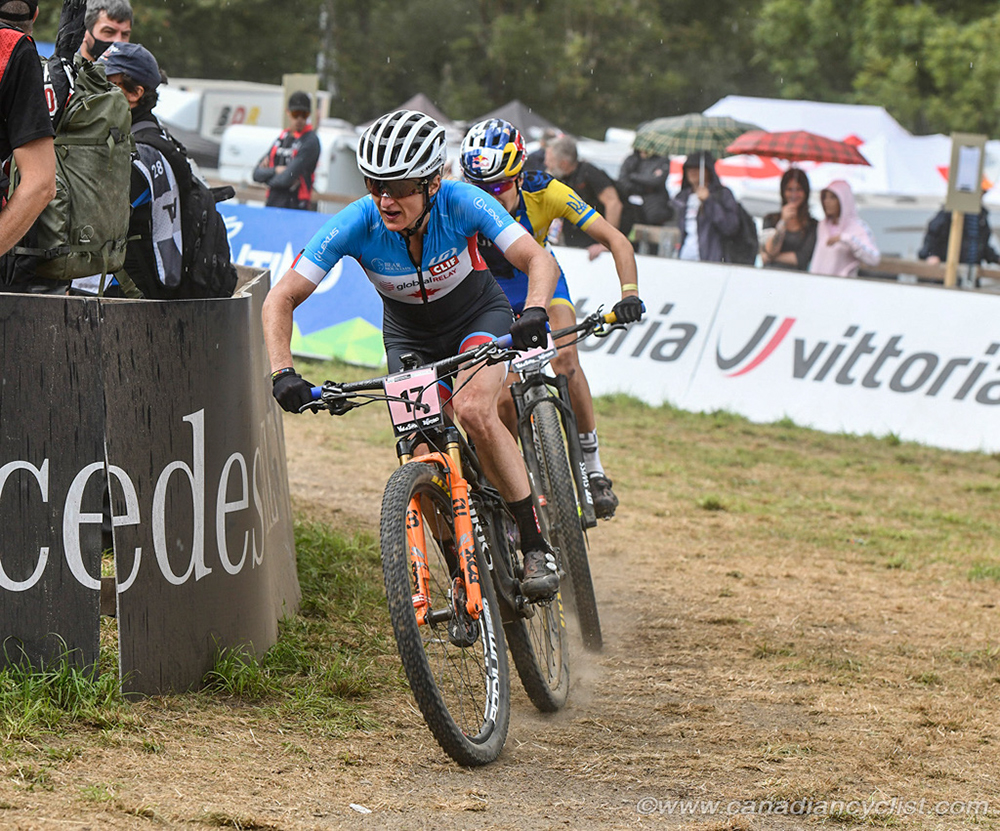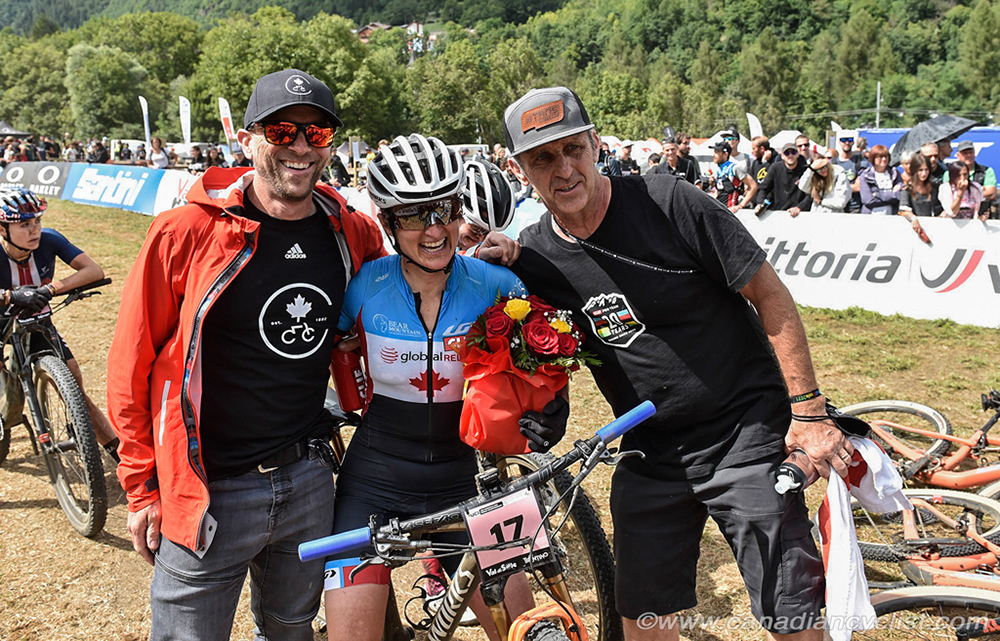 Despite weather forecasts all week calling for rain and temperatures in the mid-teens, race day was warm and sunny, with only a few drops of rain falling. The hot, dry conditions turned the course into a blown out, rutted dustbowl.

Defending world champion Pauline Ferrand Prevot of France jumped into the lead at the end of the start loop, opening a significant gap on the first lap over a chase group containing Richards, Frei, Olympic champion Jolanda Neff (Switzerland), Terpstra, Maja Wloszczowska (Poland) and Rebecca McConnell (Australia). By the end of the first lap, Ferrand Prevot was over half a minute clear, but Richards wasn't happy with the situation and dropped the rest of the chasers to join her French rival by the end of the second lap.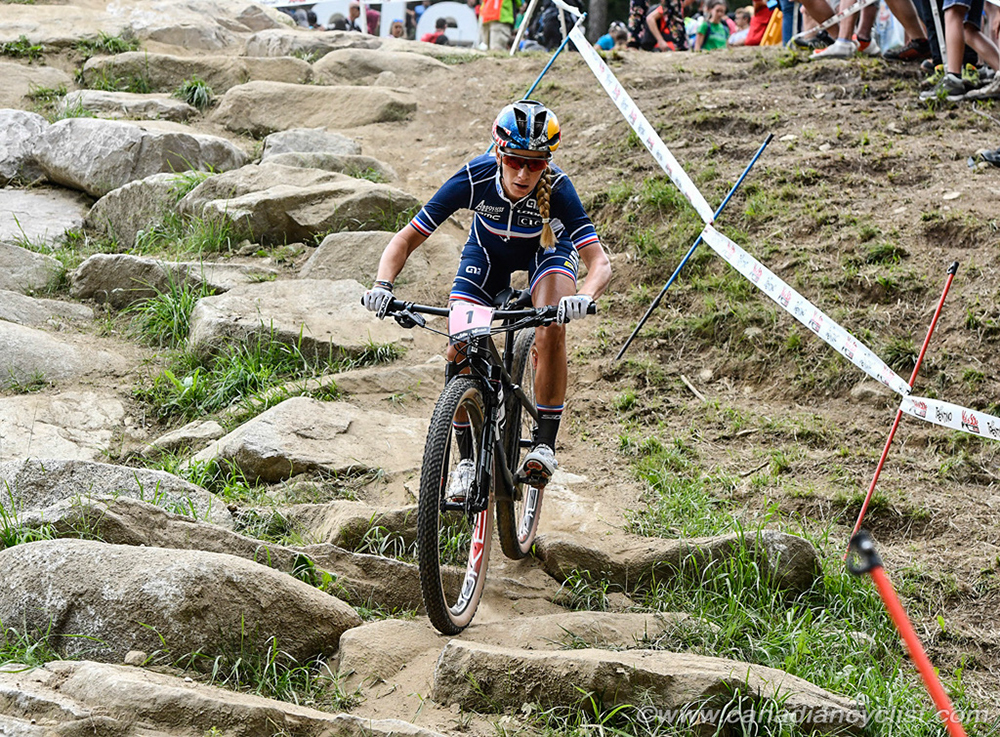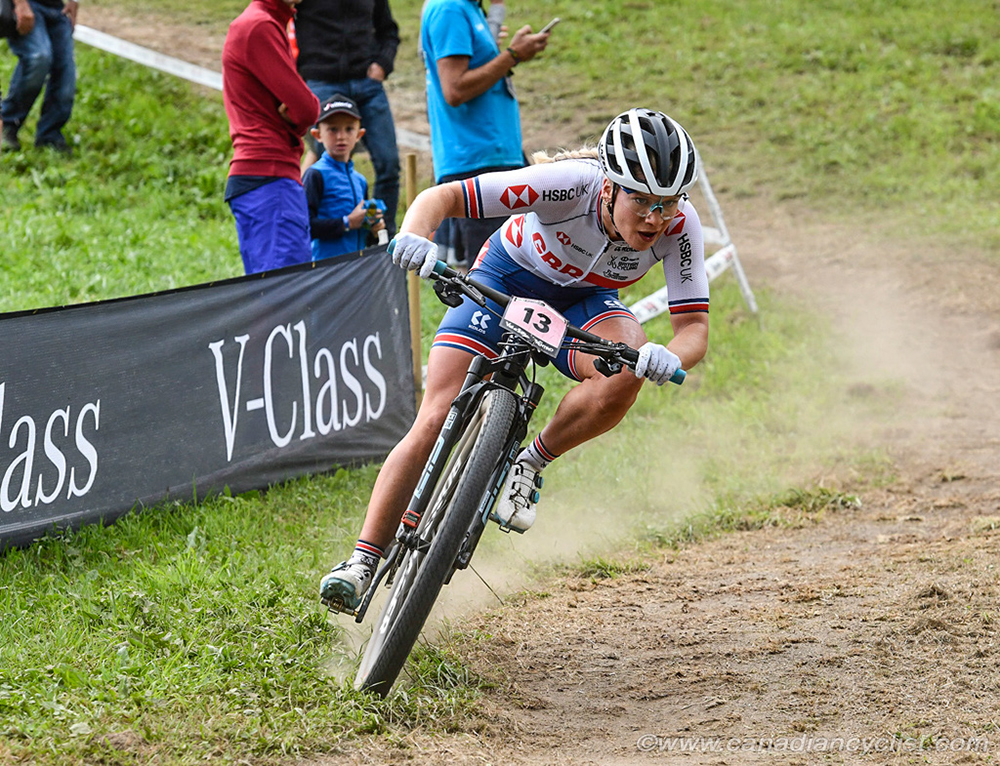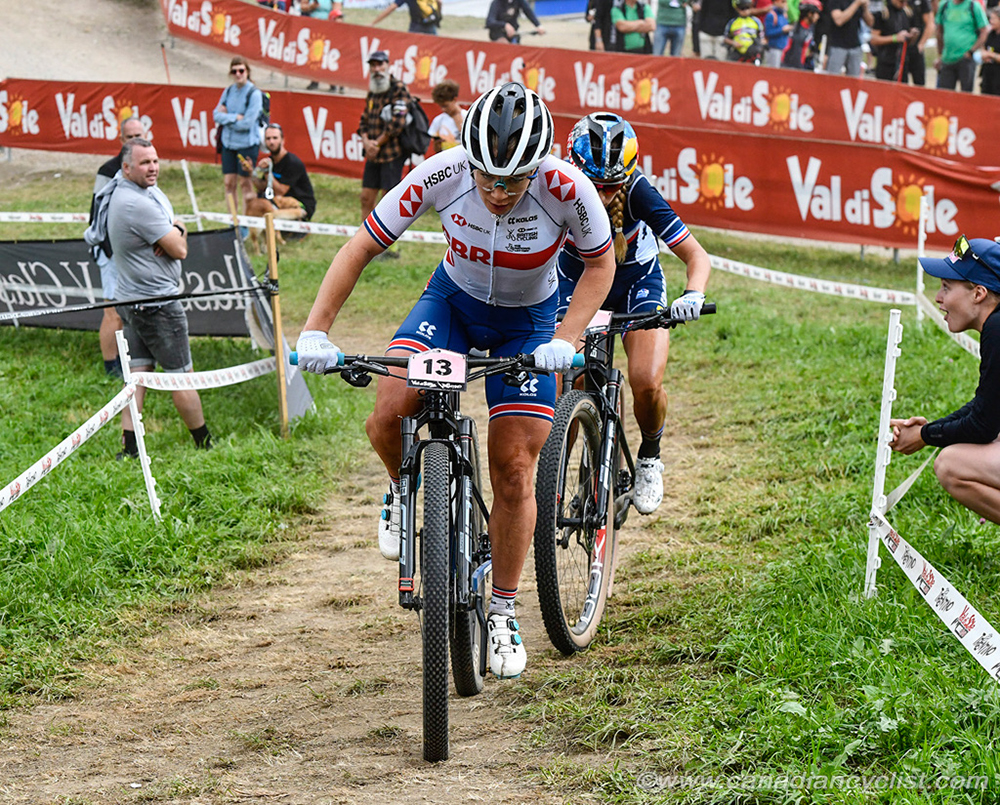 Richards didn't pause after catching Ferrand Prevot, motoring away on the steep climbs to a 38 second lead by the end of the third lap. Ferrand Prevot was fading (eventually finishing sixth), and was caught by Terpstra early in the penultimate fourth lap, who had dropped the remaining chasers to go off in solo pursuit.
Richards continued to extend her lead through the rest of the race - faster on both the climbs and descents - to win by over a minute. Frei and Neff rode together in the bronze medal battle until the final metres of the race, with Frei, the Olympic silver medalist, beating Neff in a sprint.

"Today I'm not sure how much tactics played a part," said Richards, "because I just rode at the front. I was pleased that I got a good start, that was the main thing, and then it was just about keeping calm. In that sense I had the perfect race and didn't make any mistakes. I didn't want to get sucked into [Pauline's] fast start, because then I wouldn't be able to recover; it's a very hard course. I saw that in the Junior race early, with some riders going out too quick. It paid off, I think."

Terpstra echoed Richards' comments: "I think I kind of had the same tactic as Evie, but I didn't make a really good start [in the start loop] and I had to come from further behind. If you do a smooth race here and take good lines in the technical sections then you can go far, and I think that is what brought me this medal."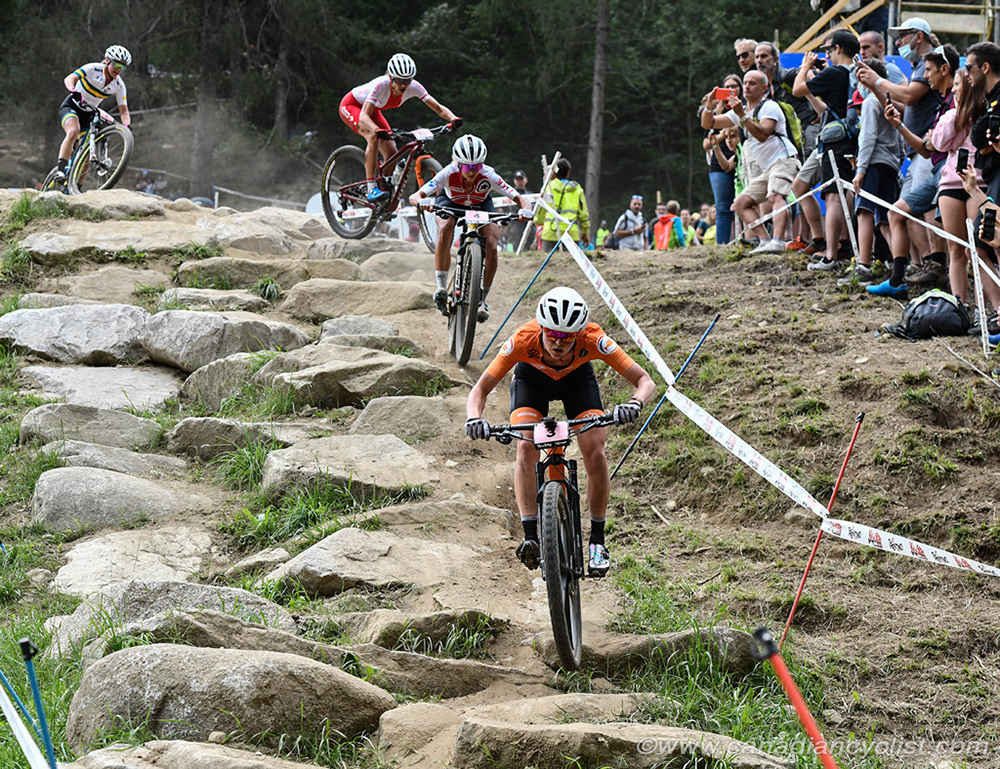 This was Catharine Pendrel's final world championships, her 13th. She was still the top North American rider finisher.

"I really felt like I was charging, and had some of my best sensations of the year, and then in the last lap I think I got a little too much into maintenance mode, and everybody else was on charge mode. I tried to pick it up on the last half lap, but there were too many people on the charge behind me."

I asked Catharine if she was thinking at all about this being her last Worlds? "I thought about it just a little bit with one lap to go; how ironic it was that I felt I was putting together an amazing race ... but the level is just so high. Obviously, you want to go out on your best results, but I'm really happy with the way that I was riding."

"I'm skipping Lenzerheide and going home - my Dad hasn't met his grand daughter yet ... so I'll go home and then Snowshow [World Cup] and Nationals will be my last race."
MTB World Championships: Elite Women XC results