August 28/21 17:46 pm - Schurter is Back, Winning 9th Men's XCO Title, Bouchard 28th

Posted by Editoress on 08/28/21

It is no secret that Nino Schurter has been struggling - for him - in the past year, with no World Cup wins, not even on the 2020 world championships podium, and finishing out of the medals at the Olympics. However, on Saturday in Val di Sole, Italy, he proved that he is still at the top by winning his ninth Elite men's XCO title. Countryman Mathias Flueckiger took silver and Victor Koretzky of France won the bronze medal.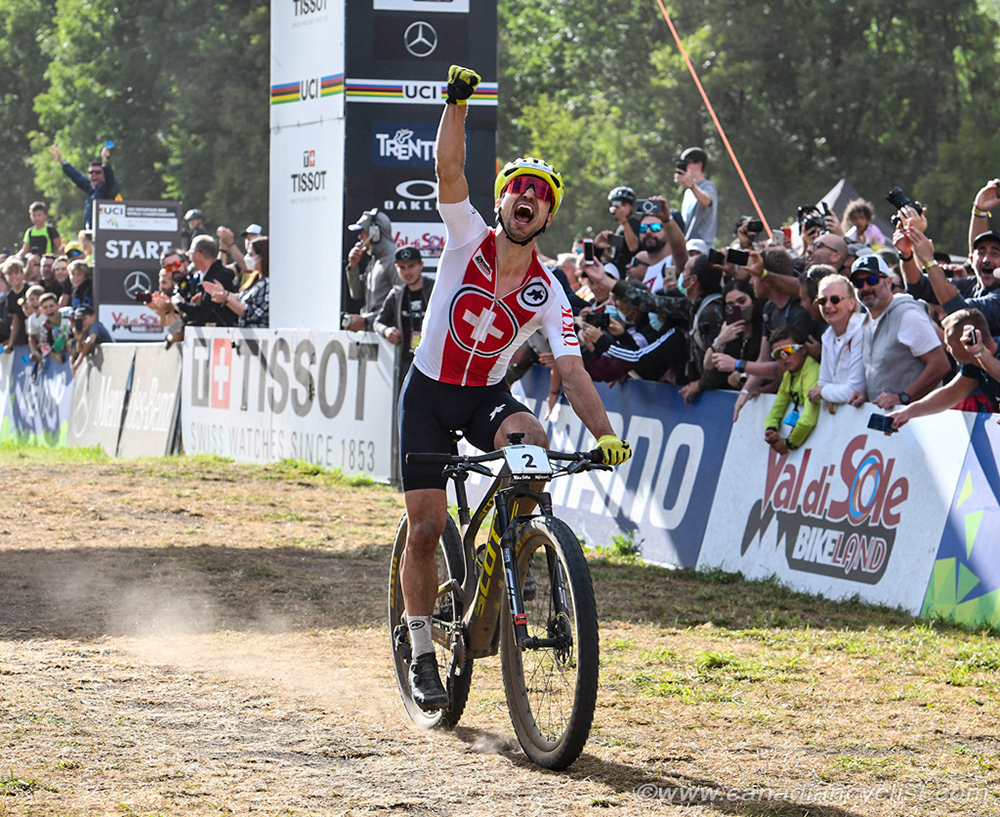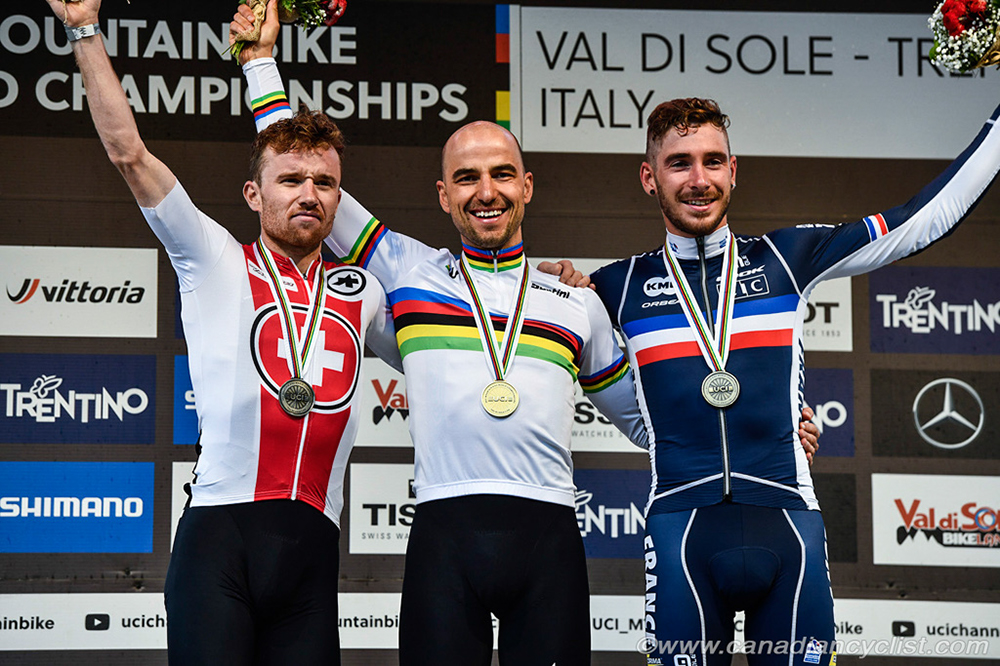 Leandre Bouchard was the top Canadian finisher in 28th. Other Canadian results included Marc Andre Fortier in 41st, Quinton Disera in 52nd, Tyler Orschel in 58th, Peter Disera in 63rd and Andrew L'Esperance in 73rd, a lap down. Sean Fincham did not start.

""It was hard race, with a lot of climbing and very technical in the first part [of the circuit]," said Bouchard. "It was a good ride for me on a course that maybe doesn't suit me. I managed to do a clean ride, a strong ride, so I'm quite happy with it; it was better than the two previous World Cups I did."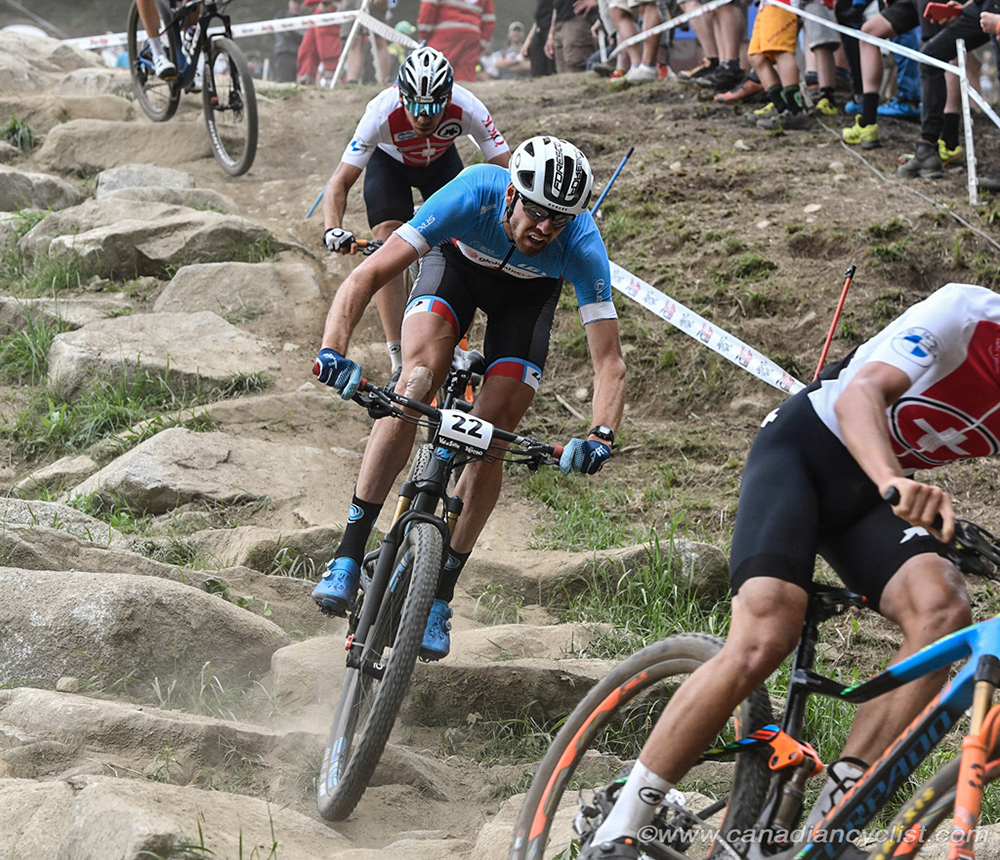 Despite the absence of both Thomas Pidcock (Great Britain) and Mathieu van der Poel (Netherlands), the list of contenders was large, but Schurter and Flueckiger made it clear early on that this was a two man race. The pair rode away from the rest of the field on the first lap and provided a near perfect example of a two-up time trial on the dirt.

Flueckiger was doing the majority of the pacesetting, with Schurter staying glued to his wheel. Unlike other races this season, in the final lap when Flueckiger tried to shake his rival on the climbs, Schurter could not be dropped. Going into the final 500 metres, Flueckiger was in front with seemingly few opportunities for Schurter to pass. However, 250 metres out, they had to slow to a near halt for a tight 180-degree turn to the left; Flueckiger went a little wide, Schurter immediately dove to the inside to get to the front and then sprinted for the final 200 metres, punching the air as he crossed the line.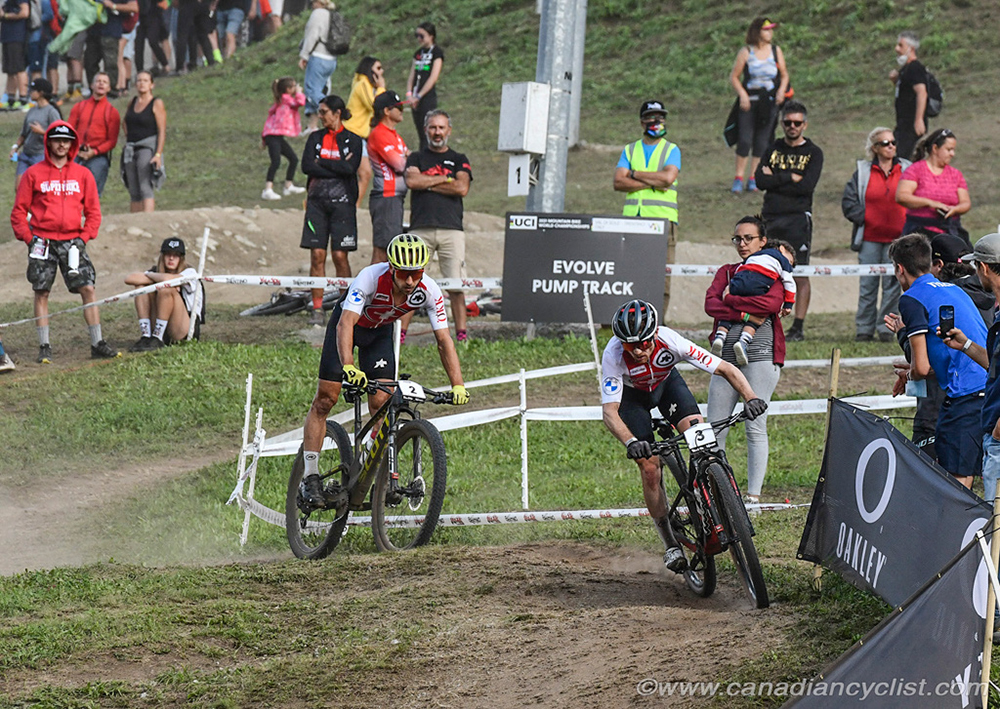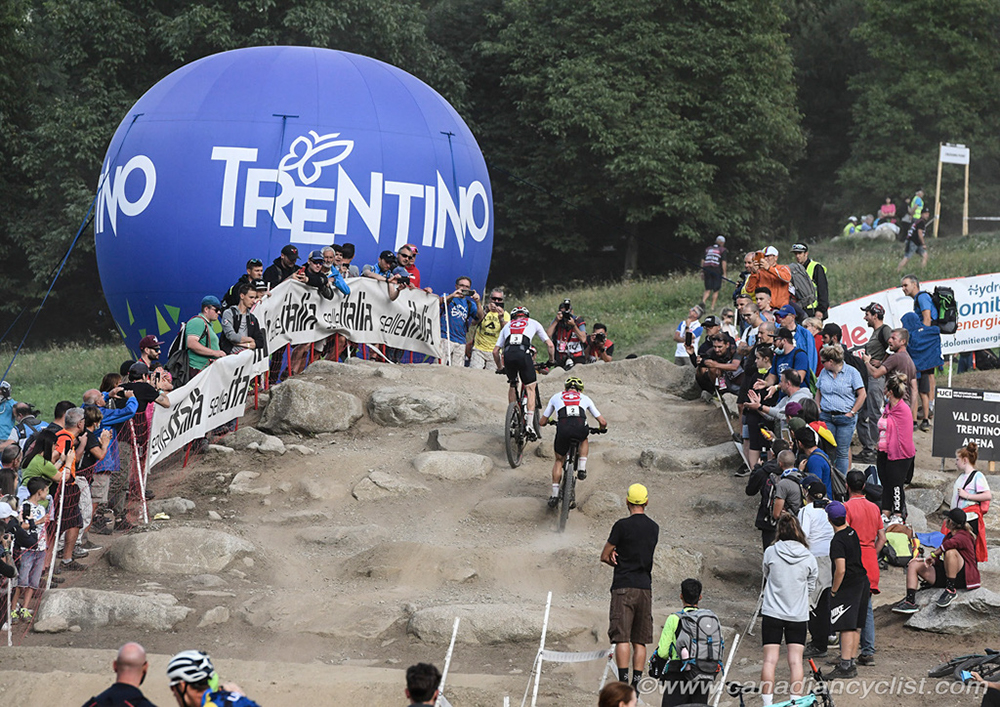 "It was perfect race from the start," said Schurter. "I was in the lead with Mathias and we were able to work quite nicely together until the last two laps, and then the battle between us started. In the last lap I was actually quite tired and tried to hang on to Mathias. When I saw that he couldn't drop me at one of the last steep climbs, I knew I needed to take my chance. I tried to pass him before the last downhill but I couldn't. From that, point, I knew I would need some luck, a good corner to pass him, and it was incredible to do it and sprint to the line."

Schurter also admitted to self-confidence issues. "I had some doubts about myself and whether I could still win races. I haven't been performing as I wanted, so it's really cool to be back."

Behind, Ondrej Cink (Czech Republic) was the early solo chaser, before Koretzky bridged across mid-race. Koretzky attacked on Lap 5 (of 6), but at almost the same time, Cink got off his bike and had to run a section of uphill, hammering on his rear shifter. He managed to get back on a ride to the pits, but was down to 16th by the start of the last lap and out of contention.
MTB World Championships: Elite Men XC results