September 8/21 12:57 pm - Carson Mattern - A World Champion's Report

Posted by Editor on 09/8/21

Carson Mattern was one of two Canadians to win a world title at the Junior Track World Championships in Cairo, Egypt, which concluded on Sunday. Carson, a first year Junior, won the rainbow jersey in the Men's Scratch Race - a first for Canada - after lapping the field solo. He also won a bronze medal in the Madison with Canada's other world champion, Dylan Bibic, who won the Points Race (as well as taking silver in the Omnium). Carson graciously wrote a report for us on his Worlds experience:

The last year and a half leading into the race was challenging for obvious reasons. It was massively disappointing to see race after race get cancelled. Somewhat naively, I thought 2021 would flip a magic switch and there'd be competition again but that wasn't the case. Although it was sometimes very hard to stay motivated, the big, long-term goal of Worlds was my carrot. Whereas other smaller, short term goals fell away, Worlds just kept getting pushed back, which kept me determined to train and find success.

In the weeks leading up to the races, I didn't quite know what to expect, to be honest. There were so many things that were going to be new: the open air track, the different weather, the caliber of competition and the fact that I hadn't competed on the track since February of 2020, a whole 18 months ago. However, it became apparent at the pre-Worlds camp that I was on good form - I have Richard Wooles to thank for that - and preparations with Jenny [Trew, NextGen coach] were going well. This meant that the focus at the camp was to get myself as physically prepared as possible, as well as practice some technical elements that haven't been performed in a long time, as track access had been very limited up to this point. I am happy to say that it all came back to me pretty quick. After the camp, I left for Cairo knowing I had a very good chance to get a result based on fitness alone and that I just had to execute the technical and tactical aspect of racing to the T, which is sometimes the hardest part.

My first race day rolled around and I surprised myself with how calm I was. Knowing that I was well prepared and was very much aware of what I needed to do in the race meant that any nervous energy was all positive. I was really excited to get racing; competing at Worlds has been my dream for the past four years and with almost a total absence of racing since 2020, the anticipation had built up like crazy. I couldn't stop smiling on the start line simply because I was so happy to be there.

Going into the final I knew a rainbow jersey was very much in the cards. I was one of the strongest riders in the race, based on qualification. I had a plan that played heavily into my strengths. I wasn't stressed about what my competitors were doing, I just did what I knew I could do when I needed to do it, and that is how I won. When I took the lap and the race finished, I wasn't positive I had won yet. It wasn't until I hit the back straight and saw Jenny cheering that I realized it. I couldn't contain my excitement. I immediately looked for my mom in the stands to go celebrate!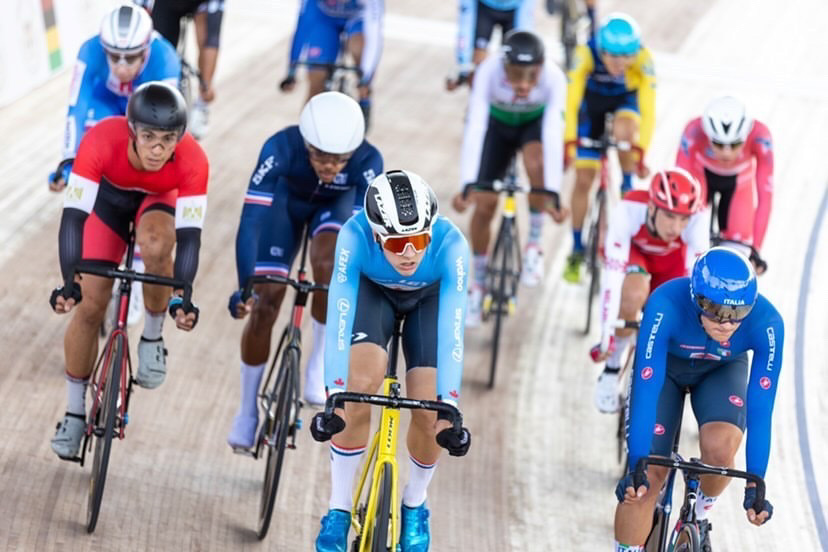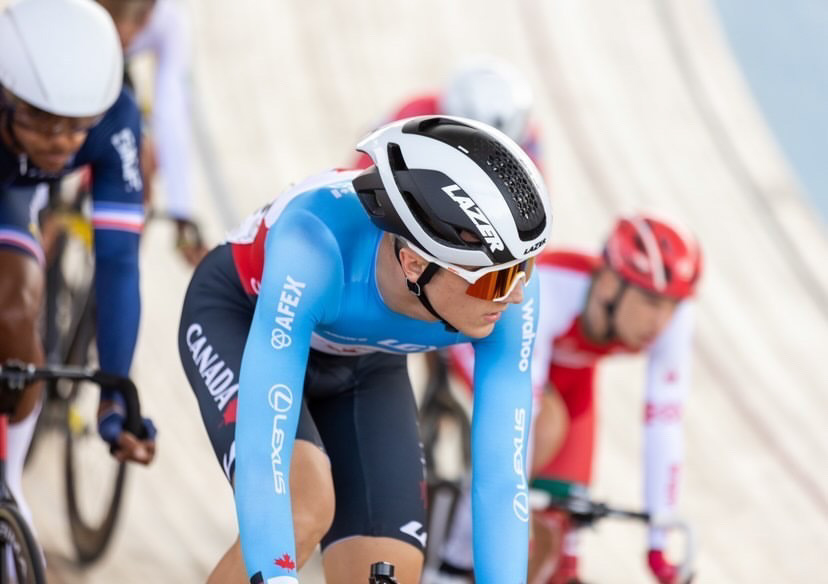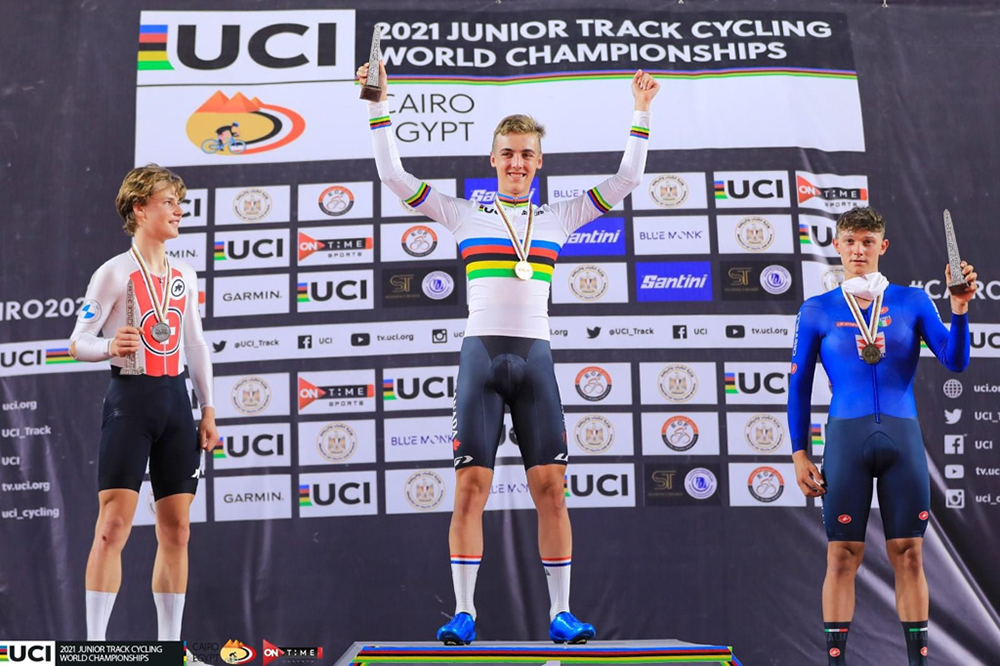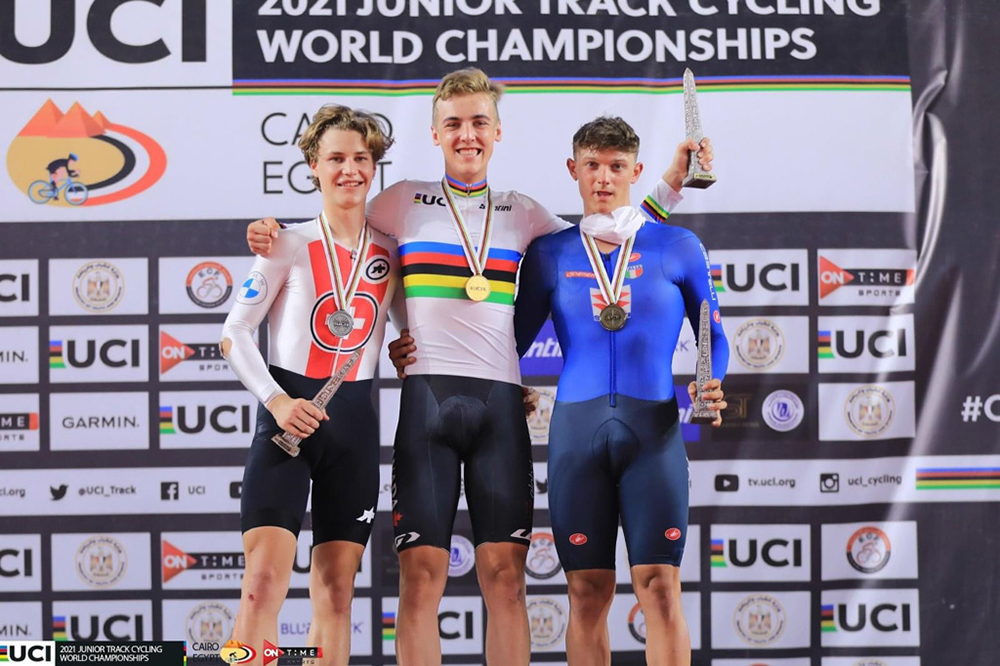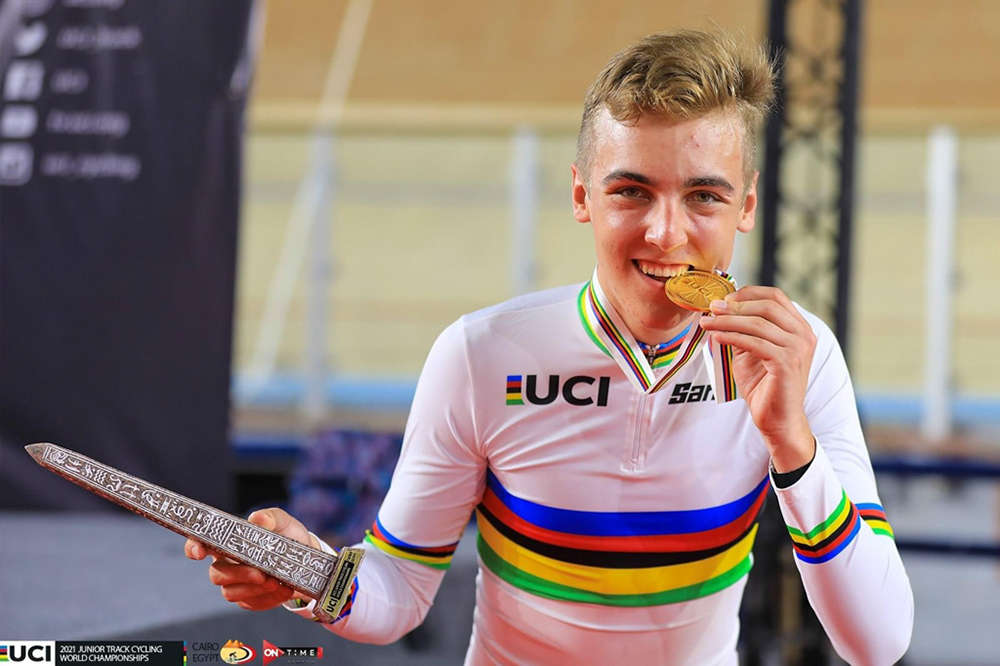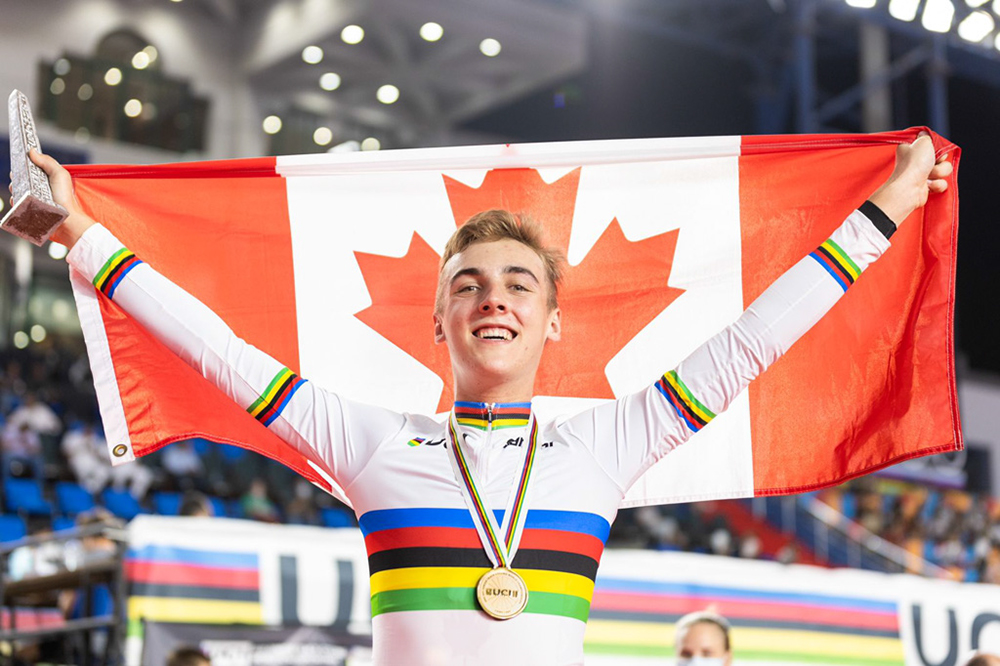 Photos by Ayman Kamel ( @aymankamelph ) and @egy21jtcw

My final race, the Madison, where Dylan and I won bronze, was a fantastic learning experience. As always, racing Junior Madison for the first time is a bit of a shell shock. I have some good experience in Madison racing but it had been a while. I felt myself come back in the second half of the race after having a very hard first 60 laps. Especially once we moved into the bronze medal position, I was determined to do whatever I could to defend it. I felt it was well earned. There was not much left in the tank for Dylan or myself after the race. I'm already thinking about next year's Worlds.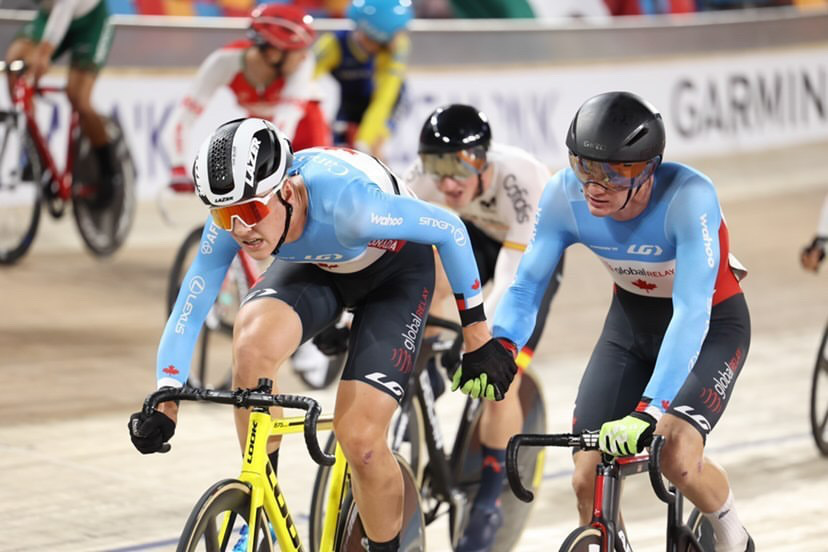 Photos by Ayman Kamel ( @aymankamelph ) and @egy21jtcw