September 19/21 11:45 am - Top-20 for Hugo Houle on First Day of Road Worlds

Posted by Editoress on 09/19/21

Canada's Hugo Houle finished 20th in the Elite men's time trial on the opening day of the Road World Championships in Bruges, Belgium, on Sunday. Defending champion Filippo Ganna of Italy retained his title, finishing ahead of two Belgian riders - Wout van Aert and Remco Evenepoel.

The 43.3 kilometre course was almost completely flat, which Houle commented on in his interview with us after the race.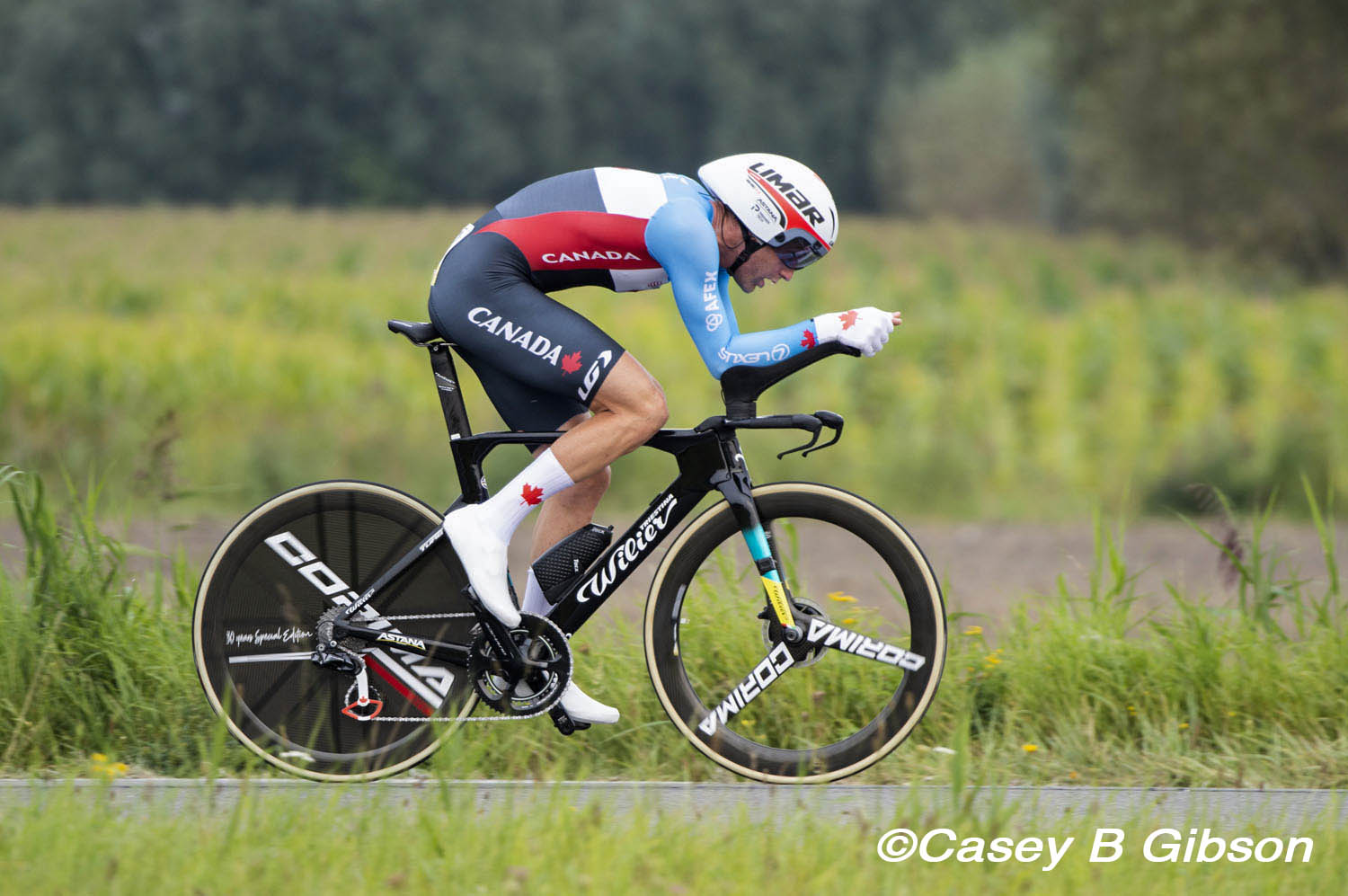 "I think I'm where I should be; it was a hard day. I did okay power but I was struggling midway when I really wanted to put power down. But my legs didn't put out the power like I wanted to. I stayed focussed and worked hard to keep the power on the pedals, but I had to fight a lot, I was not really comfortable."

"Sometimes, you are more in the rhythm and it's an easier day, but today I suffered a lot. At the end of the day, I'm happy with my ride, but it was not a good day like the Olympics, for example, [where he finished 13th] when I was way more powerful."

"I gave it my all, but struggled a bit after the first time check. It was also challenging because it was really flat and not much change of rhythm, so we had to be really focussed to keep the power up. When it's flat it's easy to lose focus and let the power go down."

"I gave it my all and the result wasn't what I was expecting, but it was where I should be. If I look at the first time check, I did the first 13k on my pace, and in the last one I was 19th, to finish 20th. We have to be honest, the guys in the top five, they are on another level than I am. If there is more climbing then it is better for me. It was a painful time trial, I would say, but I'm happy. I gave it my everything today."

"For today it was always consistent power, there was no way to recover. At the Olympics, for example, there was more hill sections, where you could push more and then recover. But today was more constant effort. It was quite hard mentally to see those long stretches and look ahead and keep your head down and focus on pushing the power you needed to. It's quite easy to lose focus on such a long straight road. But, at the end, I did okay."

Hugo said he is heading home for a few days, before returning at the end of the week to join the rest of the team for the road race.