November 15/21 12:29 pm - Dylan Bibic Headlines Impressive U17-Junior-Para Track Nationals

Posted by Editoress on 11/15/21

For the first time in two years, the Under-17/Junior/Para Track National Championships took place on November 12-14 at the Mattamy National Cycling Centre, in Milton, Ontario. Turnout from across the country was high, and the level of competition strong and encouraging. While Dylan Bibic's unprecedented sweep of all the nationals titles in Junior men was a remarkable accomplishment, it was not the only strong performance. [Watch our interview with Dylan Here]
Photo Galleries from all 3 days of racing

U17 Women

Five riders won multiple titles in Under-17 women, led by a duo from Alberta - Annabelle Thomas ((Individual and team Pursuit, Keirin) and Alexandra Volstrad (Points, Team Pursuit, 500m TT). Three riders each won two titles - Anika Brants of Attack Racing (Scratch, Team Sprint) and her team mate Nora Linton (Sprint, Team Sprint), plus Vanessa Montrichard (Team Hamilton). In fact, these five riders accounted for all but three of all the medals awarded in the category. Special mention should be made of how Alberta has surged onto the Under-17 scene - both in the women and the men.

U-17 Men

Four riders accounted for all the national titles in Under-17 men, led by 14 year old Ashlin Barry (Mariposa-Revolution). Barry won four titles, in total - Keirin, Scratch, Elimination and Team Sprint). Charles Bergeron (Team Hamilton) took two, in the Individual Pursuit and Team Pursuit, as did Cole Dempster (KW Cycling Academy) in the Sprint and 500m TT. Kaden Colling (Alberta) won the final title, the Points Race, in a strong and tactical ride that deserves special mention.

Junior Women

Nicole Bradbury (Team Hamilton) dominated as an Under-17 back in 2019, and she continues to show her strength as a Junior, winning five national titles - Individual and Team Pursuit, Points, Elimination and the Madison. Two Equipe du Quebec riders won the remaining titles, with three each - Penelope Primeau (Keirin, Scratch, Team Sprint) and Emy Savard (Sprint, Team Sprint, 500m TT).

Junior Men

While Dylan Bibic took all the titles (with other riders in the Team Pursuit and Sprint, and the Madison) - as well as setting a national record in the 3000m Individual Pursuit (3:12.341) - he did not have an easy time of it, with multiple other riders challenging him. The Junior men also offered the rare opportunity to see two reigning world champions racing at the Nationals - Bibic (Points Race) and Team Ontario's Carson Mattern (Scratch Race). Besides these two, other riders that appeared regularly on the podium included Michael Leonard (Team Ontario) and Tyler Rorke (KW Cycling Academy).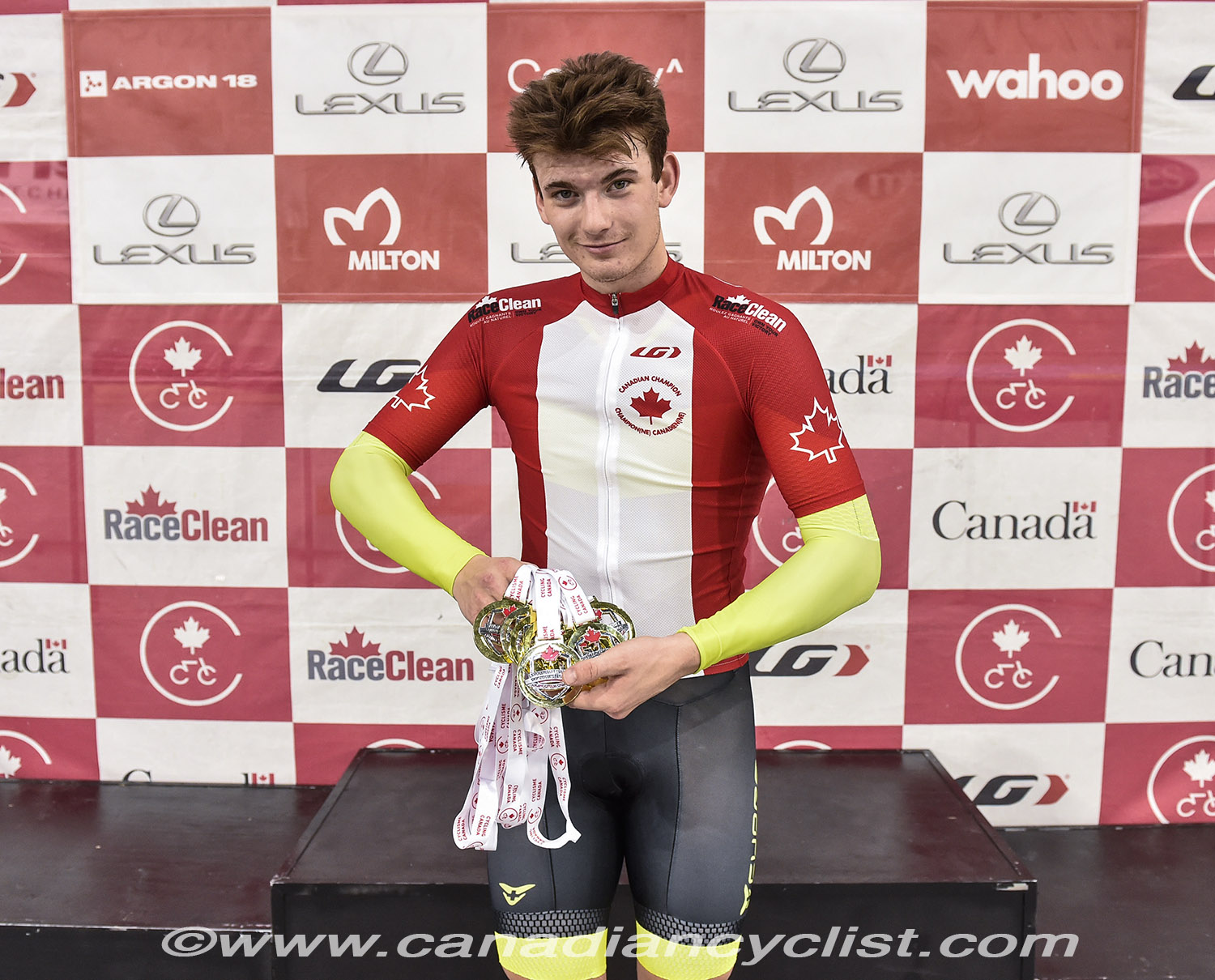 A perfect 10 for Dylan Bibic
"I came into these national championships in bad form with mediocre times […] but when competition hit, I was able to perform better than I did last year and it just makes me feel so good," said Bibic. "Now, looking at what I just did [winning 10 gold medals], I think I'm more fit than I was at Junior Track Worlds." Bibic, who joins the Under-23 ranks next year, also put the Elite/U23 riders on notice for next January's Elite Track Nationals: "In Elite Nationals, I'm going for the Omnium."

Watch our full interview with Dylan Here.

Para

Para-cyclists in four category competed at the Championships, including Tokyo Paralympian bronze medalist Keely Shaw (Watt Riot Cycling), who won C4 titles in both the Individual Pursuit and 500m TT. 2012 Paralympic medalist Marie-Claude Molnar (Equipe du Quebec) took silver in both events. Mel Pemble (Cycling BC), a former Paralympic athlete in Alpine Skiing, attended her first Championships in cycling as a C3 athlete, in both the Individual Pursuit and 500m TT. In the Tandem, the women's Team Alberta duo of Carla Shibley and pilot Megan Brown rode the Individual Pursuit and 1000m TT, as did Lowell Taylor and pilot Ed Veal (Vision 202) in the men's category. Taylor and Veal set a new Canadian record of 1:04.564 for the 1000m TT.
Junior/U17 National Track Championships: Day 1 results and photos
Junior/U17/Para National Track Championships: Day 2 results and photos
Junior/U17 National Track Championships: Day 3 results