December 29/21 11:11 am - Kelsey Mitchell & Dylan Bibic Named Canadian Cyclists of 2021

Posted by Editoress on 12/29/21

The 25th edition of the Canadian Cyclist of the Year Awards saw two newcomers selected as the top riders of the year, with Kelsey Mitchell selected as the Female athlete and Dylan Bibic as the Male. Mitchell also won for the Best Individual Performance, ahead of Bibic. On Thursday we will announce the Para-cyclists of 2021.

Mitchell, of Sherwood Park, Alberta, highlighted her stellar year by winning the Olympic title in Women's Sprint at the postponed Tokyo Games this year; she is only the second Canadian cyclist to win an Olympic gold medal. Her gold medal performance was also judged the Best Individual Performance of the year.

This year, Mitchell also won her first ever world championship medal, finishing third in the Sprint, as well as finishing fifth in the Keirin at the Olympics and the world championships, and third overall in the inaugural UCI Track Champions League Series. Mitchell dominated the voting, taking 50% of first place votes, with 2019 award winner Maghalie Rochette a distant second at 18% of first place votes.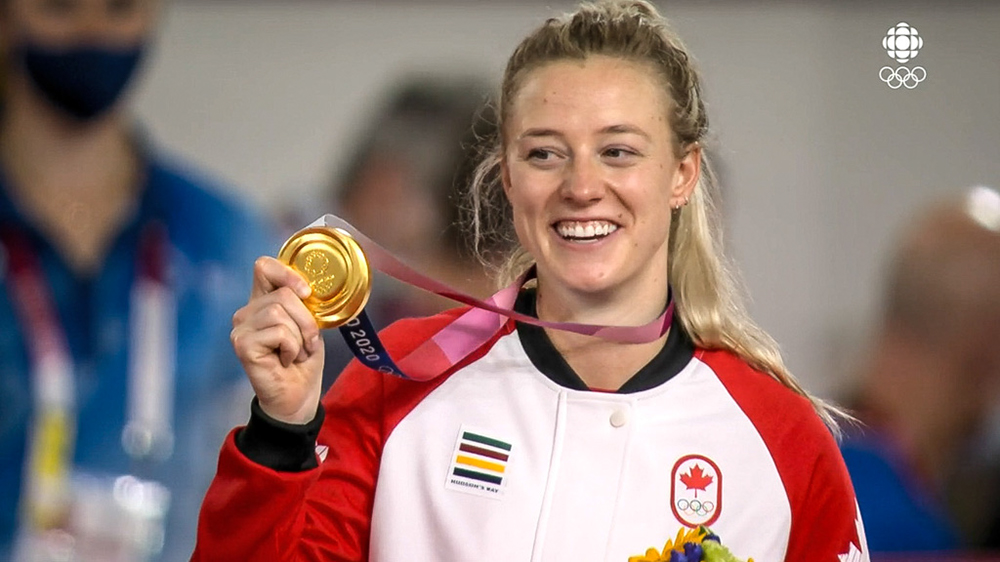 Kelsey Mitchell with her Olympic Gold medal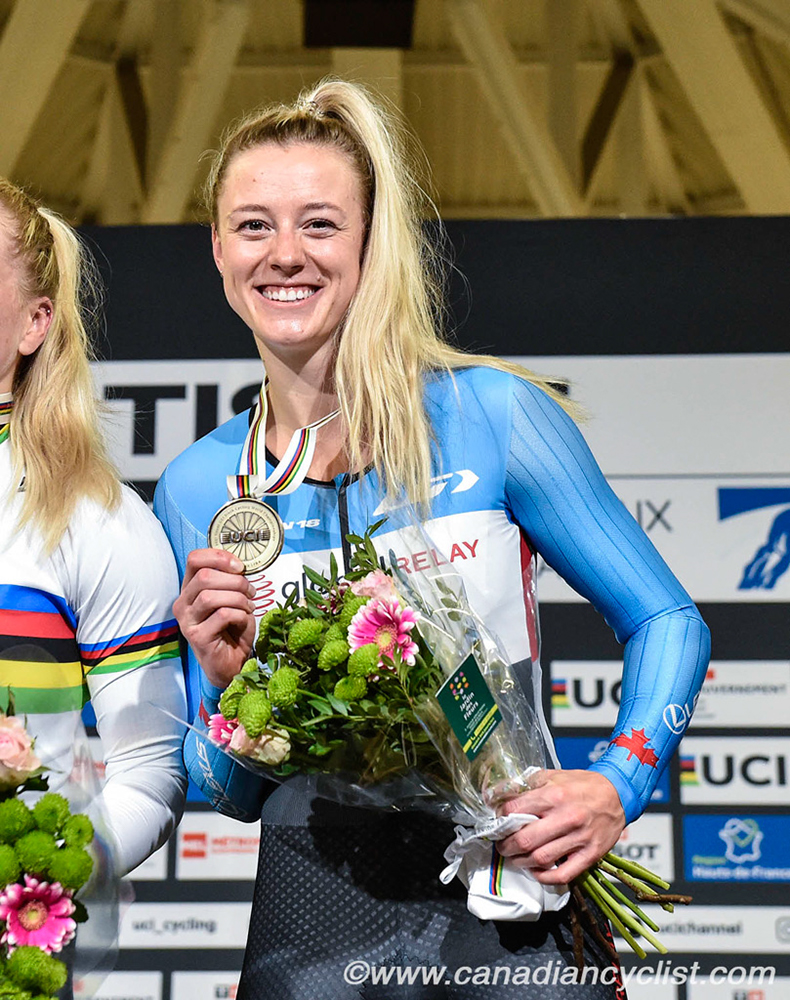 Kelsey Mitchell with her Track World's Bronze medal
"it is truly an honour to be the recipient of BOTH the Female Canadian Cyclist of the Year and the Best Individual Performance," said Mitchell. "It has been quite the year for me and I really appreciate being recognized for these awards. The gold medal win in Tokyo was a dream come true and I know the Canadian Cyclist award is for an "Individual Performance" but I wasn't alone out there; It was definitely a "Team Performance"! So, thank you to the team behind me, the Canadian cycling community, and every other Canadian that supported me on my journey to that top step. We did it! A gold medal, and a couple bronze medals (World Championships and UCI Champions League); 2021 was a great year, and I am hungry for more. Hope to keep this momentum going into 2022!"

Dylan Bibic, of Milton, Ontario, becomes only the second Junior-aged rider (17-18 years racing age) to win the Male rider of the year title. He also dethrones professional road star Michael Woods, who has won the past four years (2017-2020), and who finished second to Bibic this year. Interestingly, the last rider to win the Male title before Woods was another Junior-aged rider - Stefan Ritter in 2016!

Bibic won gold (Points Race), silver (Omnium) and bronze (Madison, with Carson Mattern) medals at the Junior Track world championships and was seventh overall in the UCI Nations Cup GC One Belt stage race. However, just as remarkably, he swept the Junior Track National Championships in his home town at the Mattamy National Cycling Centre, winning everything from the Sprint to the Omnium - an unprecedented 10 gold medals in 10 events over three days. His National Championships feat was second in the Best Individual Performance.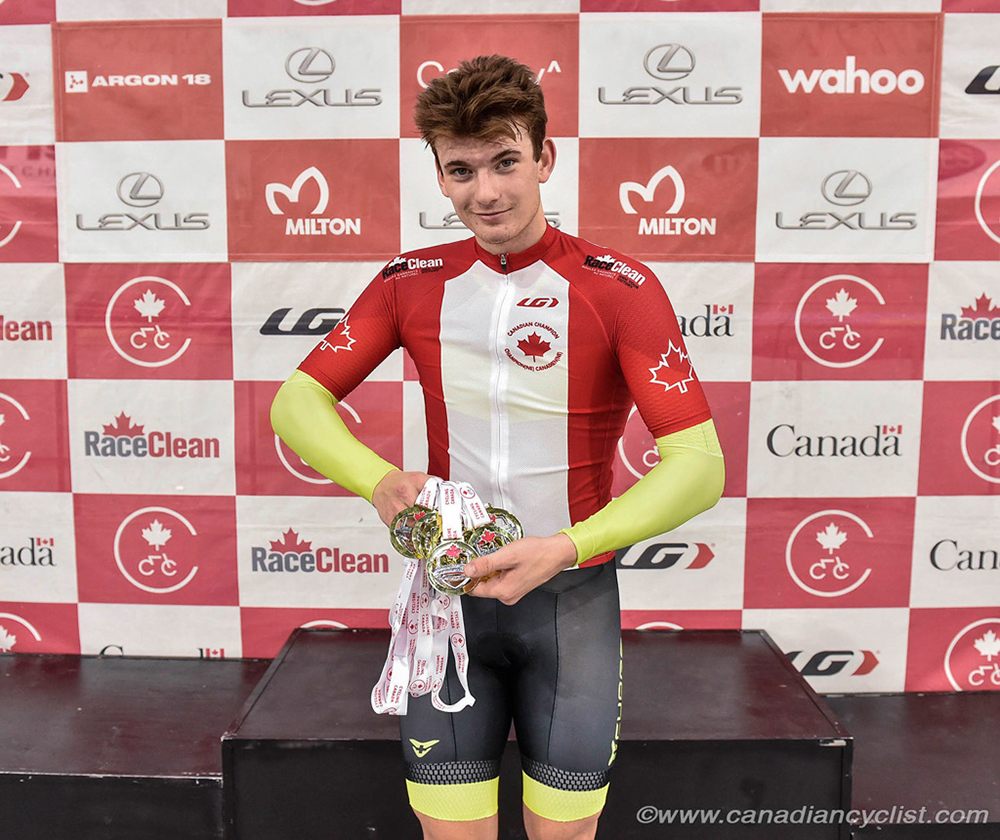 Dylan Bibic, perfect 10 gold at Track Nationals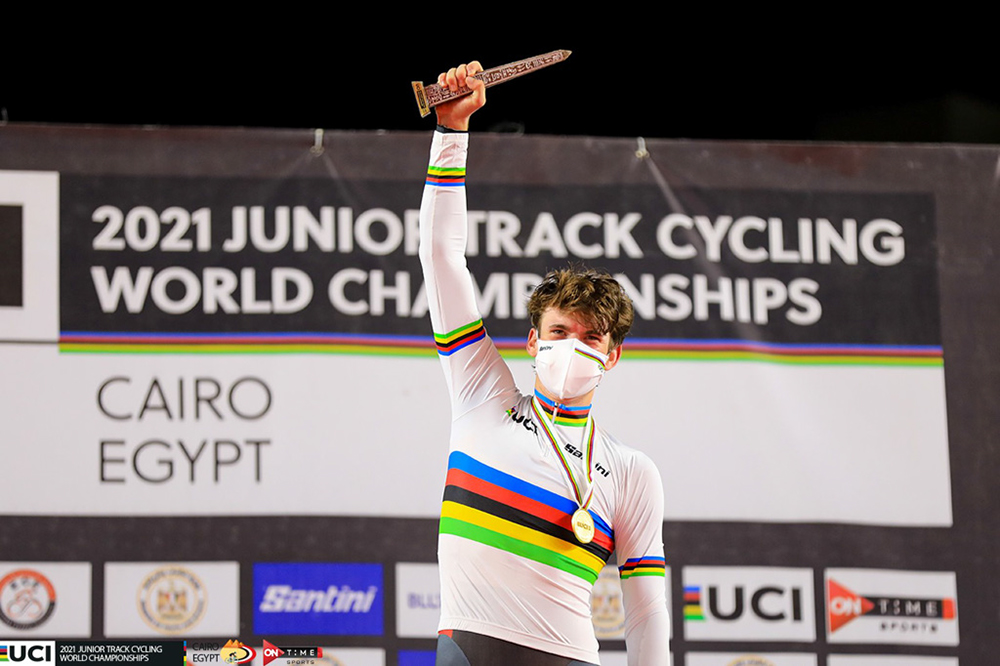 Points Race World Champion Photo by Ayman Kamel ( @aymankamelph ) and/or @egy21jtcw

"Wow, this made me really happy, thank you so much!," said Bibic when informed of his win. "This season was pretty hectic, especially because it was my first time going to Europe all summer to road race. And having to go halfway through the season to go race Track Worlds [in Cairo, Egypt]. I didn't know what to expect at Track Worlds [and] I was really surprised with my consistent result in the races, and with the world title. I surprised myself especially because this was my first time riding a track in four months."

"Then I had to fly back to Belgium to get ready for Road Worlds. At Road Worlds I got 19th in the Time Trial on [professional road rider] Hugo Houle's bike [borrowed] - it was the first time I had ridden it. The road race didn't go as planned - I got in a pile up in the first kilometre and bent my seat down."

"Then I got home and it was off season, so I had no intentions of doing well at Track Nationals but I surprised myself and got 10 gold medals and a new Canadian record. This was definitely the best year ever!"

Bibic joins the elite ranks in 2022 and will race for the new UCI Premier Tech team.