January 5/22 16:08 pm - Catharine Pendrel Interview - Looking Back on a Stellar Career

Posted by Editoress on 01/5/22

Post-Olympics is a time when many athletes retire, and 2021 was no different. We have announced the retirements of a number of Canadian cyclists, including Catharine Pendrel, whose last Olympics (four in total, the last only seven months after giving birth to her daughter, Dara), last world championships (her 17th), last World Cup and final national championships concluded a legendary career - although she has not left the sport; joining the coaching ranks as a national mountain bike coach.

Catharine, without any argument, is one of the greatest cyclists to come out of Canada. Her palmares include an Olympic bronze medal in 2016, Commonwealth Games champion [2014] and Pan Am Games champion [2007], two world titles [2011 and 2014], three World Cup overall titles (tied with Alison Sydor and Julie Furtado, only Gunn-Rite Dahle Flesjaa has one more), 12 World Cup wins (40 World Cup podiums) and eight national titles (six MTB and two Cyclo-cross).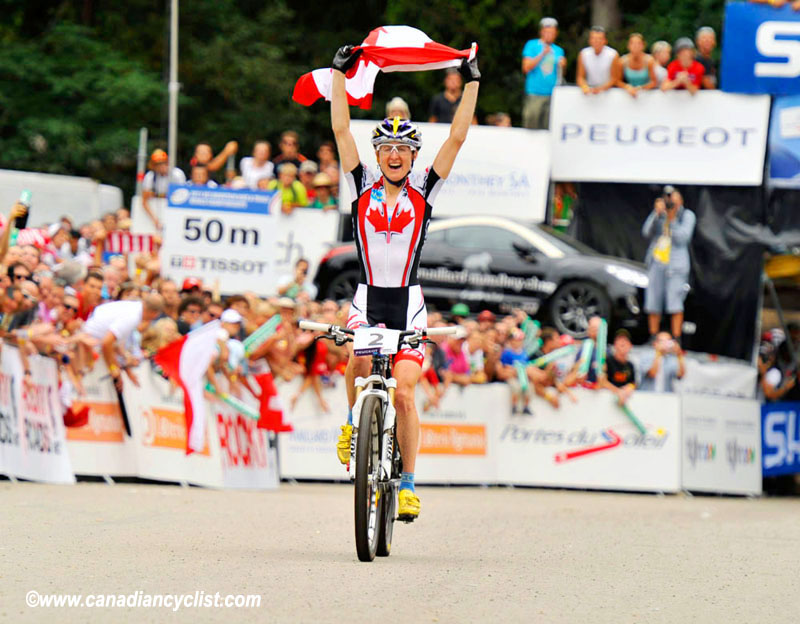 2011 World Champion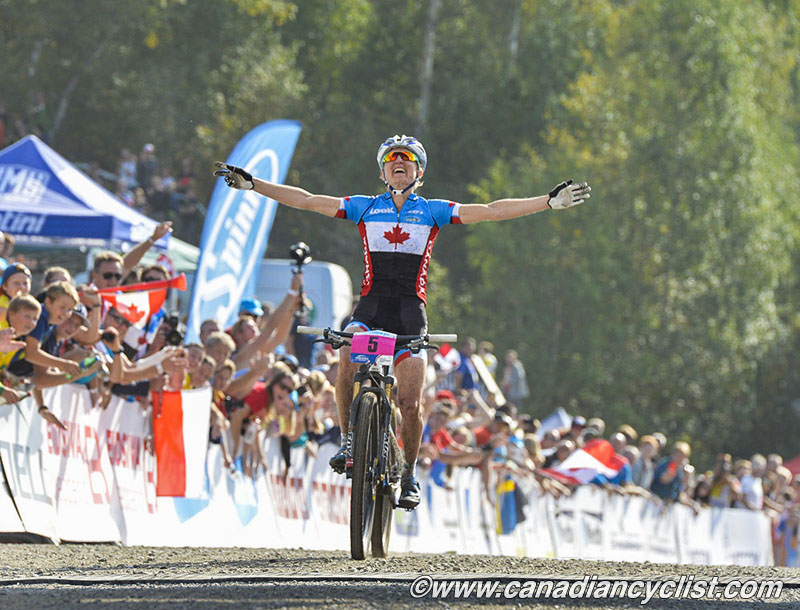 2014 World Champion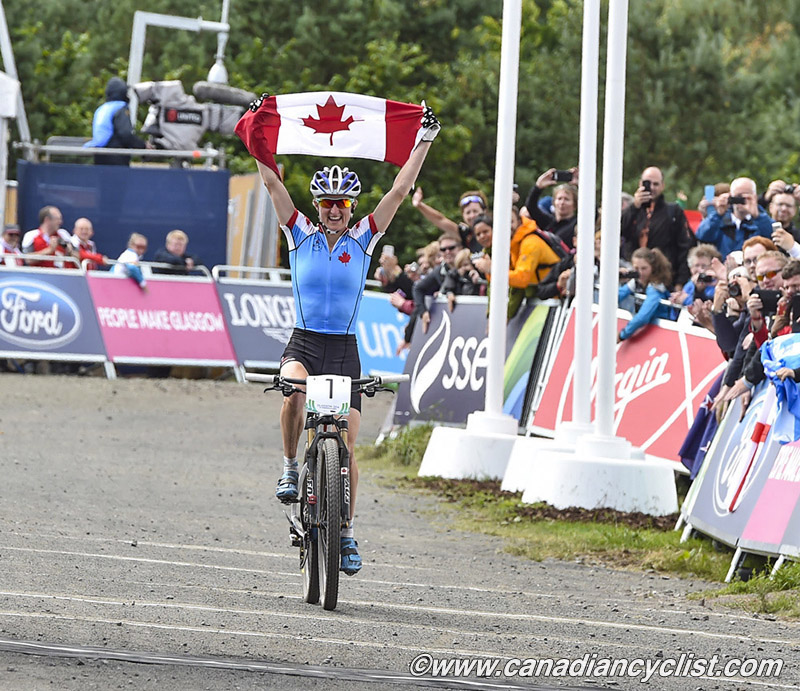 Commonwealth Games 2014
Olympics 2016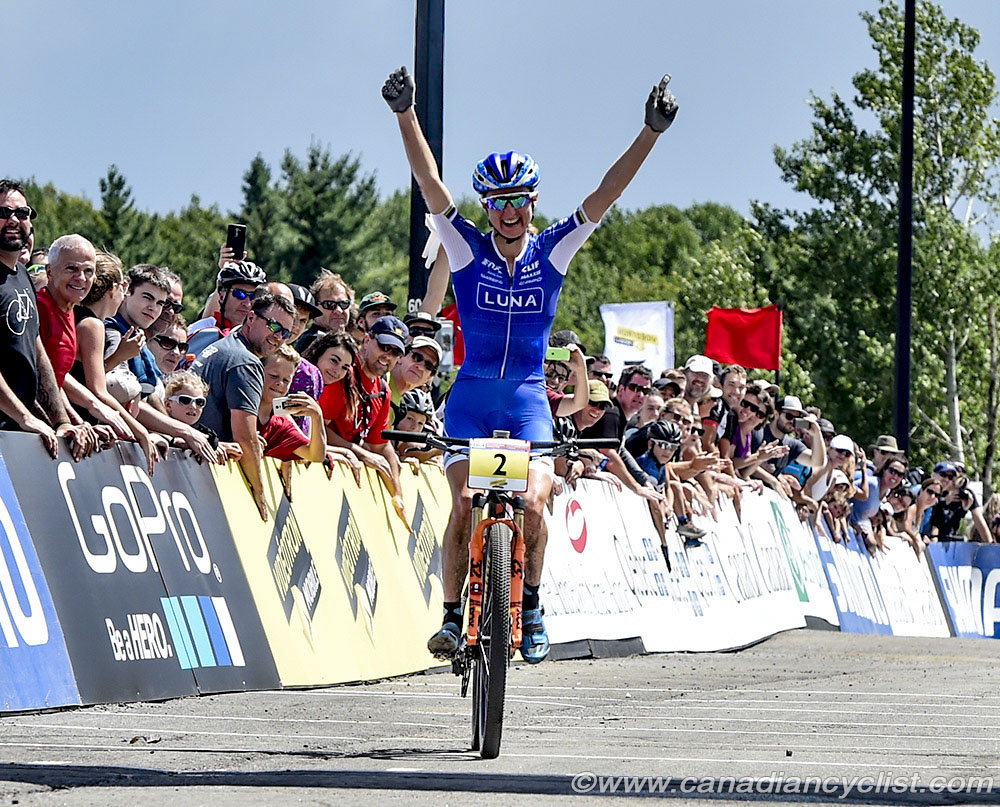 MSA win 2016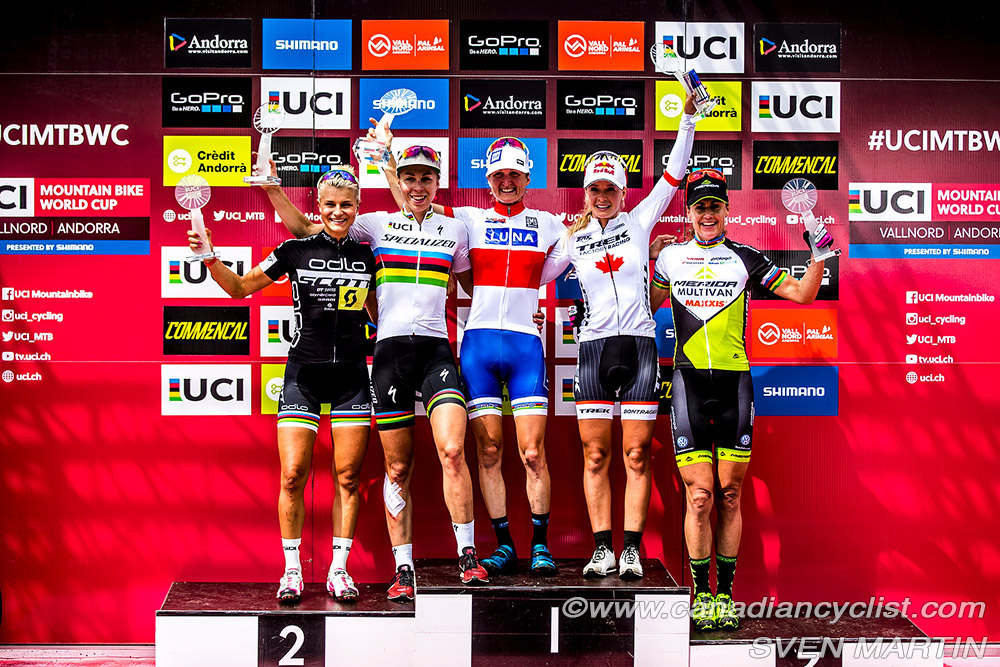 Overall World Cup winner 2016
She has also led by example: as a pro returning national carding money so that younger and less well-supported athletes could be funded, organizing races and trail building, coaching and mentoring younger athletes, including starting a team to sponsor Junior and Under-23 riders.

We spoke with Catharine following her final race, to talk about her career and future - at the time, she had not yet decided on her future plans, which have since included taking on a role as a national mountain bike coach. She said to us about her new role: "I am excited to continue working in high performance supporting our national team athletes and being able to share with them from my 15 years of experience World Cup racing. Our sport is continuously evolving and I look forward helping our athletes evolve with it."

Now, the interview:

Canadian Cyclist: So, now that you have raced your final race, how do you feel about your decision?

Catherine Pendrel: There's always mixed feelings ... but the fact that I didn't have the best race [at Nationals] makes it easier to step back, and also just seeing that some young women, when they got the chance to see the front of the race, they rode to their ability level. That just shows that we do have riders in the pipeline, ready to step up and take my place. So, it feels easier to step away, knowing that there are riders in succession.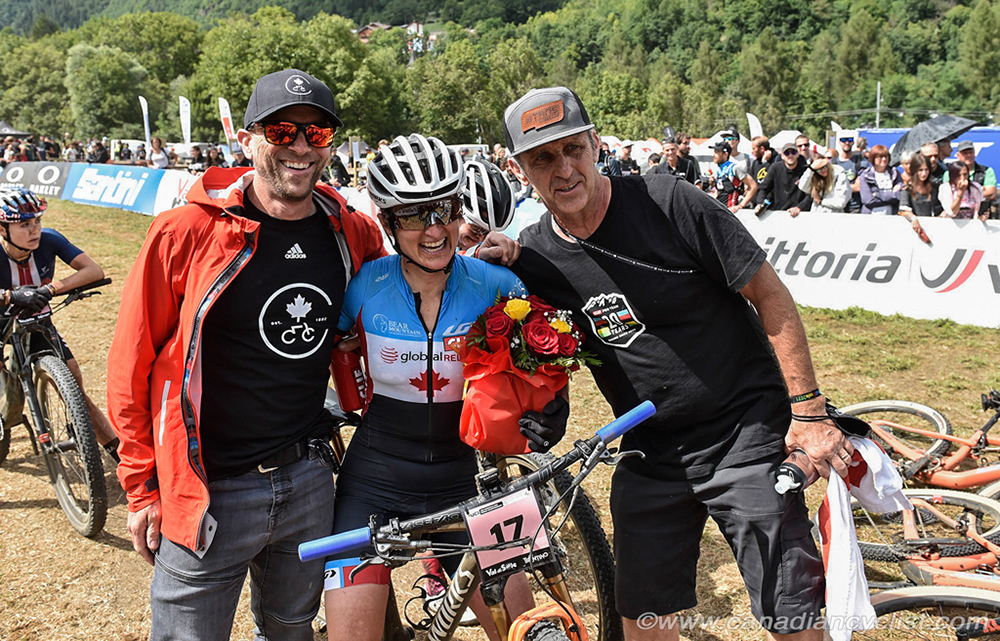 Catharine Pendrel celebrates her 13th (and final) world championships.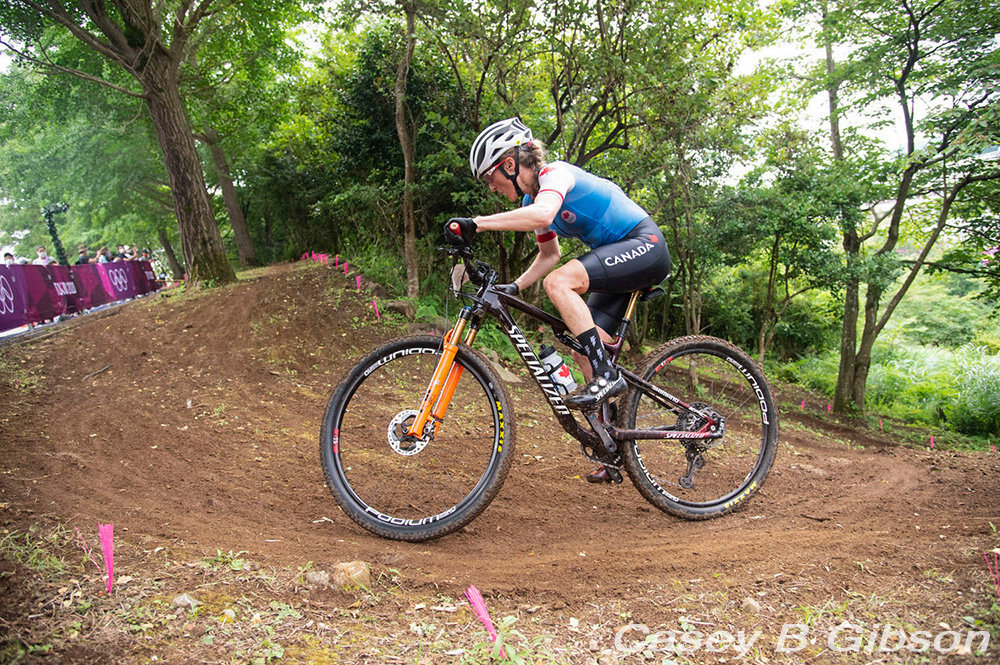 2021 Tokyo Olympic Games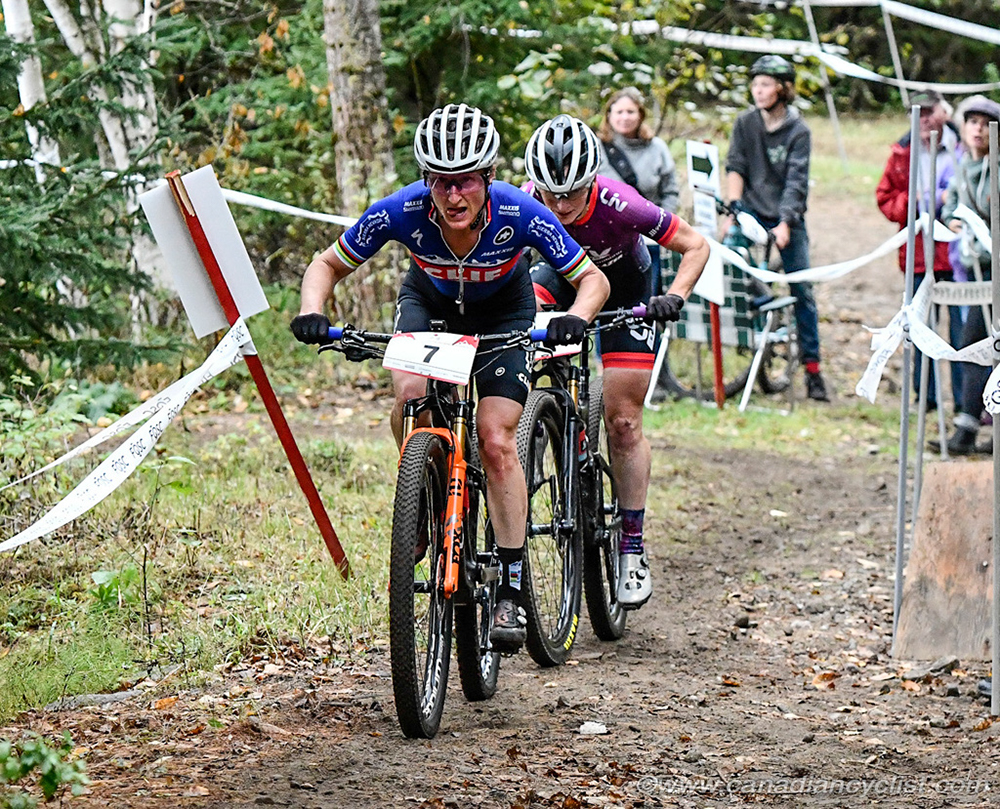 2021 National XC Championships
I still hope that there will be racing in my future; but I'm okay leaving the World Cup scene and that UCI points chase.

CC: There are some riders that, when they are done - like Marie-Hélène Premont - they just walk away. There are others that stay involved. How is it going to look for you? [Note: This was before she announced that she would become a national coach]

CP: My plan is definitely to stay involved. What that looks like - both in the short term and the long term - is to be determined. Having built a career for 15 years in mountain biking and with Keith [Wilson, Catharine's husband] doing so much coaching ... cycling has definitely been our world and our friend circle. I feel like I have spent 15 years developing an expertise that is pretty unique and would like to be able to share that.

But I also look forward to not having every weekend not dictated by what my training schedule is; and I'm sure Keith does too! Now that we have Dara, just having more time to do a hike rather than a ride ... doing the trade-off so we can both get in a ride. A bit more relaxed, but I hope to stay fit, I hope to stay really skilled, and stay in the community.

CC: So we won't see you racing at the Cyclo-cross Worlds in Fayetteville, Arkansas?

CP: Nope [laughs].

CC: Besides being a rider, you have been coaching and mentoring, and an event organizer - are we potentially going to see more of that?

CP: The coaching for sure and I have thought about ... when you don't see the Canada Cups coming out West, being a racer thinking about what would motivate me to come out West? So maybe I need to get behind Kamloops having a race and make it more worthwhile for people to want to travel. For the future of cycling in Canada we need to strengthen both our Provincial and National series. Because if we don't have those stepping stones, we aren't going to see as fast a development as we want.

We saw that [in the women's XCO at the Nationals], when Jenn [Jackson] and Laurie [Arseneault] both got a taste of the front; you can race better when you are getting positive feedback. When you are fighting for the 40s at a World Cup, you are not getting positive feedback, so you need to have more races where you can develop and get confidence, and then you can take that to Europe. Then, even if you have a bad race, you have all these other races where, 'Oh, okay, that World Cup was a hard day, but I know that I have it'. Instead when you are fighting for 40th and you don't think you have it. So, I think developing and strengthening our provincial and national series is really important.

CC: It's interesting, when I interviewed Jenn [Jackson, winner of the national XCO title], she specifically mentioned that.

CP: Yeah, training with Jen, we saw that; that this is the sort of riding that she is capable of. It takes time to learn that, and she and every other North American racer lost a season of racing [2020] and learning how to race to the best of their abilities. I think you are seeing the younger, developing athletes coming into their stride at the end of this season [2021].

CC: Let's talk about your career. There's been a lot of big moments - the obvious ones like winning a world title, winning an Olympic medal, World Cups and World Cup titles. But, for you, what are the ones that personally stick out in your mind?

CP: The first one that stands out is almost beating Alison Sydor at Test of Metal in 2007! I desperately needed the prize money, and I showed up at the race and she was there, and my vision of making money to get to the next race just disappeared. I raced without a security net; I just went all in, and stayed ahead and took every single prime, which was like a thousand dollars. She passed me for the actual win, but to have the opportunity to race against someone of that calibre and actually perform gave me huge confidence. So that was one of those stepping stones.

My first Pan Am Champs [Continental Championships] - actually, it was my second, but the first where I was a medal contender, and did win a medal for Canada [2006]; that was really special.

Then, recently, my first good race back after [giving birth to] Dara, so my second World Cup, being able to race to a 23rd in the Czech Republic [Nove Mesto]. Prior to that, I think I had only finished outside the top-20 only four times in my career, so 23rd in a previous year would have been a disappointment, but to do that when I didn't know what was possible after having a baby was really exciting.

CC: I noticed you haven't mentioned the Olympics or your world titles ...

CP: Those are the obvious ones. My first world champs [win] in 2011 [Champery], that was very special, because to get it right on the day - you believe you have the form and then you actually get it done in the race ... that was really neat. It was the first really big result I was able to give back to my manager and my coach. And then 2014, after the 2012 Olympics where I wasn't able to do it, which was definitely the biggest disappointment of my career [she finished ninth]. That [the 2012 Olympics] probably shook my confidence for about a year

So, in 2014 I completely coached myself, because I had to be fully responsible for if I had a good day or a bad day. When you don't perform, you feel bad for the people who have invested in you and I needed to take away that pressure and kind of put it all on me, and not be disappointing anyone else. That really helped me engage and get back in, and I was able to win that world championships with the help of Keith - I kind of started panicking in the lead up ... 'Am I doing this right?'.

And, of course, Rio [2016 Olympics]. That was one of the races where the most things went wrong and it still turned out the best case [Pendrel crashed on the start loop, dropping to last place and had to ride back through the field to third].

CC: You mentioned London [2012 Olympics] as one of your regrets, when you went in as one of the top favourites.

CP: Yes, I was one of the most consistent women for three years at that time.

CC: Anything else where you go 'I really wish' or 'I really regret'?

CP: That [2012 Olympics] was the biggest one; where I was really capable of so much more then I was able to actualize on the day. You always have minor disappointments, but that is the one that really sticks out.

CC: How did Dara change you as an athlete?

CP: I think, for me, it was at a really nice point in my career for me to have a child. I was still performing well on the World Cup scene, but I wasn't at the top, where I was before. So I was in a place where it was really hard to enjoy my racing, because I kept feeling like I should be Catharine Pendrel of 2011 through '16. So, first the pandemic and then taking time out for pregnancy gave me the opportunity to take a break from racing, which mentally showed me that I could; because it's scary to step away from that lifestyle and to know what it will be like and that it would be good.

And my mind and body needed a break from high performance. I was able to come back to racing with a totally new perspective ... I'm just racing for who I am right now, not comparing myself to who I used to be, or what results I used to get. You get so much positive feedback and support coming back as a mom, so that just made it fun and that was a learning process.

Being able to have my family with me on the road was something I've never really been able to have throughout my career [Catharine, Keith and Dara moved to Europe for the season]. So to be able to have a summer where, by circumstances [the pandemic] we had to live in Europe because we couldn't be travelling back and forth, made it a unique and memorable experience.

CC: You have been involved in coaching for some time now; working with Emilly Johnston and Jenn Jackson, and your Pendrel Racing development team, so what are your thoughts on where Canada is?

CP: When you look just at results on paper, the last two years in the Elite categories have been a bit of a flip-flop for the women. And I do have theories - with the pandemic, if you look at the U.S. as well, North America as a whole we were hit harder by the pandemic [in cycling]. The uncertainty around travel and racing, and how to train when there is no racing, while everyone else started racing ahead of us. So I think what we are seeing is that we were behind the 8-ball, but I think we can catch up.

I think we have some really, really talented riders coming up. I think this year showed us some of the ways where our programming went a little astray, but we have the opportunity to fix that. As a program there are things we need to work on and improve.

CC: What are some of the sorts of things we need to work on?

CP: As we've already talked about, I think we don't have enough domestic racing. And with those racing opportunities the parallel training camps. With a stronger race presence I think we would also have stronger domestic team support. We need to get back to having Elites and U23s training together; those relationship building and training opportunities. Mentoring for all age groups.

I think, in general, we've gotten into a habit of chasing hours in our training, and we need to get back to a focus on quality and the right hours for the right level of progression, and that can vary by athlete. Creating more opportunities for athletes to feel wins.