January 10/22 11:44 am - Three New Potential Cyclists Discovered by RBC Training Ground

Posted by Editoress on 01/10/22

Erin Watchman of Edmonton, Alberta, is now on a fast track to becoming an Olympian, but in a sport she never considered - cycling.

Watchman, 22, is one of only 30 athletes nationwide who rose to the top during the RBC Training Ground talent search, earning RBC Future Olympian funding and a spot with a participating NSO looking for new talent. Two other finalists were also identified for cycling - Andrik Terauds of Beaconsfield, Quebec, and Madeline Lebreton of Mississauga, Ontario.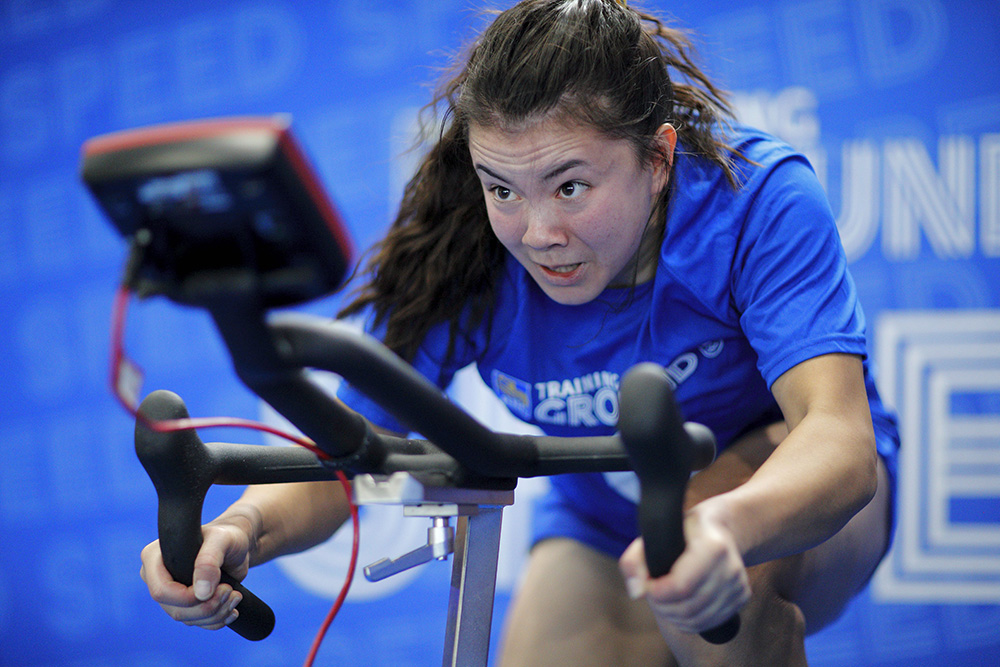 Erin Watchman photo by KevinLight, RBC Training Ground National Final
RBC Training Ground is a nation-wide talent identification program dedicated to finding and funding Canada's future Olympians. Included among the talents identified in the past are Toyko Olympic cycling medalists Kelsey Mitchell (gold) and Lauriane Genest (bronze).

As recently as 2019, Watchman was a member of Canada's Junior National Weightlifting team. Yet during the pandemic, looking for something new, she participated in the RBC Training Ground Olympic talent search virtual testing.

"My dream is to be an athlete, but I didn't really consider RBC Training Ground until my teammates suggested it," said Watchman. "I signed up but didn't submit results until I listened to a podcast where Kelsey Mitchell said something along the lines of 'what's the worst that could happen' if someone applied, so I submitted my tests on the last day."

She was one of 4,000 athletes, between the ages of 14 and 24 and from a wide range of sports, who participated in the free search, performing core speed, strength, power and endurance tests.

Her test results caught the eye of Cycling Canada, who invited her for some sport-specific testing and got her included in the list of 'top 100' finalists.

The top 100 then completed sport specific testing, and during the RBC Training Ground national final completed a second round of core testing against high performance benchmarks. The top 30 were awarded funding and a multi-year commitment from one of the participating national sport organizations to help make their Olympic dreams a reality.

"Erin came through our sport testing and really loves cycling," said Jenny Trew, NextGen Coach, Cycling Canada. "Her testing at the finals on the bike was great at 1361W and 20.56W/kg - significantly exceeding our benchmarks on both metrics. I'm excited to watch Erin proceed through the sport."

Amongst all females at the national final, Watchman had the second best Watt Bike (explosive speed) result, the third best vertical jump result (power), and was also top five in standing triple jump (power).

Andriks Terauds, a former National Team-calibre paddler with Canoe Kayak Canada, will also be pursuing Track Cycling as a result of his experience at the RBC Training Ground National Final. Among males 19 and over, Terauds recorded the third best result in Standing Long Jump (Power) and the second best result on the Watt Bike (Speed).

Madeline Lebreton used the RBC Training Ground National Final Endurance testing to secure her spot with her new sport. Lebreton, a long distance runner and swimmer, recorded a top three score on the Endurance Bike amongst females14-18 years old. She will now be pursuing distance Track Cycling with Cycling Canada's NextGen program.

"While some participants are looking to re-energize or boost an Olympic dream in a sport they are already pursuing, others participate with the hope of being discovered and directed toward an Olympic sport they may have never considered," said Evan MacInnis, Technical Director for RBC Training Ground. "But they all rely on raw athleticism and determination to attract the attention of our sport partners and are excited to see where this program can take them."

Funding is administered by the participating National Sport Organization bringing the athlete into its system, and is used for things like coaching, transportation, travel, equipment, and nutrition.

The complete list of 30 RBC Future Olympians discovered in Year 6 of the program is available at RBCTrainingground.ca.
Over the past six years RBC Training Ground has identified more than 1,400 athletes deemed to have Olympic potential (many in a sport they had never considered). At the recent Tokyo 2020 Olympic Games, eight RBC Training Ground athletes competed and four won medals: Kelsey Mitchell (a varsity soccer player until discovered by RBC Training Ground in 2017, Gold, Sprint Track Cycling; Avalon Wasteneys, Gold, Rowing; Lauriane Genest, Bronze, Sprint Track Cycling; Jerome Blake, Bronze, 4x100 Athletics).