January 26/22 14:55 pm - Cyclo-cross World Championships Preview

Posted by Editoress on 01/26/22

This weekend, the Cyclo-cross world championships return to North America for the first time since 2013, taking place in Fayetteville, Arkansas. Racing begins on Friday with a new event - the Team Relay - followed by Junior and Elite Women and Under-23 Men on Saturday, and Junior and Elite Men and Under-23 Women on Sunday.

As with all sports events over the past two years, the pandemic is having an impact. Already, a number of riders have tested positive and concerns have likely affected attendance by some athletes. Among those not attending are some big names, including men's favourites Wout van Aert (Belgium), whose stated reason for skipping is to prepare for the upcoming road season, and his perennial rival, the defending world champion Mathieu van der Poel (Netherlands), who has missed most of the season recovering from back problems. On the women's side, Dutch riders Denise Betsema (sick - not COVID) and Annemarie Worst (positive COVID test) are out. Others who will not attend - primarily due to COVID positives - include six members of the Italian team (half the squad), Belgian riders Quentin Hermans and Xaydee Van Sinaey and British woman Anna Kay (concussion).

There are strong concerns regarding COVID protocols, given that Arkansas has one of the poorest vaccination uptakes in the U.S. and there is a strong anti-mask sentiment in the state. Some Europeans already onsite have told us they are shocked by the number of people they see not wearing masks and, unlike other world championships in the past two years, organizers and the UCI have not implemented a 'bubble' system at the venue to protect riders; normally, media, teams and spectators, etc. are isolated to their own bubbles and cannot interact. At this world championships, the only separation is accredited versus non-accredited.

There is also no vaccination testing or negative test requirements to enter the venue and, shockingly, only accredited individuals have mandatory masking requirements. The spectator guide says masks are required, however it is a touchy subject - the Governor had passed a law banning mask mandates, but it was struck down at the end of last year; so bans are allowed, but there is considerable opposition to them.

The Races

Now, who is attending (keeping in mind that positive COVID tests could change entries at any time):

Team Relay
The Team Relay is a test event this year, so no world titles or rainbow jerseys will be awarded. Canada is one of seven teams participating, however, the start list includes Italy, but they likely won't be able to field a team, and Great Britain will have to replace Anna Kay, if possible, so the number of teams could shrink.

The Canadian squad for the Team Relay consists of Ava and Isabella Holmgren (both Junior Women), Sidney McGill (Elite Women), Ian Ackert (Junior Men), Owen Clark (Under-23 Men) and Michael van den Ham (Elite Men). Given the newness of the event and the lack of any really big names, it is difficult to identify who will be the favourites.

Elite Women
For the Netherlands, on the women's side defending world champion Lucinda Brand and seven-time champion Marianne Vos, as well as Yara Kastelijn, Inge van der Heijden, Ceylin del Carmen Alvarado, and Manon Bakker. The young Hungarian star Blanka Kata Vas is certain to be a podium threat; even though she is only 20, she will race with the Elite women, as she has done throughout the World Cup season. On the North American side, potential podium finishers are Clara Honsiinger (USA) and, of course, Canada's Maghalie Rochette. Rochette will be joined in the Elite ranks by Canadians Ruby West, Sidney McGill and Siobhan Kelly.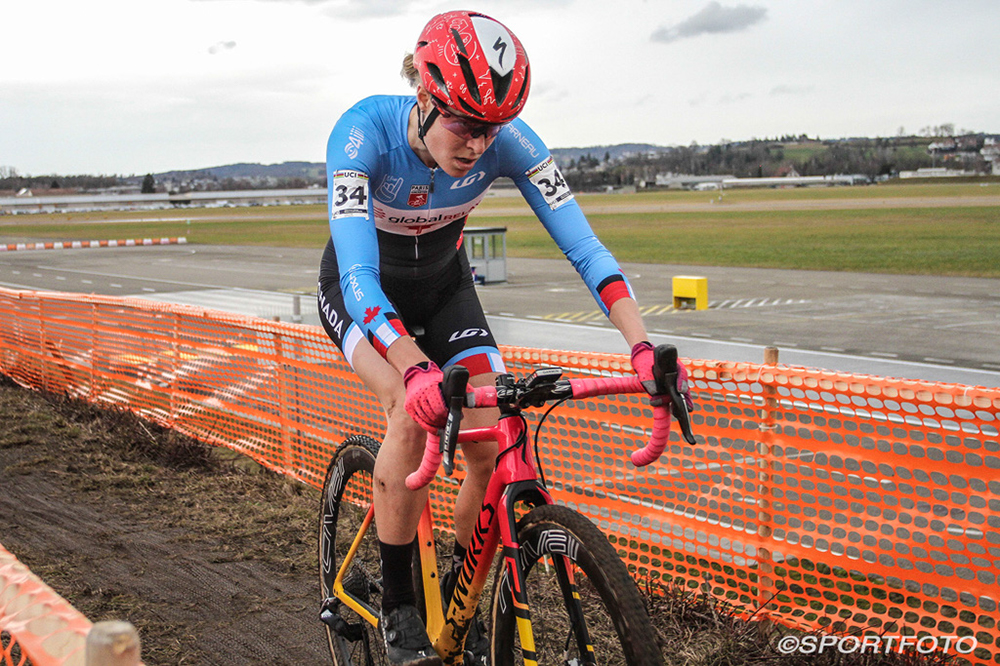 Maghalie Rochette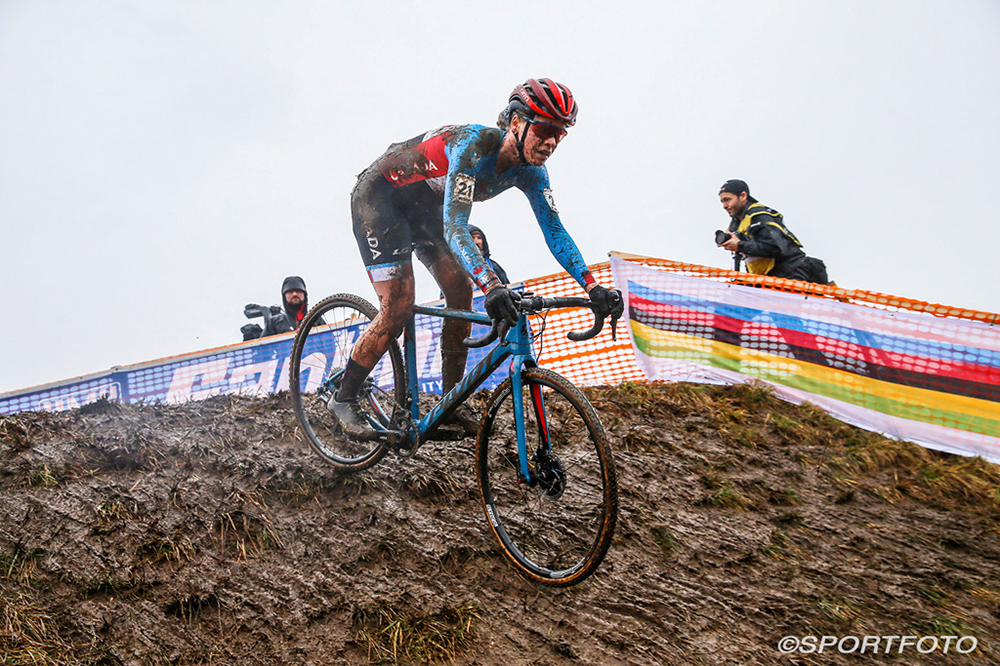 Ruby West


Elite Men
Olympic mountain bike champion Tom Pidcock (Great Britain) is one of the favorites, looking to add the Elite title to the Junior and Under-23 ones he already has. However, he will face strong competition from World Cup series champion Eli Iserbyt (Belgium), who has 14 wins this season (including seven World Cups), and has been Under-23 world champion twice. In the absence of van der Poel, the top Dutch contender is Lars van der Haar, the reigning European champion and one of the few to beat Iserbyt on the World Cup circuit this season. Other top podium hopefuls are Belgians Toon Aerts and Michael Vanthourenhout. In this category, the Canadian team will consist of van den Ham, Malcolm Barton, Tyler Orschel and Brody Sanderson.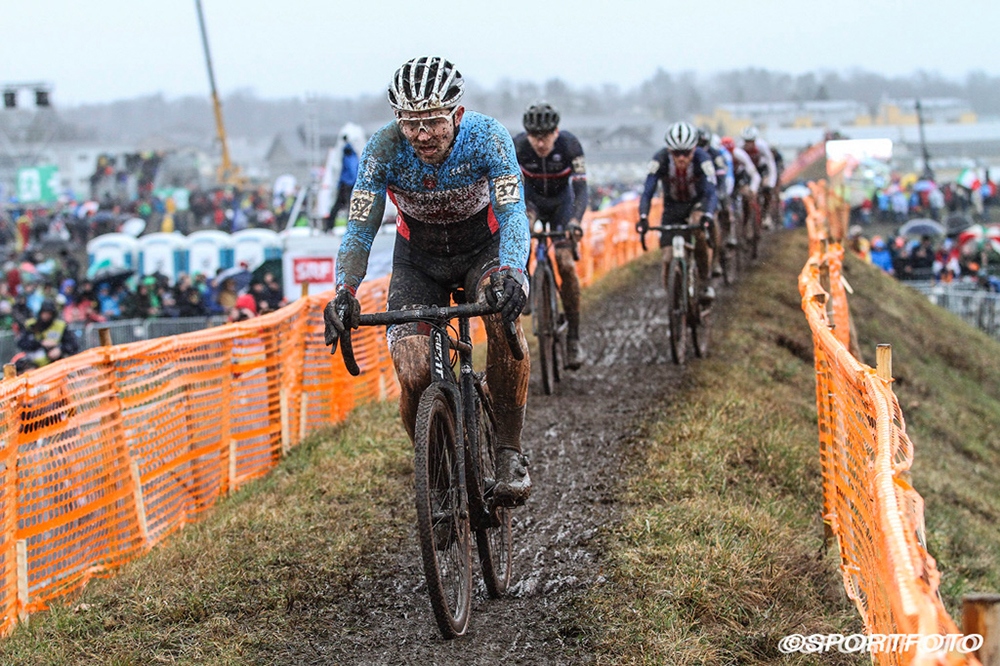 Michael van den Ham


Under-23 Women
In the absence of Blanka Kata Vas, we could see a Dutch sweep of the podium, with favourites Fem van Empel, Puck Pieterse and Shirin van Anrooji set to battle for the rainbow jersey. Canada has three entries - Christiane Bilodeau, Kelly Lawson and Katelyn Walcroft.

Under-23 Men
As usual, this will be a battle between the Netherlands (Pim Ronhaar) and Belgium (Emiel Werstrynge). Ronhaar is the defending champion, but Werstrynge beat him in the last two rounds of the World Cup. Canada has five entries in this category - Hugo Brisebois, Owen and Tyler Clark, Matt Leliveld and Noah Ramsey.

Juniors
This is a very difficult category to handicap, given how many riders have little international exposure. However, a good indicator of favourites is the European championships, where Zoe Backstedt (Great Britain) won the women's title and Aaron Dockx (Belgium) the men's.

Canada has strong contenders in both races, with the Holmgren sisters - Ava and Isabella - riding well in a European project earlier this season. The will be joined in the women's race by Jenaya Francis, Kiara Lylyk and Elia Myers. For the men's race, Ian Ackert leads a team that includes Theo DeGroote, Sasha Renaud-Tremblay, Luke Valenti and Alexander Woodford.