May 6/22 14:01 pm - Sam Gaze Makes Strong Return to World Cup Racing

Posted by Editoress on 05/6/22

After struggling with injuries for the past couple of years, New Zealand's Sam Gaze (Alpecin Fenix) proved he is back as a contender in the Mountain Bike World Cup with an emphatic win in the Short Track (XCC) on Friday in Albstadt, Germany. On the same day his team mate Mathieu van der Poel was donning the Pink Jersey at the Giro, Gaze cruised across the finish line well ahead of Jordan Sarrou (Specialized Factory), who outsprinted XCO World Cup leader Nino Schurter (Scott-SRAM). No Canadian men qualified for the race.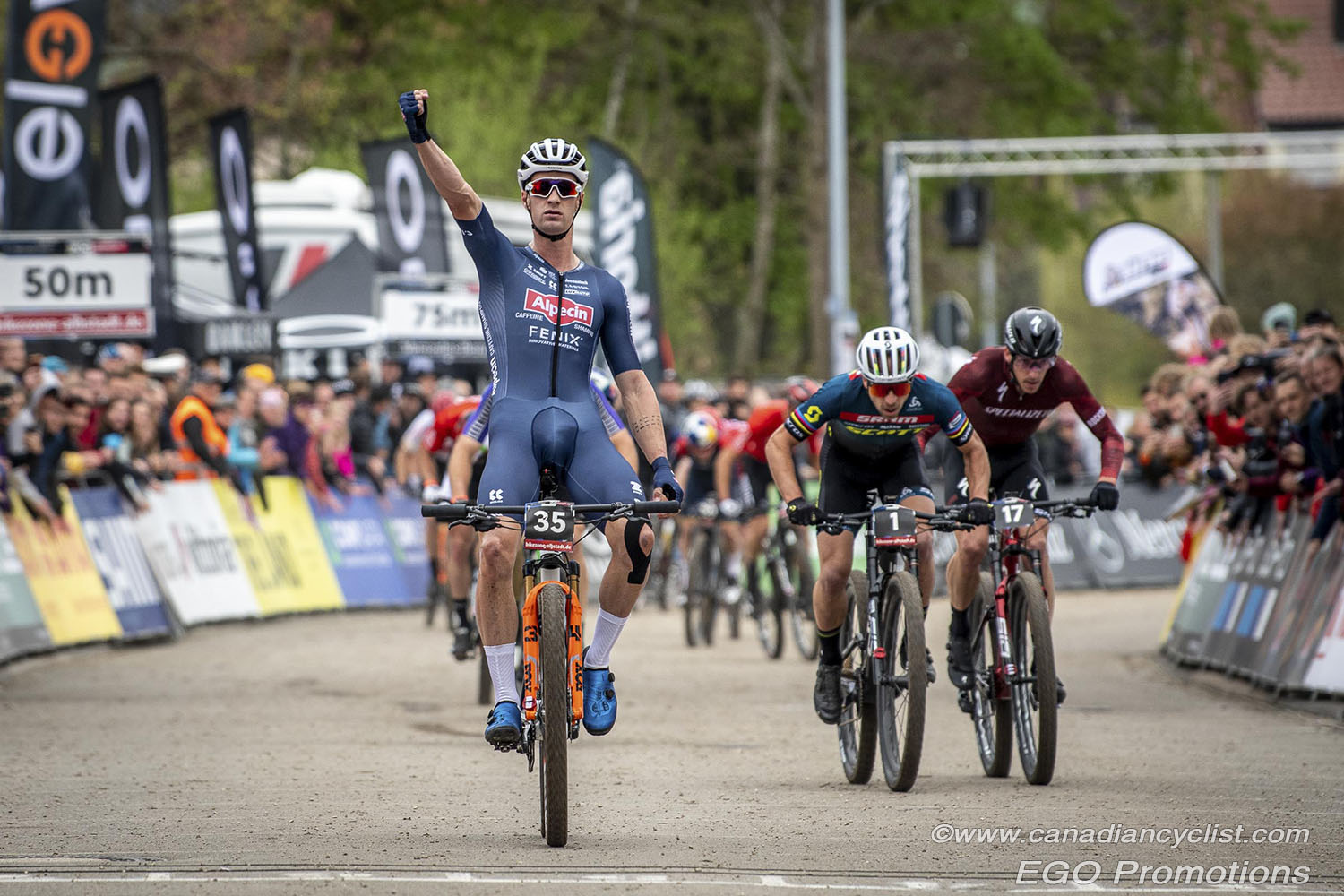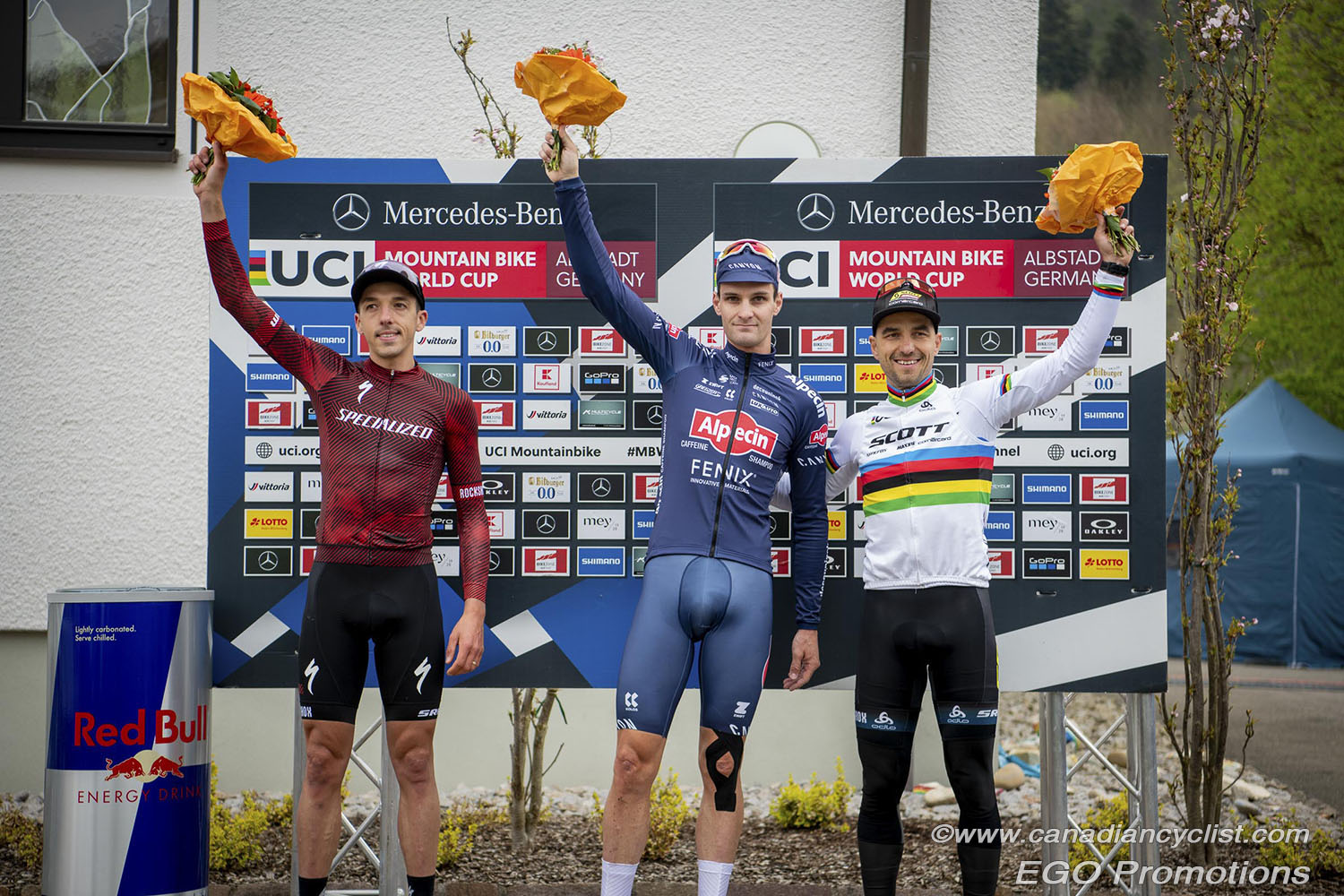 A noticeable headwind down the long paved start-finish stretch discouraged any long breakaway attempts, although the pace in the opening laps kept the 40 rider field stretched out. Van der Poel had won the three previous XCCs held on the track, so there was going to be a new winner. Sebastian Carstensen (KMC-Orbea) was the most aggressive in the opening laps, but Schurter, Gaze and Olympic XCO champion Thomas Pidcock (Ineos Grenadiers) were always lurking near the front.

Local German hope Luca Schwarzbauer (Canyon CLLCTV) took charge mid-race and led for much of the second half of the race, as a few riders tried probing attacks on the climbs, only to drop back before the headwind section. On the final lap, Gaze attacked on the first climbing section, opening a small gap, and then again harder on the second climb, riding everyone off his wheel. Coming out of the final corner onto the final paved 100 metre section, Gaze looked over his shoulder, accelerated, looked again and then sat up to cruise across the finish line with an arm in the air. Schurter looked to have second, but Sarrou just pipped him at the line.

Round 1 winner Alan Hatherly (Cannondale Factory) finished ninth, enough to keep him in the leader's jersey with 350 points to Schurter's 300.

Gaze admitted it had been a long time coming, after two years of injuries, including double knee surgery. "What can I say, it's taken a long time to get back here ... I've learned a lot about myself and I'm not the same guy I was when I went out in 2018. It was only two or three days before [Round 1] in Brazil that I could actually stick on the bike after five weeks off with double knee surgery. It was short notice, and I didn't know what to expect coming here. I'd like to think that it was the years of crawling back through the trenches that made me able to persevere for this one."

"I'm still building and this was the first step for the big goals in August, but to be in this position now is a bonus. There's still a lot of work to be done. I feel privileged to be able to wear this [Alpecin Fenix] jersey; Mathieu just won the first stage of the Giro and is now in Pink. It's contagious, the team environment. I think I have one of the best coaches in the world, and my mechanic ... this team has become home to me over the last two years; a lot of people gave up on me and thought I was done, even myself, I thought I was done. But these guys believed in me, and to give back to them is really special."