May 7/22 15:32 pm - Carter Woods 7th at Albstadt World Cup

Posted by Editoress on 05/7/22

Carter Woods (Norco Factory) was Canada's top finisher in Under-23 racing on Saturday in Albstadt, Germany, at Round 2 of the XCO World Cup. Woods finished seventh in a field of nearly 150 riders, 1:16 behind winner Martin Kossmann (Lexware), who recorded his second straight win. In the Under-23 women's race, Emilly Johnston (Norco Factory) was the top Canadian in 13th place, as winner Line Burquier (Canyon CLLCTV) also took her second win.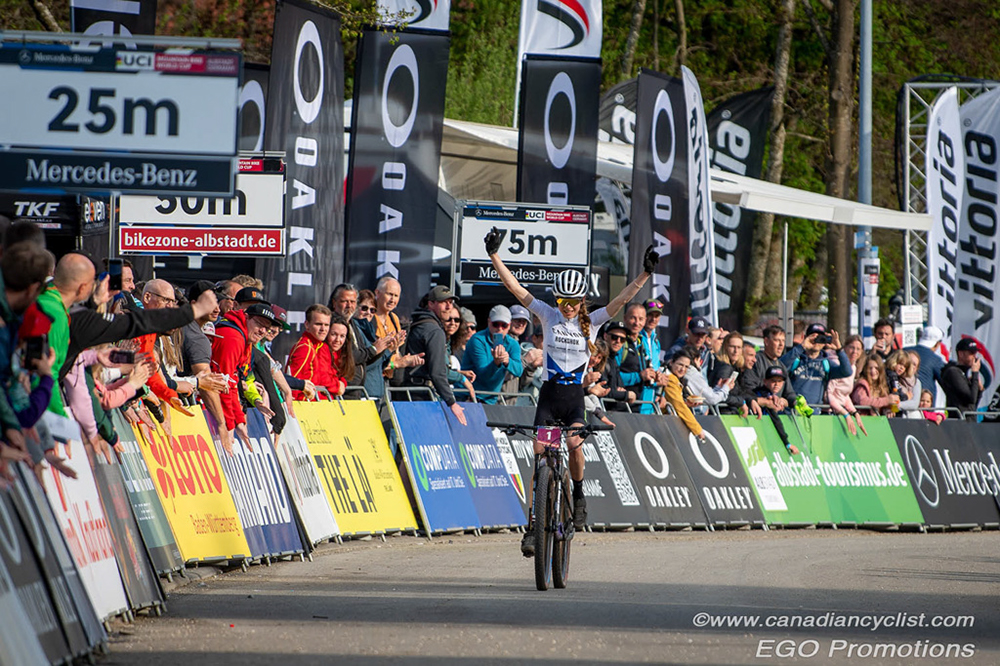 The climber's course had dried out from rain earlier in the week, making for a fast circuit. After a 2.8 kilometre start lap, riders faced a full lap of 4.2 kilometres, with the women doing four laps and the men five.

The women's race was a battle between Round 1 winner Burquier and Puck Pieterse (Alpecin-Fenix), who did not attend the opening round in Brazil. Pieterse took the lead on the start lap, but Burquier joined her at the front on Lap 1 and dropped her rival on the second lap, eventually pulling way to win be a minute.

Johnston, starting further back in the field, was 18th after the start lap, improving to a high of 11th place by the end of the first lap, before fading slightly in the remaining laps. Other Canadian results were Roxanne Vermette (Team Canada) in 40th, Jocelyn Stel (Team Canada) in 44th, Nicole Bradbury (Team Canada) in 49th and Julianne Sarrazin (FQSC) in 53rd. Johnston improved from tenth in the overall standings to eighth, while Vermette fell slightly from eighth to 11th.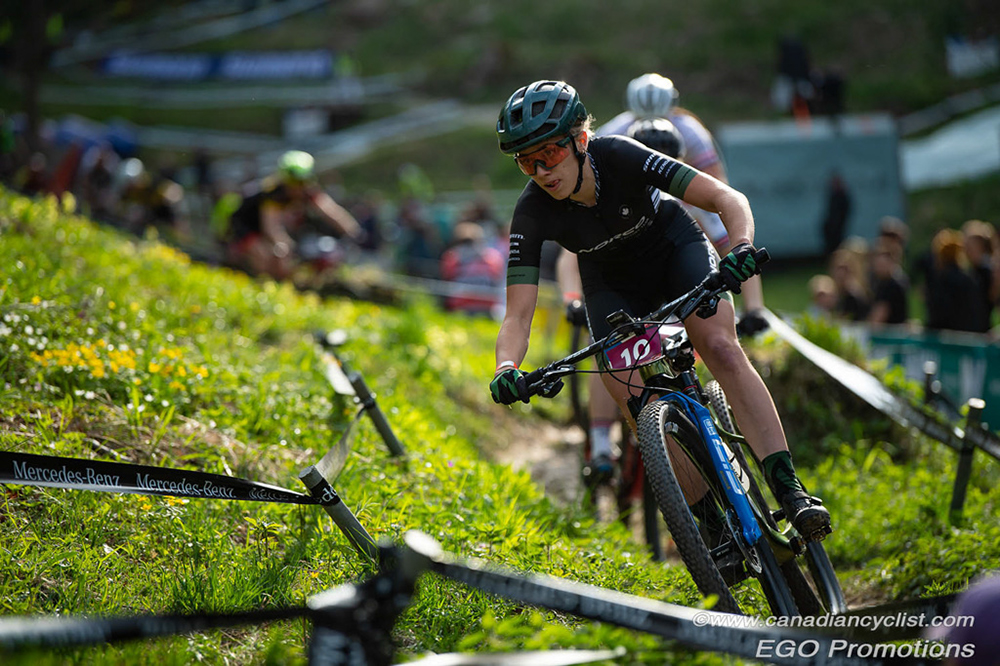 Emilly Johnston
"Race today was really solid for me, the course was really fast and fun," said Johnston. "It was awesome to race in such a close field and always having so many strong girls around me made for some really good battles. I faded a little bit at the end but pushed hard and managed to hold onto my first top fifteen in a European World Cup! Really looking forward to next weekend in Nove Mesto!"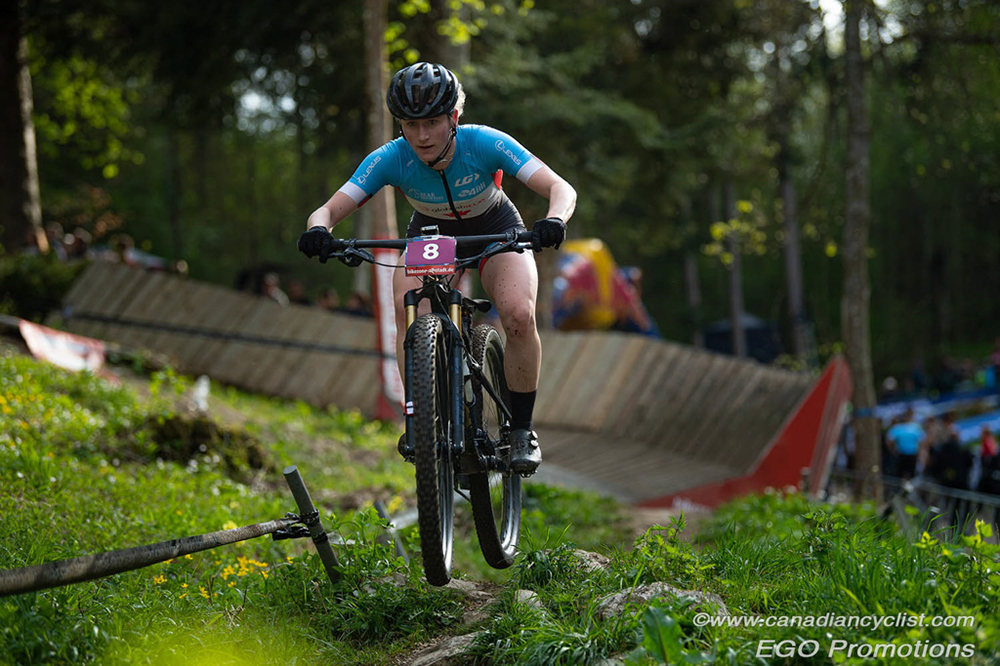 Roxanne Vermette
"It was quite a special day," said Vermette. "I had a very good start and I was well in control even though I didn't have the best legs. I was in the top-25 until the middle of the race, but I got a puncture on the third lap. It made me lose a few minutes at that time. I did what I could afterwards, but my legs felt heavy after the stoppage. Despite the puncture, I remember that the form is much better than last year. I would have liked more, my objective is probably to be in the top-10. There are still several World Cups to get there this year."
In the men's race, Woods started further back after finishing 20th in the first round. He was 18th after the start lap, up to 12th at the end of Lap 1 and then had two strong laps in a row to move up to seventh by the start of Lap 4. This was as high as he would get, finishing 20 seconds out of fourth place. Woods moved up to ninth from 20th in the overall standings.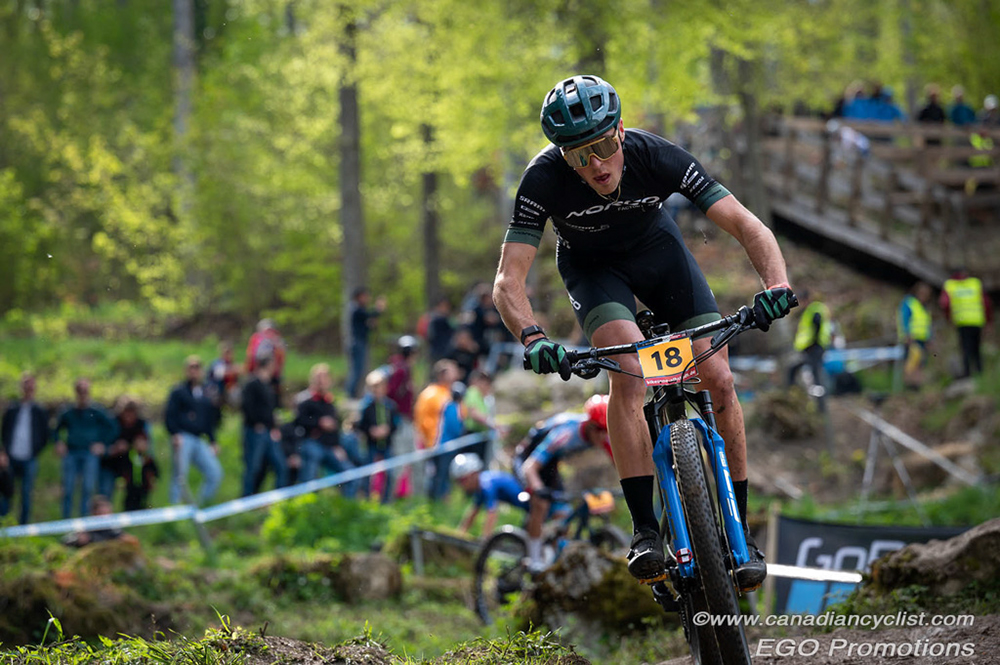 Carter Woods
"This one is very special for me," said Woods. "After struggling the last few months recovering from illness it means so much to be back riding in the top 10. A big step in the right direction! Also so cool to see the younger Canadians making some big moves."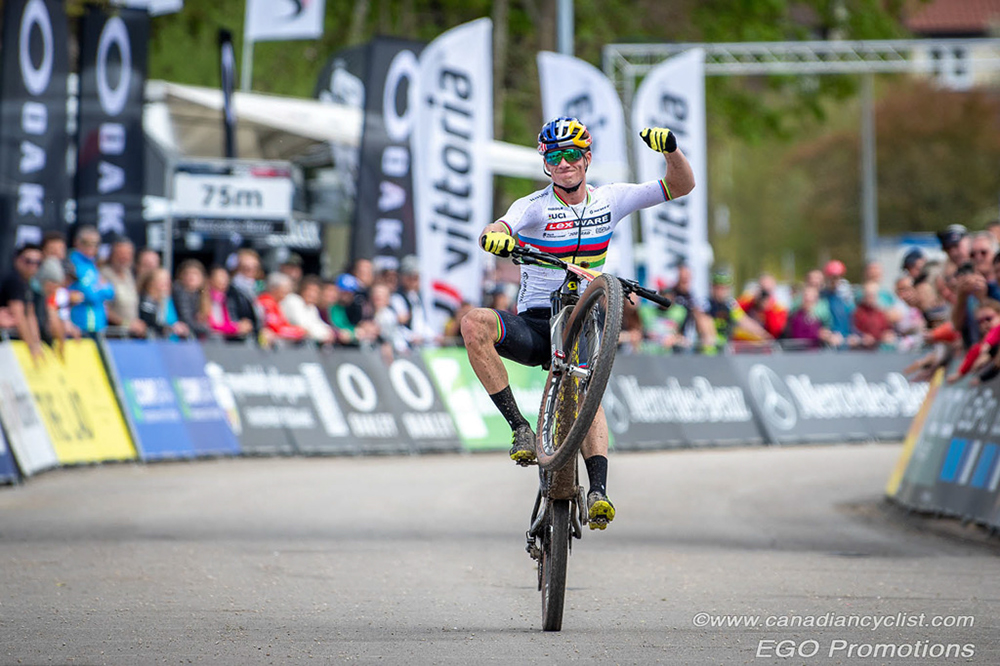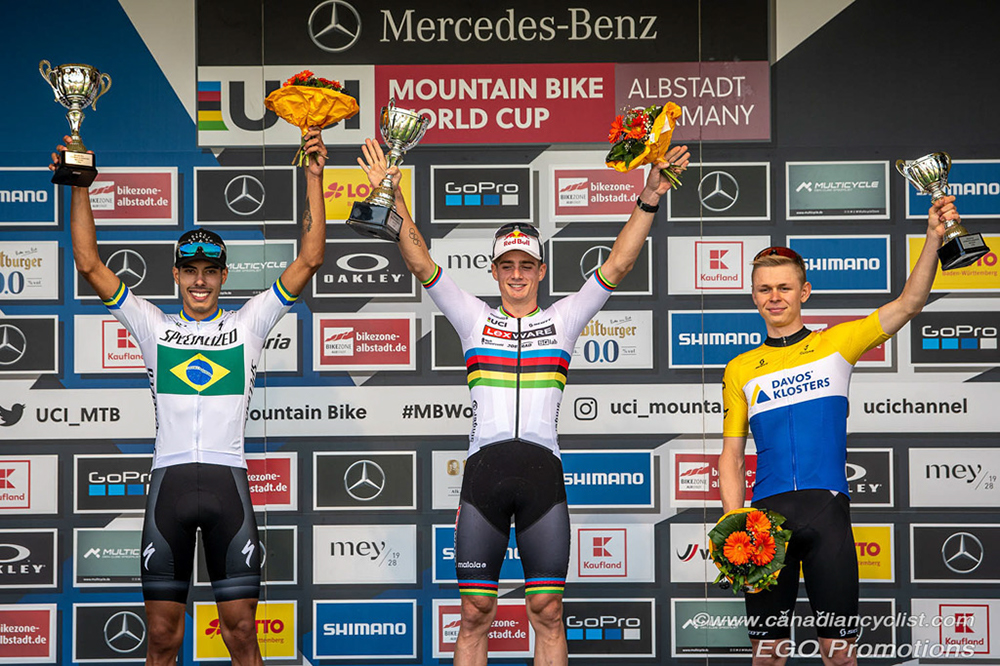 Krossmann battled with American Riley Amos (Trek Factory) for the opening laps, before pulling away as Amos faded, eventually finishing a spot behind Woods. Other Canadian results were Cole Punchard (Team Canada) in 58th after starting in the 90s, Owen Clark (Team Canada) in 67th, Charles Antoine St-Onge (Team Canada) in 73rd, William Cote (Team Canada) in 82nd and Tyler Clark in 108th.
World Cup Albstadt, U23 Women and Men XC results