May 13/22 17:19 pm - Neff and Schwarzbauer Win Round 3 of XCC World Cup, Jackson 14th

Posted by Editoress on 05/13/22

The third round of the Short Track (XCC) World Cup saw two new winners in Nove Mesto na Morave, Czech Republic, on Friday. Olympic champion Jolanda Neff (Trek Factory) won the women's race, while first time winner Luca Schwarzbauer (Canyon CLLCTV) took the men's. Rebecca McConnell (Primaflora Mondraker Genuins), by finishing second to Neff takes the leader's jersey for the women's series, while Schwarzbauer moves into the men's overall lead.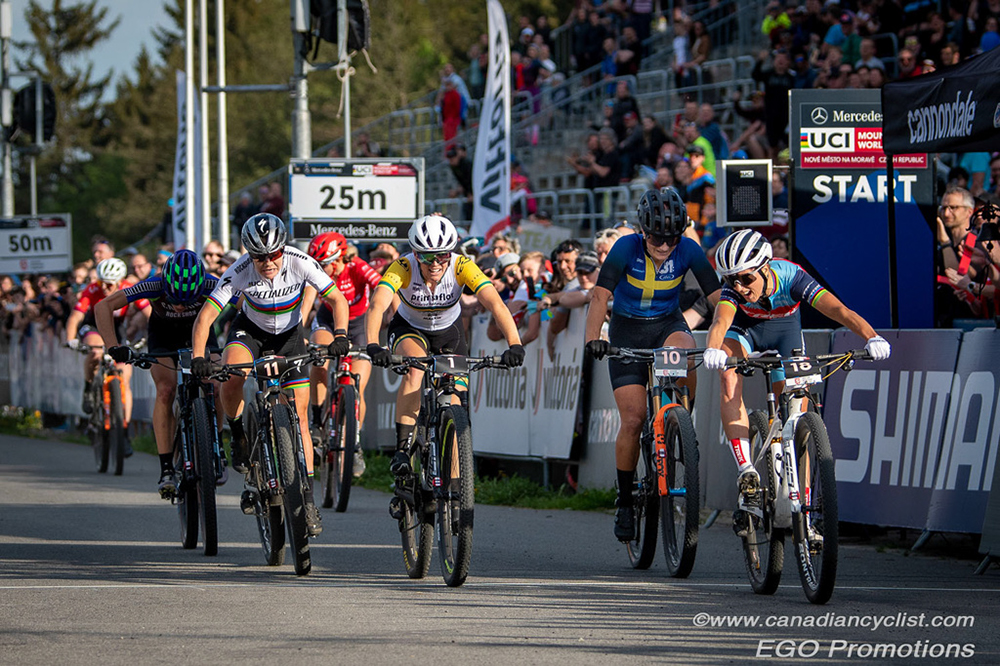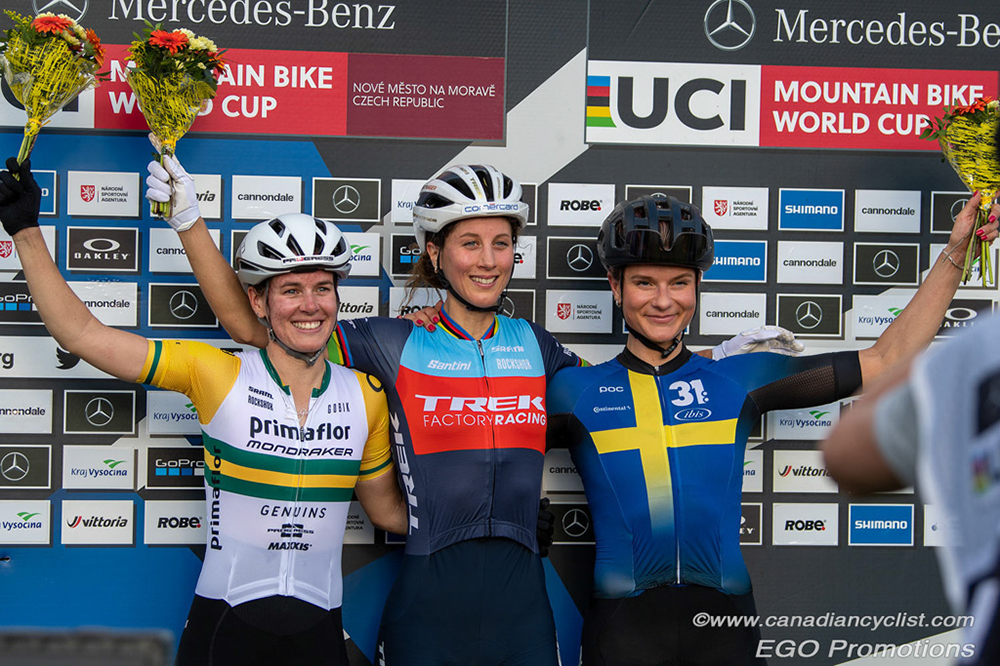 Once again, Jenn Jackson (Canyon MTB) was the top Canadian, finished 14th in the women's race, guaranteeing herself a second row start position for Sunday's XCO. Canadian XCC champion Sandra Walter (Liv Racing Collective) was 30th. No Canadian men qualified for the XCC. Jackson moves from 23rd to 21st in the overall XCC standings, and Walter from 43rd to 38th.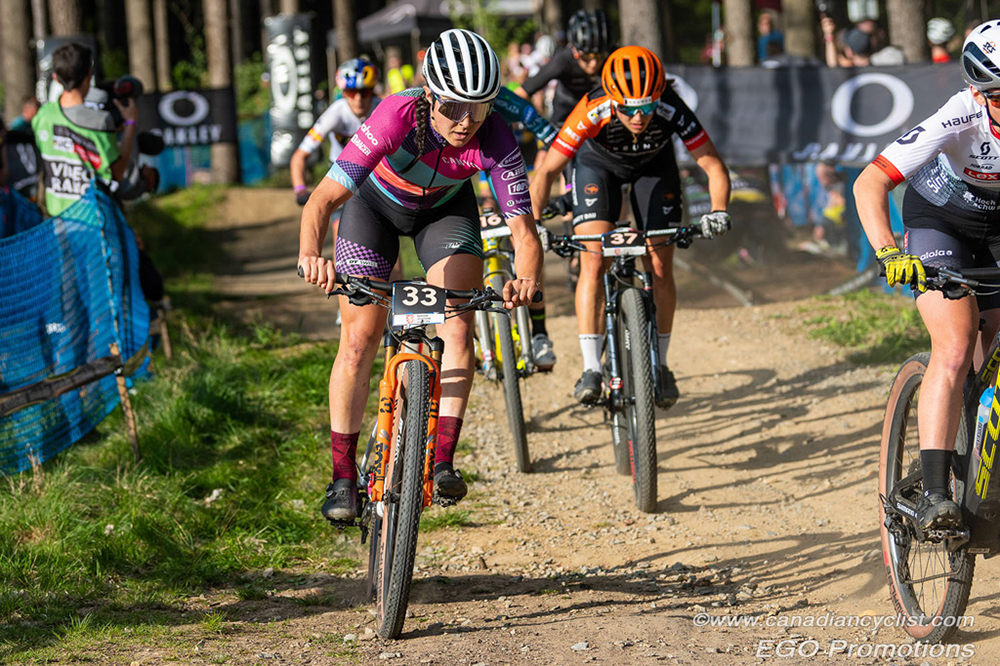 "That was kind of crazy, it was hectic and kind of stressful racing out there," remarked Jackson. "There were several slow corners where the group would bunch and jam up really bad. It felt like I was constantly out of position and just not able to hold my ground well, getting shuffled around a lot. I felt like I was struggling massively out there, but still able to make the effort; it just wasn't coming easy. I'm really happy to just grit this out one, be able to stick it when the going got tough in the latter parts and be the person moving up rather than falling back. Hopefully there's a bit more ease to the effort on Sunday!"

The Nove Mesto track was extremely fast, with the top men recording sub-two minute laps. While there were a few small climbs, the most technical detail was the 180-degree turn immediately after the finish line. The women rode nine laps and the men did 11 laps.

McConnell, who also leads the XCO standings, attacked with three laps to go. She was chased down by Alessandra Keller (Thomus Maxon), Neff, XCC World Cup leader Pauline Ferrand Prevot (BMC MTB) and Loana Lecomte (Canyon CLLCTV). They were joined by Jenny Rissveds (Team 31), Sina Frei (Specialized Factory) and Linda Indergand (Liv Factory) to make up the final lead group. Ferrand Prevot broke her chain with to laps to go and was forced to abandon, with the final sprint coming down to Neff and McConnell. McConnell takes over the XCC jersey from Ferrand Prevot, with 600 points to her rival's 450. Neff moves into third, tied at 390 points with Keller

"It couldn't have gone any better," said Neff. "Honestly, going up the last climb I kept thinking someone was going to pass me, but I came to the top and I was still in front, so I thought, 'Okay, I'm going to sprint now'. I had the perfect position and I won. It's amazing."

The men's race started out very fast before slowing due to a headwind discouraging breakaways. By Lap 5 the bunch had started to thin, with XCC World Cup leader Alan Hatherly (Cannondale Factory) crashing in a corner, but quickly rejoining the leaders. Schwarzbauer, who has been the most aggressive rider in every XCC thus far, attacked just before the start of Lap 8, thinning out the lead group considerably. He was followed by Filippo Colombo (BMC MTB Racing), Vlad Dascalu (Trek Factory Racing XC), Henrique Avancini (Cannondale Factory) and Sebastian Fini Carstensen (KMC - Orbea). Schwarzbauer stayed at or close to the front for the next lap and then attacked on the climb of the final lap. His attack was so hard and fast it was not countered, taking the win with a large gap over Thomas Pidcock (Ineos Grenadiers), who won the sprint for second. Schwarzbauer takes the Series lead with 495 points, 55 ahead of former leader Hatherly.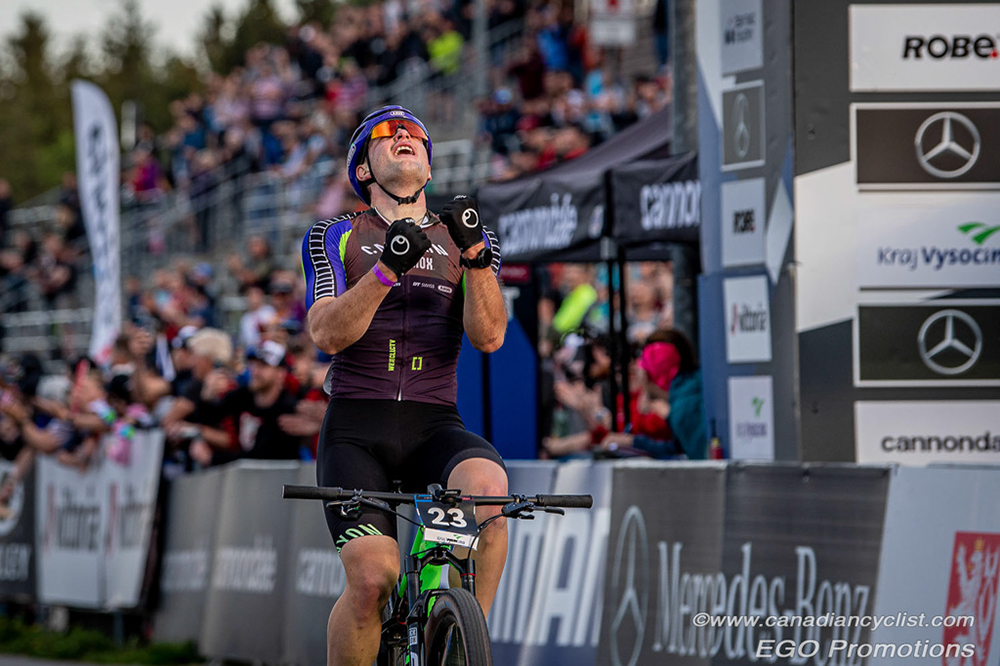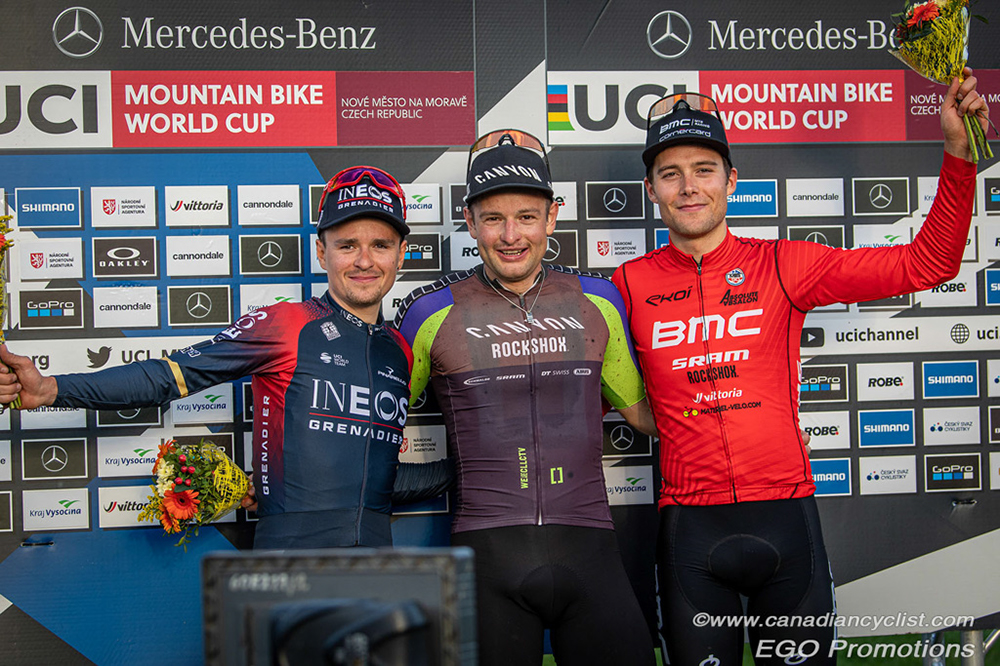 "It's crazy," admitted Schwarzbauer about his first World Cup win. "I'm completely breathless - because of the sprint, but also because I can't believe I just won a World Cup. I'm happy to be on this new team and that I can give something back.
World Cup Short Track Nove Mesto, results