May 16/22 19:13 pm - Canada Wins Three Medals at Milton Nations Cup - Full Report & Interviews

Posted by Editor on 05/16/22

Team Canada had strong performances over the past weekend at Round 2 of the Track Nations Cup, in Milton, Ontario, led by the women's Sprint squad that won three medals, one of each colour. Kelsey Mitchell led the way, with three medals - gold and silver in individual events, and bronze in the Team Sprint.
The team was composed of a mix of development riders - some at their first elite international event - and accomplished performers. While the women sprinters won the medals, personal bests were set in multiple events and Canadians finished in the top-5 in numerous results.

Franck Durivaux - National Sprint Coach


Day 1

On Day 1, the Women's Team Sprint squad of Kelsey Mitchell, Lauriane Genest, Sarah Orban and Jackie Boyle opened the competition with a bronze medal, beating Great Britain. Germany beat the Netherlands for gold. The Men's Team Sprint squad of Nick Wammes, Ryan Dodyk, TlerRorke and James Hedgcock was fifth in qualifying and finished seventh in the first round.

Lauriane Genest Interview

"We're happy to walk away with a bronze, especially in front of a home crowd," said Mitchell. "We heard them cheering every time we went up there and it definitely helped give us the legs that we needed. We all gave it our best and it's awesome to see that there's four of us that are strong and competing for spots on the team. It's amazing to watch the program grow and the depth that we have really is phenomenal."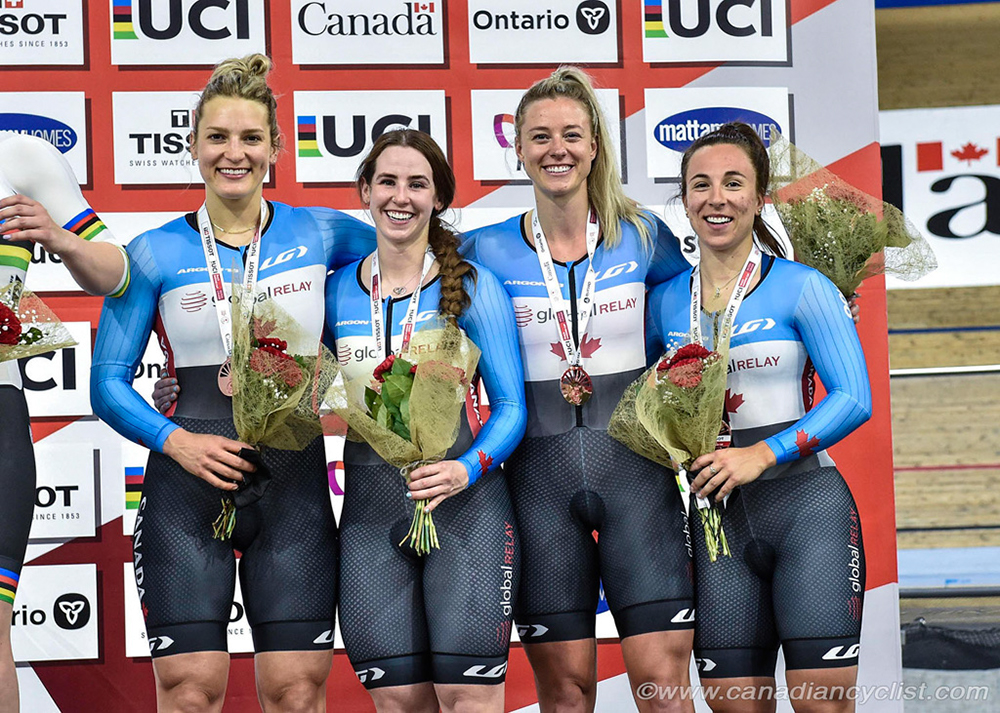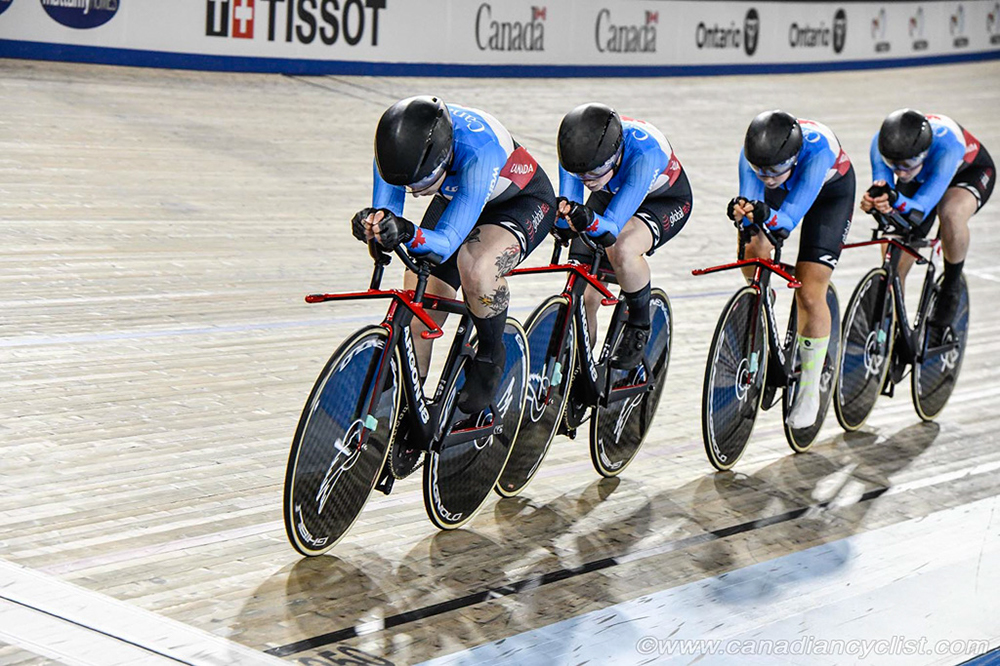 On the endurance side, the women's A Team Pursuit squad of Ariane Bonhomme, Devaney Collier, Ngaire Barraclough and Sarah Van Dam finished fourth in the bronze medal final against the United States after qualifying first earlier in the day with a time of 4:22.325. The men's A development squad comprised of Michael Foley, Evan Burtnik, Sean Richardson, Jackson Kinniburgh and Dylan Bibic delivered a personal best ride and were only one second away from qualifying for the bronze medal final, ultimately placing fifth. Canada B for the women (Erin J Attwell/Fiona Majendie/Lily Plante/Ruby West) finished sixth in both qualifying and the first round, and for the men was seventh in both qualifying and the first round (Dylan Bibic/Chris Ernst/Amiel Flett-Brown/Gavin Hadfield/Daniel Fraser-Maraun).

Day 2

After claiming bronze in the Team Sprint on the first day of the Tissot UCI Track Nations Cup, Kelsey Mitchell and Lauriane Genest continued to impress on Friday by placing second and fourth in the Sprint final. Mathias Guillemette also surprised the field during the Elimination Race, narrowly missing a spot on the podium in the final sprint to finish in fourth.

"The plan was to get at the front, ride at the front for as long as I could and not save any energy for the rest," said Guillemette. "I think it worked perfectly; unfortunately, I ran out of legs at the end but we know what to work on for next time."

Mitchell and Genest qualified with the first and third fastest times respectively before breezing through the 1/8 finals and putting in three solid rides to make it past the quarterfinals. Mitchell went on to qualify for the gold medal final, where she faced her fiercest opponent, world champion Emma Hinze of Germany. Mitchell was strong but Hinze proved to be stronger, with the German winning gold in two straight rides and Canada claiming a silver medal, while Genest finished fourth in the bronze medal final against Martha Bayona Pineda of Colombia.

"I had some confidence going into the final round, but Hinze is a great rider, her tactics are quite strong, she can carry that speed to the line, and I just came up short," said Mitchell. "I learn more from losing than I do from winning and dominating each round, so it's great that I raced against her. It just motivates you that much more when it's that close, knowing that you can beat that person so I think the races will continue to be close and hopefully I'll take some wins."

Kelsey Mitchell Interview

In other competitions, Sarah van Dam was sixth in the Elimination, while Jackson Kinniburgh and Ngaire Barraclough placed tenth and 16th, respectively, in the Scratch Race. In the Individual Pursuit, Ariane Bonhomme and Adèle Desgagnés placed sixth and seventh, respectively.

Day 3

Canada had a strong showing on the third day of the Tissot UCI Track Nations Cup, with athletes setting personal best times and achieving career-best results. Ngaire Barraclough was Canada's top finisher of the day, placing fifth in the Omnium against a stacked field of international riders. Barraclough, who was part of the Team Pursuit squad finishing fourth earlier this week, kicked off the event by winning the Scratch Race after gaining a lap on the field. She remained competitive throughout the Tempo and Elimination races and headed into the Points Race ranked fifth. The 19-year-old from Edmonton, Alberta, battled it out in the final race and managed to maintain her position, earning her best international result.

"It was a good night overall," said Barraclough. "It's my second Omnium at a Nations Cup; I crashed out of the first one, so this was a massive improvement. The Scratch Race was a surprise for me, it's not something I'm generally strong in but I saw the opportunity and I just went for it. The crowd was awesome so that was pretty exciting. The rest of the night was okay - I was pretty consistent, I just kept going and had a really good time."

Ngaire Barraclough Interview

In other results, both Chris Ernst and Mathias Guillemette set Personal Best times in the Individual Pursuit by several seconds, placing eighth and tenth, respectively. On the sprint side, Ryan Dodyk, qualified first in Round 1 of the Keirin and finished the day in ninth place. James Hedgcock, racing in his first elite international Keirin, was fifth in his opening round race and did not advance. In the women's 500 metre time trial, Sarah Orban finished 14th and Jackie Boyle 15th. In the extremely aggressive Men's Madison, the Canadian team of Michael Foley and Dylan Bibic finished 14th.

Day 4

Kelsey Mitchell continued to shine on the fourth and final day, this time claiming gold in the Keirin for the first time in her career, while teammate and Olympic Keirin bronze medallist Lauriane Genest was taken down in a crash that prevented her from finishing the race. Genest was given third place points.

The two sprinters finished in the top-3 in the first two rounds to qualify for the gold medal Final. Mitchell attacked with two laps to go, opening a gap on the other five riders. In the final lap, Lauriane Genest got caught in a crash with Steffie van der Peet of the Netherlands and Yuka Kobashi of Japan, all three riders losing their shot at the podium. Mitchell went on to win the sprint and took home the gold medal ahead of Mina Sato of Japan, while World Champion Lea Sophie Friedrich of Germany was relegated for leaving her lane in during the sprint and causing the crash.

Kelsey Mitchell Interview

"I'm really happy with what I did - I like going to the front because it's safer up there and usually my legs will hold on," explained Mitchell. "I wanted to go in there and do my best, and that's what I did. I was happy to make it through qualifying and not have to do a repechage. It was a close one in the semis; I barely got through but qualified for the final and left it all out there. It's so nice to be on your home track, I train here almost every single day and then looking up and seeing my friends and family was very special."

In the men's Sprint event, Olympian Nick Wammes and Ryan Dodyk both clocked fast times in the qualifying race, finishing with the sixth and seventh best times, respectively, and Dodyk setting a personal best, clocking in at 9.717 seconds. The two Canadians went on to win their 1/16 final heats before being stopped in the 1/8 finals.

In other Canadian results, Jackson Kinniburgh finished 21st overall in the men's Omnium, the women's Madison team of Sarah van Dam and Lily Plante was 11th.
Results
Milton Nations Cup: Day 1 results
Milton Nations Cup: Day 2 results
Milton Nations Cup: Day 3 results
Milton Nations Cup: Day 4 results