June 24/22 0:30 am - New Canadian Time Trial Champions Crowned

Posted by Editor on 06/24/22

For the first time in 12 years, the Canadian Road Championships returned to western city of Edmonton, where new time trial champions won the titles on Thursday. Derek Gee (Israel Cycling Academy) took the men's title, while a professional triathlete, Paula Findlay, stunned the women's field.

The time trials were held in the small town of Beaumont, south of Edmonton, on a 16 kilometre rectangular circuit. The course had a few rolling sections, but was basically flat, with a tailwind on the long side out and headwind coming back. The women faced light rain for their two lap race, but the men were pummelled for their three lap race with heavy, driving rain and gusting winds that took the temperature down to 10 degrees Celcius. A total of 26 Elite and Under-23 riders opted not to start the men's race.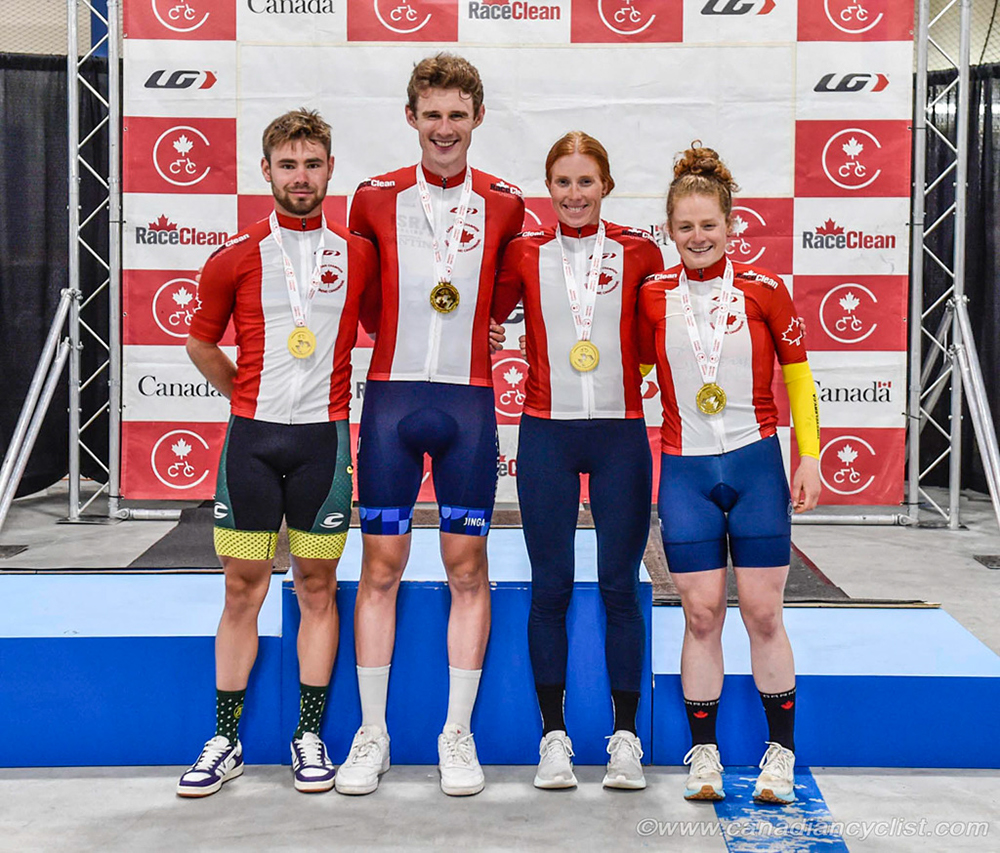 Findlay, a professional triathlete who represented Canada at the 2012 Olympics, decided to enter the race because it was near her hometown of Edmonton, and led through every split, finishing 39 seconds ahead of repeating silver medalist Marie-Soleil Blais (Team Farto - BTC), with former national champion Leah Kirchmann (Team DSM) a further 14 seconds back. Defending champion Alison Jackson (Liv Racing) was a late scratch due to illness.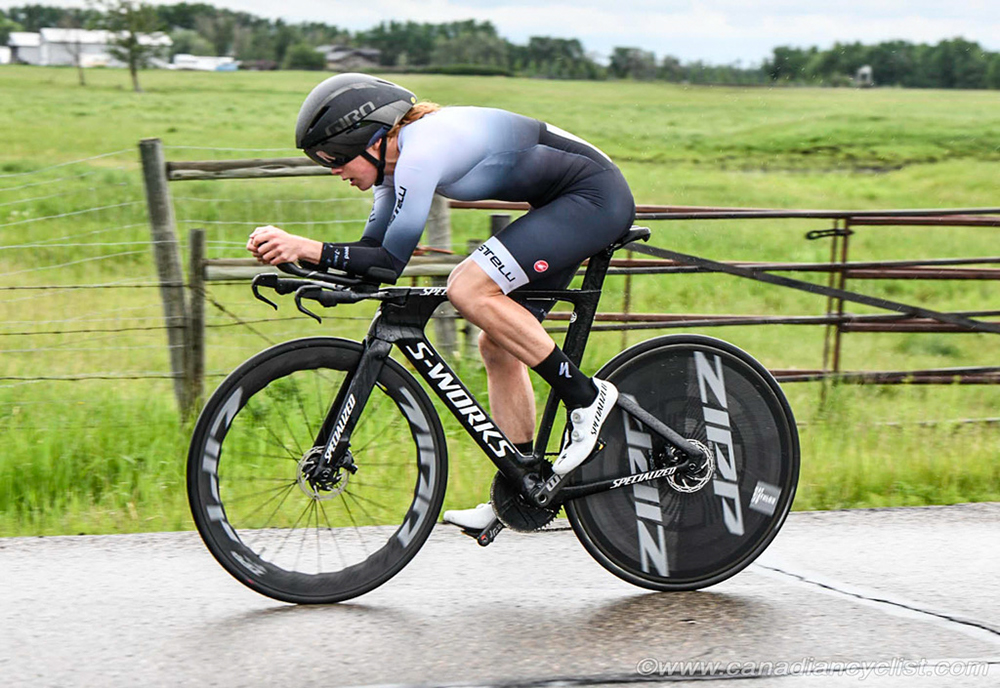 Paula Findlay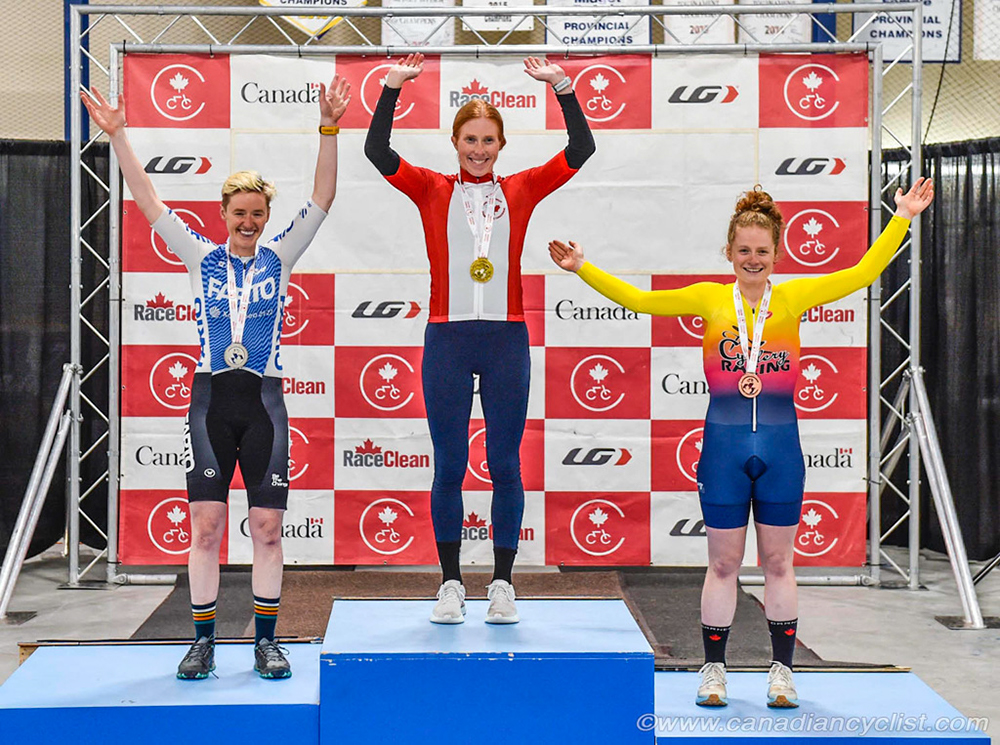 Womens podium: L to r - Marie-Soleil Blais, Paula Findlay, Ngaire Barraclough
"Because the Championships were in my hometown I decided the race the TT and surprisingly won," admitted Findlay. "I train on time trial bikes all the time for triathlon, that's my specialty, although my races are usually 90k, so it was a bit different training for this short distance; I've been doing some shorter, harder intervals for the past month. I don't know the women racing so I did a bit of research and knew there would be a good field here, so I was hoping for a top five, but I didn't know if that was realistic. I know my power is really good and that there really aren't a lot of women who can do a higher power output than me, so it was more about being aero, being comfortable on the [UCI-legal] bike. I surprised myself."

With defending men's champion Hugo Houle (Israel Premier Tech) due to start the Tour in a week, he was a no-show. Gee, who was third last year, has shown strong form in Europe this season, and has already been signed to move up to the WorldTour team for next season. However, he has had a lengthy recovery from COVID over the past two months, and his condition was unknown. He quickly made it clear that he is back on form, putting up the best splits for each half lap and winning by 51 seconds over former national road champion Matteo Dal-Cin (Toronto Hustle). Pier-Andre Cote (Human Powered Health) took the bronze medal.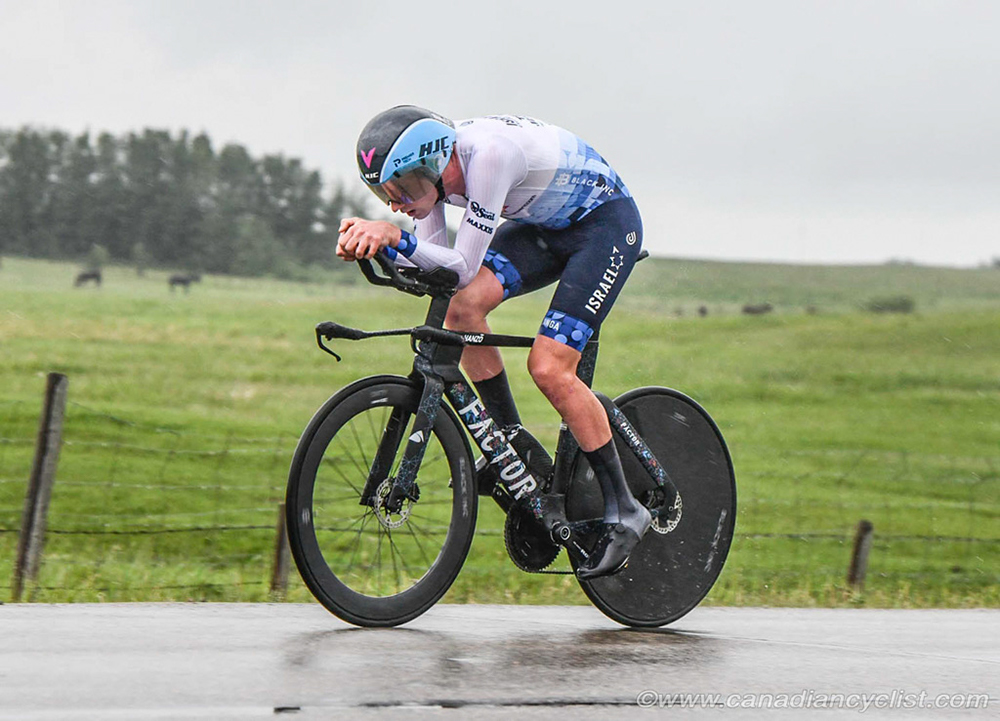 Derek Gee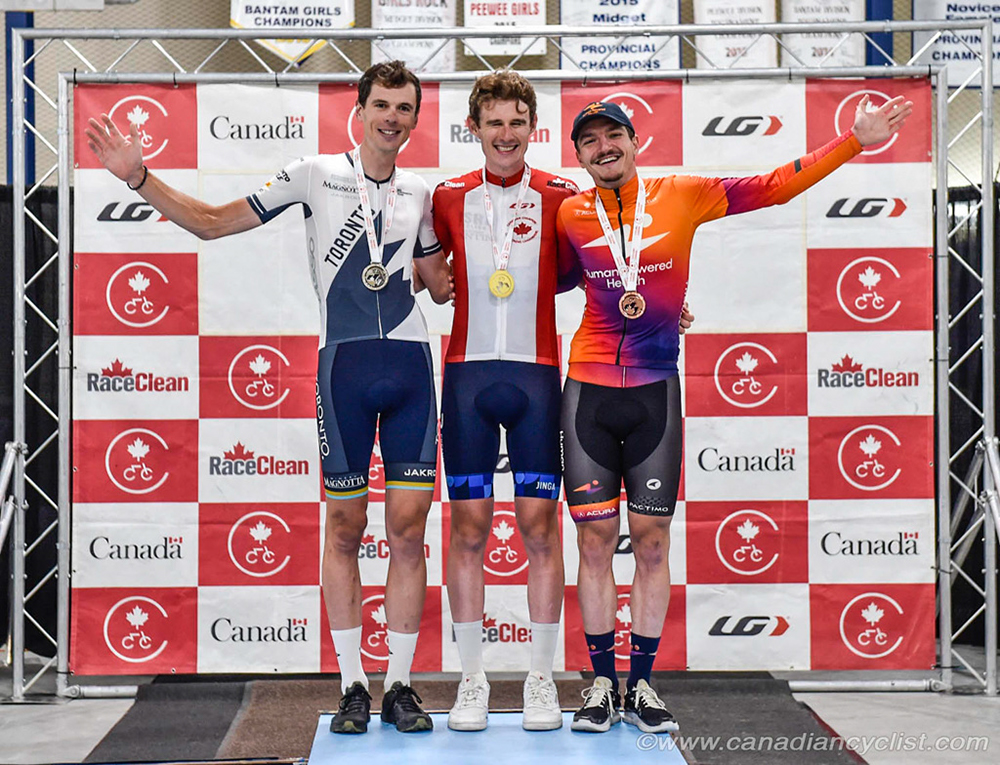 Elite Mens podium:l to r - Matteo Dal-Cin, Derek Gee, Pier-Andre Cote
"It wasn't the best conditions," agreed Gee. "Got off the trainer and looked outside, and was thinking we were in for a pretty wild one. It's kind of nice when it's raining that hard and it's that cold, because you feel the legs a bit less; it ended up being a super steady effort. I was super worried about my form - I got COVID about two months ago and it was a long road back; even now when I was doing high intensity workouts, it was 50-50 on the day whether it would go well or really, really poorly. The power I did today ... I was failing [to do] even ten minutes of that two weeks ago. It's really nice to see that it's come back and came together today. I couldn't have asked for a better day for it to come together."
Canadian Road Championships: ITT results and First Photos