July 10/22 13:48 pm - Carter Woods Second at Lenzerheide World Cup

Posted by Editoress on 07/10/22

The second half of the Mountain Bike World Cup season opened this weekend in Lenzerheide, Switzerland, with Carter Woods (Norco Factory) posting the strongest Canadian XCO result, finishing second in the Under-23 men's race on Sunday. Woods' result moved him from eighth to third in the overall standings. In other categories, Emilly Johnston (Norco Factory) was 14th in Under-23 women, Emily Batty (Canyon MTB) had her first top-20 finish of the season, finishing 19th in Elite women, and Gunnar Holmgren (Pivot - OTE) was 39th in Elite men.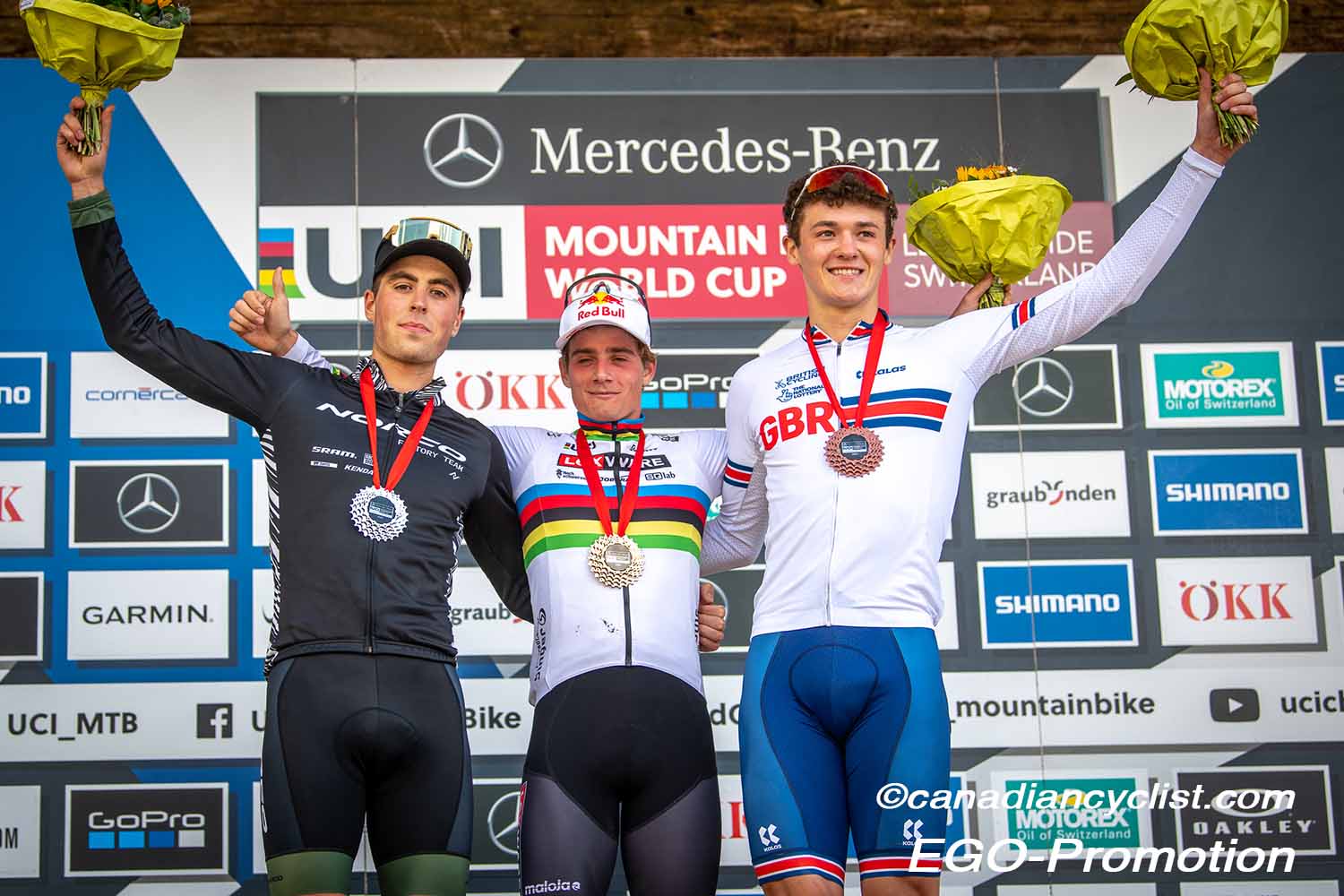 L to r: Carter Woods, Martin Vidaurre Kossmann, Charlie Aldridge
In Under-23 men, Martin Vidaurre Kossmann (Lexware MTB) continued his perfect season with his fifth straight victory. Vidaurre Kossmann led from the opening start loop, with Woods the only rider able to remain close. The Canadian was never more than ten seconds slower in lap times, but each lap the gap continued to open a little more, with the Chilean winning by 26 seconds. In other Canadian results, Team Canada riders Noah Ramsay and Cole Punchard were 33rd and 34th, respectively, Owen Clark was 55th, Logan Sadesky 76th and Xavier Roy 109th. Vidaurre Kossmann has a perfect 625 points in the overall standings, with Woods now at 310 points for third, 47 behind Simone Avondette (Wilier - Pirelli Factory).

Woods said post race, "The race was super good for me, coming off a good training camp. It was a smooth ride for me today, nothing crazy. I'm looking to building off this result."

In Under-23 women, Canadian champion Johnston rode consistently in 14th place for most of the race, which was won by Sofie Pedersen (Denmark). Pedersen took over the lead from Round 4 winner Puck Pieterse (Alpecin-Fenix) with two laps to go, just holding off World Cup leader Line Burquier (Canyon CLLCTV) at the finish line. In other Canadian results, Marianne Theberge (Pivot - OTE) was 24th, followed by Team Canada riders Roxanne Vermette in 25th, Jocelyn Stel in 37th and Nicole Bradbury 41st; Juliette Larose Gingras did not finish. Burquier continues to hold a significant lead in the overall standings, with Pedersen moving ahead of Pieterse for second place. Johnston moves up one spot to seventh in the standings, while Vermette drops two spots to 15th.

Loana Lecomte (Canyon CLLCTV), the defending World Cup champion, took her second straight victory, which was enough to propel her into the leader's jersey by one point over Rebecca McConnell (Primaflora), who was a distant 14th in the race. Jenny Rissveds (Team 31 Ibis), winner of the Short Track on Friday, challenged Lecomte on this heavy climbing course for the first half of the race before falling back slightly in the final two laps to finish eight seconds down. Alessandra Keller (Thomus Maxon), second in the Short Track, was the only rider less than two minutes behind the front two, taking third at 24 seconds.

Batty, starting well back in the field, steadily improved all race, with lap splits moving her up the rankings every lap. From low-40s after the start loop, she moved into the high 20s by the end of Lap 1, and into the top-20 on the last lap. In other Canadian results, Batty's team mate Laurie Arseneault was 36th, Sandra Walter (Liv Collective) 48th, Cindy Montambault 60th and Mackenzie Myatt 66th.

Lecomte moved ahead of McConnell, winner of the first three rounds, by a single point - 1204 to 1203, with Rissveds moving up from fifth to third in the standings. The top Canadian remains national champion Jenn Jackson (Canyon MTB), who is still recovering from an injury suffered in training before the previous round, and dropped to 32nd from 27th. Walter remains 35th, while Batty improves from 43rd to 37th.

The Elite men's race appeared to becoming down to a repeat of the previous round in Leogang, Austria, with Swiss rivals Mathias Flueckiger (Thomus Maxon) and World Cup leader Nino Schurter (Scott-SRAM) battling it out on the last lap. However, both went down in a crash, taking each other out of contention. Both were constantly attacking each other, having gapped fellow leaders Luca Braidot (Santa Cruz FSA) and Alan Hatherly (Cannondale Factory) on the fourth lap. Neither Schurter or Flueckiger would talk about the crash after the race, but Schurter was fined after the race for "Failure to respect instructions of the commissaires" and "Inappropriate behaviour at the finish of the race", and was visibly angry at the finish after missing out on a record breaking 34th World Cup win. Braidot took the win, his first, outsprinting Hatherly, with Flueckiger just ahead of Schurter for third. Flueckiger, in post-race interviews, shrugged it off as 'just racing'.

"The race went perfectly until this race accident on the final lap. I saw a gap and acted intuitively. That it came to the fall I regret very much, but that is probably just part of racing. Third place is certainly not what I had hoped for," said Flueckiger.

Holmgren moved up from the 70s on the start loop into the 40s by Lap 3, and then managed to slowly pick off a few more spots in the second half of the race. Peter Disera (Norco Factory) was 42nd and Sean Fincham (Norco Factory) 52nd after starting close to the back of the field. Tyler Orschel was 62nd, one spot ahead of national champion Leandre Bouchard (Foresco Holding Proco RL), followed by Quinton Disera in 70th, Malcolm Barton 83rd, Marc Andre Fortier (Pivot - OTE) 88th and Raphael Auclair (Pivot - OTE) 95th.

Schurter remains in the overall lead by 212 points, over Hatherly, who moves up to second from fourth. Flueckiger stays in third, a further six points back. Holmgren is the top Canadian, remaining in 46th place, as does Peter Disera in 49th.
Lenzerheide World Cup: All XC results