July 17/22 17:00 pm - Carter Woods Wins MTB World Cup, Batty 10th

Posted by Editoress on 07/17/22

Canada's Carter Woods (Norco Factory) took his first World Cup win of the season in the Under-23 men's XCO on Sunday, at Vallnord, Andorra. Canadians finished in the top-20 in all categories, with Emily Batty (Canyon MTB) finishing tenth in Elite women, Peter Disera (Norco Factory) 19th in Elite men and Emilly Johnston (Norco Factory) 20th in Under-23 women.

Vallnord is arguably the physically toughest race of the season, at over 2000 metres of elevation and with hard, steep climbing. The high heat and dusty conditions added to the difficulty, and a number of top riders either didn't start or fared poorly.

Under-23 Men
One of those that struggled was Martin Vidaurre Kossmann (Lexware), who has dominated the Under-23 men's category with five straight World Cup victories. He was in his usual lead spot after the first lap but then was caught on the second lap by Woods and Riley Amos (Trek Factory). By Lap 4, Woods was off the front on his own, with Luca Martin (KMC-Orbea) at 16 seconds and Amos at 24 seconds. Woods increased his lead on the final lap over Martin to 19 seconds at the finish, with Amos holding on for third, but over a minute down. Owen Clark was the next best Canadian in 38th, followed by Logan Sadesky in 61st, Cole Punchard in 72nd and Xavier Roy in 75th.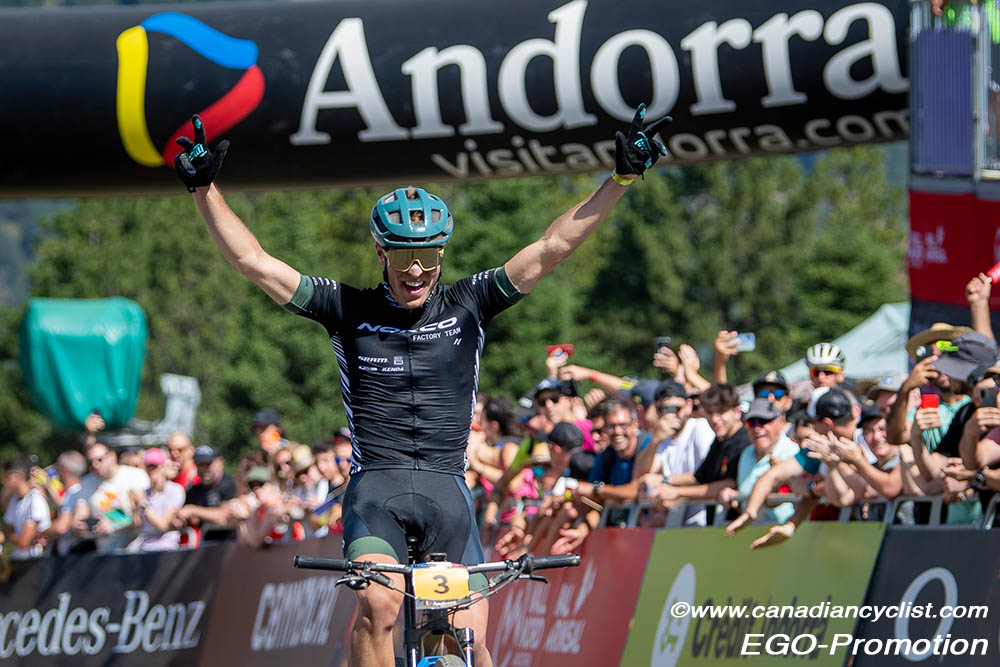 "It was an awesome race," said Woods, "hot, dusty and rough. I rode steady for the first few laps, then went to work on the last two laps. Feeling good heading into this big racing block!"

Vidaurre Kossmann continues to lead the standings with 680 points, but Woods has moved up to second from third, 245 points back.

Elite Women
Emily Batty had her best World Cup race of the season as she steadily climbs back up the results each race. After finishing the first lap in the low 20s, she surged in the mid-race laps, setting the fifth fastest split in Lap 3 and propelling her into tenth by the penultimate lap. Her final lap put her within 13 seconds of catching Pauline Ferrand Prevot (BMC MTB) in ninth.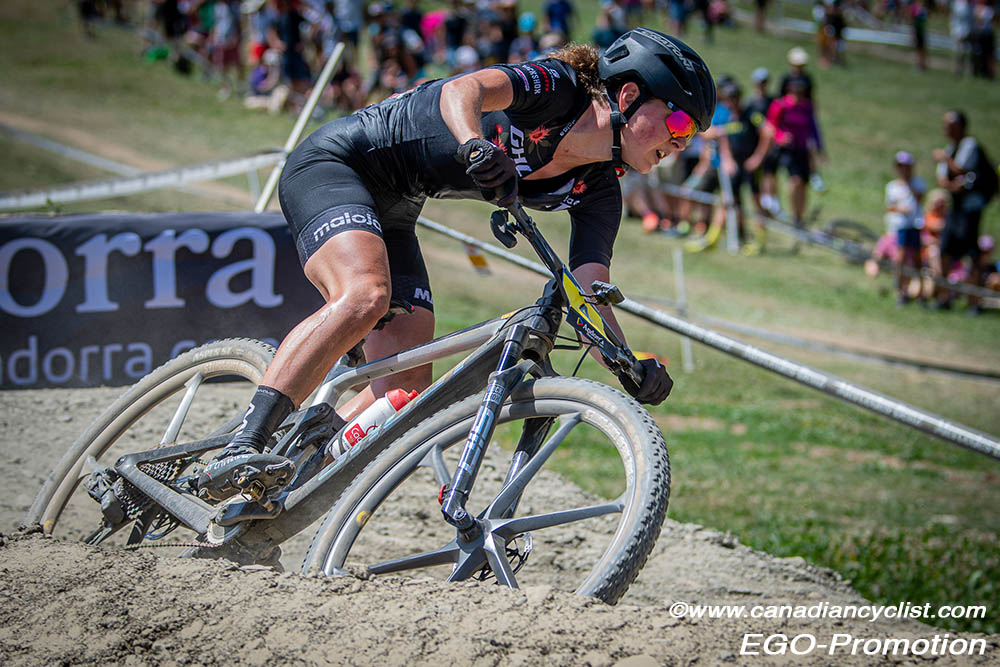 Anne Terpstra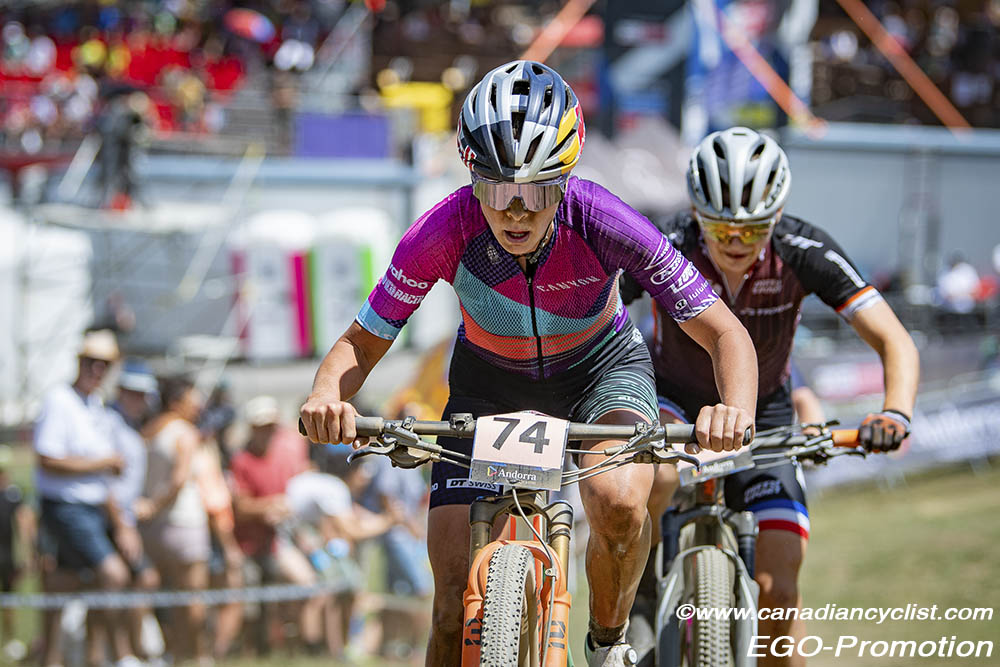 With Loana Lecomte (Canyon CLLCTV), Jolanda Neff (Trek Factory), Jenny Rissveds (Team 31 Ibis) and Sina Frei (Specialized) all electing not to race, it opened the door for some newer names to come to the front. World Cup leader Rebecca McConnell (Primaflora Mondraker Genuins) suffered two flats after the first lap to finish a distant 21st. Anne Terpstra (Ghost Factory) was clearly the strongest of the race, leading at the end of every lap and eventually winning by nearly a minute over Mona Mitterwallner (Cannondale Factory), with Ramona Forchini (JB Brunex Superior) taking third. In other Canadian results, Laurie Arseneault (Canyon MTB) was 28th, Sandra Walter (Liv Collective) was 34th, Haley Smith (Maxxis Factory) was 42nd and Cindy Montambault 49th.

In the standings, McConnell still leads with 1317 points, but Terpstra jumps from fourth to second, pushing Lecomte down to third. With her tenth place, following her 19th a week earlier, Batty becomes the top Canadian in the rankings, moving up from 37th to 31st. Walter climbs one spot, from 35th to 34th. Jenn Jackson (Canyon MTB), who has missed the last three rounds due to injury, drops to 38th to 32nd, while Arseneault climbs into the top-50 at 49th, from 53rd.

Elite Men
The Elite men's race was also hit by the loss of a big name: Mathias Flueckiger (Thomus Maxon), who did not start due to illness, after finishing third in the XCC on Friday. The race started hard and fast, which eventually saw some of the early leaders fall back. By the end of Lap 3, the halfway mark, the lead was down to five - last week's winner Luca Braidot (Santa Cruz FSA), David Valero Serrano (BH Templo Cafes UCC), Vlad Dascalu (Trek Factory), Jordan Sarrou (Specialized) and Victor Koretzky (France). World Cup leader and world champion Nino Schurter (Scott SRAM) was dangling some 20 seconds back. Koretzky was the first to get dropped, then Sarrou. Dascalu launched a hard attack on the penultimate lap, but then abruptly slowed with what appeared to be a slow leak in his rear tire. Braidot responded with his own attack, dropping Valero Serrano and going on to his second straight win, while Schurter began closing the gap, passing Dascalu to take third.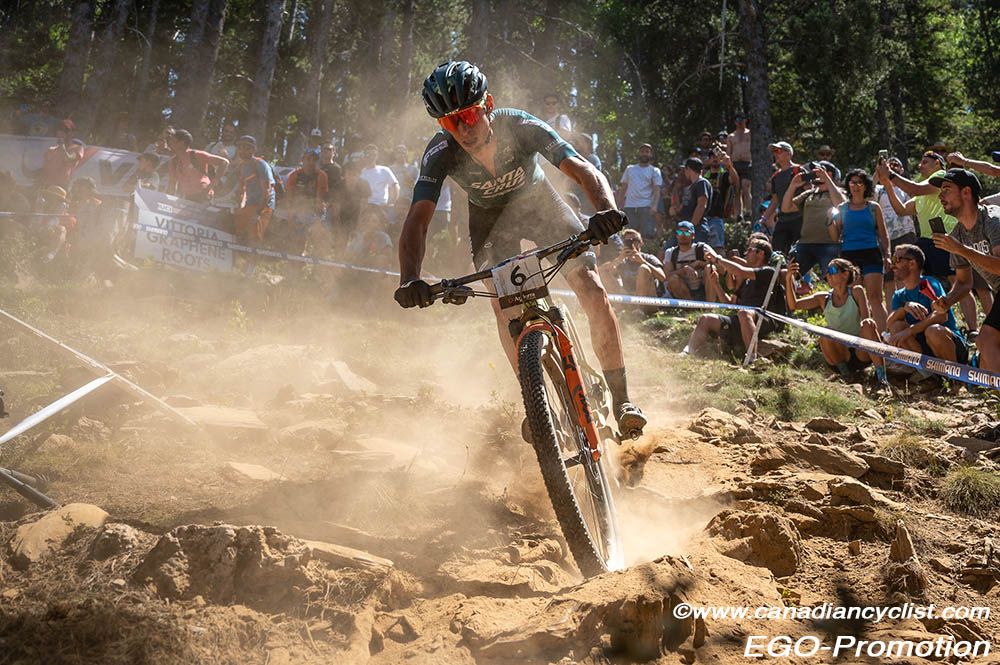 Luca Braidot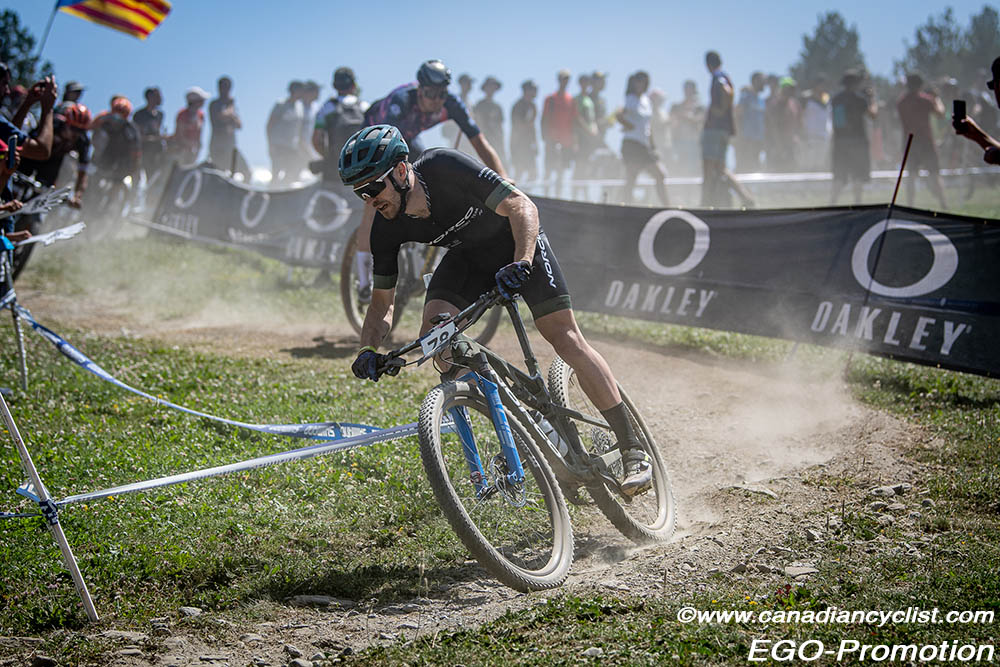 Peter Disera was in the low 30s by the end of Lap 1, and then steadily worked his way up through the 20s to 20th place by the start of the final lap, passing one more rider on the last lap with a strong surge to record his best World Cup result of the season. In other Canadian results, Tyler Orschel was 42nd, Sean Fincham (Norco Factory) 44th, Gunnar Holmgren (Pivot-OTE) 53rd, Andrew L'Esperance (Maxxis Factory) 56th, Leandre Bouchard (Foresco Holding Proco RL) 57th, Marc Andre Fortier (Pivot-OTE) 68th, Raphael Auclair (Pivot-OTE) 87th, and Quinton Disera did not finish.

Peter Disera admitted, "[I had] zero altitude prep. Just knew it was going to hurt. I think heat prep was more important. It was super hot and dusty. I got lucky with a good start and pressed the gas and didn't look back. I sneakily made up spots the rest of the race until I was knocking on top 20. Sneaked it on the last lap, finished just beihind Kersh [Gerhard Kerschbaumer (Specialized)] in 19th. Was very happy with the ride. It didn't feel any easier or better than previous rides. Just awesome."

In the overall standings, Schurter continues to lead with 1342 points, while Dascalu jumps from fourth to second, pushing Alan Hatherly (Cannondale Factory) down to third. Peter Disera is now the top ranked Canadian, moving from 49th to 43rd, while Holmgren drops from 46th to 48th. Fincham continues to move up in the rankings, now into 60th.

Under-23 Women
In the Under-23 women, Line Burquier (Canyon CLLCTV) took her fourth win in six races, leading from the second lap to win by 36 seconds in front of Ronja Blochlinger, with Puck Pieterse (Alpecin-Fenix) finishing third. Johnston moved up as high as 13th mid-race, but faded in the last two laps. Roxane Vermette finished 22nd, Marianne Theberge (Pivot-OTE) was 24th, Jocelyn Stel was 28th, Juliette Larose Gingras was 31st and Nicole Bradbury was 34th. Burquier remains the overall Series leader with 700 points, while Pieterse moves up to second from third, 215 points back. Johnston drops to ninth from seventh in the standings, while Vermette remains in 15th place. Theberge moves up to 32nd from 39th, Stel moves to 40th from 44th, and Brdbury goes to 43rd from 47th.