July 18/22 14:58 pm - Hugo Houle Interview

Posted by Editoress on 07/18/22

Canada's Hugo Houle (Israel - Premier Tech) is competing in his fourth Tour de France right now, with one week remaining in the race. After 15 stages he currently sits 33rd overall. Last week, he became only the fourth Canadian rider (and first Quebecer) to achieve a top-3 stage result in an individual stage, finishing third on Stage 13 after spending 147 kilometres in a breakaway. We spoke with Hugo today on the second rest day of the Tour.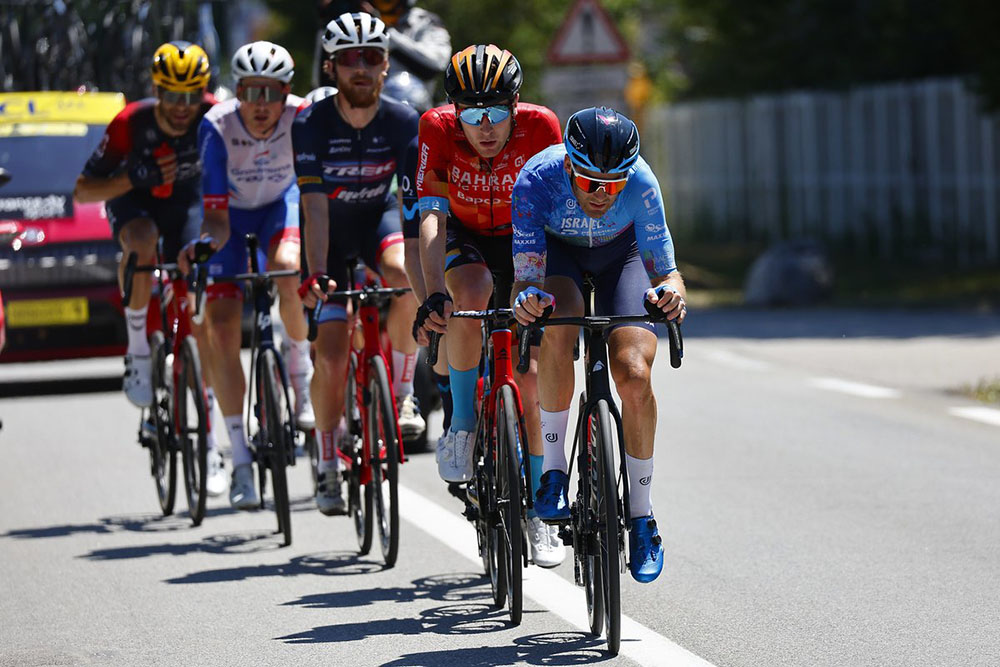 Courtesy Israel - Premier Tech
Canadian Cyclist: This has been a very successful Tour for you so far.

Hugo Houle: Yes, correct; so far so good. The fitness is there. I was able to go in two breakaways so far [stages 9 and 13]. Every day I able to be with the good group and be really active in the race. So I'm really happy with my condition and what I have been able to achieve so far. I'm still in pretty good shape for the third week and I will try to catch another good breakaway before we head to Paris.

CC: So we need to talk about your third place on Stage 13. You were in the break, which got down to three riders. At that point, you have to be thinking about winning; did you have a strategy you wanted to try?

HH: In the climb at about 8K to go I thought I could make a difference and tried to go on the top, but I did not get a significant gap. Afterwards I tried a bit, but I didn't think I could drop Mads Pedersen [the stage winner]. They were both really strong and probably had a better punch than me, so it was hard to get any distance. At the end it came down to the sprint and I knew that I had not much chance against him in the sprint.

At 1.5K to go he decided not to [pull at the front] anymore and I was kind of screwed in the front. But it was not a bad thing because I was a little bit ahead, but he was way stronger - we saw in the final yesterday [Stage 15, Pedersen was third] he was there with the best sprinters. There was not much for me to do in the sprint.

CC: Afterwards, I was talking with [former pro sprinter] Andrew Pinfold, and he told me he was screaming instructions for the sprint at his screen ...

HH: [Laughes] We can look at it in a lot of ways, but in the end, he was just stronger, so I have no regret. There was not much that I could do, that is what I believe.

CC: You are only the fourth Canadian and the first Quebecer to finish top-3 in an individual Tour stage. Have you thought about that at all?

HH: About the history? Not really. I look at it and I'm really happy that I made it, more for myself. I wanted to do a solid breakaway at the Tour and go for the win, and have that feeling of going for the win on the finish line. I'm really happy with the performance I was able to achieve; it's hard to get in a good breakaway, and once you are there, it's hard to play the cards well. There's always strong riders in the Tour de France; as you could see in the breakaway there were big names there, and I was able to play my cards right to end up in the final three. So, I'm really happy with what I achieved, and it was more for myself than history. Everything I do, I do for myself; it's more my personal motiviation that keeps me fighting every day and training hard to achieve those results.

CC: Each year you seem to be getting a little stronger and more able to pick the right moves. Is it just the increasing experience that makes the difference?

HH: I think it is the accumulation of years, learning step-by-step. Race strategy, understanding how a race works. In some past races I have had to control some races when we had the leader's jersey, and I learned how to establish a breakaway ... in my three previous Tour de France I've learned how to get in a breakaway in the Tour de France. That's one thing - to have the experience of how to put myself in the right place; you can be as strong as you want, but there is a bit of strategy and race intelligence to get in those breakaways at the right moment and not kill yourself to get there.

That's one thing, but powerwise I've become a bit stronger in the last few years. The fact that I moved to live in Monaco has helped me a lot with climbing, because there are way more climbs around and I have to climb all year long. Also, the fact that I am established in Europe full time has helped me to have a more stable life and train consistently.

I think these are the reasons that I have had progressed every year. Every year, I find ways to get better and better. Just the accumulation of a lot of small things together has made a difference in the way I am now from where I was five years ago.

CC: Going into the final week you are the second rider in the GC ranking for your team, and just outside the top-30. Does the strategy maybe change a bit to protect or move up in GC? Or are you still focussed on stage wins.

HH: I have a 100% focus on stages. I have not invested myself in any way on the GC; I lost a lot of time in some stages, sometimes when I just took it easy. So that's not going to change. I would like to do another good breakaway, where I can try to put myself into a position where I can play for the stage again. My focus is 100% on this.

A lot of guys are getting tired and the race can open up in the Pyrenees this week. But the GC is not something we [the team] look at; that is not what the team is basing the strategy on, or whether they are going to protect me or not. I think the team clearly knows who are the strongest riders now, and I think that if we target a stage for a breakaway I will get help from my team mates. We will see how it goes. If the fitness is there, I can maybe move up [in GC], but it is not the focus.

CC: So what stages will you be focussing on?

HH: I think tomorrow's stage [Stage 16, 178.5 km] is a good one, but there are after that a few GC stages where the stage is really short and maybe more intense, so maybe not a good one for a breakaway. The stage before the TT [Stage 19, 188.3 km] is also a good one. One of those two stages would be interesting for me, we will see what I can do. The fitness is still there. It's really warm so, lot of things can happen. We will see.