July 19/22 13:38 pm - Steve Bauer talks About Hugo Houle's Tour Stage Win

Posted by Editoress on 07/19/22

On Tuesday, Hugo Houle became the second Canadian in history to win a stage of the Tour de France, winning Stage 16 after riding the final 40 kilometres solo. He is the first Canadian to win a stage since Steve Bauer did it in 1988, 34 years ago. Remarkably, Steve is the Directeur Sportif for Hugo's team, Israel - Premier Tech, and was in the team car as Hugo took his historic win. We spoke with Steve as he drove to the team hotel about Hugo's win and how the Tour is going for the team.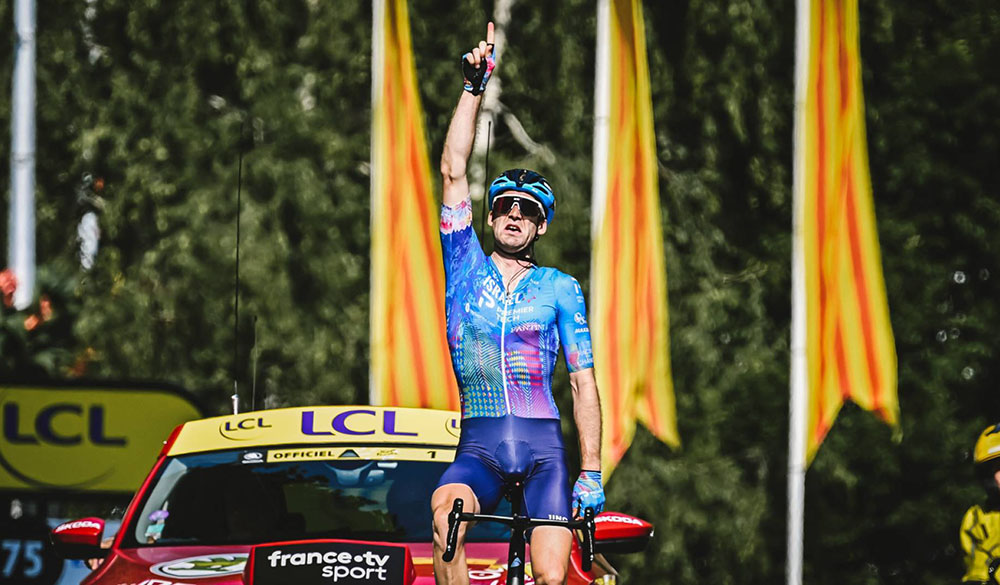 Canadian Cyclist: Obviously a very big day for the team.

Steve Bauer: Yes, a huge day for Mr Houle. A well deserved victory, super well deserved. He's been riding so strong this Tour. He's been a solid team man his entire career; I always knew he had something special in him and he put it all together today. Man, he was so strong and smart, he rode so sharp. Well deserved.

CC: He and I talked yesterday and he said he still wanted to win a stage. So, I asked which stages he thought suited him, and he said 'tomorrow's stage is a good one'!

SB: Yes, he told me that he had this one picked from the Pyrenees stages for a while. He wanted to go all in and because he has been recuperating so well and on top of his fitness and form ... we also wanted Michael Woods to go today because of the steep climbs in the final.

So those two guys ... right from the gun we knew it would be a battle. Immediately the break went and Hugo jumped across to it at the right moment and then it was gone. So we had our two strongest men in the front group today and after that it just played out well. I think Woodsy basically killed the guys on the first climb, going to the lead. So on the second climb, Hugo rode away and everybody was pretty cooked. Mike just matched anybody that wanted to move and Hugo really held his own. It was incredible, he was so solid all the way to the finish. Impressively strong.

On the final climb, Hugo rode off and Woodsy left a gap for him. A couple of guys jumped after and Woods went with them, but everybody else was blown. Over the top [of the final category 1 Mur de Péguère climb] there was only [Matteo Jorgenson (Movistar)] and Woods chasing Hugo, who still held 30 seconds starting the descent. It was 27Ks to go and Jorgenson didn't pull back anything and eventually crashed trying to get Hugo back. After that, it was pretty much done, and I just told Hugo 'you've got it, you just need to stay out of trouble and cruise in'. Which is pretty phenomenal; it doesn't often happen when you can almost relax the last five kilometres and have it in the bag. Incredible.

CC: It's been 34 years since you won a stage of the Tour, and that has been the only Canadian Tour stage victory, until today. Did you think it would be that long before another Canadian would win a stage?

SB: [Laughes] Honestly no. I think Mike [Woods], he's got a big one in him somewhere. And, like I said, Hugo, he's such a solid team man, he does his job so well and he is such a top pro. Today, he just put it all together. I don't really think about [them being Canadian]. When I'm in the car and we are talking tactics and I'm directing the guys, I'm not thinking about having two Canadians in front of me, I'm just thinking about how to win the race! But yeah, it was super emotional to see Hugo take the victory after such a well deserved effort and such a long career.

CC: There are still six stages left, so I assume that the team is just going to keep chipping away, going for stages?

SB: Yes, that has been the goal right from the beginning. We had what we call a 'soft' general classification goal with Jacob Fuglsang. It was never really the goal for Michael [Woods] to go for the GC. We had the stage win vision right from Denmark.

Our goal was really just to stay out of trouble for the first week, until the cobblestone stage [Stage 5], which we had Simon [Clarke] take the victory at. I think that early week strategy of just staying out of trouble and not putting too much energy on the road has paid off, as the guys who haven't been injured - like Jacob yesterday, or Simon going out with COVID - are in good shape. We've overcome a very difficult Tour; it's been very fast and very aggressive, never let up. Hugo and Mike in particular are still really in top shape.

Michael, he will try, as I'm sure Hugo will, and maybe Boivin and the others guys, to maybe get another one. We're going to keep racing and see what that brings for us.

CC: So, to this point, I would assume that you would consider this a pretty successful Tour for the team?

SB: Absolutely. The first victory with Simon Clarke was the first Tour de France victory for the project, the team. And now Hugo has a second one in the same Tour. After a very difficult Spring, with a lot of COVID infections and some injuries, when we really struggled to get some results, now it seems that the group is jelling, the guys are healthier, they're fit and we can start winning races.