July 24/22 12:13 pm - 14 National Titles Awarded at XCO Nationals

Posted by Editoress on 07/24/22

The Canadian XCO Nationals, held in Oro-Medonte, north of Barrie, Ontario, saw national titles awarded on Saturday in 14 categories, ranging from Under-17 to Masters age groups. In the marquee Elite category, two local stars shone, with Emily Batty (Canyon MTB) leading a sweep of the women's podium for her team, while Peter Disera (Norco Factory) took the men's, his fourth title. Both riders had won the same titles in 2019, the last time the event was held at this venue.

The circuit at Hardwood Ski & Bike centre is well known, having hosted multiple national championships, Canada Cups and, in 2015, the Pan Am Games - where Batty won the gold medal. It offers a course of short, sharp climbs and descents, roots and rocks. This day it was extremely dusty due to the prolonged heatwave, and heat would prove to be a major factor, with the humidity pushing temperature readings to the mid-30s Celcius. More than one rider succumbed to the heat after going out too hard in the early laps of their race. Most of the races were run a lap shorter than planned due to the heat conditions.

Elite
The Canyon MTB team of Batty, Laurie Arseneault and defending XCO champion Jenn Jackson had swept the XCC [Short Track] on Thursday, with Arseneault taking that title. Initially, it looked like Arseneault might be en route to a double win, as she finished the first lap (of four) with a 30 second gap over Batty. Batty was covered in dust on the front of her jersey, and she confirmed after the race that she had crashed on the rocky Boneshaker descent. However, a lap later she was firmly back in the lead and steadily pulled away to win by over a minute and a half from Arseneault, with Jackson taking third. For Batty, it is a continuation of the return to form she has shown over the past six weeks, including a top-10 finish at a World Cup a week earlier. Jackson's ride deserves note, because she is only six weeks back from a broken elbow and torn tricep suffered in a crash at a European World Cup event.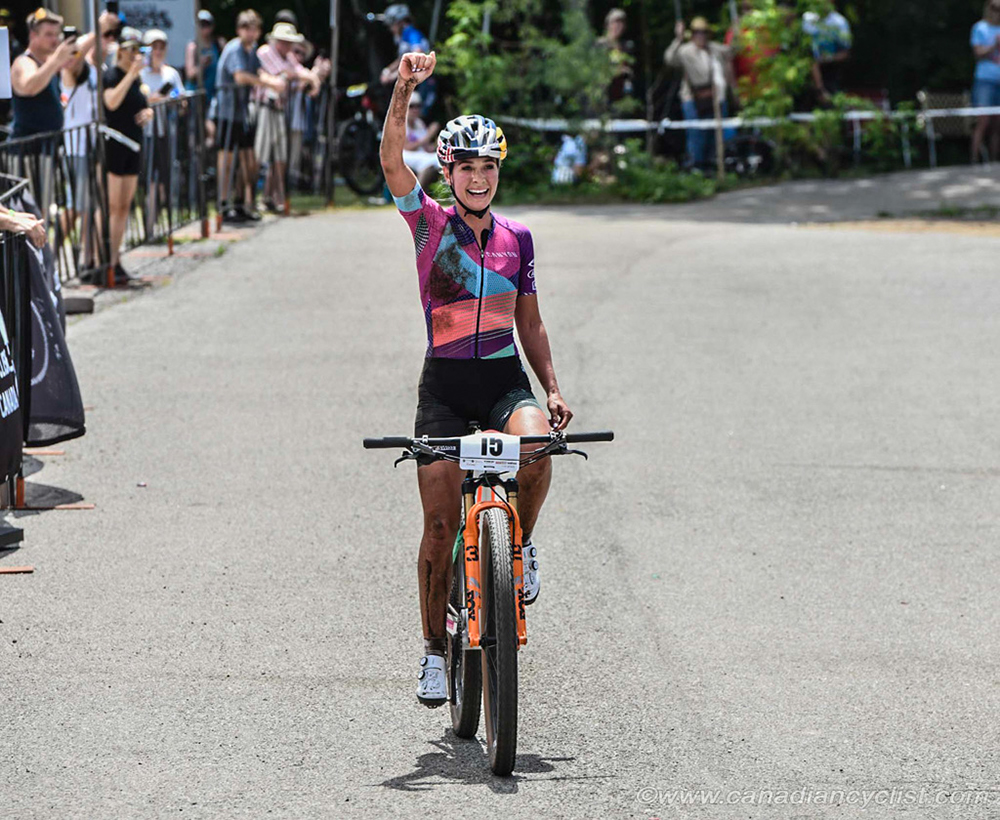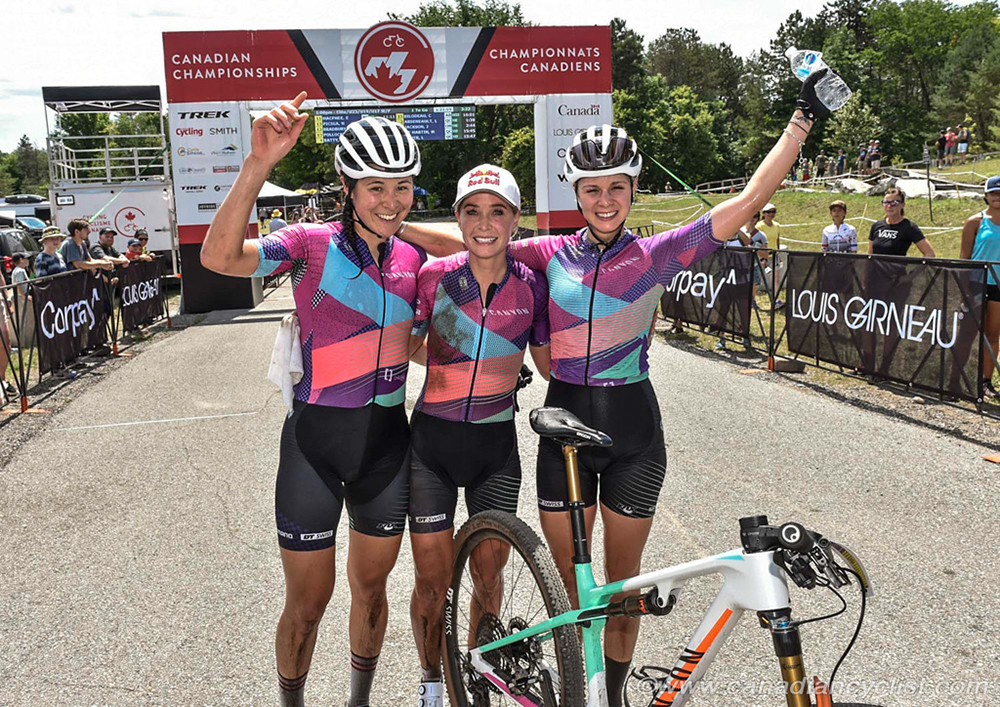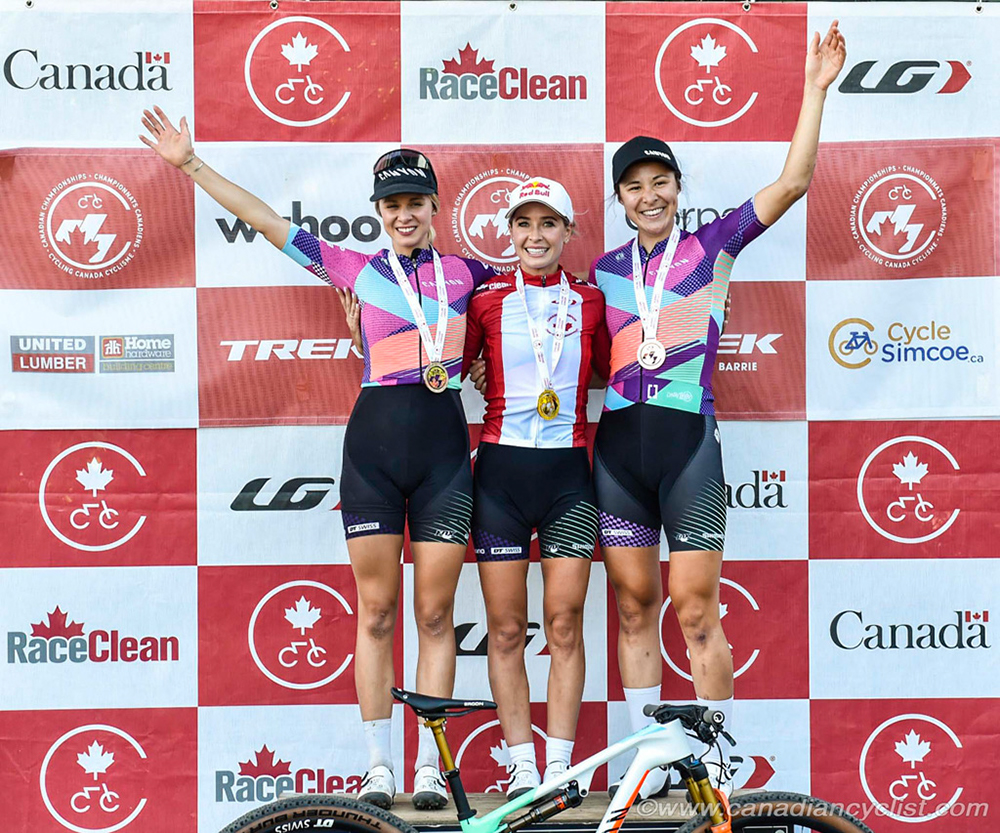 Elite Women Photo Gallery
"It is special," agreed Batty. "It's been a year since I had the [national champion's] jersey, and it's always such an honour to wear it. I didn't race last year, but it was on Jenn, so it is so cool to keep it in the team. That was the goal today and we took 1-2-3, it was a perfect weekend. I felt awesome, but I did have one crash, on the Boneshaker in the first lap. Just too much compression in one little spot and I was over the bars. So Laurie raced a really strong first lap and she got a 30 second gap. But I just felt like I was back in World Cup form, being able to chase and bridge up 30 seconds and attack when I got to her."

The men's race quickly came down to three riders - Peter Disera against Canyon Devo team mates Tyler Orschel and Peter's brother, Quinton Disera. In the early laps, the Canyon Devo pair took turns opening gaps on Peter, but he was able to pull them back each time. Quinton started to fade with a lap and a half to go in the five lap race, but Orschel attacked, opening the biggest gap over Peter in the race, reaching five seconds. However, the more experienced World Cup and Olympic rider reeled him back in and then launched his own attack in the last half lap, eventually coming into the finish 27 seconds ahead of his rival, with Quinton just over a minute back.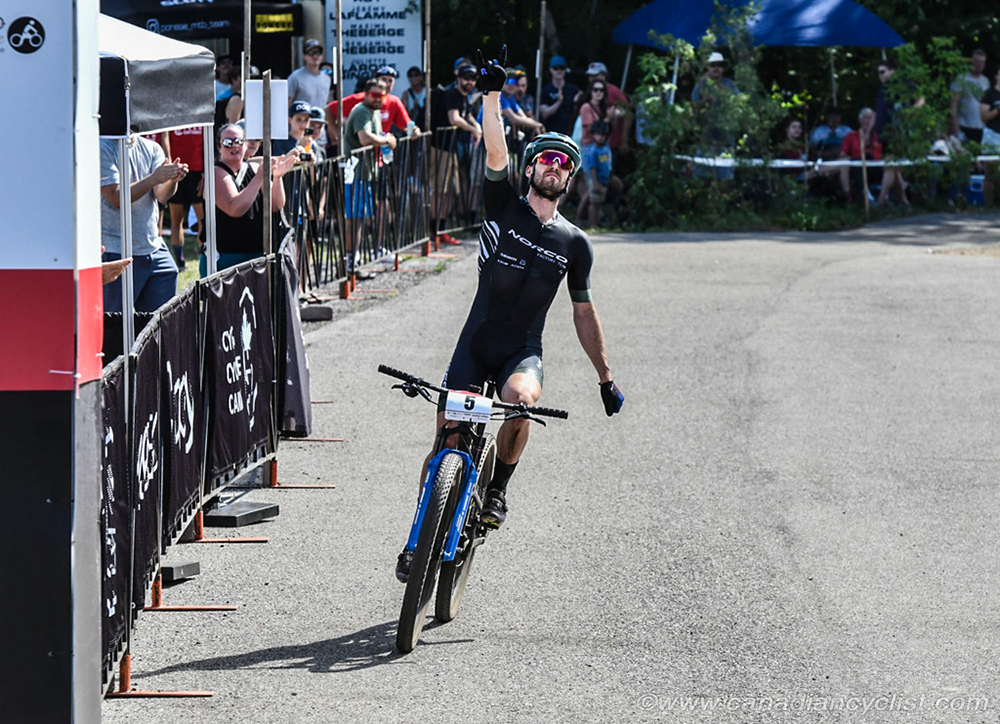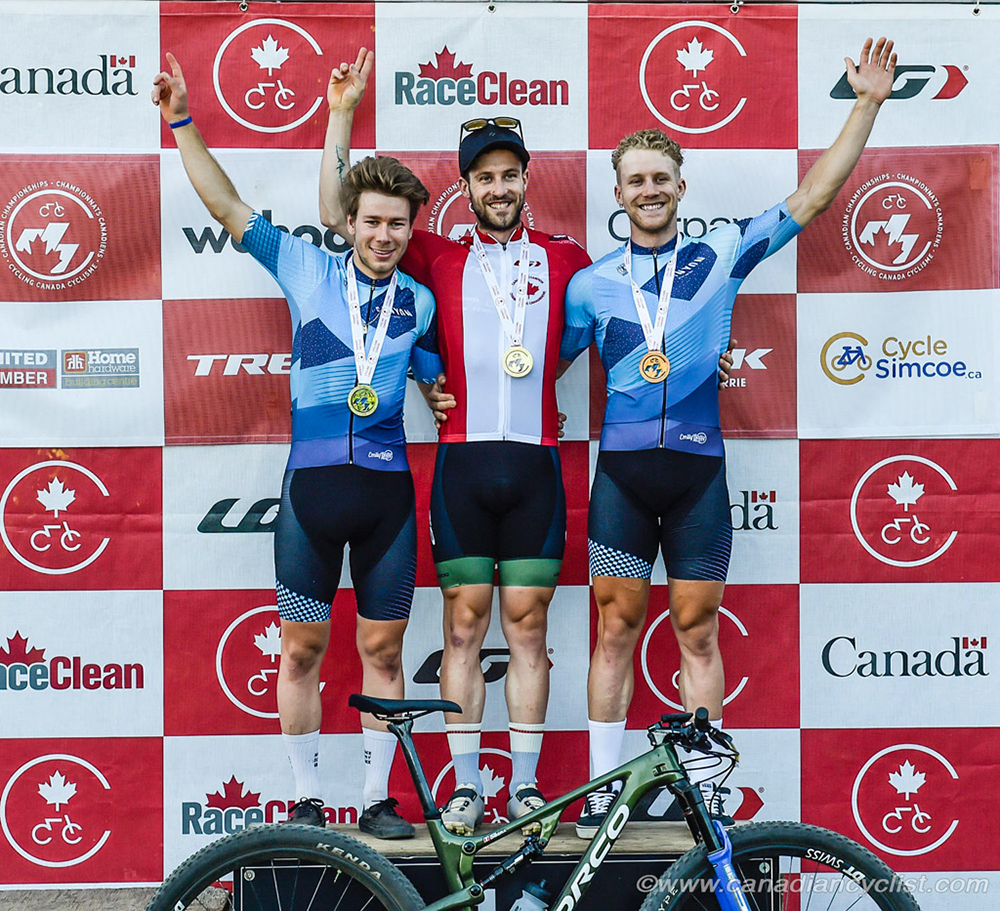 Elite Men Photo Gallery
"It is my home course," agreed Disera, "but after that win in 2019 I moved out West and haven't ridden Hardwood since, so coming back, I was, like 'Oh yeah, this will be a cakewalk' ... but, while the tracks are easy, they are not easy at speed. The speed that we World Cup riders ride, we don't [usually] pull the brakes, we just set deep. So it took a bit of getting used to, to get through all those tight trees and the sand and stuff. I rode super conservatively, after I saw from the women's race that a bunch of them were covered with dirt."

"I was riding within my limit on the first two laps and that bit me in the ass a bit; Ty [Orschel] and Q [Quinton] were just risking it so I was constantly chasing. But I remember from 2019 it took a while for anything to stick, so I just stuck with it, and the moment I felt blood in the water, I just floored it. Ty had got a bit of a gap, but I was comfortable I could close it, and then he got tangled up in a drop. He was super sportsman-like, and instead of blocking the whole trail, he yielded to me. I couldn't not take advantage of that and floored it. I gave him a second to get back on and then just jammed until he was gone."

Under-23
The women's race saw defending champion and favourite Emilly Johnston (Norco Factory) quickly head out to a big lead over chasers Marianne Theberge (Pivot-OTE), Jocelyn Stel (Canyon Devo) and Roxanne Vermette (Stimulus Orbea). However, her effort turned out to be too hard, and she succumbed to heat exhaustion by the final lap, eventually dropping out. Theberge, who had ridden a much more measured pace, took over the lead to beat Stel by 46 seconds for her first national title, with Vermette taking the bronze medal.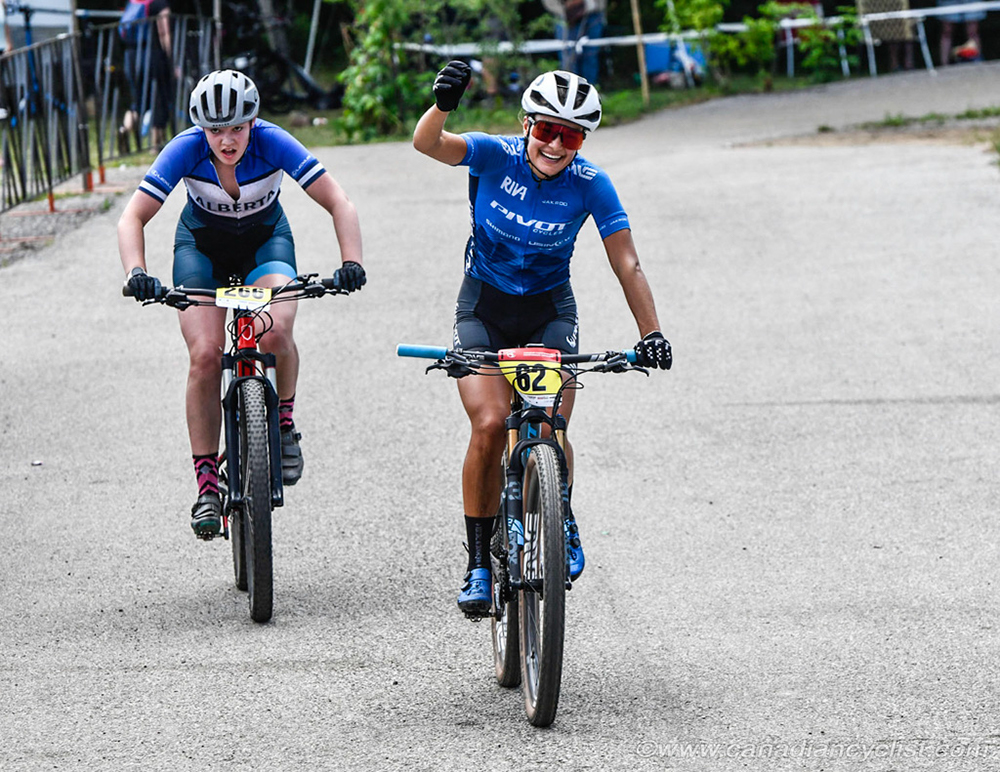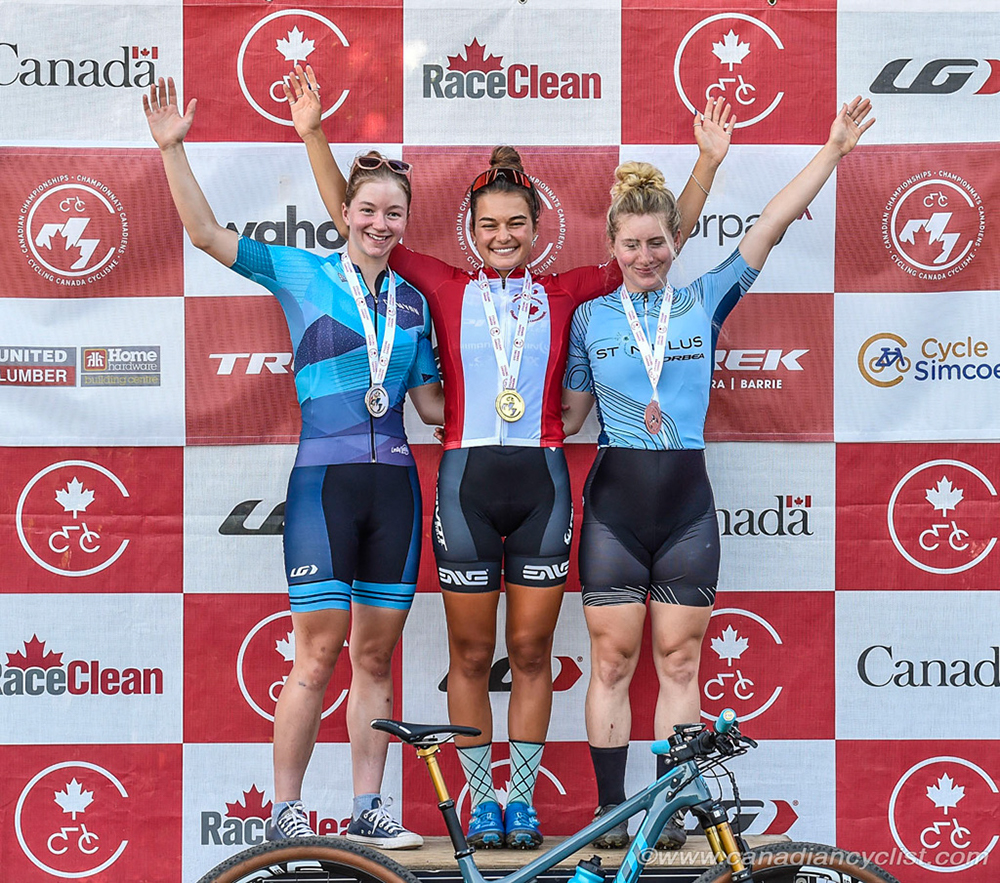 U23 Women Photo Gallery
Carter Woods (Norco Factory) was the clear favourite for the men's race, having won a World Cup at week earlier, and the combined U23/Elite XCC on Thursday. He did not disappoint, leading the U23 field from the start and eventually beating Cole Punchard (CHC Armada) by nearly a minute and a half; an impressive ride by Punchard in his first year of Under-23. Punchard's team mate Owen Clark - also a first year Under-23 - took third. Woods' ride was all the more remarkable because, despite starting two minutes behind the Elite men, he caught all but the first three riders in the Elite field by the end of his four lap race.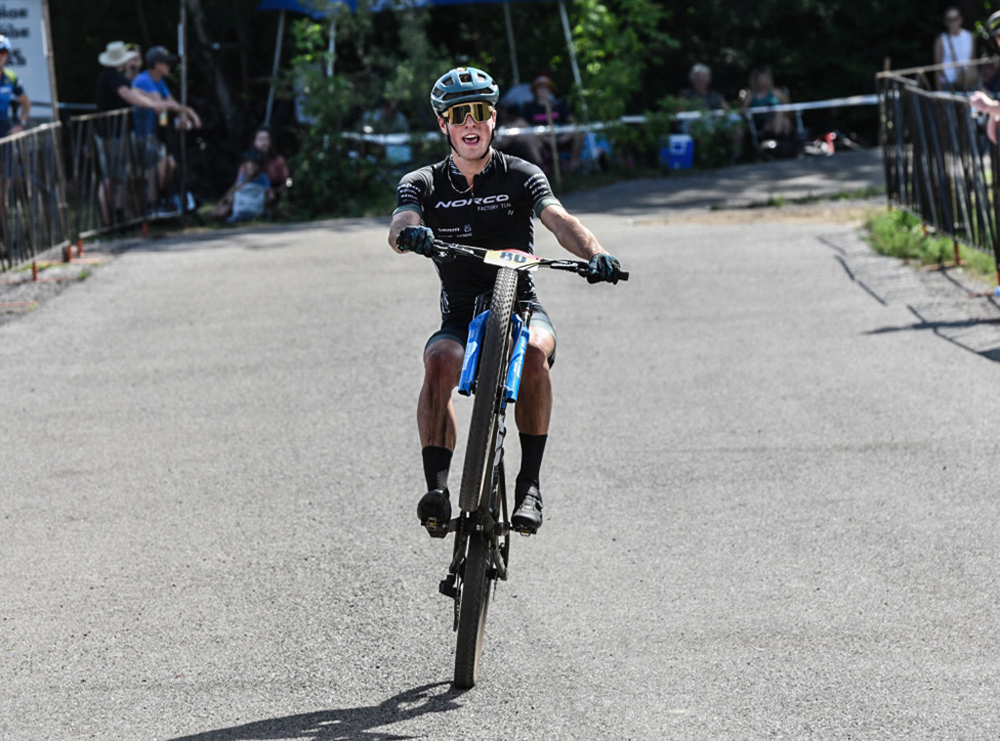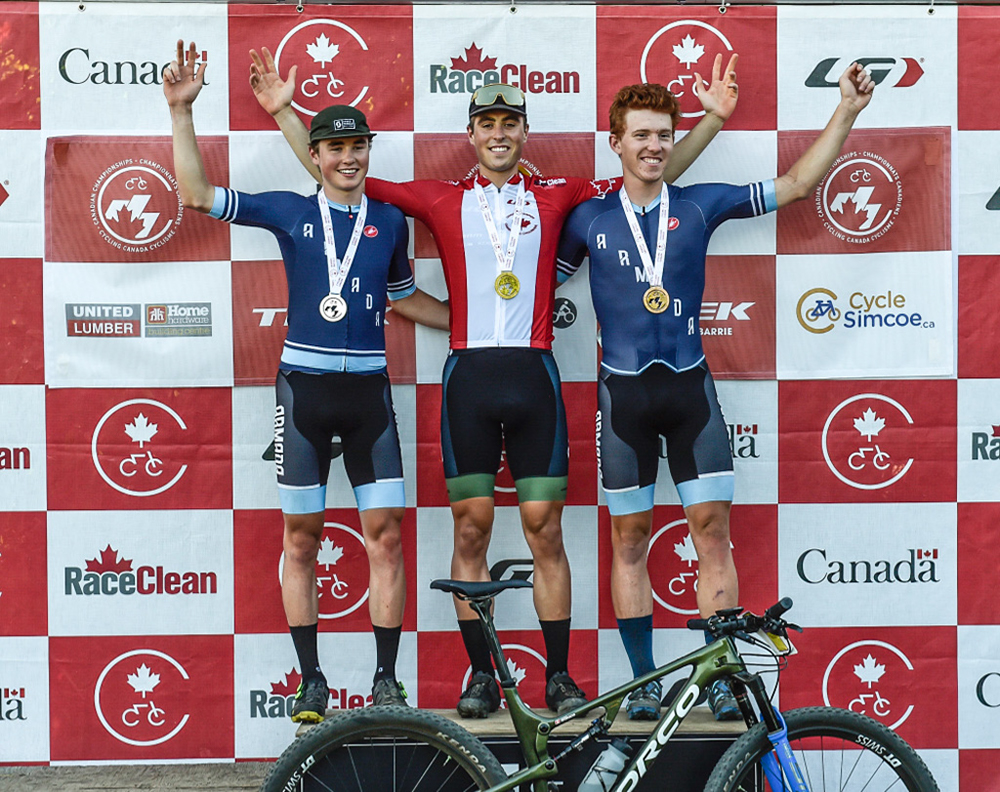 U23 Men Photo Gallery


"My short track was spicy earlier in the week, and I just wanted to keep the edge, while firing on all cylinders," said Woods after his double title win. "It was so beautiful for XCO today, I just wanted to keep the engine going. Heading into the Championship weekend, I wanted to make sure to keep it safe, and have some great racing."

Junior
The Junior women's race saw the Stimulus Orbea squad sweep the podium; just as they did in the XCC. Marin Lowe and the Holmgren sisters - Ava and Isabella - quickly dropped the rest of the field as they began reeling in U23 and Elite riders that had started two and four minutes ahead of them. Lowe set the pace, first dropping Isabella and then managing to slightly gap Eva, to add the XCO title to her XCC title. Lowe won by a scant five seconds over Eva Holmgren, with Isabella at 1:46. This is the exact same order they finished in last year, when all three were in the U17 category.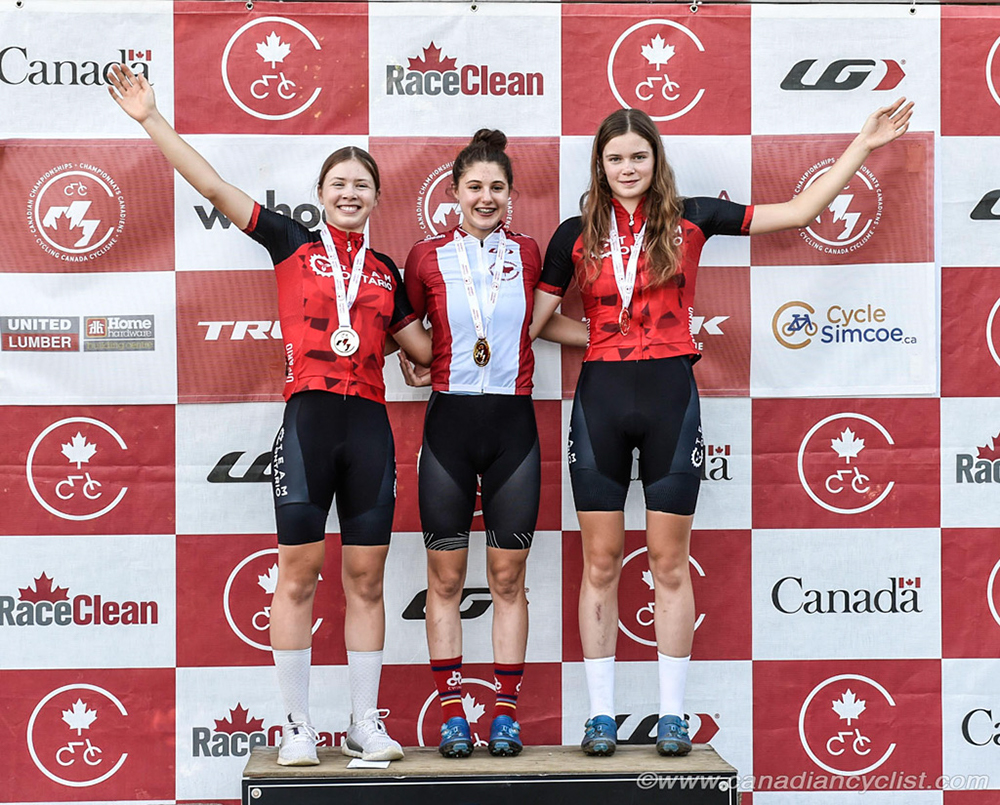 Junior Women Photo Gallery
Zorak Paille (Velo Pays d'En Haut) and Maxime St-Onge (Siboire) dropped the rest of the field in the men's race early on. Paille was able to consistently maintain a small gap over his rival, but couldn't extend it by much, and one mistake would have put St-Onge into the lead. Luckily, Paille avoided any disasters to take the title by 36 seconds. Cam McCallum (Charge BC) came up from further down in the field to take third.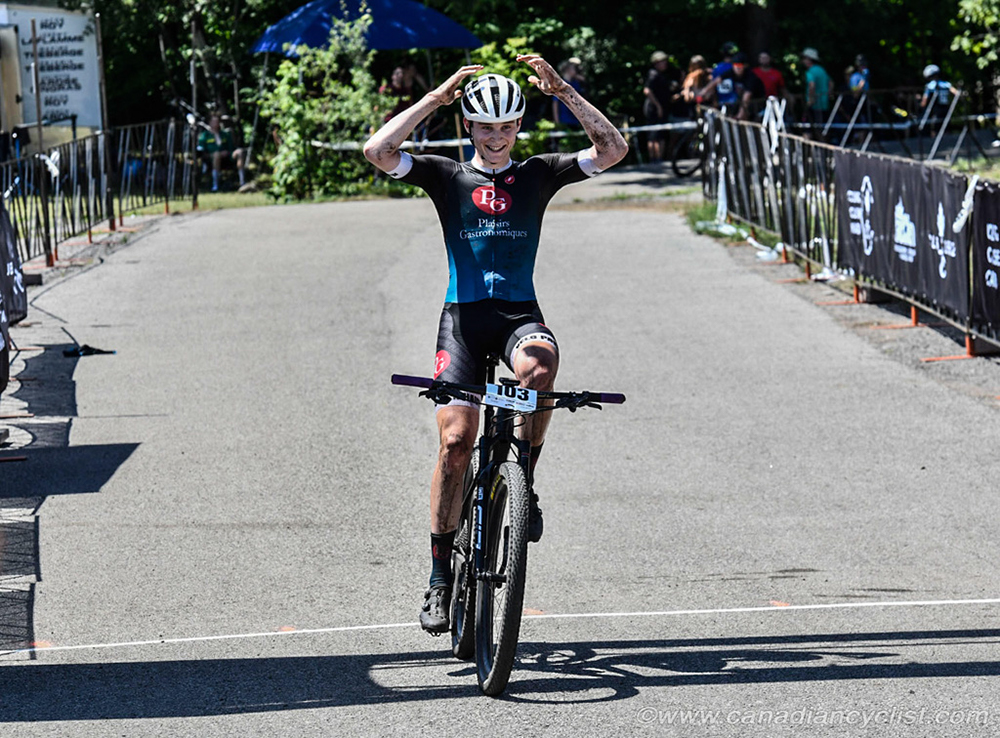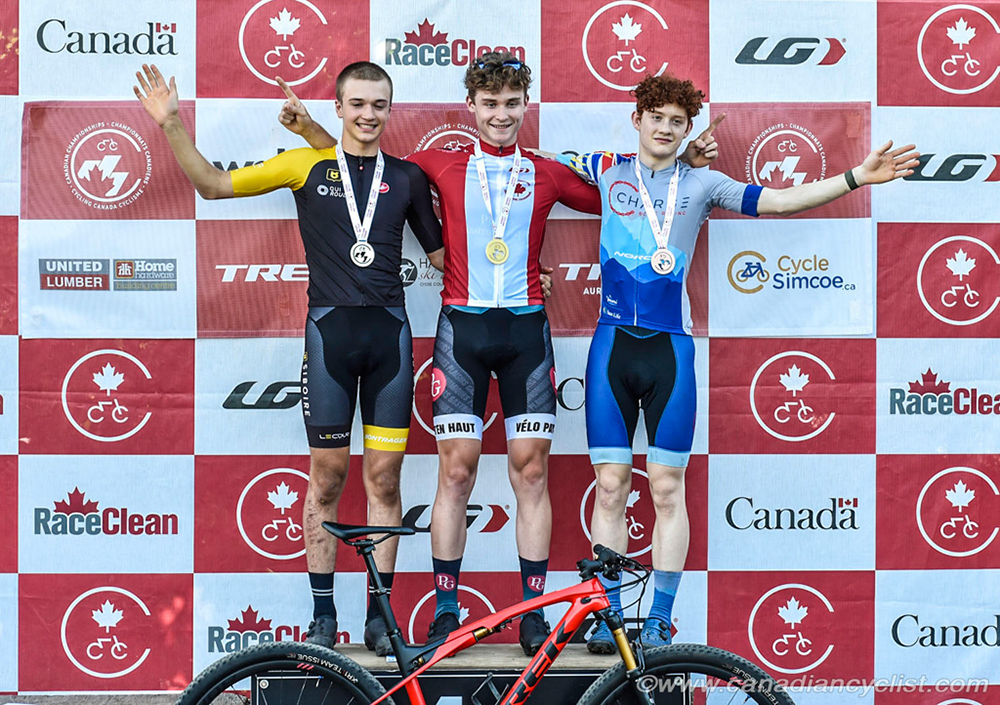 Junior Men Photo Gallery
Under-17
Rafaelle Carrier (CVM Sigma Assurance) led the U17 women's race from start to finish, winning by over two minutes against Ayana Gagne (Siboire). Lily-Rose Marois (CVM Lac-Beauport Sigma Assurance) challenged for second early in the race, but fell back on the second lap to take third.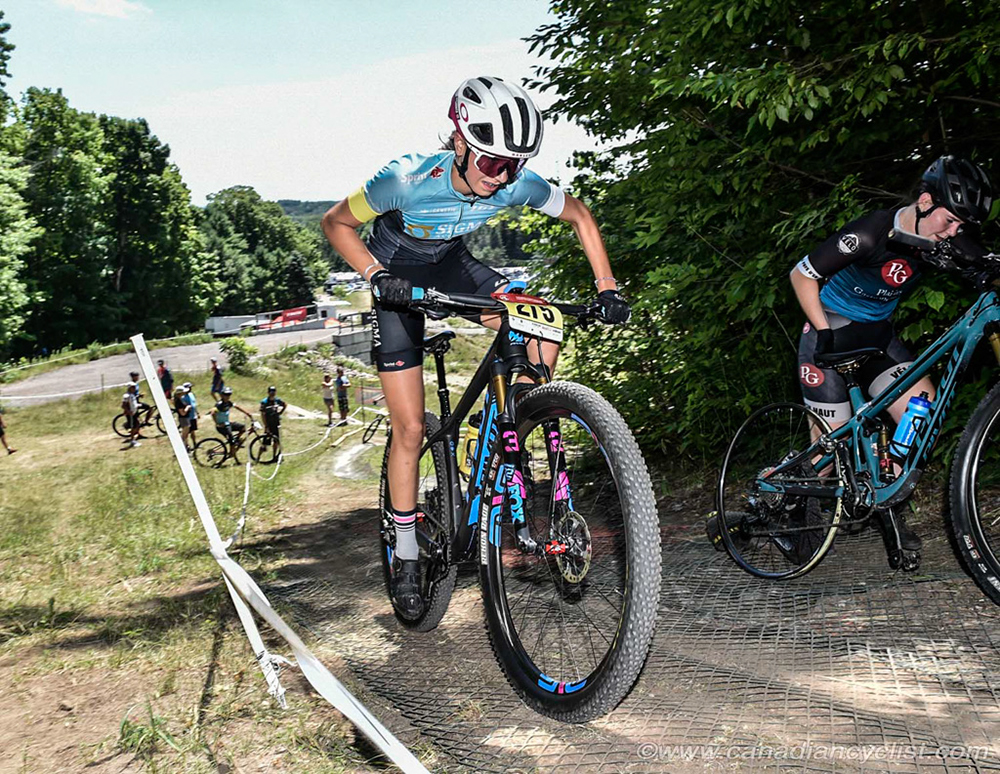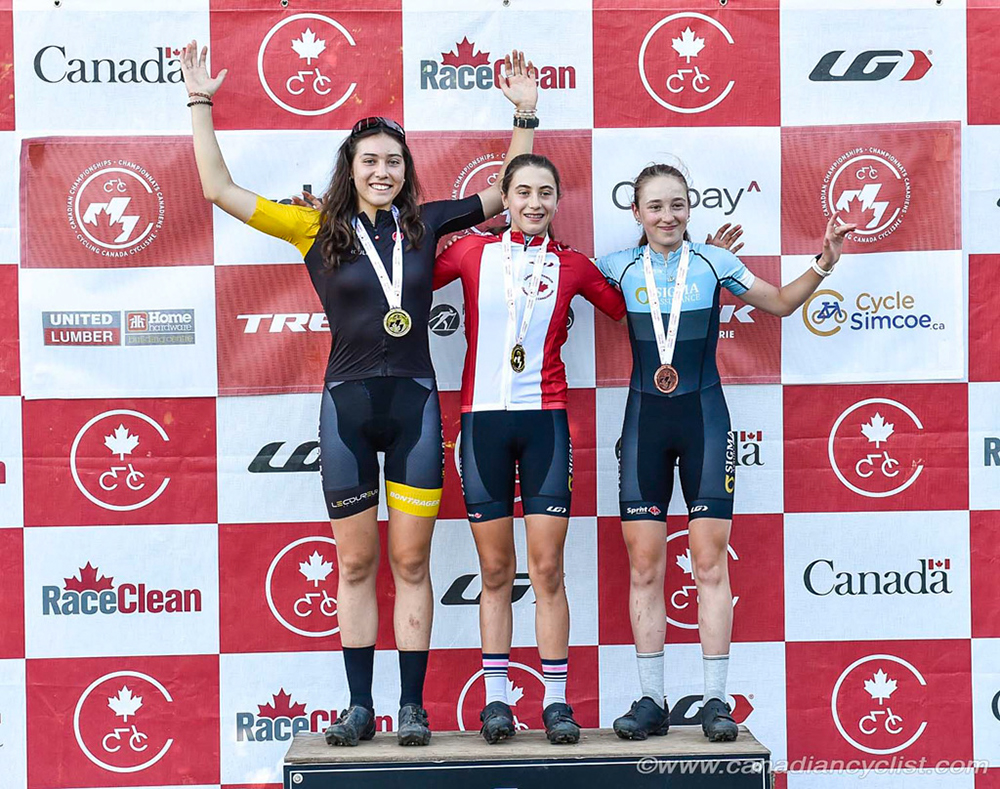 U17 Women Photo Gallery
The U17 men's race proved to be the tightest of the day, coming down to a sprint finish, with Jacob Roy (Ponsse) overtaking leader Felix-Antoine Leclaire (Siboire) in the final 100 metres to take the win. Nicolas Gauthier (Equipe du Quebec/Ride with Rendall) took third, only 30 seconds back.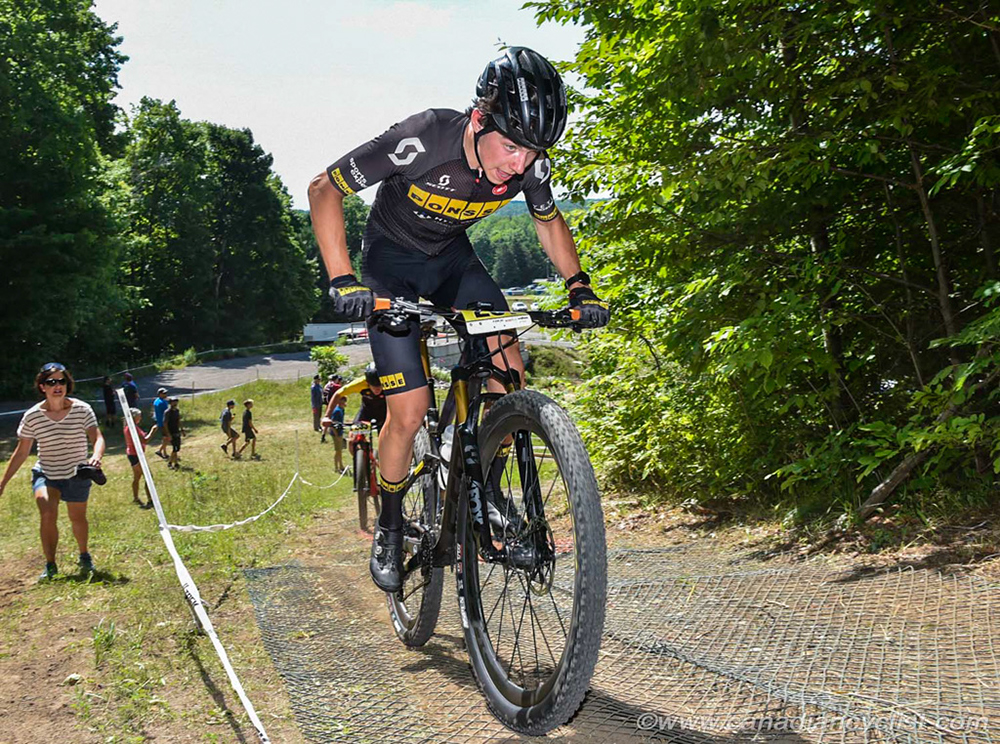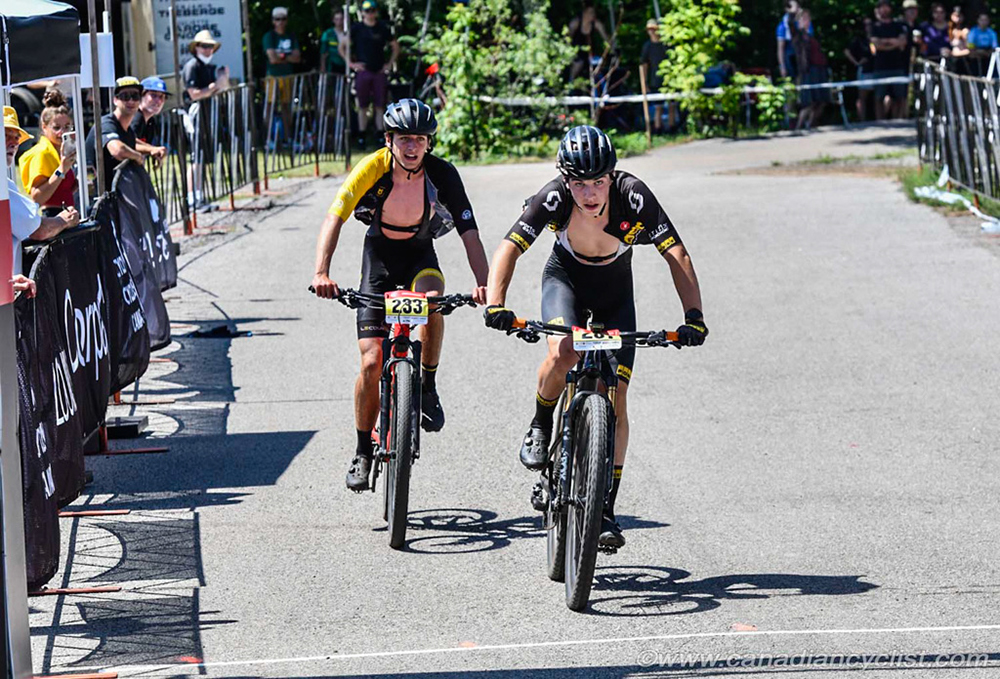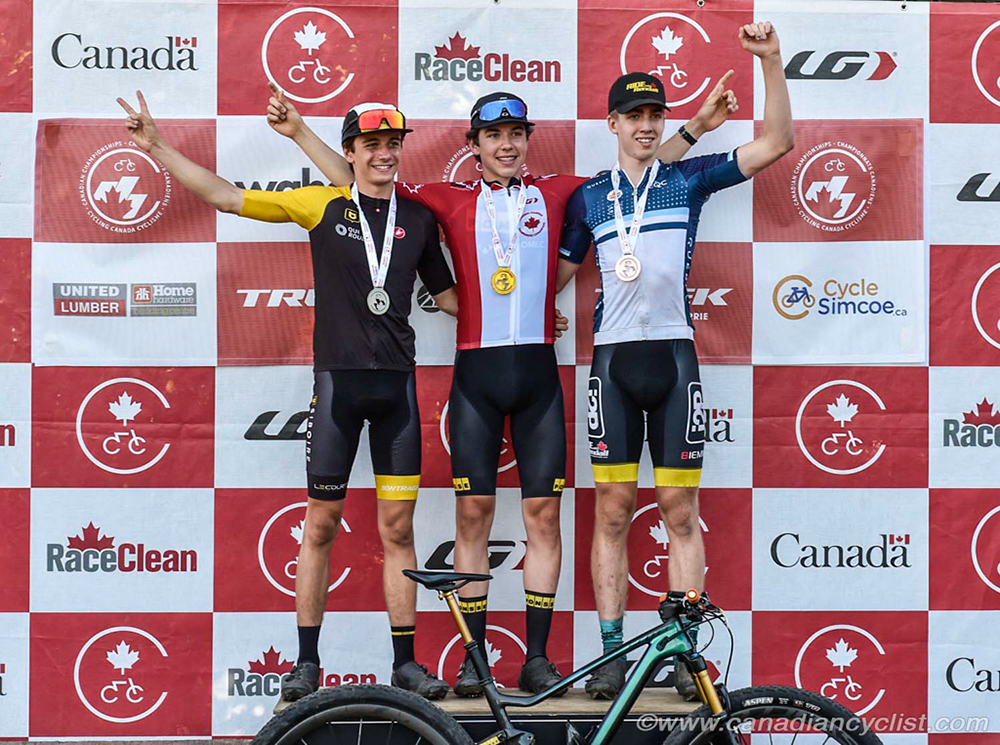 U17 Men Photo Gallery
MTB National Championships: XCO results
First National Titles Awarded at XCO Nationals