July 29/22 19:36 pm - Silver for Canada on Opening Day of Commnwealth Games

Posted by Editoress on 07/29/22

Canada had mixed results on the opening day of track cycling at the Commonwealth Games, on Friday at the Lee Valley Velodrome in London. The Canadian women's Team Sprint squad took the silver medal in their event, while the men's Team Sprint made it to the bronze medal final, finishing fourth. However, Canada's Team Pursuit squads both failed to advance to the medal rounds, each finishing fifth in qualifying.

Team Sprint
The women's team of Kelsey Mitchell, Lauriane Genest and Sarah Orban recorded a time of 47.956 seconds in qualifying, a mere 0.115 seconds off the best time of New Zealand, setting up a showdown for the final. In the Final, New Zealand improved their time, but the Canadians slowed slightly to 48.001 seconds.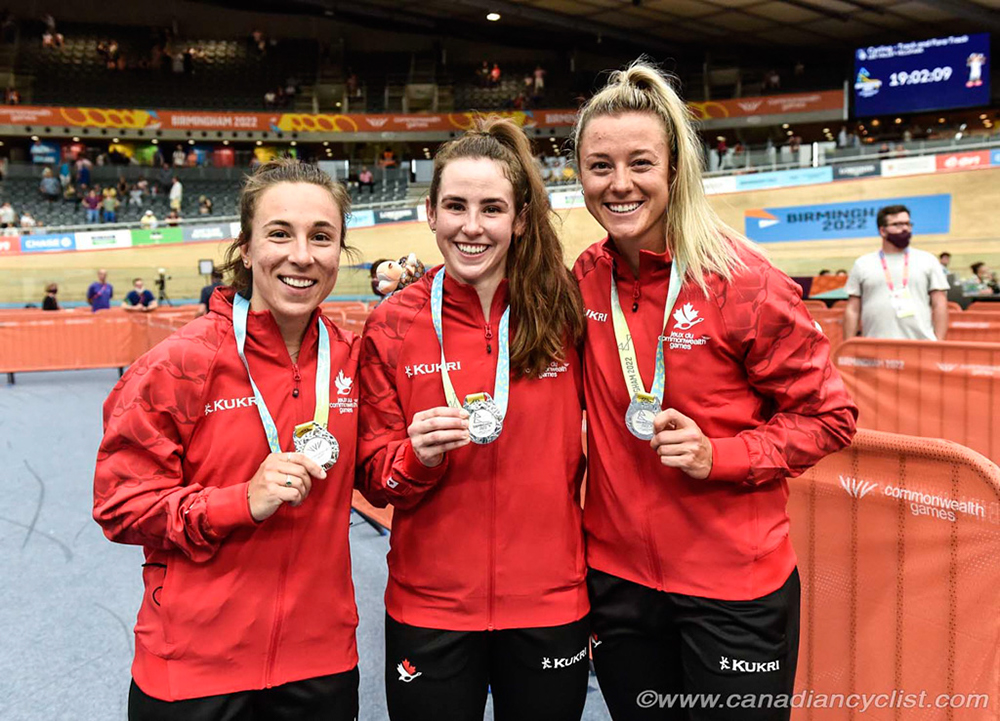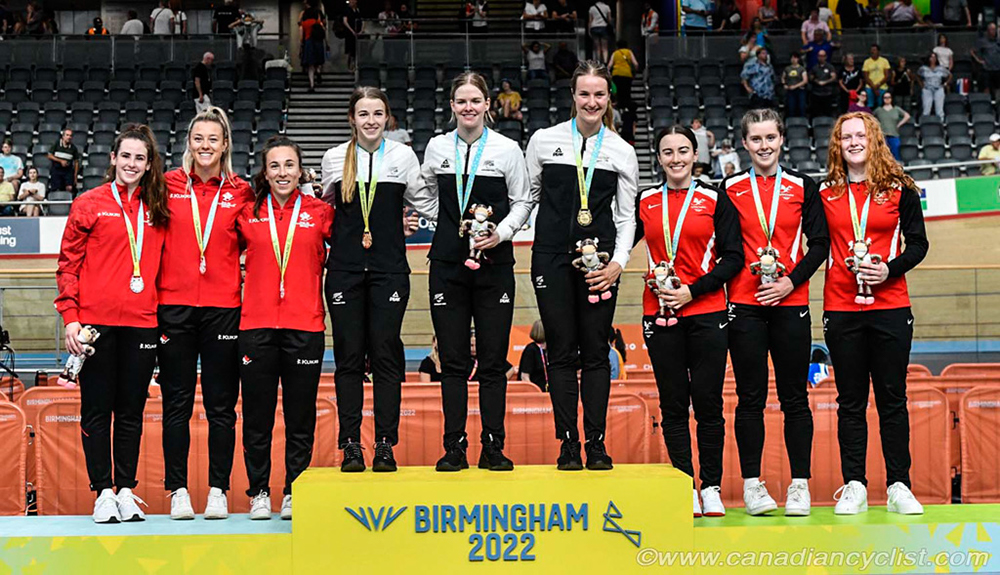 "We wanted that gold but I just went in thinking that there's nothing to lose and just gave it my one-hundred per cent," said Sarah Orban. "Stepping on to that podium doesn't even feel real. I think I'm still trying to process everything. Being alongside my teammates made it that much more special. I'm so proud of both of them. We executed it well and hit our target of getting on the podium and just standing next to them made it that much more special."

Orban is at her first major Games. "I'm pretty proud to be on the podium at my first major Games. It's a pretty special feeling that I'm here. I know there is a lot more to come from us, as our Team Sprint program is still pretty new. There is lots that we can work on. I had a pretty clear target to go 19.4 [seconds] in the Final and I did that, so I'm happy, but I always want more. I know that to be competitive as a P1 [Position 1] I need to be going 19 seconds or faster, so there's still a lot to work on.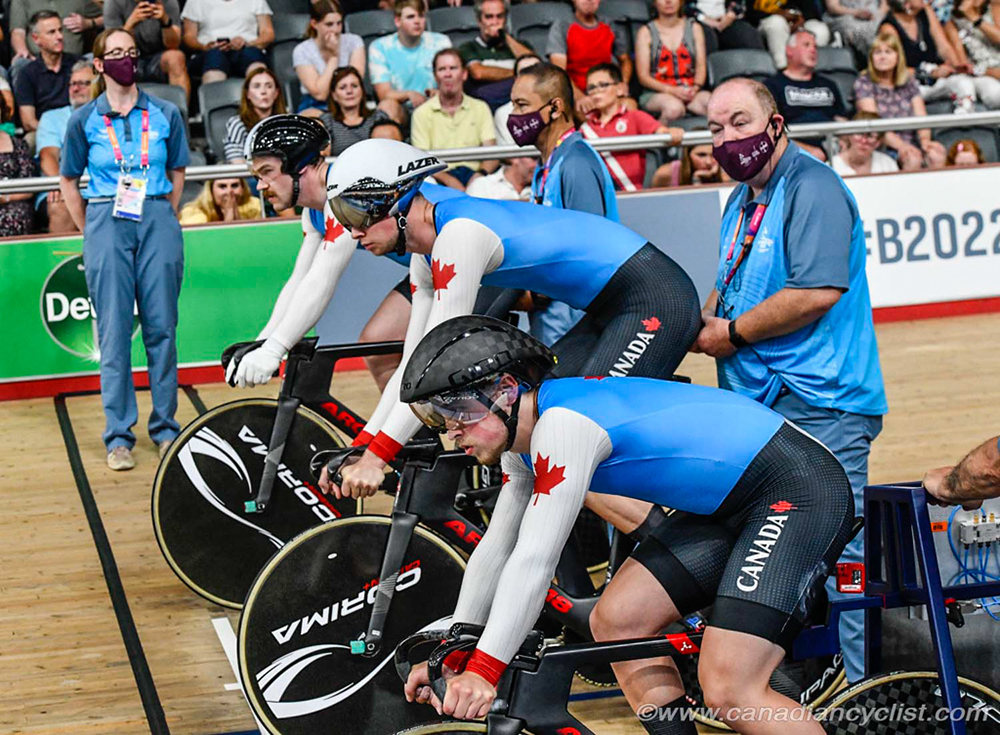 The men's squad to Tyler Rorke, Nick Wammes and Ryan Dodyk were well off the pace of the top two teams - Australia and England - with the Australians breaking the Games record in both their qualifying and gold medal races. However, they were only 0.096 of a second behind New Zealand in qualifying fourth. Unfortunately, the Canadians could not match their qualifying time in the Final, finishing 0.717 seconds behind New Zealand.


Team Pursuit
The women's team contained both experienced and development riders, with Ariane Bonhomme, Maggie Coles-Lyster, Devaney Collier and Ngaire Barraclough. They started strong, and were in a top two position after the halfway point, before coming apart, eventually finishing fifth with a time of 4:24.701, over four seconds behind the fourth place team of Wales.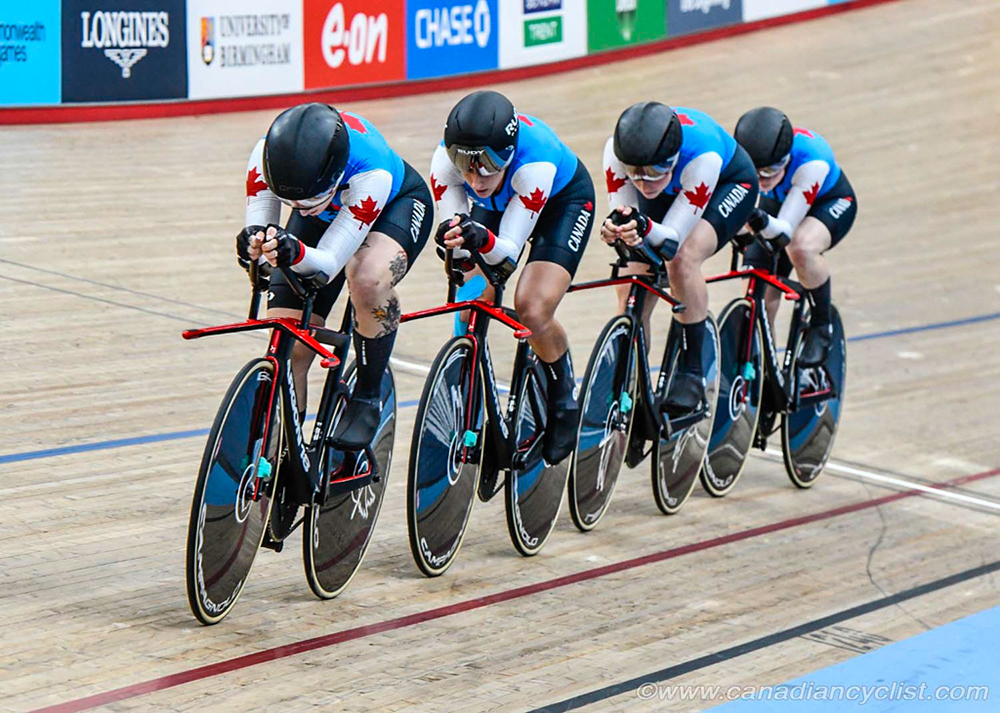 "It was definitely not the ride we were looking for," admitted Bonhomme. "We know we can do a lot more, and we were expecting more. But it happens. It's a newer team, for sure, and we haven't trained that much together. We were actually a late addition to the Team Pursuit; Canada was only supposed to send two riders for bunch racing, and Commonwealth Games gave us two extra spots to put a team in. And then we unfortunately got two COVID cases in the last three weeks, so it definitely pushed back our preparation. We know we can ride so much faster than that, and that's how we started the ride. But, unfortunately, we blew up ... it happens in sport and it was no one's fault. We'll take what we can from that and come back stronger for Worlds."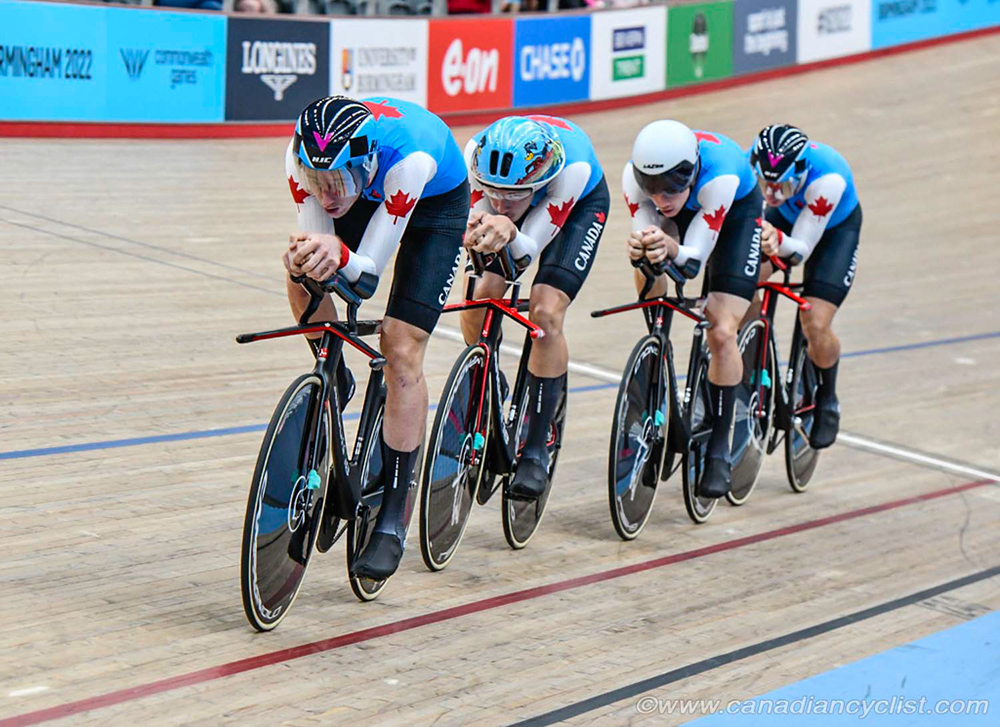 The men's team had Olympians Derek Gee and Michael Foley, but it also had development team member Mathias Guillemette and road rider Riley Pickrell, in only the second Team Pursuit of his career. Again, the Canadians started strong with a qualifying pace, with Guillemette pulling off at the halfway mark. Pickrell tried, but could not stay with Gee and Foley, and the team split apart, to finish with a time of 4:03.797, more than nine seconds behind fourth place Wales.

"We went out ambitious," said Gee. "Mike and I have lots of team pursuiting experience under our belts and were hoping to take some of the load off the other guys. Riley was thrown in with only a few team pursuit sessions; he's here for a road spot."

"He's done one team pursuit in the last four years," said Foley. "It was a lot to ask, but he did a phenomenal job."
Photo Galleries

Women Team Sprint Qualifying

Women Team Sprint Qualifying

Men Team Pursuit Qualifying

Women Team Pursuit Qualifying
Results

Women Team Pursuit

Qualifying
1 Australia
4:14.605
2 New Zealand
4:18.434
3 England
4:19.841
4 Wales
4:20.398
5 Canada
4:24.701
Final
1 Australia
4:12.234
2 New Zealand
4:17.984
3 England
4:17.096
4 Wales
4:18.892

Men Team Pursuit

Qualifying
1 New Zealand
3:49.821
2 England
3:50.796
3 Australia
3:51.274
4 Wales
3:54.613
5 Canada
4:03.618
6 India
4:12.865
Final
1 New Zealand
3:47.575
2 England
3:49.584
3 Australia
3:50.403
4 Wales
3:53.525

Women Team Sprint

Qualifying
1 New Zealand
47.841
2 Canada
47.958
3 Wales
48.095
4 Australia
48.355
5 England
48.358
6 Scotland
48.65
7 India
51.433
8 Malaysia
REL
Final
1 New Zealand
47.425
2 Canada
48.001
3 Wales
47.767
4 Australia
48.123

Men Team Sprint

Qualifying
1 Australia
42.222
2 England
43.296
3 New Zealand
43.974
4 Canada
44.071
5 Malaysia
44.496
6 India
44.702
7 Jamaica
49.845
Final
1 Australia
42.040
2 England
43.372
3 New Zealand
43.856
4 Canada
44.573