July 30/22 18:03 pm - Mitchell Wins Second Silver at Commonwealth Games

Posted by Editoress on 07/30/22

Day 2 of track racing on Saturday at the Commonwealth Games, saw Olympic champion Kelsey Mitchell win her second silver medal in as many days, in her signature Sprint event, with Lauriane Genest finishing fifth overall and Sarah Orban seventh. Other top-10 Canadian results included Maggie Coles-Lyster and Ariane Bonhomme finishing seventh and eighth, respectively, in the women's Individual Pursuit.

Women's Sprint
Mitchell qualified first in the Flying 200m, with Genest third and Orban seventh. All three riders made it through the one-eighth round, however, both Genest and Orban were knocked out in the quarterfinals, Genest to eventual gold medal winner Ellesse Andrews of New Zealand. In the gold medal race, Andrews was simply faster than Mitchell, coming around her both times to win in two straight rides.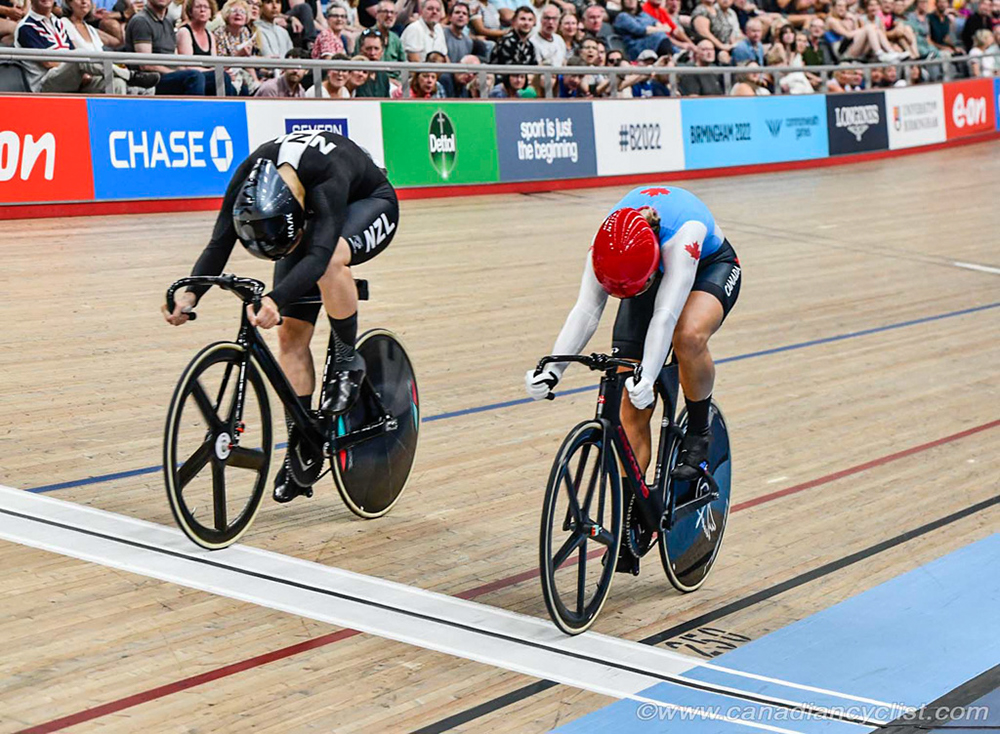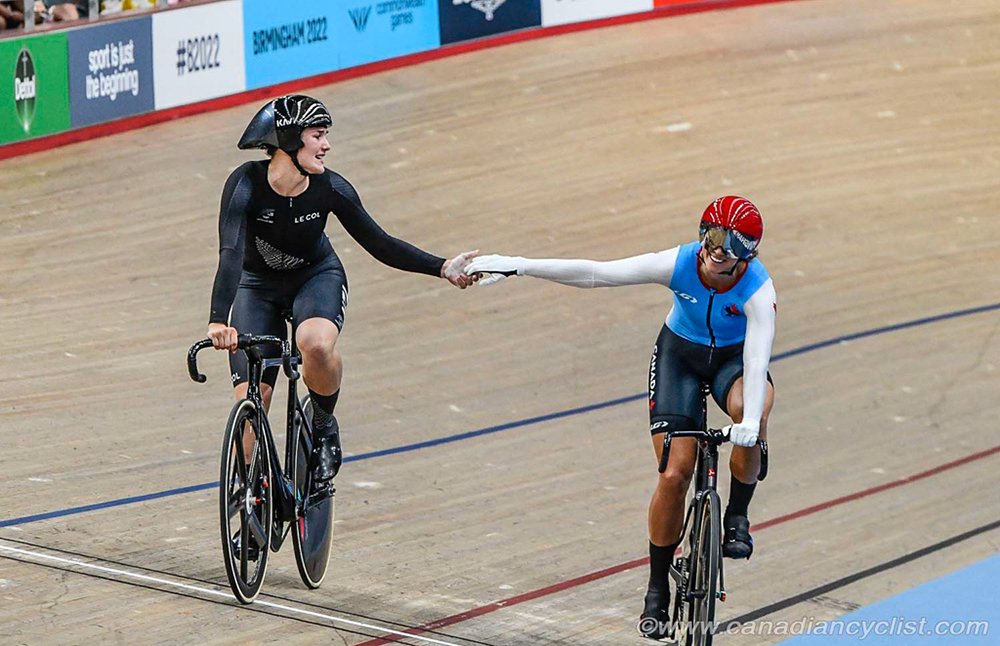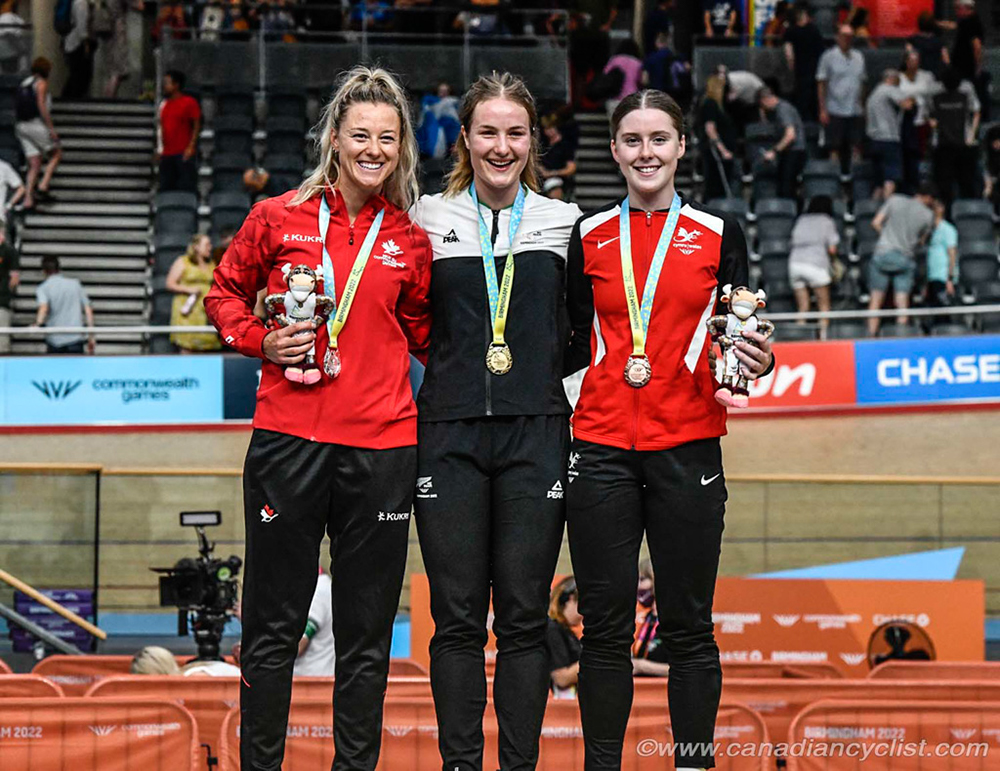 Women Sprint: Qualifying, 1/8 and Quarter Finals

Women Sprint: Semi and Final
"I'm definitely not in the form I was at the Olympics," commented Mitchell, "but that's sport - you peak and you train and you taper. We had a hard couple of Nations Cups and then we trained for the Commonwealth Games, and I just didn't have it in my legs today. No excuse, I gave it my best and Ellesse from New Zealand raced really well; she's really strong right now. It was definitely a painful battle; my legs were hurting at the end. Definitely gave it my all, and I am happy to walk away with the silver."

Mitchell also said that she would compete in her first ever 500 metre time trial tomorrow [Sunday]. "I'm very excited about it; I have no idea what to expect but I'm going to give it my best."


Women's Individual Pursuit
Commonwealth Games records fell in this event, with Bryony Botha (New Zealand) qualifying first and winning the gold medal. Coles-Lyster was the top Canadian in seventh, with a time of 3:28.218, followed by Bonhomme. Devaney Collier also rode for Canada, finishing 13th.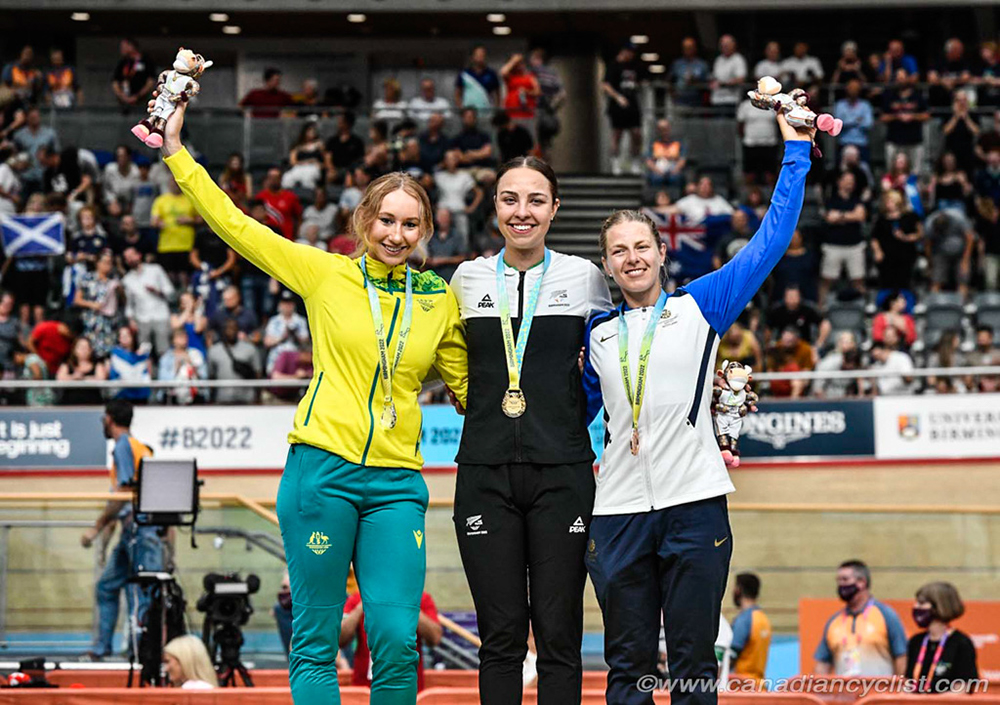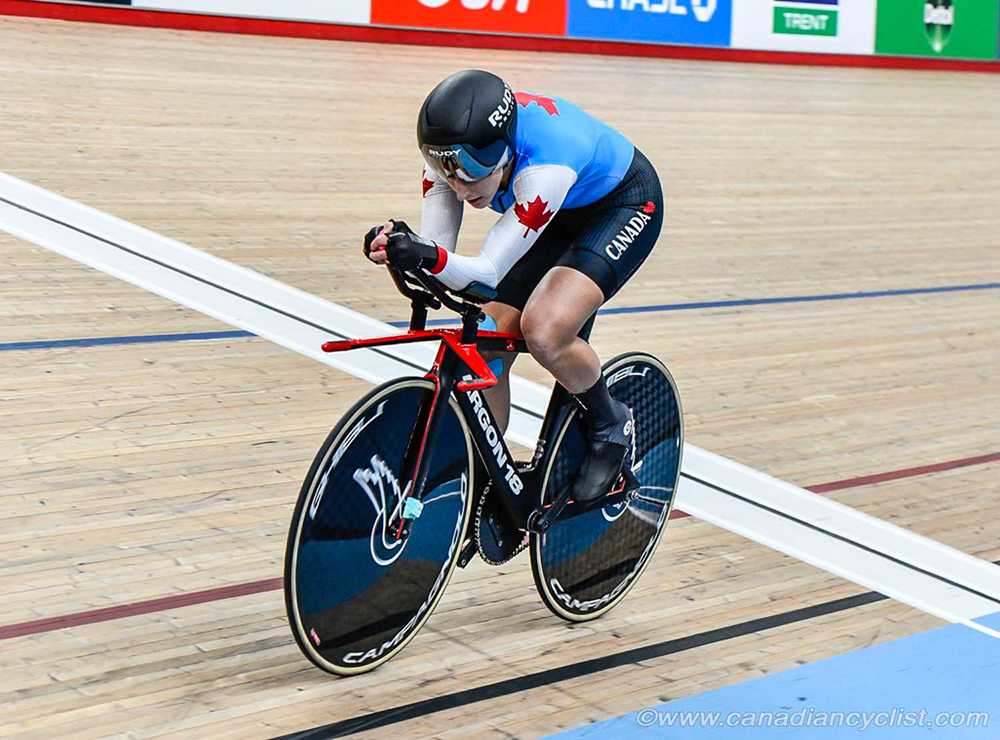 "After a rough Team Pursuit yesterday, it felt good to be able to turn the page and ride a time I'm happy with in the Individual Pursuit today," said Coles-Lyster. "It got me a seventh place finish and is my best IP time. Now for my bread and butter over the next couple of days - the Points Race and Scratch Race. Excited to go medal hunting in those two events!"


Men's Individual Pursuit
New Zealand took a third gold medal in the men's IP, with Aaron Gate breaking the Games record in both his qualifying and medal ride. Michael Foley was the top Canadian in 13th, with a time of 4:18.259, followed one spot later by Mathias Guillemette, and with Riley Pickrell in 16th.


Men's Keirin
Nicolas Paul (Trinidad & Tobago) dominated the final in this event to take gold. No Canadians made it past the first round Repechage, with Nick Wammes, Ryan Dodyk and Tyler Rorke all bowing out. However, Wammes' went out with a disqualification that left everyone scratching their heads when it happened. Sitting second behind the derny bike, Wammes let a gap open to the first rider as he watched the ones behind him. A shot rang out and the race was stopped, with Wammes being given the boot. The reason? Allowing too big of a gap to open between himself and the first rider - a rule on the books that no one had ever seen applied (and many did not know of).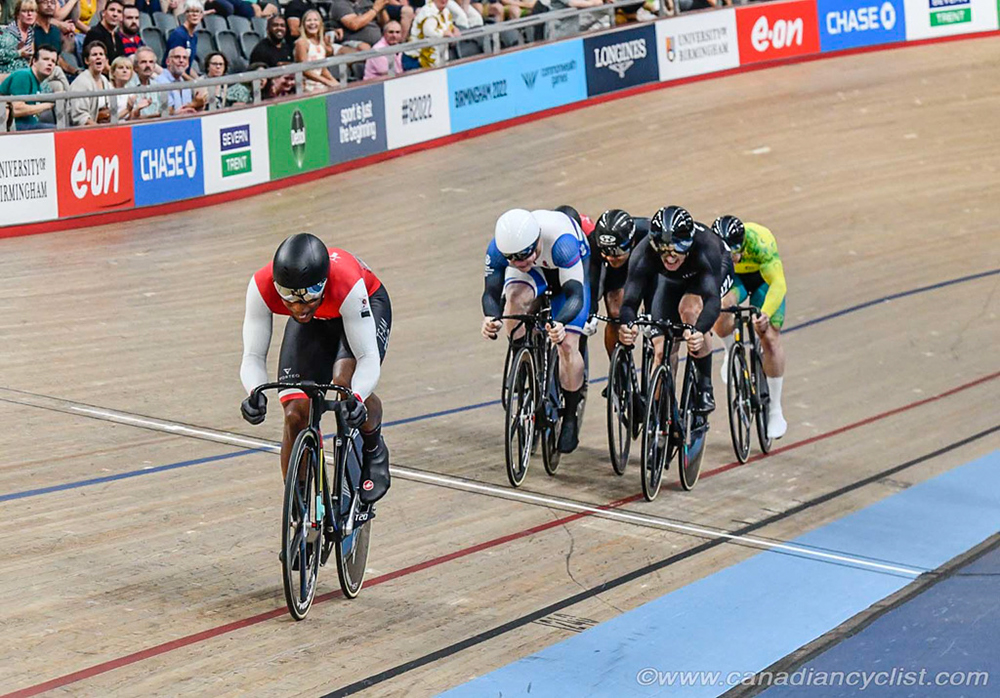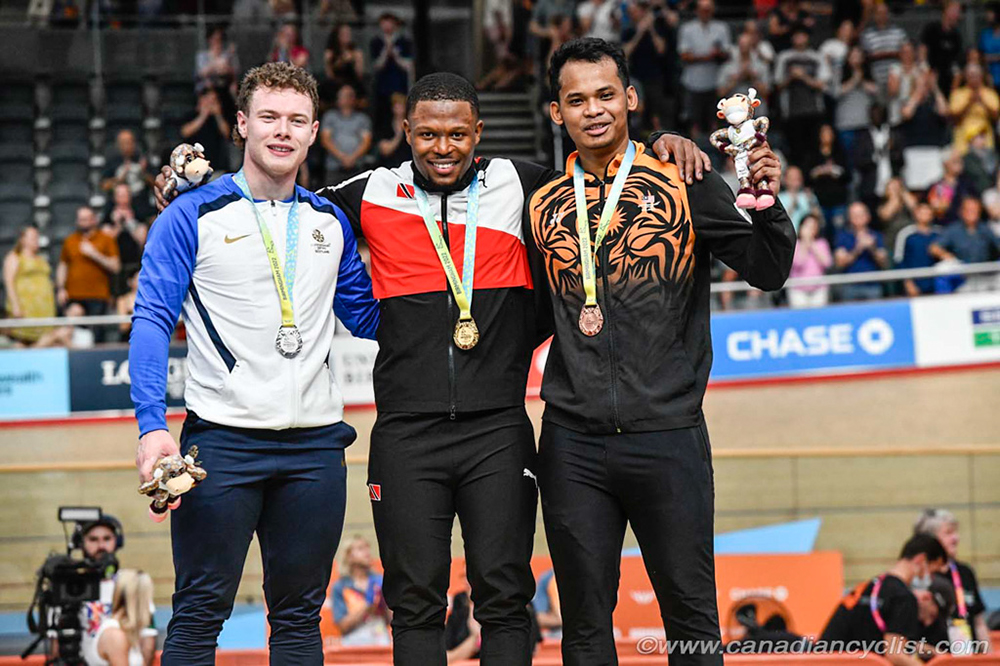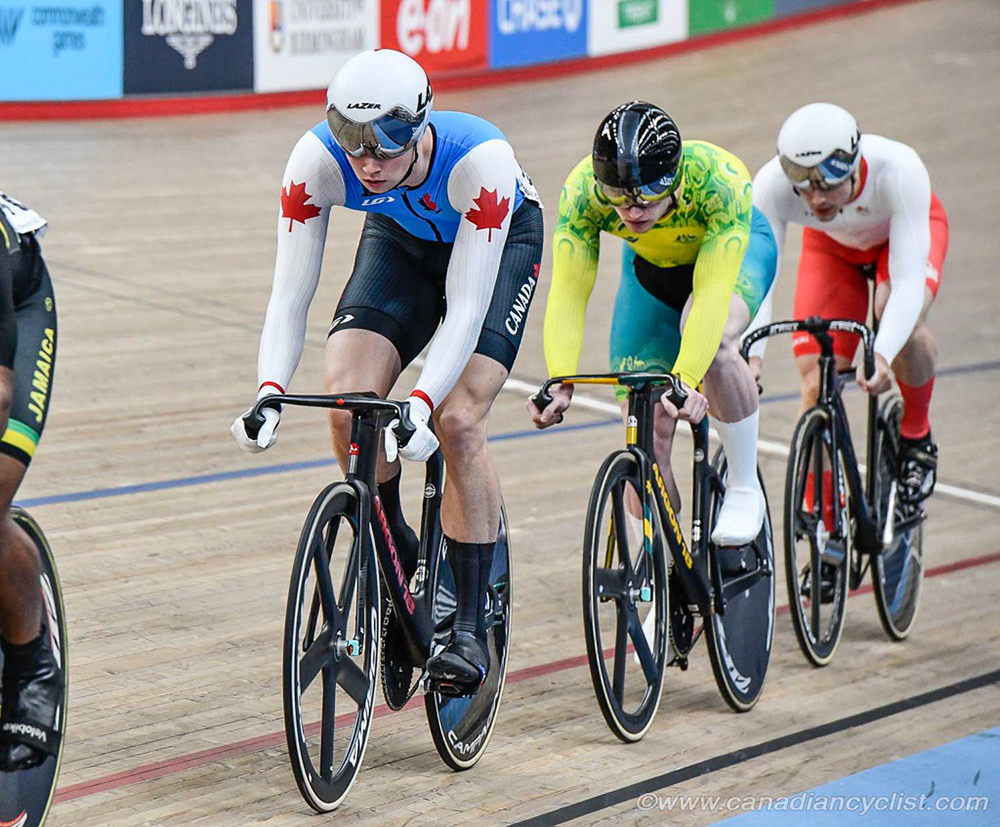 "I know you can't let too big a gap open as P1 [first behind the derny], but I didn't know you couldn't let a gap open further back," said a disappointed Wammes.

Women Sprint: Qualifying, 1/8 and Quarter Finals

Women Sprint: Semi and Final

Men Keirin: Round1/Round 2/Final

Women Individual Pursuit
Commonwealth Games: Day 2 results
Silver for Canada on Opening Day of Commnwealth Games