August 8/22 14:18 pm - Coles-Lyster 5th in Comm Games Road Race

Posted by Editoress on 08/8/22

The Commonwealth Games concluded on Sunday with the road races the final cycling events on the schedule. Maggie Coles-Lyster was Canada's top performer, adding a fifth place in the women's road race in a bunch sprint to the bronze medal and fourth place she achieved last week on the track. Pier-Andre Cote was Canada's top man, finishing 13th after spending much of the day in a breakaway.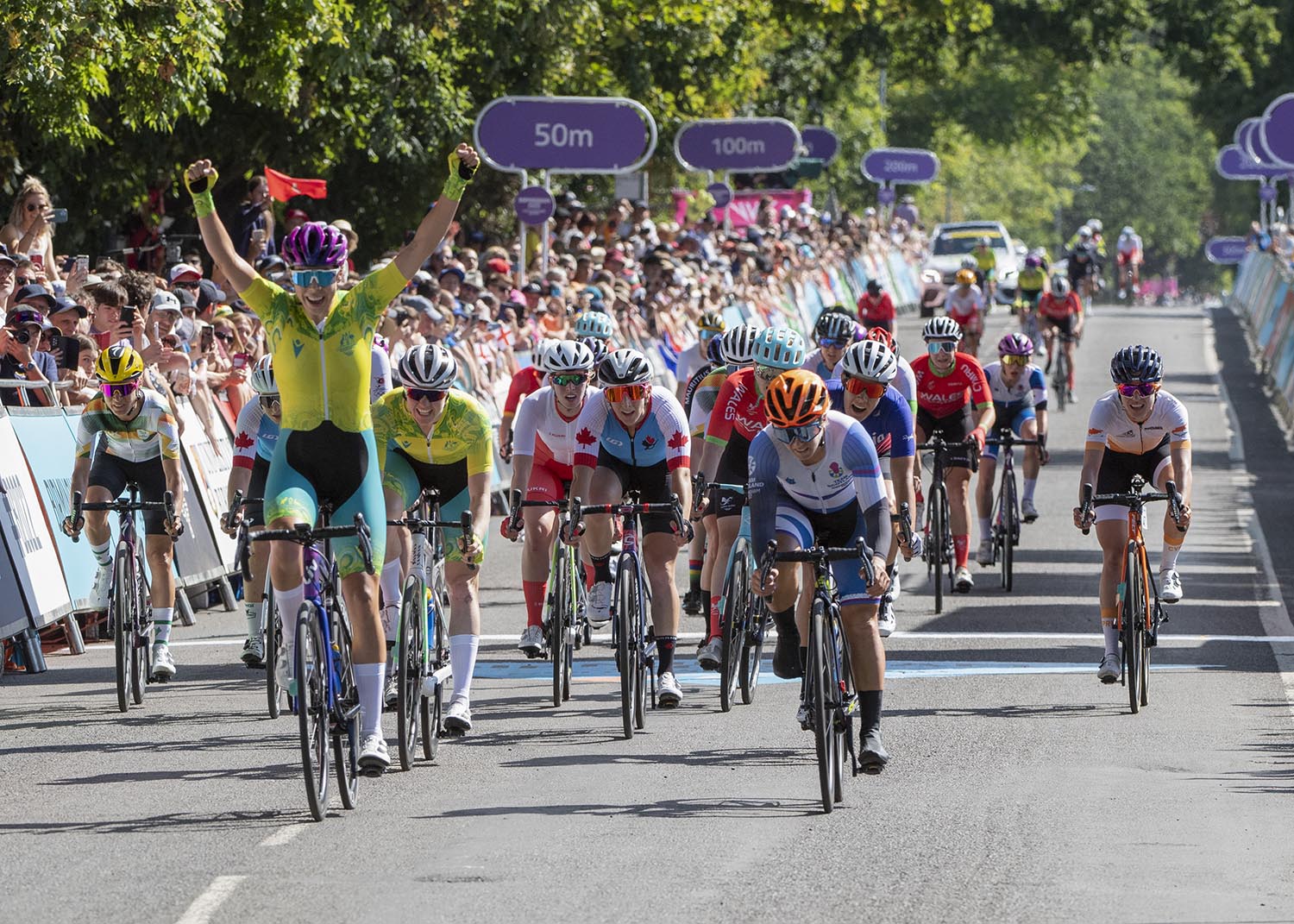 Maggie Coles-Lyster (center) finishing 5th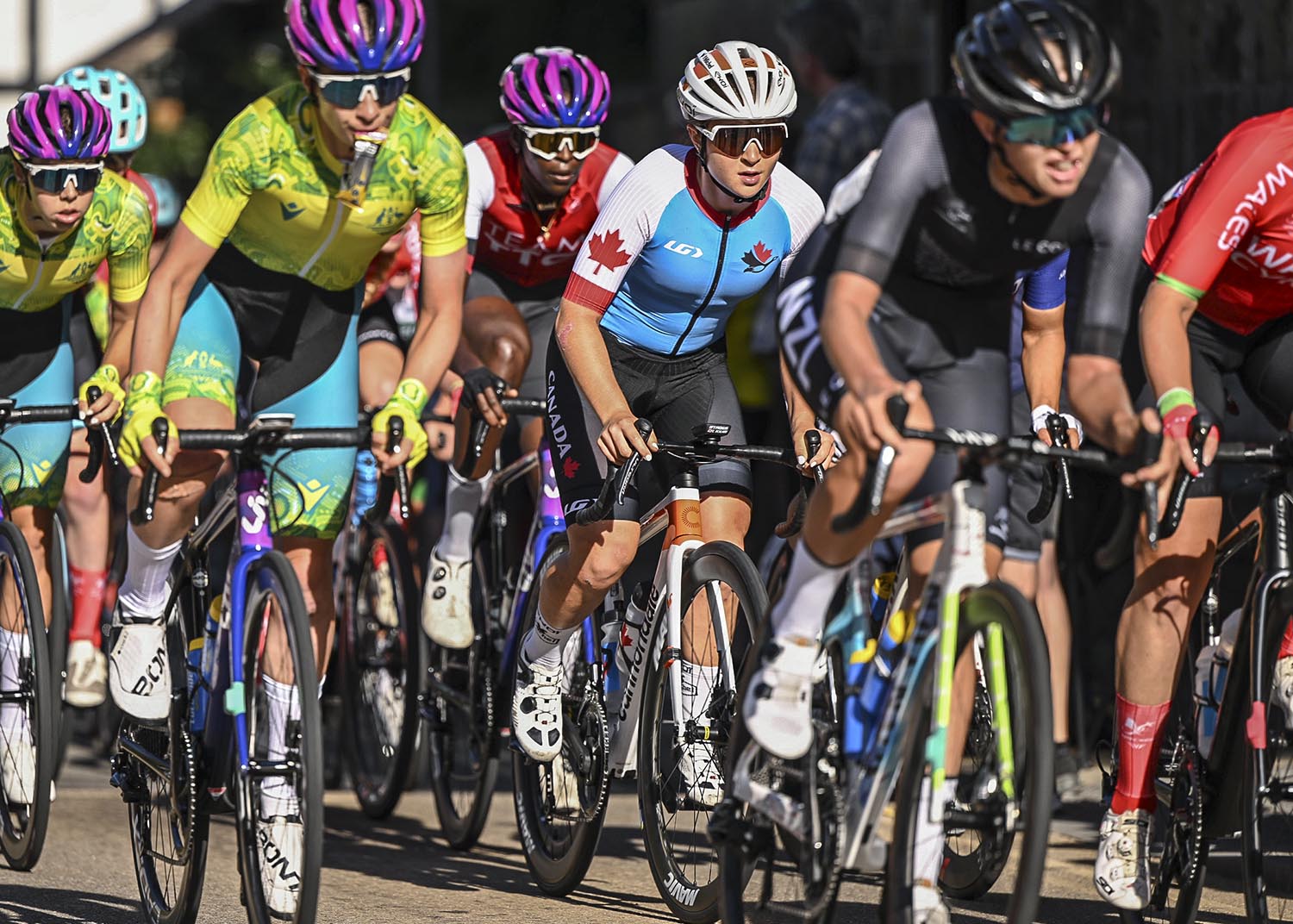 Simone Boilard
"We had a few cards to play in the road race with Alison, Leah and Simone covering moves and going with any risky breaks and me sitting in ready for a sprint finish," explained Maggie Coles-Lyster. "Lots of break attempts were made in the first half of the race and we were present but nothing was able to stay away, and it was clear that the Australian team was just bidding their time waiting for a bunch finish for their lead out train. In the final few kilometres we got organized with our own lead out behind the Australian train, but in the chaos of the last kilometre we got a little separated and Alison put in a huge effort to bring me alongside the Australians. I opened up my sprint with just over 200m to go which felt extra long into the headwind and it was a drag race to the line, where I finished fifth."

"And that concludes my first Commonwealth Games! It's a bit of a bittersweet fifth place in the road race today knowing that we had an incredible team here and that the win was within our grasp, but I'm proud of how well we worked together the entire race and I'm excited for whatever we do together in the future! The Commonwealth Games is such a unique opportunity to be teammates with the top riders in your country and world whom you look up to from a young age, and I cherished every moment of racing and learning from them. This comes after a third and fourth place for me in the track events and, while I'm proud of how I raced these Games and coming away with a medal, I'm hungry for more of all of it and excited to see where I go from here. Just want to end with a shout out to the entire Canadian Team for helping make these a great Games and a two weeks I'll never forget!"

"We were here to definitely win a bike race, so we raced in that direction," said Côté. "We followed a few attacks the first hour, and then I ended up in a group of 15 with some of the strongest riders in the world. I felt good at the front, feeling confident and then I started attacking with three laps to go. Tried to play it safe and then gambled a little bit, just didn't have the legs to be up at the front. It was a straightforward course but it had a nice flow to it. It was such a cool experience being here, it was one of the best bike races I've done."

Other notable Canadian finishes were Simone Boilard in seventh, Alison Jackson 14th and Leah Kirchmann 20th. All three finished with the lead group.
Commonwealth Games: Road Race results
Commonwealth Games: Time Trial results and photos