October 13/22 18:40 pm - Exclusive - World Champion Dylan Bibic Interview

Posted by Editoress on 10/13/22

On Thursday, Dylan Bibic became the first Canadian man in 39 years to win an elite track world championship, when he took the Scratch Race title in Saint-Quentin en Yvelines, France. The only other Canadian man to have won an elite title is Gordon Singleton, who won the Keirin title in 1983.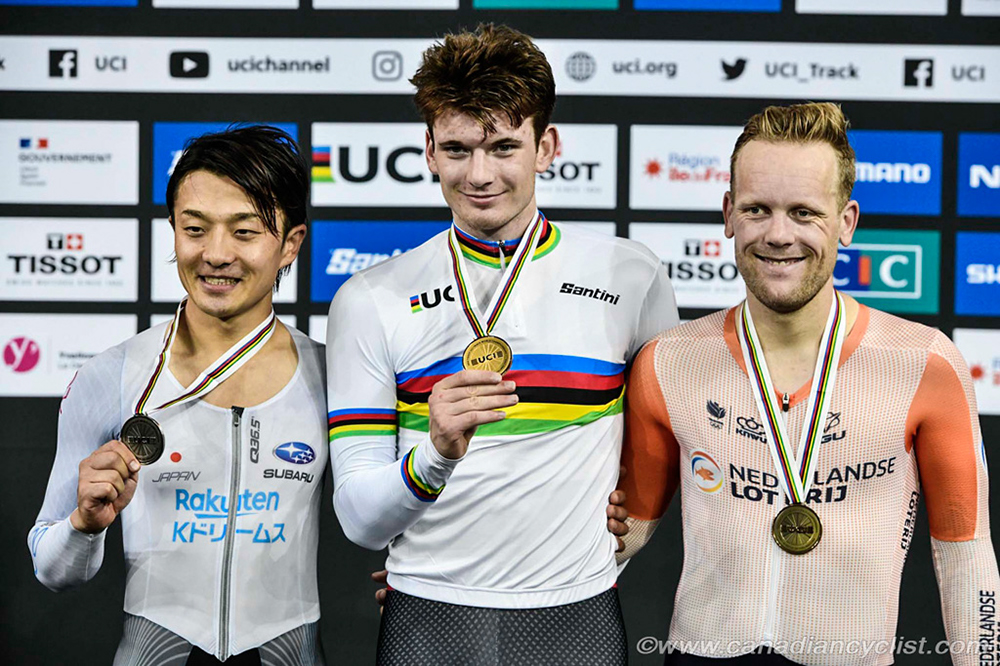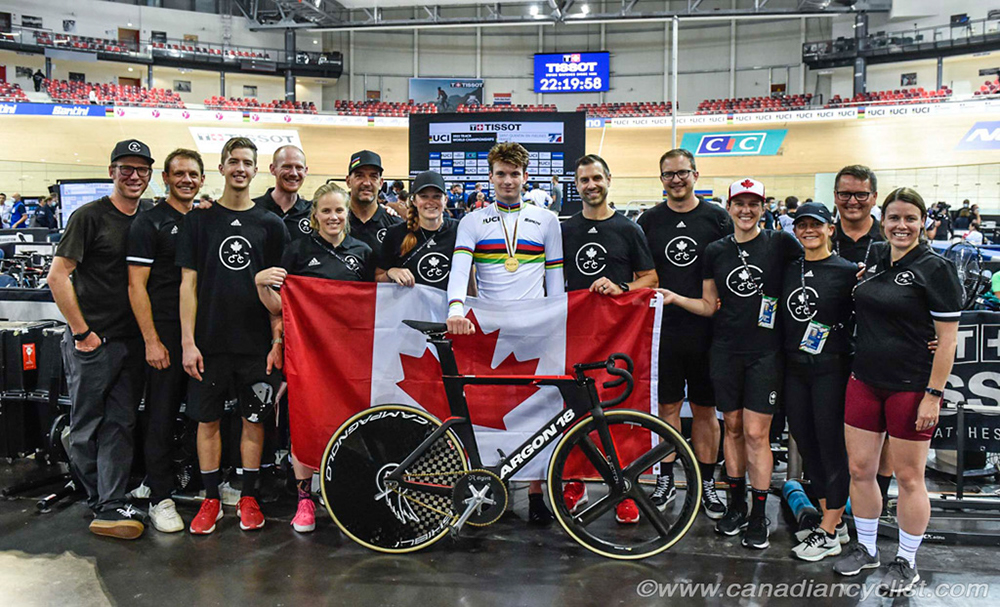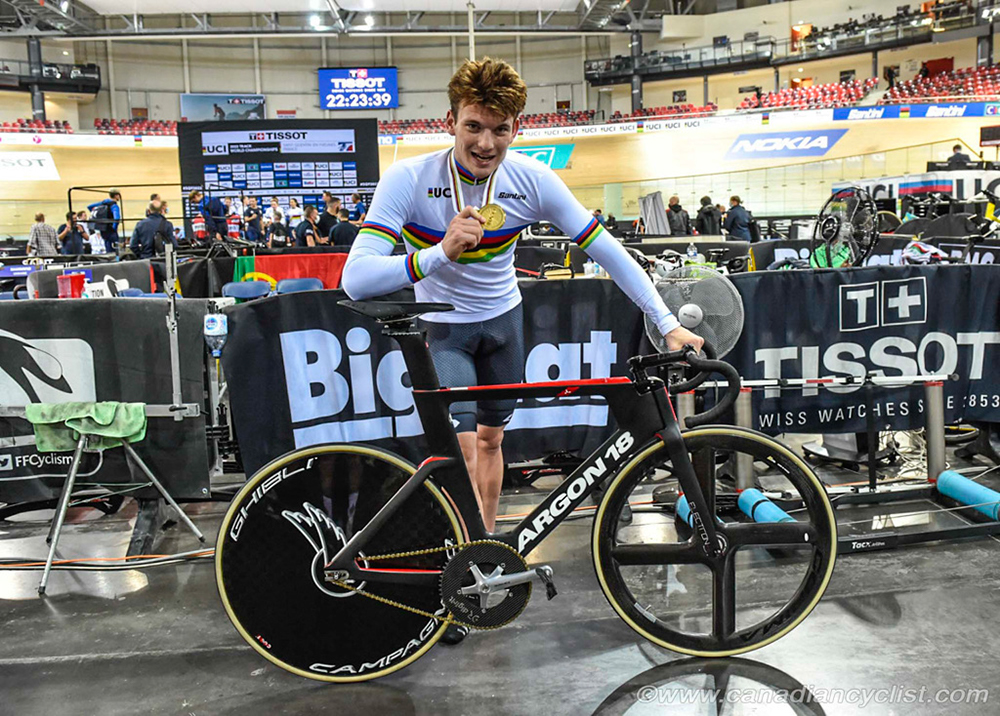 Bibic, a year out of the Junior ranks and racing his first Elite Worlds, rode a smart tactical race, staying on the wheels of favourites and limiting his time on the front of the 60 lap (15 kilometre) race. In the final three laps he started to move up and came off the wheel of Belgian rider Tuur Dens as they came out of the last corner, powering to the front to win ahead of Kazushige Kuboki (Japan) and Roy Eefting (Netherlands).

We spoke with Dylan right after the awards ceremony.

Canadian Cyclist: It looked to me like you rode a pretty perfect race - you had good positioning. What was your tactic going into the race?

Dylan Bibic: I was definitely going for the sprint; I'm confident in my sprint. It was a really hard race; ten laps to go I was struggling. The pace was hard but I pulled it together in the last three laps and rode over people.

CC: Tell me about those last three laps.

DB: I guess it was just patience and timing. I'll admit that I could have maybe been in a better spot, but I think my power carried me to the front and I just slotted in. The guy from France [Donavan Grondin] dropped down and I got on the Belgian guy with one lap to go. I got a gap, rushed it and won.

CC: It looked like early on you were trying to key of certain riders, like Aaron Gates [New Zealand] and Gavin Hoover [USA] ...

DB: I thought ... entering this race I'm kind of a nobody and if I'm on their wheel, they're not going to look at me; they're just going to let me sit on their wheels and I could save energy. But I might not be able to do that anymore.

CC: That's Brian Walton said to me after he won the silver medal in the Points Race at the 1996 Games in Atlanta, he said, "I can't get away with that anymore".

DB: We'll see ... I'm doing some Olympic events next [Omnium and Madison], so I might be marked. But I can make it work in my way.

CC: You have won a world title as a Junior, but this is the Elite Worlds; has it had a chance to sink in yet?

DB: Honestly, no. If you told me I was world champion, I would still be thinking, 'Oh, no way'. But I'm happy. As a Junior, I would think to myself, 'Sure, maybe I'm the best for Under-19, but I'm not the best in the world'. But now I can say I am the best Scratch racer in the world.

CC: So you still have a few races to go...

DB: Madison, Omnium and Elim, but I'm really focussed on the Omnium and the Madison, because those are Olympic events, and in my mind, my goal is to get a medal at the 2024 Paris Olympics. I really need to perform [in those events] if I'm to prove myself.

CC: You are one of the riders who came up through the Milton track program since it started.

DB: Yes, it's been good. I'be been riding there since 2015, since it opened.

CC: Is that what got you involved in cycling - the fact that there was a track available?

DB: No, I've always just liked to ride my bike. My parents were not cyclists. In 2012, when I was ten years old, I told my parents, 'I want to be a cyclist, I want a race bike', and they got me a Kijiji bike and I started racing local races, and I just worked my way up from there.

CC: Well, congratulations.

DB: Thank you.