February 4/23 6:30 am - 1-2 for Canada at Cross Worlds

Posted by Editoress on 02/4/23

The first ever Canadian medals at the Cyclo-cross world championships were won on Saturday, with Isabella Holmgren taking the world title ahead of sister Ava in the Junior women's race.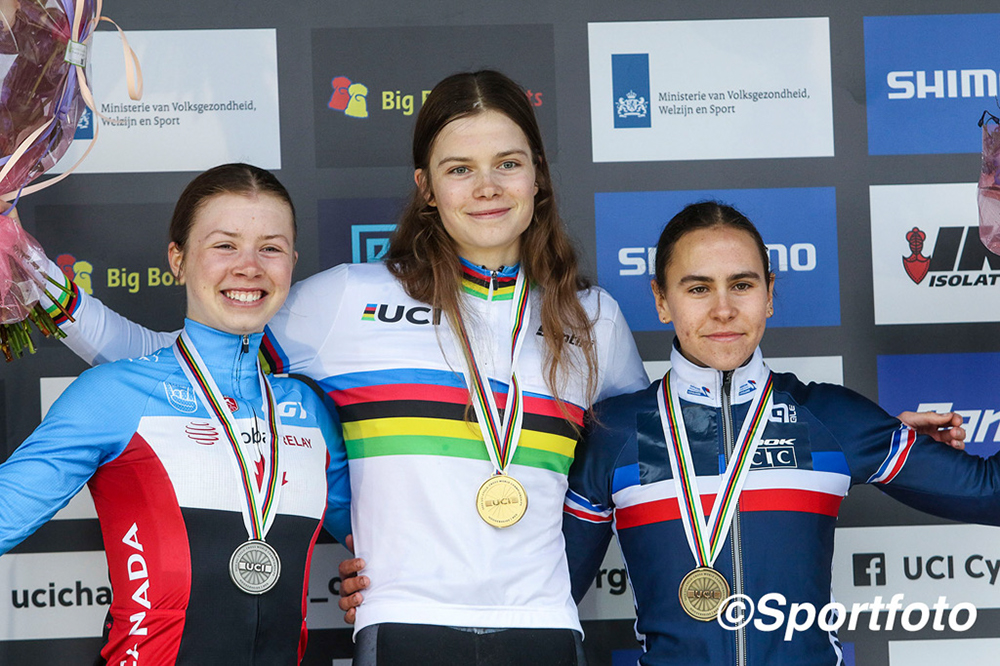 Held in the hotbed of cyclo-cross - Hoogerheide, Netherlands - riders faced cool and wet conditions, making the circuit extremely slippery. Pre-race favourite Lauren Molengraaf of host Netherlands found that out when she slid out in a corner while in the lead on the first lap of the five lap race. The Holmgren sisters were part of the lead group at that point, with Ava leading at the end of Lap 2 with Molengraaf and Celia Gery (France), and Isabella sitting a few seconds back in eighth. The third lap proved to be the decisive one, with Isabella surging into the lead, followed by Ava, and the pair never looked back.

While Elite national champion Ava came into the race more favoured after winning a World Cup race the previous weekend, it was Isabella who had the winning form on this day, opening up a small but consistent gap initially. Both of the Holmgrens rode smoothly; never overextending themselves but clearly stronger than the rest. A group of four chasers formed - Molengraaf, Gery, Frederica Venturelli (Italy), Xaydee van Sinaey (Belgium) - but wasn't making any headway.
By the middle of Lap 3, Isabella had six seconds on Ava, but Molengraaf made a big push mid-lap to join and then drop Ava. However, the Dutch rider then slowed abruptly with what turned out to be a rear flat, taking her out of medal contention (eventually finishing seventh). From this point on, it was all the Holmgrens; as Isabella steadily extended her lead to 20 seconds by the finish, with Ava coming across the line in second - pointing her finger at her sister with a big smile on her face. Gery outsprinted Venturelli for third. In other Canadian results, Madeleine Pollock was 38th and Geza Rodgers 41st.

"I don't think I've processed it yet," said Isabella right after the race. "I'm just really excited, and with Ava being second, that makes it even better. I'm happy that we are going to be able to hear the national anthem, and I hope it sets a good start for the rest of the categories this weekend."

"For sure it was a perfect day," agreed Ava. "I came here to get Canada's first ever medal and what happened was something even better ... my sister won! I just celebrated for her and our country and our family across the whole finish straight. Today was awesome!"