February 5/23 14:26 pm - Ackert Top Canadian on Final Day of Cross Worlds

Posted by Editoress on 02/5/23

The 2023 Cyclo-cross world championships concluded on Sunday in Hoogerheide, Netherlands, with three categories racing - Junior Men, Under-23 Women and Elite Men. Ian Ackert was the top Canadian for the day, finishing 11th in the Junior Men's race. Michael van den Ham was Canada's only rider in the Elite Men, finishing 33rd, despite a dislocated finger. Christiane Bilodeau was the only Canadian rider in Under-23 women, finishing 32nd.

Unlike Saturday, when the riders faced wet and muddy conditions, the weather was almost perfect for Sunday's races, with sun and a course that was mostly dry ... and fast.

The Junior Men's six lap race was down to four riders by the end of the first lap, with eventual winner Leo Bisiaux of France opening up a small gap a lap later, which he would expand over the remainder of the race, finishing 11 seconds in front of Senna Remijn (Netherlands), with Yordi Corsus (Belgium) beating countryman Wies Nuyens for third. Ackert had a strong first lap before fading slightly in the second and fourth lap. He surged strongly in the fifth lap with the third fastest lap split to move into ninth, but then dropped a couple of spots in the final lap. In other Canadian results, Mika Comaniuk was 43rd, Filipe Duarte 62nd and Cam McCallum 70th.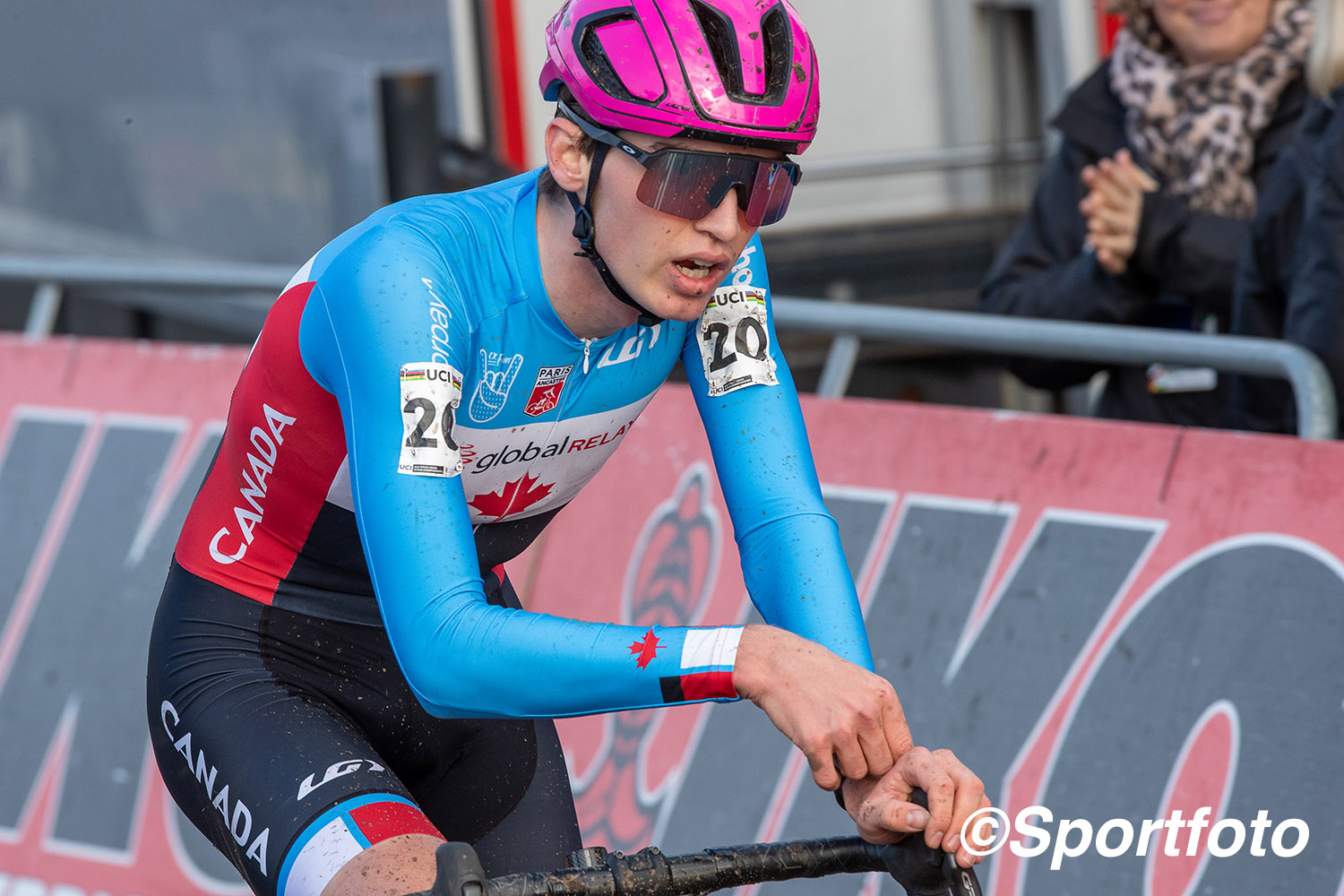 Ian Ackert
The Under-23 Women's race was between two riders - Shirin van Anrooji (Netherlands) and last year's Junior champion Zoe Backstedt (Great Britain). The duo rode together for the first lap after dropping everyone else, before the older and more powerful van Anrooji dropped Backstedt on the next lap to solo in for the win by 33 seconds. Kristyna Zemanova (Czechia) took the bronze medal.

The Elite men's race came down to, as anticipated, a battle between the two riders that have been battling their whole careers - Mathieu van der Poel of the Netherlands and Wout van Aert of Belgium. By the end of the first lap (of ten), the pair had already dropped the rest of the field with their blistering speed. Van der Poel tried a few attacks on the climbs, but van Aert always brought him back, so they went into the last lap still together. Everyone was waiting for the final van der Poel attack, but instead he sat on his rival's wheel until they hit the final paved straightaway, launching an attack that the Belgian could not respond to, winning in front of his home crowd. Afterwards, van der Poel commented, "this for sure is one of the top three victories of my career."

Michael van den Ham had bad luck in his race, getting taken down in a crash in the first 500 metres of the race, which put paid to his chances. While getting back up, he could be seen tugging on his hand, and he confirmed afterwards that he had dislocated a finger, yanking it back into place before getting back on his bike.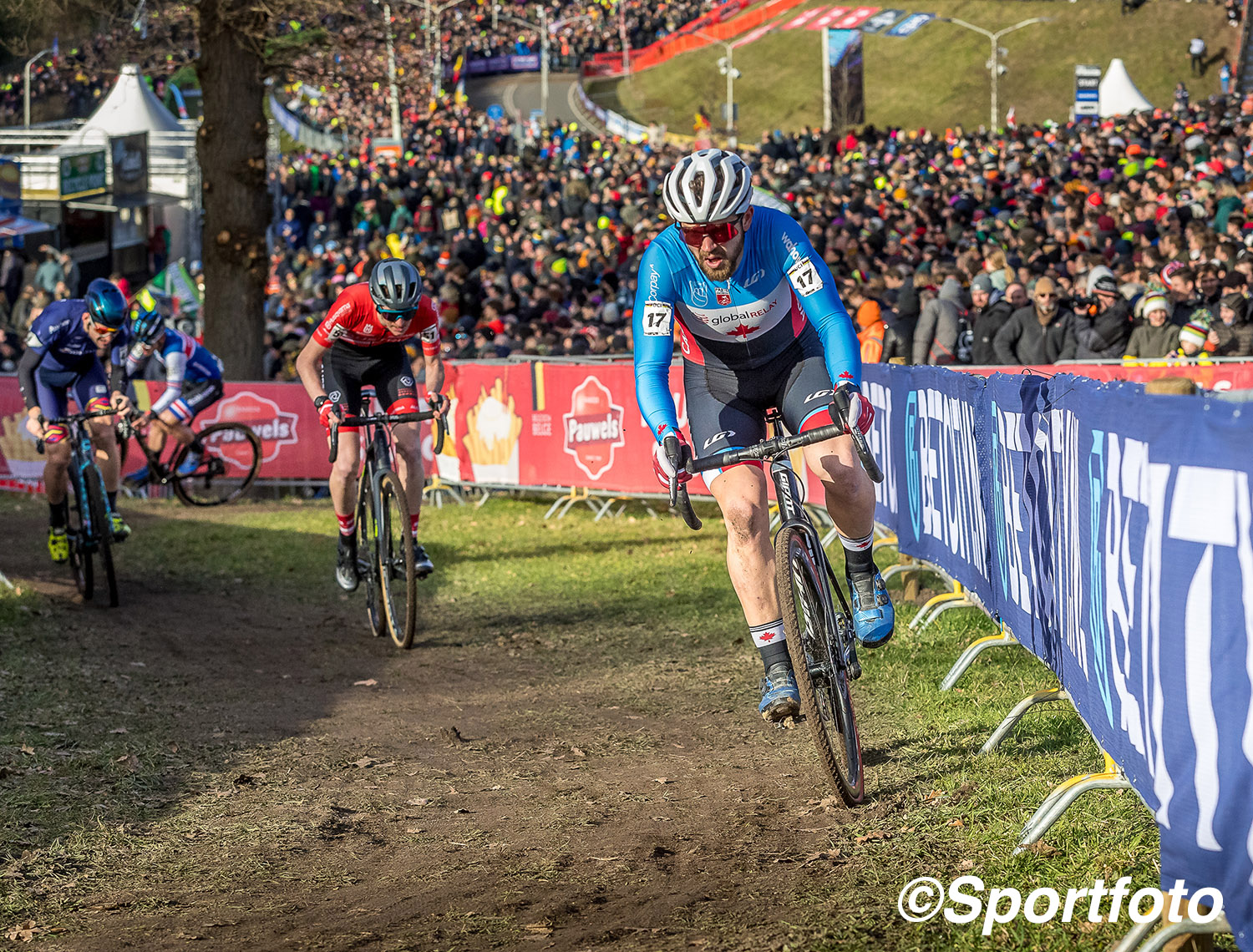 Michael van den Ham
"Yes, I dislocated my finger on the second or third corner," admitted van den Ham. "I was actually off to a pretty good start before that and someone went down kind of weirdly in front of me and I just fell right on top of it [his finger]. It was pointed at a 45-degree angle; it was my ring finger and pointed off to the pinkie side. I don't think I could have done it if it wasn't the first lap of the race, but I kind of grabbed it and reefed it back into place, and did the rest of the race."

"It's straight and it moves fine, but it's kind of sore. It's crazy to think about it now, to tell you the truth ... I was going the whole race thinking 'if nothing else happens, this will be the Worlds I remember for dislocating and putting my finger back into place'. It's disappointing that I was never really in the race besides the start, but I ended up having a pretty good race. But that definitely was the defining factor."
Cyclocross World Championships: Day 3 results
Interviews - Isabella & Ava Holmgren
1-2 for Canada at Cross Worlds