Canada's Alison Jackson (EF Education-Tibco-SVB) is the winner of the third edition of the Paris-Roubaix Femmes after nearly four hours of racing. A member of the decisive breakaway earlier in the race, Jackson outsprinted the five riders remaining in contention to take possibly the biggest win of her career. Katia Ragusa (Liv-Racing) and Marthe Truyven (Fenix-Deceuninck) finished second and third, respectively.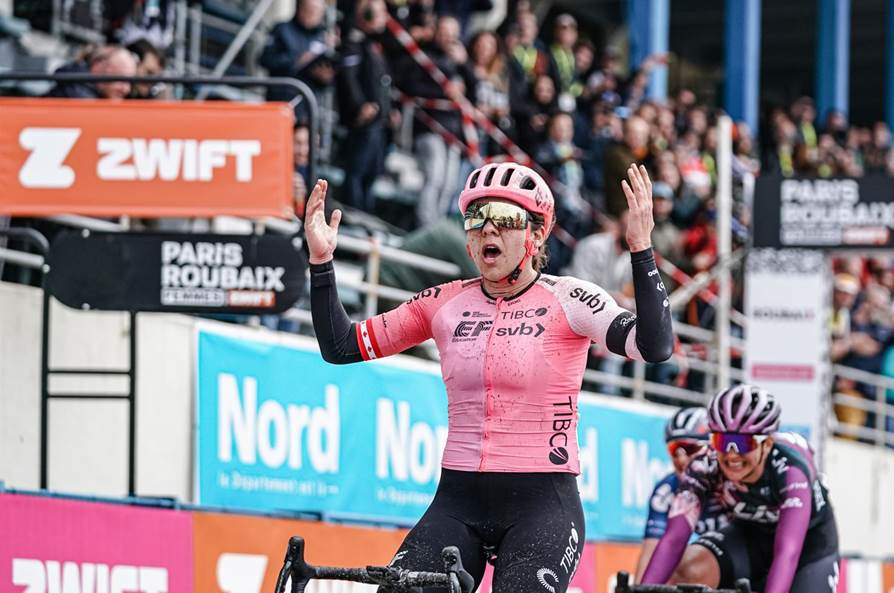 A crash caused chaos in the main bunch with all the favourites, but the final kilometres became a nail biter, as a group containing Lotte Kopecky (Team SD Worx), Marianne Vos (Team Jumbo-Visma) and Lucinda Brand (Trek-Segafredo) closed to within 12 seconds. In the final kilometre the gap was still over ten seconds to a group of seven containing Jackson, so it became apparent the winner was going to come out of the lead group.

Femke Markus (Team SD Worx) crashed in the final half lap, leaving six to contest for the win, with Jackson sitting in second behind Marta Lach (Ceratizit-WNT). As Lach faded, Marion Borras (St-Michel-Mavic-Auber 93) went to the front. But Jackson was biding her time, and surged out of the final corner of the Roubaix velodrome to win by a bike length.

"I saw it coming," said Jackson. "I had clear space ... it's just a dream come true. To cross the finish line first of any bike race is a special type of fun, but this tops that."
Denain tio Roubaix, 145.4 km

1 Alison Jackson (Can) EF Education - Tibco - SVB
3:42:56
2 Katia Ragusa (Ita) Liv Racing Teqfind
3 Marthe Truyen (Bel) Fenix-Deceuninck
4 Eugénie Duval (Fra) FDJ-Suez
5 Marion Borras (Fra) St Michel - Mavic - Auber93
all s.t.
6 Marta Lach (Pol) Ceratizit - Wnt Pro Cycling Team
0:03
7 Lotte Kopecky (Bel) Team SD Worx
0:12
8 Pfeiffer Georgi (GBr) Team DSM
9 Chiara Consonni (Ita) UAE Team ADQ
10 Marianne Vos (Ned) Team Jumbo-Visma
11 Norman Julie Leth (Den) Uno-X Pro Cycling Team
12 Lucinda Brand (Ned) Trek - Segafredo
13 Grace Brown (Aus) FDJ-Suez
14 Margaux Vigie (Fra) Lifeplus Wahoo
15 Christina Schweinberger (Aut) Fenix-Deceuninck
16 Elise Chabbey (Sui) Canyon//SRAM Racing
17 Romy Kasper (Ger) AG Insurance - Soudal Quick-Step Team
18 Amber Pate (Aus) Team Jayco Alula
all s.t.
19 Femke Markus (Ned) Team SD Worx
0:18
20 Jesse Vandenbulcke (Bel) Human Powered Health
0:21
21 Elisa Longo Borghini (Ita) Trek - Segafredo
0:23
22 Julia Borgström (Swe) AG Insurance - Soudal Quick-Step Team
0:29
23 Alice Towers (GBr) Canyon//SRAM Racing
s.t.
24 Marta Bastianelli (Ita) UAE Team ADQ
0:40
25 Maria Martins (Por) Fenix-Deceuninck
1:42
26 Laura Tomasi (Ita) UAE Team ADQ
1:45
27 Susanne Andersen (Nor) Uno-X Pro Cycling Team
28 Maria Giulia Confalonieri (Ita) Uno-X Pro Cycling Team
29 Victoire Berteau (Fra) Cofidis Women Team
30 Elizabeth Holden (GBr) UAE Team ADQ
31 Nina Kessler (Ned) Team Jayco Alula
32 Floortje Mackaij (Ned) Movistar Team Women
33 Franziska Koch (Ger) Team DSM
34 Agnieszka Skalniak-Sojka (Pol) Canyon//SRAM Racing
35 Audrey Cordon Ragot (Fra) Human Powered Health
36 Daniek Hengeveld (Ned) Team DSM
37 Evy Kuijpers (Ned) Fenix-Deceuninck
38 Lisa Klein (Ger) Trek - Segafredo
39 Simone Boilard (Can) St Michel - Mavic - Auber93
all s.t.
40 Teuntje Beekhuis (Ned) Team Jumbo-Visma
4:36
41 Marie Le Net (Fra) FDJ-Suez
42 Marthe Goossens (Bel) AG Insurance - Soudal Quick-Step Team
43 Arianna Fidanza (Ita) Ceratizit - Wnt Pro Cycling Team
44 Eugenia Bujak (Slo) UAE Team ADQ
45 Noemi Rüegg (Sui) Team Jumbo-Visma
all s.t.
46 Jane Zoe Backstedt (GBr) EF Education - Tibco - SVB
4:58
47 Georgina Howe (Aus) Team Jayco Alula
s.t.
48 Maike Van Der Duin (Ned) Canyon//SRAM Racing
5:02
49 Lorena Wiebes (Ned) Team SD Worx
s.t.
50 Margot Pompanon (Fra) St Michel - Mavic - Auber93
6:52
51 Josie Talbot (Aus) Cofidis Women Team
s.t.
52 Marie Morgane Le Deunff (Fra) Arkea Pro Cycling Team
7:38
53 Letizia Borghesi (Ita) EF Education - Tibco - SVB
7:39
54 Amalie Dideriksen (Den) Uno-X Pro Cycling Team
7:57
55 Elena Cecchini (Ita) Team SD Worx
56 Arlenis Sierra Canadilla (Cub) Movistar Team Women
57 Christine Majerus (Lux) Team SD Worx
58 Elisa Balsamo (Ita) Trek - Segafredo
59 Karolina Kumiega (Pol) UAE Team ADQ
all s.t.
60 Maria Apolonia Van 'T Geloof (Ned) Human Powered Health
8:38
61 Shari Bossuyt (Bel) Canyon//SRAM Racing
8:42
62 Millie Couzens (GBr) Fenix-Deceuninck
9:55
63 Charlotte Kool (Ned) Team DSM
s.t.
64 Kirstie Van Haaften (Ned) Parkhotel Valkenburg
10:42
65 Letizia Paternoster (Ita) Team Jayco Alula
11:21
66 Anniina Ahtosalo (Fin) Uno-X Pro Cycling Team
67 Lily Williams (USA) Human Powered Health
68 Maggie Coles-Lyster (Can) Zaaf Cycling Team
69 Debora Silvestri (Ita) Zaaf Cycling Team
70 Marta Jaskulska (Pol) Liv Racing Teqfind
71 Caroline Baur (Sui) Israel Premier Tech Roland
72 Kathrin Schweinberger (Aut) Ceratizit - Wnt Pro Cycling Team
73 April Tacey (GBr) Lifeplus Wahoo
74 Sofia Collinelli (Ita) Israel Premier Tech Roland
all s.t.
75 Mieke Kröger (Ger) Human Powered Health
11:25
76 Elynor Backstedt (GBr) Trek - Segafredo
11:27
77 Clara Honsinger (USA) EF Education - Tibco - SVB
78 Victoria Teniel Campbell (TTO) Team Jayco Alula
both s.t.
79 Coryn Labecki (USA) Team Jumbo-Visma
11:32
80 Marith Vanhove (Bel) Parkhotel Valkenburg
13:34
81 Amalie Lutro (Nor) Uno-X Pro Cycling Team
82 Valentine Fortin (Fra) Cofidis Women Team
83 Mia Griffin (Irl) Israel Premier Tech Roland
13:36
84 Anaïs Morichon (Fra) Arkea Pro Cycling Team
s.t.
85 Alana Castrique (Bel) Cofidis Women Team
13:40
86 Lone Meertens (Bel) AG Insurance - Soudal Quick-Step Team
87 Lisa Van Helvoirt (Ned) Parkhotel Valkenburg
88 Megan Jastrab (USA) Team DSM
13:42
89 Makayla Macpherson (USA) Human Powered Health
s.t.
90 Barbara Guarischi (Ita) Team SD Worx
13:43
91 Jessica Allen (Aus) Team Jayco Alula
92 Jeanne Korevaar (Ned) Liv Racing Teqfind
both s.t.
93 Rachele Barbieri (Ita) Liv Racing Teqfind
13:51
94 Hannah Buch (Ger) Israel Premier Tech Roland
14:42
95 Alison Avoine (Fra) St Michel - Mavic - Auber93
15:17
96 Frances Janse Van Rensburg (RSA) Stade Rochelais Charente Maritime
15:43
97 Kaja Rysz (Pol) Lifeplus Wahoo
17:34
98 Lucy Gadd (GBr) Stade Rochelais Charente Maritime
99 Maeva Squiban (Fra) Stade Rochelais Charente Maritime
both s.t.
100 Valerie Demey (Bel) Liv Racing Teqfind
17:39
101 Maeve Plouffe (Aus) Team DSM
102 Ilaria Sanguineti (Ita) Trek - Segafredo
103 Noemie Abgrall (Fra) Stade Rochelais Charente Maritime
104 Gloria Rodriguez Sanchez (Esp) Movistar Team Women
all s.t.
OTL Lucia Garcia Muñoz (Esp) Zaaf Cycling Team
38:12
OTL Marta Romance I Oms (Esp) Zaaf Cycling Team
s.t.
OTL Ebtissam Zayed Ahmed (Egy) Zaaf Cycling Team
31:58
OTL Emanuela Zanetti (Ita) Zaaf Cycling Team
22:45
OTL Sara Poidevin (Can) EF Education - Tibco - SVB
OTL Chloé Schoenenberger (Fra) Stade Rochelais Charente Maritime
OTL Marine Allione (Fra) Stade Rochelais Charente Maritime
all s.t.
OTL Sofie Van Rooijen (Ned) Parkhotel Valkenburg
30:59
OTL Scarlett Souren (Ned) Parkhotel Valkenburg
23:21
OTL Lieke Nooijen (Ned) Parkhotel Valkenburg
s.t.
OTL Tereza Neumanová (Cze) Liv Racing Teqfind
27:39
OTL Nienke Veenhoven (Ned) Team Jumbo-Visma
s.t.
OTL Linda Riedmann (Ger) Team Jumbo-Visma
27:19
OTL Kate Richardson (GBr) Lifeplus Wahoo
OTL Typhaine Laurance (Fra) Lifeplus Wahoo
OTL Gabrielle Pilote-Fortin (Can) Cofidis Women Team
OTL Severine Eraud (Fra) Cofidis Women Team
OTL Roxane Fournier (Fra) St Michel - Mavic - Auber93
all s.t.
OTL Celia Le Mouel (Fra) St Michel - Mavic - Auber93
19:35
OTL Maryanne Hinault (Fra) Arkea Pro Cycling Team
41:52
DNF Mylene De Zoete (Ned) Ceratizit - Wnt Pro Cycling Team
DNF Franziska Brauße (Ger) Ceratizit - Wnt Pro Cycling Team
DNF Sandra Alonso Dominguez (Esp) Ceratizit - Wnt Pro Cycling Team
DNF Lauren Stephens (USA) EF Education - Tibco - SVB
DNF Sheyla Gutierrez Ruiz (Esp) Movistar Team Women
DNF Aude Biannic (Fra) Movistar Team Women
DNF Jade Wiel (Fra) FDJ-Suez
DNF Maëlle Grossetete (Fra) FDJ-Suez
DNF Clara Copponi (Fra) FDJ-Suez
DNF Sanne Cant (Bel) Fenix-Deceuninck
DNF Madelaine Leech (GBr) Lifeplus Wahoo
DNF Tiffany Cromwell (Aus) Canyon//SRAM Racing
DNF Silvia Magri (Ita) Israel Premier Tech Roland
DNF Maurene Tregouet (Fra) Arkea Pro Cycling Team
DNF Maaike Coljé (Ned) Arkea Pro Cycling Team
DNF Amandine Fouquenet (Fra) Arkea Pro Cycling Team
DNF Maud Rijnbeek (Ned) AG Insurance - Soudal Quick-Step Team
DNF Britt Knaven (Bel) AG Insurance - Soudal Quick-Step Team