April 27/23 14:00 pm - Derek Gee to Race Giro - Exclusive Interview

Posted by Editoress on 04/27/23

Derek Gee, racing for the Israel - Premier Tech team, will be the lone Canadian entry to this year's Giro d'Italia, the first of the Grand Tours this season. For Gee, it will represent the latest in a long line of firsts this season - his first Grand Tour, to go along with his first Monuments (Milan-SanRemo and Paris-Roubaix) and first full Spring campaign on the WorldTour circuit. We spoke with Derek at his European base in Girona, Spain, where he is preparing for the Giro, which begins on May 6th, just over a week from now.

Canadian Cyclist: So the Giro just released the official start list and you are on it!

Derek Gee: Yeah, I'm pretty excited about that one!

CC: So when did you hear from the team that you had been selected for the Giro squad?

DG: It was a while ago. Originally, it wasn't on my calendar; I was meant to race Tour of Romandie. And then I got a last minute call up to Tirreno-Adriatico and after that - I raced well enough [41st overall] - they gave me a chance to do the Giro.

CC: It's your first Grand Tour, and that is obviously a big milestone.

DG: It's definitely a big moment. Also, it's kind of daunting; when you do a one week WorldTour stage race and see how you are feeling after that ... and then you have to do it two more times on the back of it! But, it's definitely an iconic race, so I'm pretty excited.

CC: Have you talked to some of the other riders who have done it about what it is like, what to expect?

DG: It's really cool just to hear everyone else's different experiences with it. Obviously it's three weeks, and you never know what could happen; you can get sick, you can get injured, so whether I will make through the entire three weeks is still to be seen. But, it's cool to hear the other guys' opinions on it; how they felt after the race. Apparently you come out of it with just a different level of fitness. Hopefully I can make it through, and see where I am after.

CC: Going into the Giro, I'm assuming one of your major goals is to finish, but do you have any other goals, any specific goals?

DG: I think because I'm a first year pro, it's going to mostly just helping the team where I can. We have [Domenico] Pozzovivo going [8th overall last year], so I'm sure he's looking for a GC result. I think I'll just be briefed daily on what my roles will be for that stage. Hopefully I can give the TTs a good swing, but the rest of it is going to be just seeing each day how I can fit in with helping the team leaders.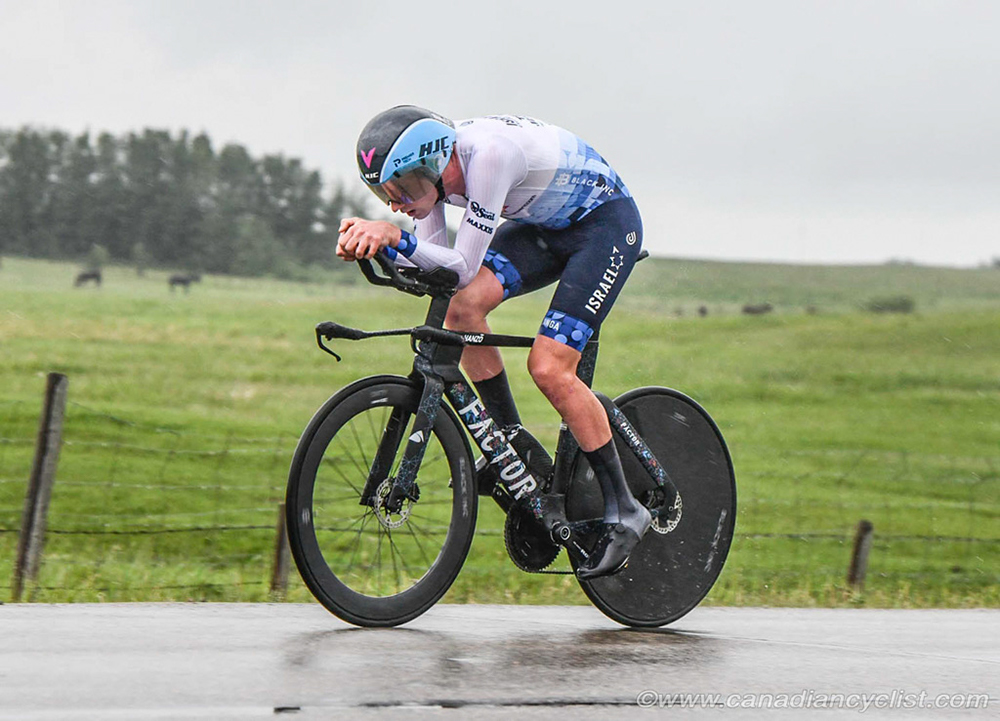 Gee is National ITT Champion
CC: You'll be racing the TTs in the national champion's kit; how cool is that?

DG: It's pretty special! I can't wait.

CC: This is more than just your first Grand Tour; it's your first year of doing a full Spring season on the WorldTour. There's been a lot of really big firsts for you so far this year.

DG: Yeah, have there ever! The team has had a lot of faith in me, which is really, really nice to see. I've gotten the opportunity to do some really big races, including two Monuments. It's been all WorldTour days [of racing] up until this point. I've been really lucky to do that calendar ... it's been hard but I've also learned a lot; just seeing what the highest level of racing is like. I know what I'm up against now, if I ever want to get results at this level.

CC: So what are some of the things that stand out; the 'I just didn't know' stuff?

DG: For sure, just the effect that the distances have on you. You'll see power numbers of pros online, and you'll think, 'Oh, it takes that to win a race, and you think, I could probably do that from the bottom to the top of the hill...'.

And then you do a race like Milan-SanRemo and you've never ... the race has never gone that hard, but you are six, six and half hours into the race and all of a sudden the legs don't turn like they used to. It's just something that is impossible to conceptualize without having done it.

I raced a bunch last year with the WorldTour team, but just the difference in those level of races and the extra 50-60 kilometres to every race, and sometimes the extra 100 kilometres ... it's a whole different physical challenge.

CC: Biggest moments for you this year so far?

DG: Unfortunately the biggest moment so far for me this year hasn't necessarily been a good one! The one that was probably the most covered, was the Arenberg Forest [Paris-Roubaix]. But I guess the best moment of my season so far was getting to lead Paris-Roubaix into the Arenberg, that was such an amazing experience, getting to ride in the breakaway in Paris-Roubaix.
Derek Gee flats while in lead bunch at Paris Roubaix
Unfortunately, a poorly timed flat took me out of that one ... but even getting to line up at Paris-Roubaix; that's a childhood race, that's the kind of race you watch as a kid, and you think, 'Wow, one day I really want to be able to race that'. So, that was massive for me.

CC: Yes, there are Monuments, and then there is Paris-Roubaix, which is almost a Monument of the Monuments.

DG: Exactly. Just getting to witness the atmosphere ... I was the last guy [to finish] within the time limit, the last to finish [135th], but it was still amazing; every single sector of pavé was lined. From a 100 kilometres out it was just lined with fans, and it was an atmosphere that ... I'll remember that for the rest of my life, it was unbelievable.

CC: You are the Lanterne Rouge!

DG: Yes! By 30 seconds, I'm glad I made the time cut.

CC: So after the Giro, what else have you got coming up? Will you be back for Road Nationals, for example?

DG: For sure. Nationals is a goal of mine; to try and defend the time trial championships. And ,obviously, have a good go at the road race. I love Nationals and hopefully I can do it every year.

CC: And after that there is the 'Super Worlds' in Scotland. Obviously, there are the road events, but there is also the Track; do you have any idea if you are going to be able to fit both in?

DG: I'm going to try. Even if I can come back [to Canada] before Nationals and jump on the track and just see how I'm going. The change in training has been so immense from when I was doing team pursuiting. I haven't been able to be in the gym with all the racing ... the demands are so different now that I'll be interested to see how that transfers to the track. So whether I do track at Super Worlds or not will depend also entirely on whether physically I am capable of being in that team pursuit line up, because it is getting more and more competitive. I would love to do the time trial and the Team Pursuit; that will be the objective to do both. But we will just have to see how possible that actually ends up being.

CC: So right now you are just at home training in Girona until the start of the Giro?

DG: Yes, since Paris-Roubaix I've been in Girona doing a big training block and getting ready.

CC: I won't say good luck, but I will say enjoy the moment.

DG: Thanks, Rob

CC: Here, we have Paris to Ancaster and the Gravel Championships this weekend.

DG: Yes, Ruby [West] will be racing it, and it's Nationals this year. I'm really hoping one year I can be home for it; from what I've heard from Ruby, it's a pretty special event.

CC: Well, good luck with the training, and maybe we can do an interview during one of the rest days.

DG: Absolutely, we can do an interview with whatever shell is left of me!