May 14/23 15:01 pm - Derek Gee - Exclusive Interview After Week 1 of the Giro

Posted by Editoress on 05/14/23

Ottawa's Derek Gee (Israel Premier Tech) is the sole Canadian rider participating in the Giro d'Italia this year; his first ever Grand Tour. We interviewed Derek before the race began and he said a primary goal was just to survive to the end [see our interview - Derek Gee to Race Giro]. He has done significantly more than that, including finishing second on Stage 8.

Derek took a few minutes to chat with us after Stage 9 today (he finished 44th on the ITT stage and is currently 50th overall), before the riders have a rest day tomorrow, having covered 1402.6 kilometres in nine stages.

Canadian Cyclist: When we talked before the race started, you said your goal was to survive and learn, and you seem to have surpassed that by a fair bit!

Derek Gee: Yes, absolutely! I wasn't expecting a result like that, coming in. I wanted to try and ride in some breakaways, and I thought that would be a good way to gain some experience. To be in one that made it to the line, and then come in second was a little beyond my expectations.

CC: So how did it work - did you and the team discuss it and decide that this was a good stage for you to try and get in a breakaway?

DG: The plan was definitely to go for the break; it looked like a day that maybe the break would go to the line. We had four of us that were going to try and go in the break; especially Simon Clarke and Mads Wurtz Schmidt, because they have really good legs in this Giro and it was a really good finish for them. The goal was to try and get two guys up the road and if I was one of them I could help one of those guys win. I ended up, up the road by myself, so it was like, 'pressure's on, I guess!', when we realized that break was going to go to the line.
Interview continues below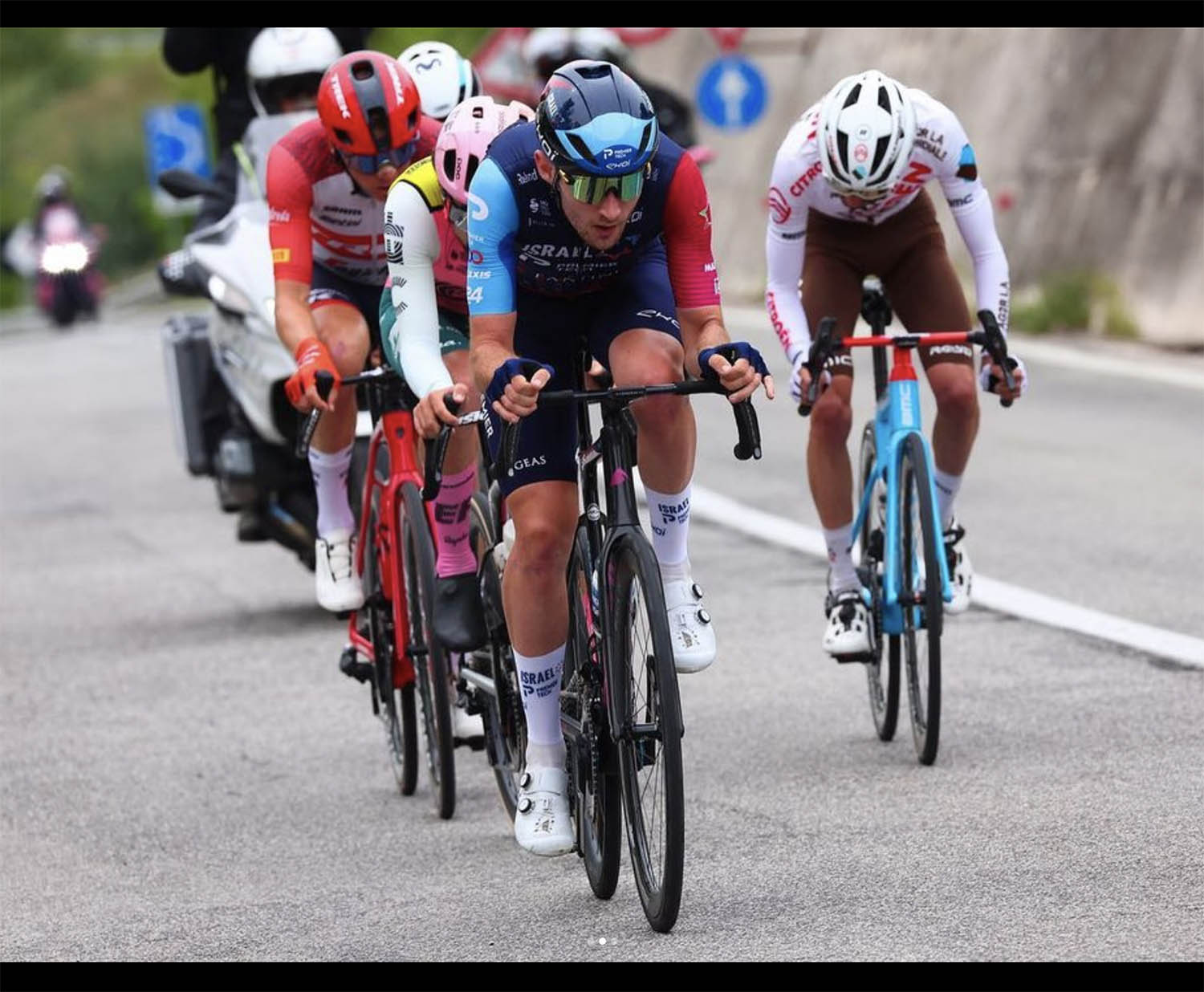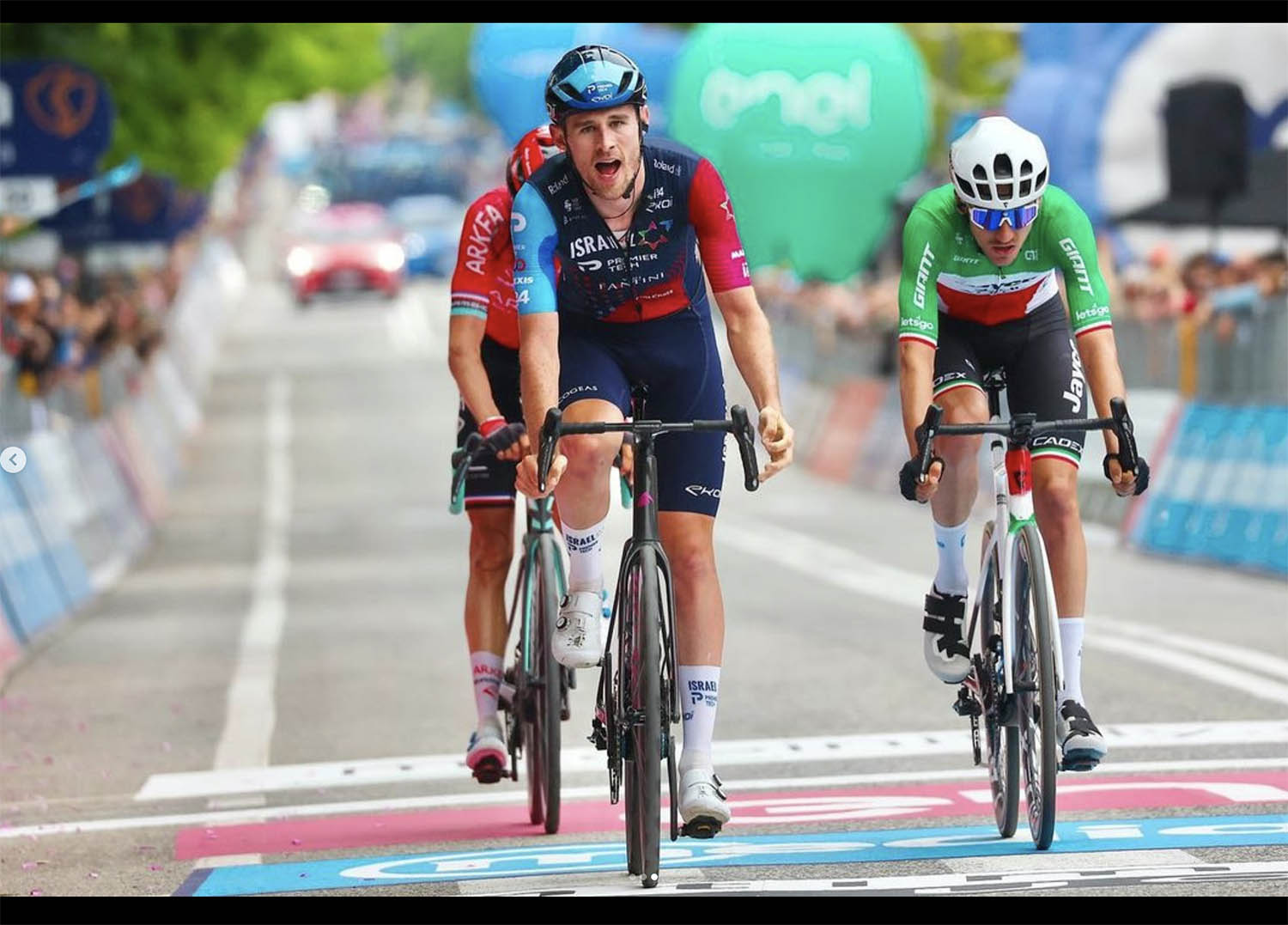 CC: You looked pretty good out there; you didn't seem to be struggling to stay with the break.

DG: I was shocked actually, because there were some really, really high level riders in that move - Barguil and Zana and Verona ... really big names who have incredible palmares. So, I was pretty worried almost every climb we hit that the lights would go out, but I had really good legs and I managed to stay with them. Of course, Ben Healy (EF Education -EasyPost) [stage winner] was on another level, but I was just happy to be able to stay with those guys on the steep stuff.

CC: And then you get to the last climb in the chase, and Filippo Zana (Jayco AlUla) attacked, and you came back over the top, and there's just six kilometres of descending to the finish line ... so you've got to be thinking 'I have a chance for a top-3 here'.

DG: Zana attacked at the base of the last climb and I stayed with Barguil and Verona. I realized that my legs were really good, and I managed to get across to Zana just as the climb crested, so the two of us took the descent together, and in the run-in to the line we looked back, and Barguil had actually bridged on the descent, which was some fearless descending! As soon as I saw him coming back I got a little worried because the stage podium wasn't a guarantee any more. So I was pretty stressed going into that sprint.

CC: So you were leading out that sprint, and you were looking over your shoulder a lot ... how did you handle that final 300 metres?

DG: I've never been in a situation close to that before, so it was a bit of an unknown for me. But I had a good amount of confidence. My legs still felt okay - relative to five hard hours of racing - but I also knew that I had a bit of an advantage, because the other two are probably over 20 pounds lighter than me. So I thought that I might have an advantage in the sprint.

I just opened it up and I could see Zana's wheel beside me, and I was really worried that he was about to come around. So, I was pretty happy to hold them off.

CC: Second on a stage of a Grand Tour - at this point in your career that's a big result.

DG: Absolutely. This would be my best result by a long ways on the road so far. It was pretty unexpected, but I'm already happy with this Giro and we still have two more weeks of racing.

CC: Let's talk about that - this is the end of your first week of Grand Tour racing; what are some of the things that stick out for you with respect to a Grand Tour versus other races?

DG: The biggest thing has been leaning on the more experienced people on the team; our directors ... and my room mate Simon Clarke has been fantastic with helping me through this.

But a big part is that I'm not used to sitting up; I'm used to getting dropped on hard days, as opposed to calling it early and saving my legs, which is such a massive component of Grand Tours. You do your job for the day, and if you are targeting a stage later on, or if you have a job [for the team] on another day, you take the gruppetto even before you have to.

That was super new for me, and mentally kind of difficult to do; just sit up when you are not actually getting dropped ... it's been an interesting learning experience. You always want to go as deep into the race as you can, but that's not always the best move in a Grand Tour.

CC: Today in the time trial you were 44th and you are sitting 50th overall. Does having gotten that second place change the focus a bit for you in the race, or are you still there more as a support rider?

DG: For sure I am still here as a supporter for Domenico [Pozzovivo], but if the opportunity arises in another breakaway, I'll be given a chance. Even just trying to get in a break with another rider [team mate] ... the team is primarily here to hunt stages, so if we can get two guys up the road that massively increases our chances. So I know the other guys on the team - the more experienced ones - will have some specific stages targeted already. So I'm just taking it day by day and seeing what the directors have for me.

CC: After nine stages you have a lot of kilometres in your legs. How are you feeling?

DG: Honestly, not too bad. It was nice to not have to go full gas in the time trial today, and the day before yesterday with the summit finish [Stage 7] was a day for me to take it easier, so I have had some padding on either side of the massive day that was yesterday. I was hurting pretty bad after that one, so hopefully with today and tomorrow [rest day] the legs will be good to go for Week 2.

CC: Is there anything coming up in Week 2 that you are targeting at this point?

DG: The thing is ... there is nothing, because looking at the stage yesterday, I wouldn't have thought that that was a stage I could do well in. I'm a big guy, and those finishing climbs were above 10%, so I definitely didn't expect to be up there. So even if I pick a stage ... I think it could just play out differently.

CC: So tomorrow is just spinning and trying to relax a bit?

DG: Yes. It sounds like from the more experienced guys on the team that it's always a good idea to do a couple of efforts to keep the body moving, because otherwise it starts to shut down. I'm sure it will be a mental struggle to not just stay in bed all day!