October 9/23 22:00 pm - XCO World Cup Finishes in Canada; Carter Woods 3rd Overall

Posted by Editoress on 10/9/23

The 2023 Mountain Bike World Cup concluded on Sunday with the eight and final round of the XCO at Mont-Ste-Anne, Quebec. MSA is the oldest running event in the World Cup, and has legendary status due to its classic natural terrain courses that always result in hard fought races. This year was no different, with heavy rain the night before and during the first half of the day turning the course into a muddy mess of roots and rocks, that tested riders to their limits.

Canadian elite women's national champion Jenn Jackson (Liv Racing) had the best World Cup result of her career, finishing 12th, with Emilly Johnston (Trek Future) also taking 12th in the Under-23 women's competition. Leandre Bouchard (Foresco Holding Proco RL) had his best result of the season, finishing 16th in Elite men, however, Carter Woods (Giant Factory) crashed out of the Under-23 men's race while in the top-5. Woods did still finish third overall in the standings.

Under-23 Men
The U23 men's title had already been won by Adrien Boichis (Trinity Racing) coming into MSA, but there was still a battle for the remaining World Cup podium spots, with Woods sitting second, Dario Lillo (Scott Davos) third and Riley Amos (Trek Factory) fourth. The U23 men were the first to race on the track after a night of rain - and during heavy rain - and it very quickly became clear that the conditions had changed the track substantially. Some uphill sections were unrideable, and the descents were treacherous. Woods charged to the front at the start, but was soon struggling, dropped by Amos and Boichis, while Lillo was having a terrible race, eventually finishing 17th. Woods was overtaken by American Bjorn Riley (Trek Future) for third, and then the Canadian crashed heavily on a rock descent on the fourth lap (of five), banging his hip and back, and withdrawing from the race. At the front, Amos was clearly handling the conditions better than anyone, setting the pace after the start loop and riding away from Boichis to take the win. Bjorn Riley overtook and dropped Boichis mid-race, but faded in the last lap to finish third; his best ever World Cup result.
L to r: Riley Amos, Adrien Boichis, Carter Woods
In the absence of Woods, Xavier Roy was the top Canadian finisher, in 28th place. Owen Clark was 32nd, Zorak Paille (Pittstop Racing) 38th, Alex Woodford 42nd, Dylan Kerr 43rd, Zachary Brunelle 45th, Matt Leliveld 49th, Simon Ruelland 51st, Jack Ciotlos 61st and Remi Belzile 62nd.

While Boichis had wrapped up the title before the race started, Amos' win, combined with Woods' DNF and Lillo's poor showing, leapfrogged the American into second overall, dropping Woods to third and Lillo off the podium into fourth.

Under-23 Women
The Under-23 women's race was completely dominated by Series' leader Ronja Blöchlinger (Liv Factory), who led from start to finish. On Thursday, Blöchlinger had won the XCC title with a perfect season of eight wins and, even though she had not won an XCO race in the series, her consistency had her in the XCO leader's jersey with only two potential rivals for the title - Heby Sofie Pedersen (Wilier - Pirelli Factory) and world champion Samara Maxwell of New Zealand.

Pedersen fell back to the mid-teens early, struggling with the conditions, and Maxwell had a very poor start loop, dropping to the 30s before pulling into the tech zone to swap out her tires. The Kiwi then began to race up through the field, ultimately finishing fifth. While Blöchlinger was racing to her first World Cup victory of the season, behind there was a three-way battle for the remaining two podium spots. Noëlle Buri (Bixs Performance) held second through the first lap before being overtaken by a surging Madigan Munro (Trek Factory). Buri was also caught by Monique Halter (Thömus Akros - Youngstars) in Lap 3, but rallied in the final lap to catch and drop the fading Munro, who barely held off Halter to keep third.
Johnston, who came into the race sitting in ninth place overall, rode in the top-10 for most of the race, but faded in the final lap to finish 12th. Other Canadian results were Ella MacPhee in 19th, Marie Fay St Onge 25th, Ophelie Grandmont 27th, Jocelyn Stell 28th, Lea Bouchard 29th, Ella Myers 31st, Juliette Larose Gingras 32nd, Julianne Sarrazin 34th, Lea Drouin 36th and Emilie Chloe McIntyre 37th.

Johnston says, "Yeah, [it] was a really hard day on the bike for me. I came down with a bit of a cold a couple days before the race and was just not feeling [the] 100% that you need to push with the lead girls! Course was so, so fun and I loved every minute of racing."

In the final overall, Blöchlinger took both the XCO and XCC titles, while Pedersen held off Maxwell by a slim three points for second. Johnston moved up one spot to finish eighth overall, beating Noemie Garnier of France by two points.

Elite Women
Puck Pieterse (Alpecin-Deceuninck) came into the final round having already won the overall title on the strength of three previous wins. However, there were still some battles going on for lower placings and, indeed, second through 12th places were all jumbled by the end of the race.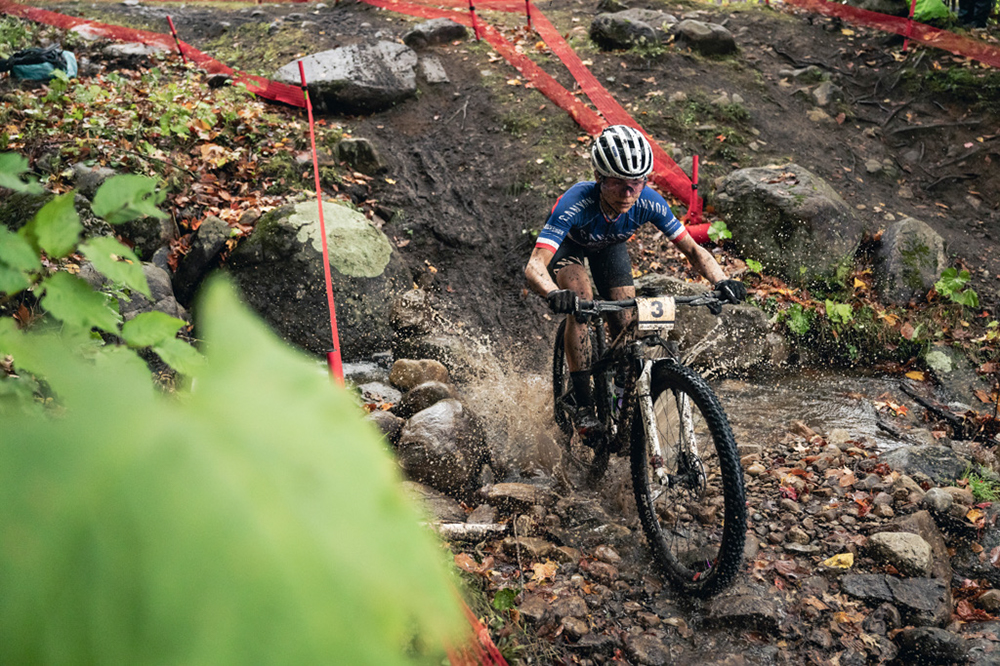 Loana Lecomte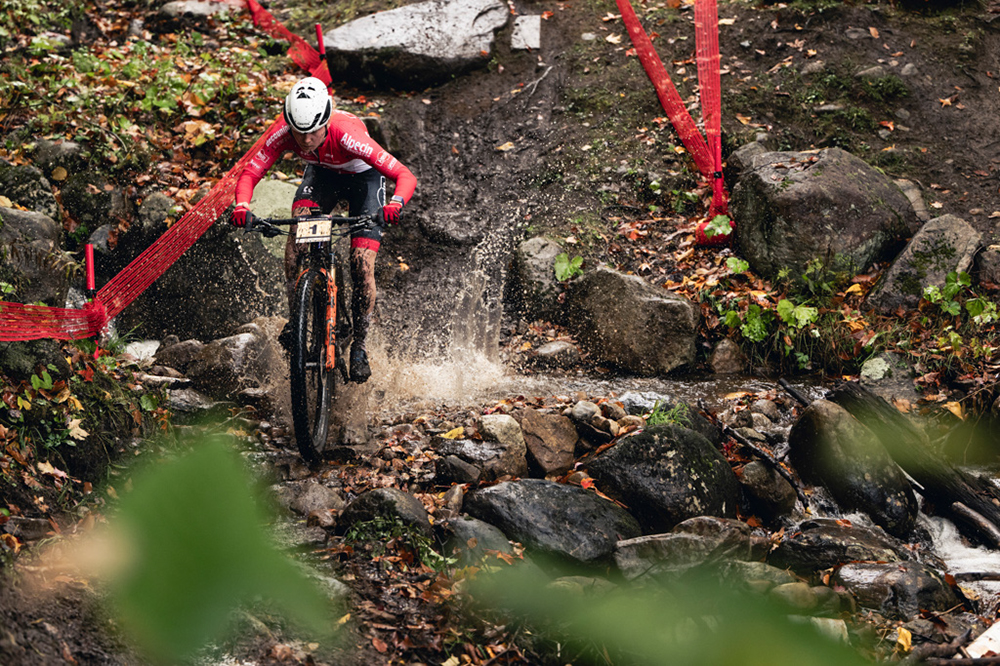 Puck Pieterse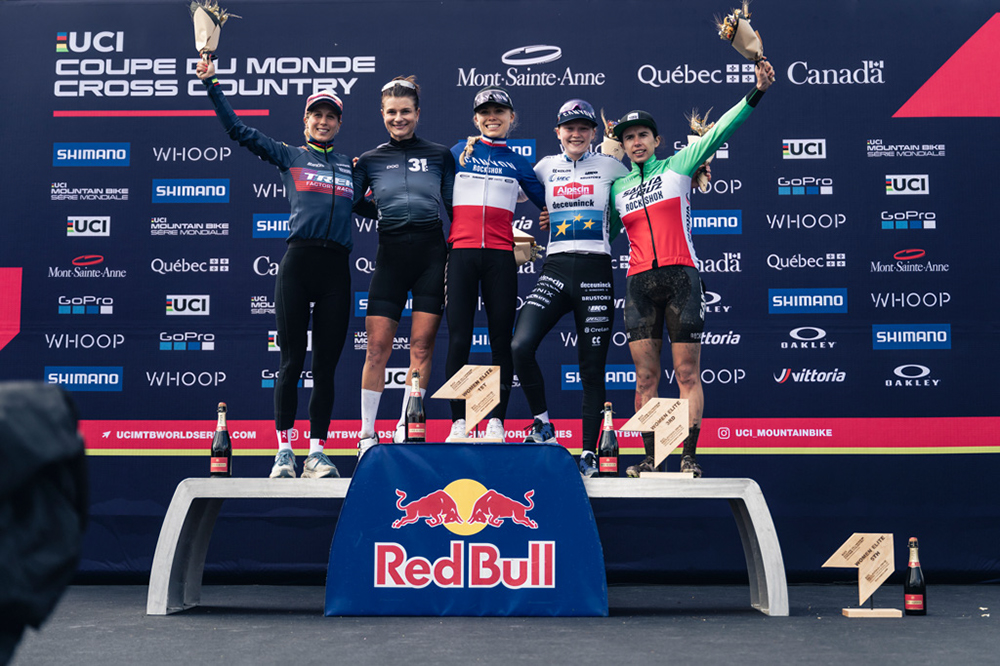 The rain had backed off a bit by the time the Elite women raced, but that just meant the mud was getting sticky - 'peanut butter' in mountain biking vernacular. Running became even more of a requirement, which seemed to suit Pieterse, and she led the first two laps. However, Loana Lecomte (Canyon CLLCTV) made an incredible comeback from a first lap flat to join the leaders a lap later. Also at the front were Jenny Rissveds (Team 31 Ibis) and Martina Berta (Santa Cruz Rockshox), although Berta soon fell off the pace. It became clear by Lap 3 that Pieterse could not match the two mountain bike specialists in descending through the slippery rocks and roots, and she started to fall back.

Then, Lecomte crashed after a stream crossing, taking down Rissveds, who was right on her wheel, with her. The French rider was up and riding quickly, but Rissveds had to get untangled from her bike, losing seconds. This proved to be the critical moment, with Lecomte powering away to a gap of over 30 seconds with a lap to go, before backing off on the last lap to avoid taking chances. Pieterse held on for third, with a second half race surge by Jolanda Neff (Trek Factory) moving her up from the mid-20s to fourth.

"I'm very surprised," admits Lecomte, "I didn't know what the race would be like in these conditions, so I'm happy with my downhilling. This is my first time in Canada, so it was cool to win."

Jackson had one of the strongest and most consistent races of her career, riding in contention for a top-10 spot for much of the race before a flat tire on Lap 4 dropped her back a few spots. In other Canadian results, Laurie Arseneault (Pittstop Racing) was 24th, Roxane Vermette 44th, Juliette Tetreault 49th, Anne Marie Gauthier 50th and Emma Olsen 52nd.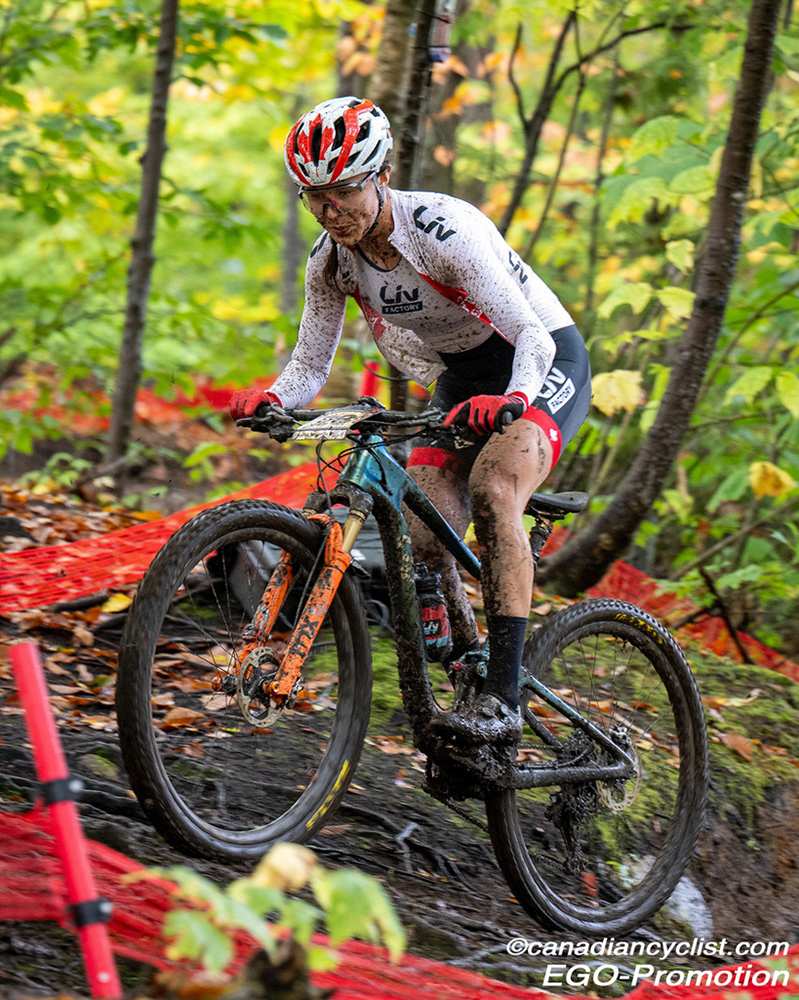 "That was a properly epic way to finish the World Cup season," agrees Jackson. "Mont-Ste-Anne is already one of the hardest tracks and intimidating even in the dry, so I knew going into today, with the slippery conditions, if it made me nervous then probably everyone else was feeling the same. So for the first couple of laps the focus was being conservative on the descents and building confidence.

"I think like everybody I had a ton of little moments, but I never got spooked or scared. I focussed my energy on riding smooth on the climbs. It was tough going, but it wasn't quite as intense of an effort as I expected; but maybe I was just having a crazy day! It was more about having the technique and the right tires, and keeping your composure on the climbs and descents, and not get flustered. We went with some old school Maxxis Beavers on a narrow rim, it's like a mini tractor tire getting us up the hills. They worked great for me.

"I did puncture somewhere on Lap 4 and probably lost about a minute, which put me out of the race for the top-10. I'm a bit bummed about that, because top-10 would have gone a long way ... being in the single digits would have been so cool. But I really can't be disappointed with a 12th place finish, and just being able to ride with that quality and caliber of competitors was really what I had envisioned for this year.

"So to be able to cap it off with that after a good race at the test event in Paris ... I'm really looking forward to putting some hard work in this winter. But I'm going to take a few days to rest before I have one more race this season at the Pan Am Games in Santiago, Chile. It's big Games experience and a bit of a bonus for the end of the year. I'll try and race for a medal there and I'm excited to represent Canada."

Pieterse won the title by over 400 points, with three wins in eight races. Lecomte's win moved her from third to second, with Mona Mitterwallner (Cannondale Factory) dropping to third after a 19th place in MSA. Jackson's strong ride moved her into the top-30, from 31st to 27th overall.

Elite Men
The Elite men's competition still had four riders in contention for the overall title, as Nino Schurter (Scott SRAM) was going to break his own record with a ninth title.

Under-23 world champion Charlie Aldridge (Cannondale Factory) and World Champion Tom Pidcock (Ineos Grenadiers) got off to a very strong start, as overall contenders Schurter and Jordan Sarrou (BMC) were stuck in the 30s. This opened the door for Mathias Flückiger (Thömus Maxon) to potentially grab the title, if he won and Schurter finished outside the top 13 AND Sarrou was lower than tenth! The combination of events all occurring seemed unlikely ... but then Flückiger and Pidcock rode off the front, and both Schurter and Sarrou were well back.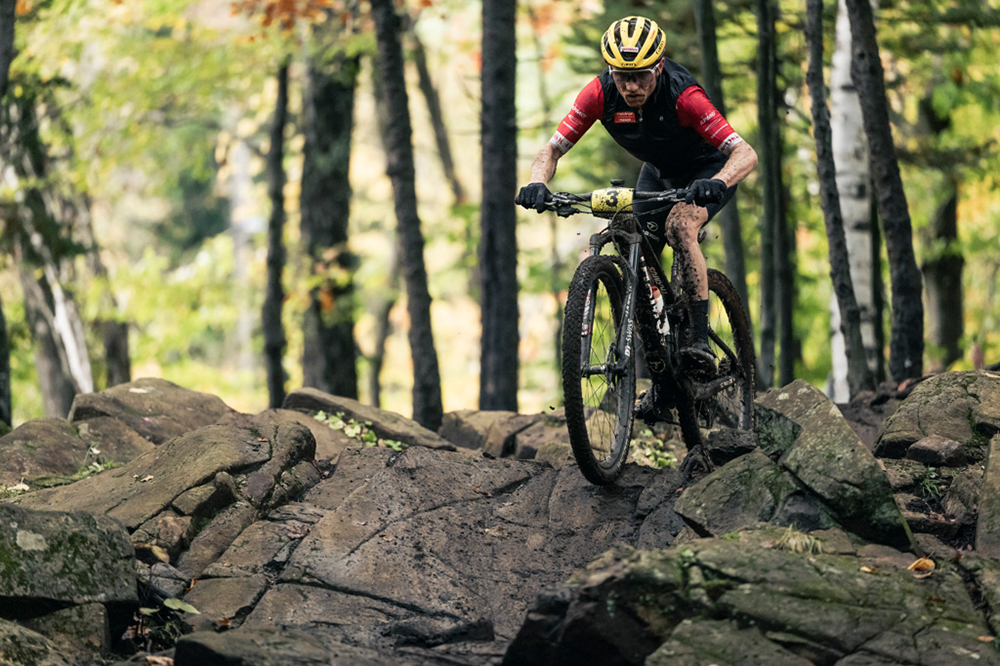 Mathias Fluckiger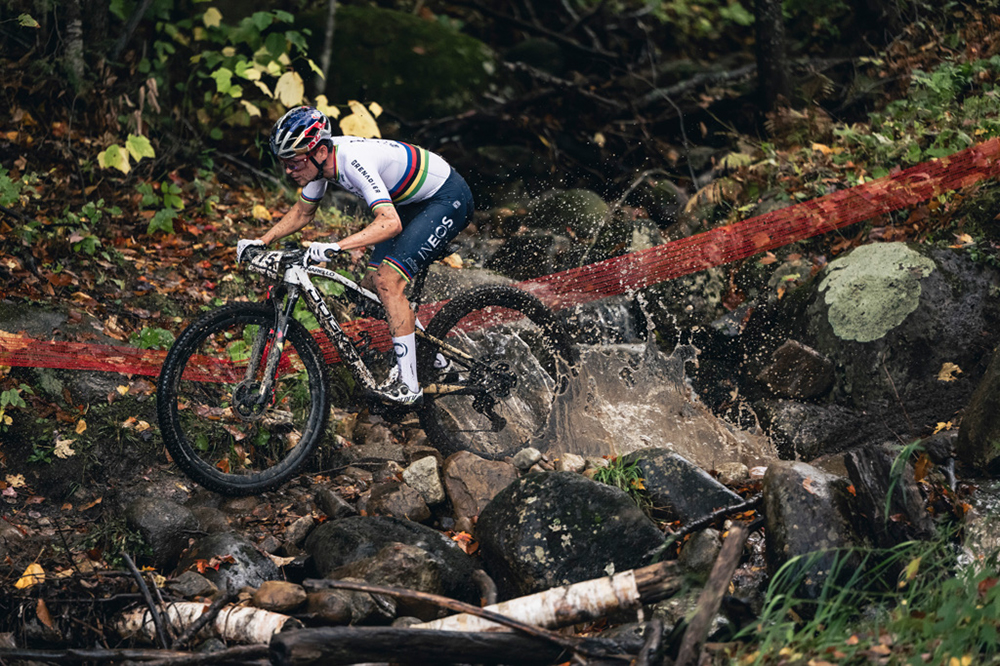 Thomas Pidcock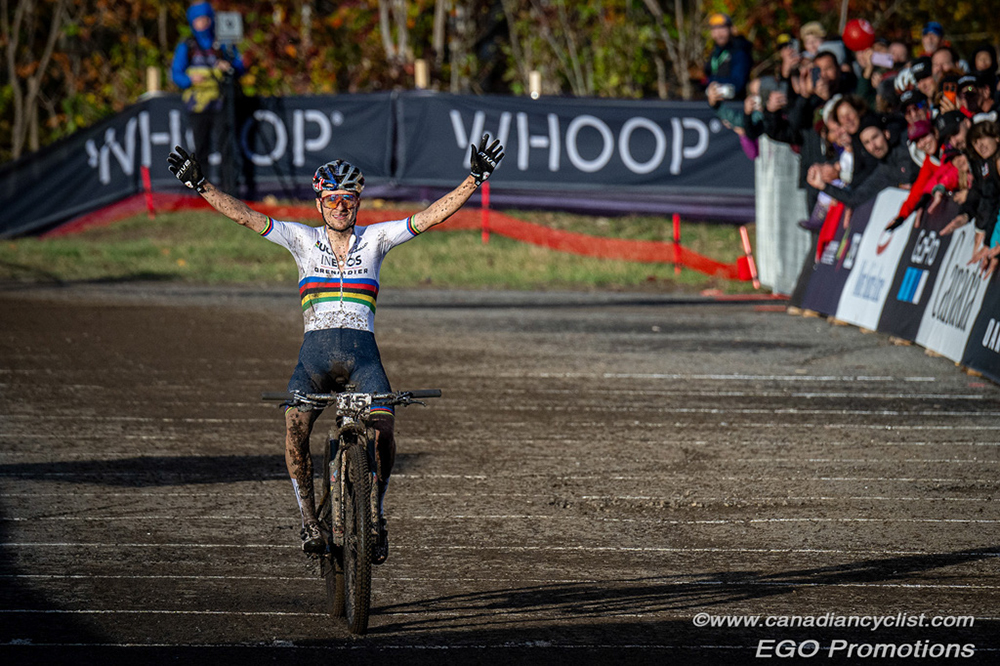 Elite Men XCO Photo gallery
Unfortunately for Flückiger, he had the sort of bad luck that Pidcock had had a week earlier - flatting twice, both times while in the lead. Each time, Flückiger had incredibly fast wheel changes - sub-20 seconds for a rear wheel change. The first time (Lap 2) he was able to quickly rejoin Pidcock, but the second time was on the penultimate fifth lap, and he had to settle for second.

"I was pretty motivated to win in this jersey before the end of the year," admits Pidcock. "This week has been difficult; it's been a long season and I'm tired. Mathias and I have had quite a few battles; at the Olympics he was chasing me down for an hour, and here he kept me under pressure. I made a few mistakes ... I let him lead, I didn't want to fight him in the descents, but when he made a mistake I fell off one of the rocks and that's why he got the gap with two laps to go. Mathias was flying down the descents like a mad man, but he also punctured twice, so I was trying to be more conservative."

"Probably I went a bit too much to the limit with the pressure in the tires and that was a big risk," agrees Flückiger, "but on the other hand, you have to take the risks. It would be nice to win here but two punctures was too much. Anyways, I'm happy with the race."

As for Schurter and Sarrou - both began to move forward in the second half of the race. Schurter got as high as eighth before falling to 14th after dropping his chain late in the race, while Sarrou held onto his second overall by finishing ninth.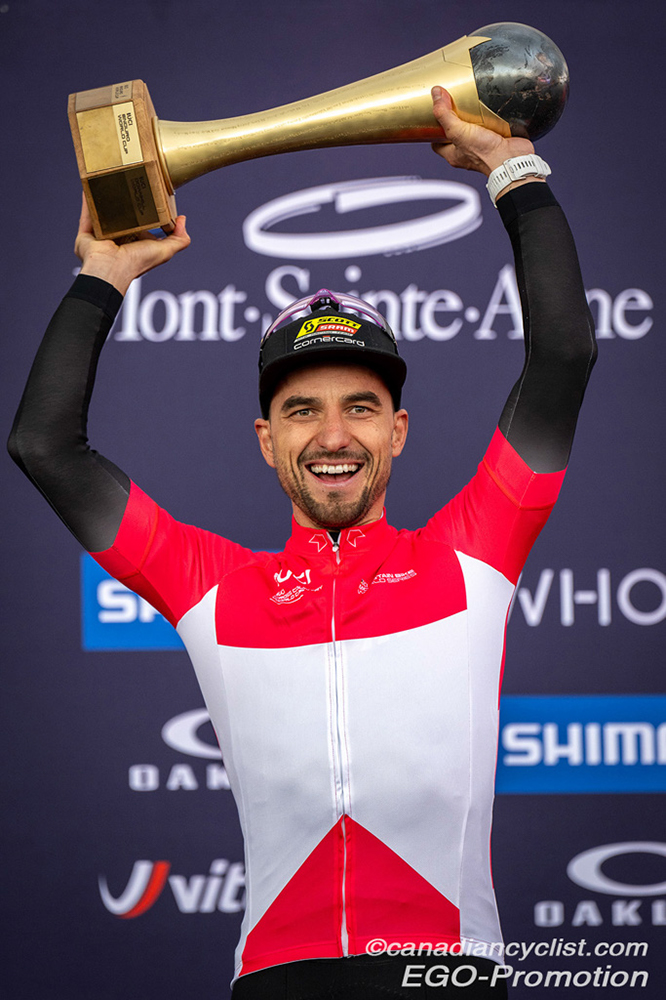 Nino Schurter, 9th Career World Cup Overall
Leandre Bouchard rode consistently strongly all race, from 30th at the end of the start loop, to the low 20s by the end of Lap 2 and then into 16th by the end of the next lap. He held this position for the rest of the race, 19 seconds out of the top-15. Gunnar Holmgren (Pivot Cycles - OTE) had a very strong start, riding in the top-10 after the start loop. He started to fall back in the next few laps to as low as the mid-20s, before recovering slightly in the final two laps to finish 21st, only four seconds out of the top-20. Other Canadian results were Raphael Auclair (Pivot Cycles - OTE) in 27th, Sean Fincham (Berria Vittoria Factory) 46th, Tyler Orschel 52nd, Victor Verreault (Foresco Holding Proco RL) 54th, Quinton Disera (Pivot Cycles - OTE) 62nd, Tyler Clark 65th, Peter Disera (Pivot Cycles - OTE) 66th, Logan Sadesky 68th, William Maltais Pilote 71st, Alexandre Vialle 72nd, Mathieu Belanger Barrette 73rd, Philippe St Laurent 76th, Anthony Audet 77th and Malcolm Barton 78th. A special mention to Peter Disera, who was riding the final race of a long and distinguished career!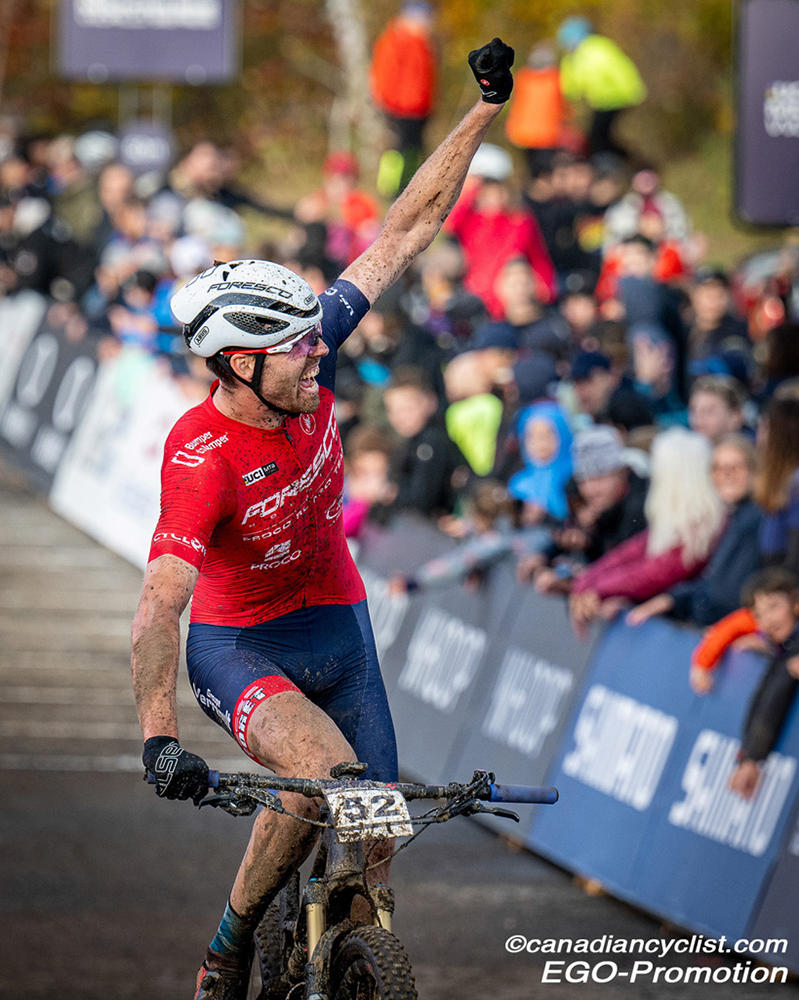 "It was my best result this season on the World Cup circuit," confirms Bouchard, "and I'm really glad to finish the season this way. The conditions were very slippery and muddy, but I was calm and focussed and composed, which allowed me to ride consistently on both the downhills and the uphills. It's amazing to finish off the season like this with my best results and strong legs; it will give me energy through the winter!"

Schurter ended up taking his ninth World Cup title by a 40 point margin over Sarrou, with Flückiger only ten points further back in third. Pidcock, despite having raced only four World Cups, finished ninth with two wins. Holmgren moved up one spot to finish 27th overall. Bouchard moved into the top-50 - 48th - after MSA.
Mont-Sainte-Anne World Cup: Elite XCO results
Mont-Sainte-Anne World Cup: U23 XCO results
Carter Woods Finishes World Cup XCC 2nd Overall after Mont-Sainte-Anne