October 21/23 19:08 pm - Double Gold for Canadian Cyclists on First Day of Pan Am Games - Jenn Jackson Interview

Posted by Editoress on 10/21/23

Canadian cyclists opened the 2023 Pan American Games with a bang on Saturday, winning both the men's and women's mountain bike titles in Santiago, Chile. Gunnar Holmgren took the men's title, followed a couple of hours later by Jenn Jackson in the women's race. These were the first medals awarded at the Games.

Both riders won by riding away from the rest of the field; Jackson on the first lap of her six lap race, and Holmgren with two laps to go in his seven lap race. Sandra Walter fought back from getting caught behind traffic early in the women's race to take seventh, while Carter Woods had to abandon the men's race due to mechanical issues.

We had the opportunity to interview both champions after their races.

Jenn Jackson

Canadian Cyclist: So this is a strong finish to your season.

Jenn Jackson: Yes, yes! It's pretty cool to wrap it up this way. All good feelings, which is nice. No regrets when you look back at things.

CC: It looked like you decided to go out hard right from the start.

JJ: I had a good start ... it's funny, they started with a whistle, and I'm used to the [countdown] lights at the World Cup. There was a lot of ambient noise, but I heard the whistle, got off to a good start. I wasn't trying to smash the first lap, but I wanted to be in front at the top of the first climb into the singletrack, just to make sure I had a calm start to the race. To be into the descent first puts you in control and you can focus on your own lines, and just get comfortable. My first lap was my fastest, but the rest of my laps were all within 15-20 seconds, and within 10 seconds for the last few laps. I think I just set out at a good pace and didn't slow down.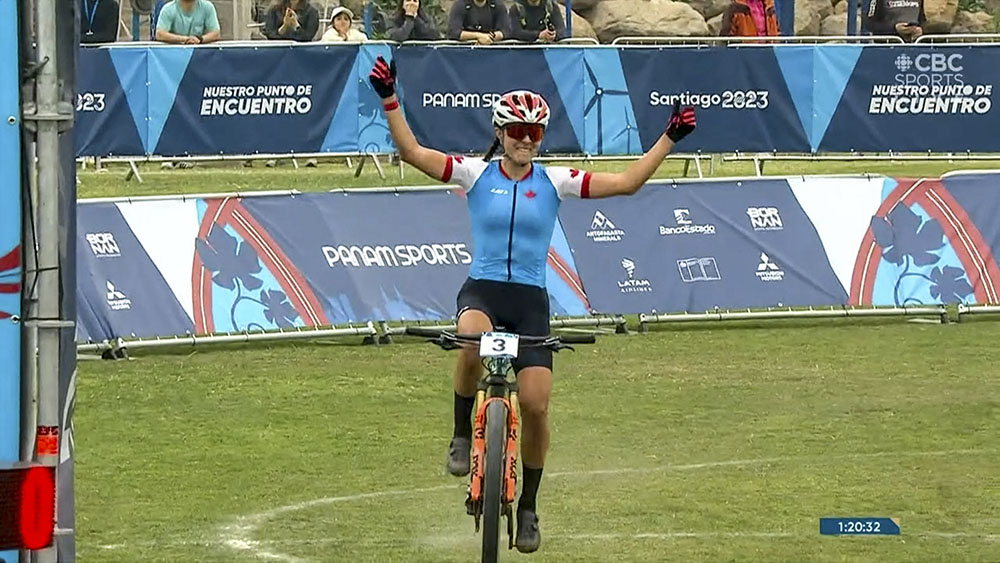 CC: What was a course like?

JJ: The whole course was built into this garden and a hillside; lots of purpose-built berms and quite a few rollers, and some small rock drops and wood ramps. Towards the end of the lap we went through a bit of a ravine, which felt more like singletrack, before we popped out to [flat] horse fields. It was almost all dirt, which was good; it was dry, but I think it would have held up well in the wet.

CC: You saw before the start of your race that Gunnar had just won the men's race - how motivating was that?

JJ: It was really cool. I think that maybe more than adding to my motivation, it added a sense of belief, almost a sense of affirmation - this is what we came here believing we were capable of, and that's how you have to ride to do what you are going to do. It was more like, 'he's got this, and now we've got this'.

CC: You've been on podiums - you are the current national champion. What was this one like?

JJ: This is the first time I have won a mountain bike race outside of Canada, so I picked a big one to do that at! It's also my first Games experience, the first time I've been on a podium in national team kit, which is also pretty special. You get the sense that this means a lot more than just your little cycling bubble. There's the whole cycling family - the BMXers were stoked - and now that the Games are going you feel like you are part of that, and part of the success of Team Canada. It's petty cool.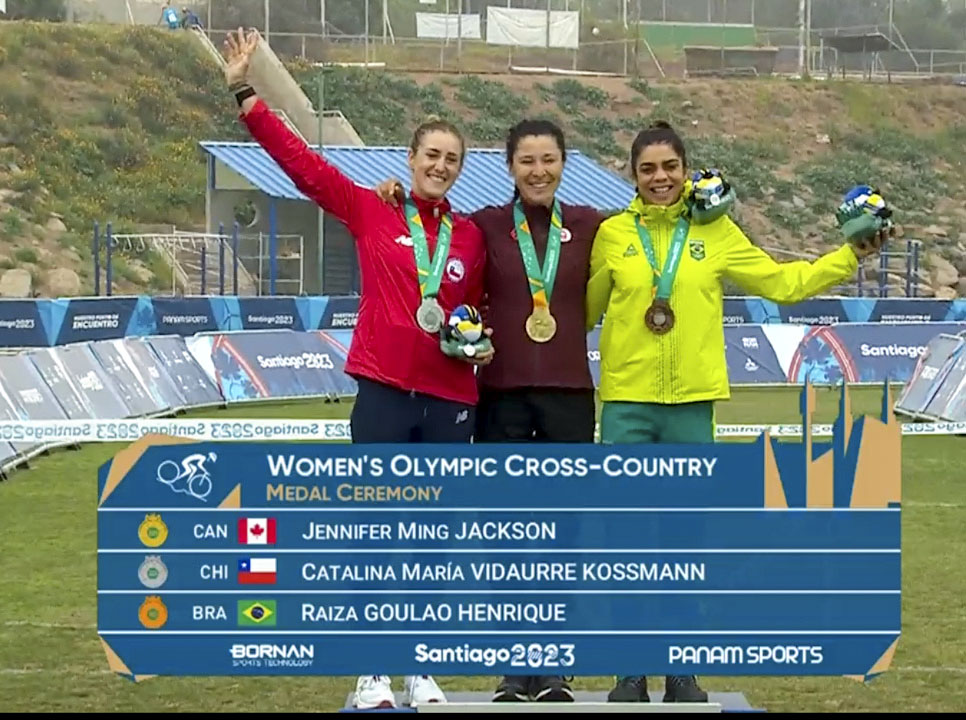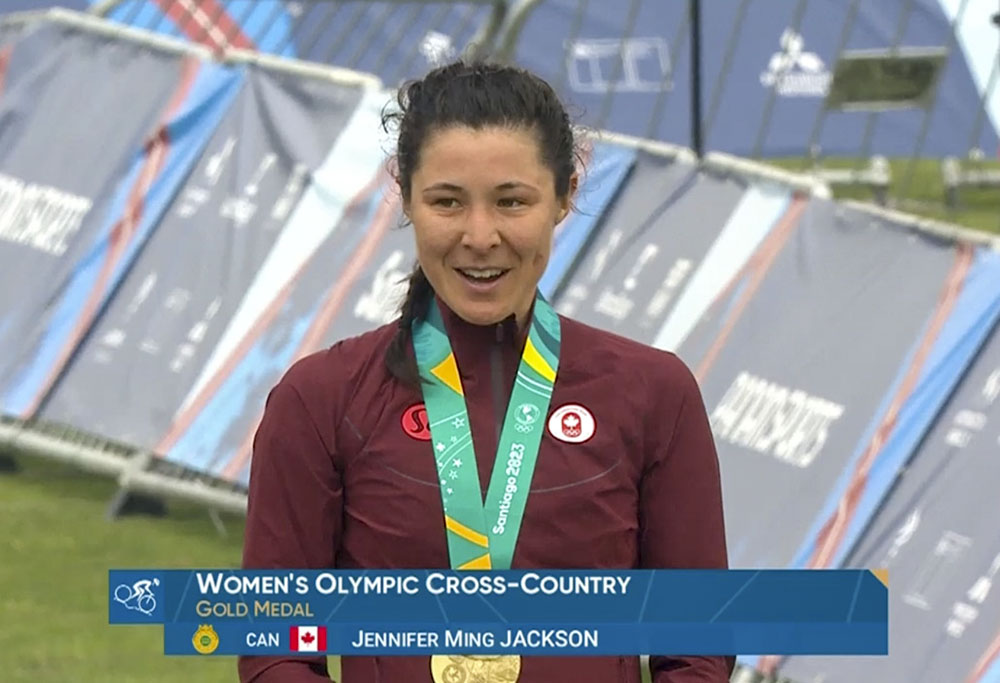 CC: This season you've had some of the best result of your career in addition to this win; your best World Cup, national title ... can you talk about this season overall.

JJ: It's been my best season ever, for sure. Winning the national title, getting it back [after previously winning in 2021], a major Games win, top-12 and riding in the top-10 at Mont-Ste-Anne, our home World Cup, and breaking into the top-20 at six World Cups in Europe this year as well ... it's pretty cool and reassuring after the start of my year wasn't quite as encouraging in the World Cups. But then to have Nationals, Worlds and Mont-Ste-Anne and see that the best racing was still to come at the end, and then to now cap it off with this medal ... it makes me excited for next year. I'm going to take some time off, but hoping I can pick up where I left off at the start of next year.

CC: So what changed this year?

JJ: My training didn't change that much; we had some different ideas, but for the most part it was about the same. But this was my first year on a big team [Liv Factory] with more support than I could possibly ask for, so I think at the start of the year I was getting used to that environment - even though it's a very supportive environment, it is still different. I think I got better at working with the people who are in that team and accepting support. And also taking the belief they have in me and not seeing it as pressure to perform, but that this is something that we are all working on together. That has carried me a long way this year.

I think more than anything physiologically this year, it's been being in a good headspace. I recalibrated the expectations for my racing and was able to turn out some really consistent results. I wouldn't have that flashy start in the 'teens and then fall back to 30th, I was just consistently chipping away at around 20th. So I know that even on my worst days the results are still good and on my best days I can get into the top-12 or onto the podium here.

CC: That has to help with thinking about what the next step will be?

JJ: Yes. I haven't thought about next year yet and what the next step is quite yet, but it certainly leaves me feeling encouraged at the end of this year, that more results towards the top-15, top-12 are possible at the World Cups.

CC: Gunnar was the first gold medal for Canada and you were the second - what's the response been?

JJ: It's pretty cool. There were quite a few people from the Canadian Olympic Committee (COC) at the race, in addition to our Team Canada staff, because it was one of the first competitions where they thought we had potential to get medals. Seeing these people that are in charge of running Olympic programming for every single sport choose to come and watch us ... that was pretty neat. But after that it was just sitting on the bus back to the Village and having some dive-y Food Hall food ... and finally getting a chance to wind down a little bit now.

CC: Do you get some time in Santiago now?

JJ: I'm flying back with Catharine [Pendrel, national coach] and Sandra tomorrow night, so we may be able to get out and watch an event in the morning before we head to the airport.

After that, some time off. This time of year is not about gaining fitness after you are drained from a whole season. I'll still get out there and enjoy riding my bike, probably do some hiking, decompress. I think you need to get a little bit out of shape in order to regain the shape for next year.

CC: In 2015 at the Toronto Pan Am Games Canada won both the men's [Raphael Gagne] and women's [Emily Batty] mountain bike titles.

JJ: I was there, I watched that race when Emily and Catharine raced [to gold and silver].

CC: At that time, was there anything in your mind about the possibility of you being able to race like that?

JJ: I don't think I related what we could potentially do here back to 2015, but certainly when I got selected to Pan Am Games, I thought about watching the mountain bike race in 2015, at Hardwood [Ski and Bike, the venue]. This was before I was even mountain biking, I was still cross-country skiing at that time. But Hardwood was my backyard and I was training for cross-country skiing there, and there was a cool thing happening, so I'm going to watch.

To see [the Canadians] pick up a couple of gold medals there ... and that we [she and Gunnar] both grew up around Hardwood, riding the trails at Hardwood, this is a lift. There is already so much success from the community there, that it's cool to be part of that.

Results

Double Gold for Canadian Cyclists on First Day of Pan Am Games - Gunnar Holmgren Interview