March 21/11 9:54 am - Joyride 150 - Southern Ontario's Indoor Bike Park

Posted by Editoress on 03/21/11

Are you tired of riding a trainer indoors or (even worse) not riding your bike at all as you wait for the weather to improve? Well, if you are anywhere near the GTA (Greater Toronto Area), then Joyride 150 may be your answer.
After 15 months of operation, Joyride 150 can be considered an unqualified success for the two couples that came up with a dream and executed it - Shannon and Scott Bentley, and Leslie and Mark Summers.

"We did a lot of research, and spent a lot of time looking for a location," explains Scott Bentley. "The support has beaten all of our expectations, and we have been busy all year 'round - August was one of our biggest months ever."

You wouldn't know that the 90,000 square foot facility is a bike park from the outside, except for the rows of cars and vans lined up outside with bike racks. Tucked among warehouses off McGowan Road, north of the 407 highway, Joyride 150 (named for its address at 150 Bullock Drive), the noise of riders rumbling around the tracks hits you when you open the door.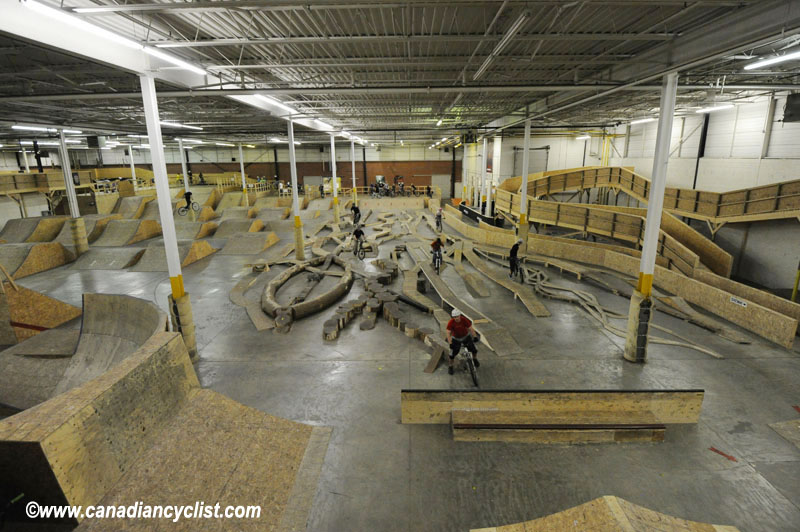 At the front of the building is the entry level BMX and off road skills park, plus a new pump track. Kids as young as 4 and 5 years old race around fearlessly, through banked turns, over teeter totters and off small jumps. Head further into the building and you enter another larger building with a foam-filled pit for practicing jumps, and pro-level BMX park. Next to that is a more advanced skills park for both mountain bike and BMX riders. Circling the entire facility is an 800 metre mountain bike riding track, with twists, turns, climbs and descents.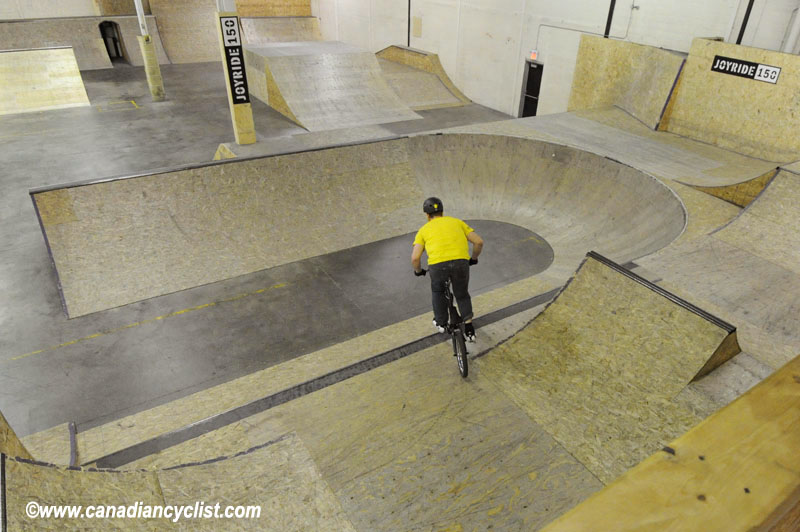 While we were getting the tour, we saw everyone from hardcore BMX park rats, to families with kids, to some familiar mountain bike faces putting in training miles while working on handling skills.

Scott pointed out that members of the national team, including Andrew Watson, Emily Batty and Derek Zandstra have all used the park for training, and Joyride built a jump at the request of national coaches that mimicked the new jump at the Champery World Cup in Switzerland.

More recently, Joyride has added a spin studio, and coach Steve Neal regularly conducts fitting sessions there also.

Riders come from all over Ontario and Quebec, and the partners are getting requests for dorms to be built so that out-of-towners can literally move in for a weekend.

That's dedication.

Visit Joyride150.com for further information, directions and hours of operation.