January 21/13 9:35 am - Tucson - A Winter Cycling Destination

Posted by Editoress on 01/21/13

Tucson may have been a well kept secret for cyclists in the past, but this southwestern Arizona city continues to gain popularity as a premiere winter cycling destination. The city itself is located only two hours south of Phoenix, and one hour north of the Mexican border. The extremely dry climate, sunshine and great cycling community makes Tucson an obvious choice for a winter cycling getaway; a getaway that is easily accessible as there is an international airport right in the city.

The Sonoran desert offers a classic desert landscape with Saguaro, Ocotillo, Prickly Pear, Barrel and many more varieties of cactus. Tucson is surrounded by the Catalina, Santa Rita, Rincon and Tucson mountain ranges; the tallest peak is just over 9,000 feet and the city of Tucson is at 2,600 feet. With a population of nearly 900,000 people and a major university (University of Arizona), Tucson offers great restaurants, many accommodation options and various outdoor activities.
The city extends through nearly 20 square miles of the Tucson valley, which is surrounded by plenty of little used roads. It can be difficult to navigate the city by vehicle, but a large number of roads have big bicycle lanes as well as bicycle paths that extend along most of the washes (dry river beds). Tucson embraces cycling as a viable source of tourism and I expect the city to grow to an even more popular cycling destination in the years to come.

Aside from the near perfect weather and easy accessibility, Tucson offers a wide variety of terrain that makes for many days of great cycling. Even though it is slowly becoming the winter mecca for road cycling, do not let that discourage those who are seeking out trails; the Sonoran desert offers some very unique mountain bike opportunities.

The area has technical single track, buff singletrack, and big descents, but mountain biking in the desert can present additional dangers . For these trails, I highly suggest tubeless tires with sealant, and to be prepared for many scrapes and scratches. The Catalina mountains offer some of the most scenic trails but the 50 Year trail, Tucson Mountain, Sweetwater and Rincons mountains also have trails well worth riding. The Arizona trail also crosses the state, covering 800 miles from Mexico to Utah.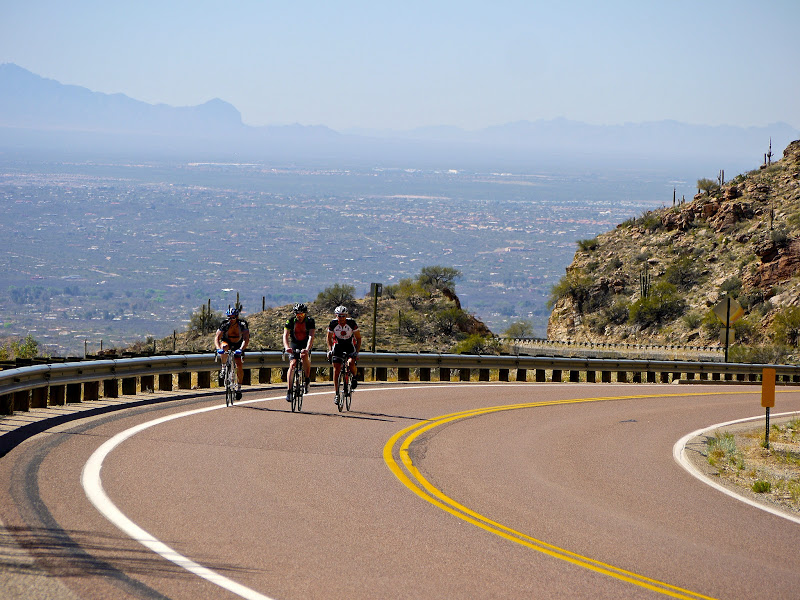 The trails are more than adequate, but the main draw in Tucson is road cycling. Professional cyclists have been traveling to Tucson during the winter months for many years. One of the oldest running cycling traditions in Tucson is a group ride called the Shoot Out.

Every major cycling city has their own version of this ride, but the Shoot Out ride is the most unique, as you will likely find yourself cycling with some high-level/well-known domestic and international professional riders.

The ride starts early every Saturday morning near The University of Arizona and heads South towards Green Valley, where more and more riders are picked up along the way; a typical Saturday will have 100+ riders.

Once you pass through the last major intersection, the real ride begins! The drop-everyone-attitude is practiced and a clear winner is crowned weekly every week at the end of the climb sprint finish. The hard part of the ride lasts almost an hour, after which various groups extend the ride or head back to town.

Tucson has various other group rides throughout the week and you can usually check FairWheel Bikes for ride start times.

Tucson also has a few races throughout the winter months, but what really makes Tucson an integral cycling area are some of the other rides surrounding the Tucson Valley. Nobody can mention cycling in Tucson without talking about Mount Lemmon. The climb starts at Mile Zero on the Catalina Highway, which then climbs to Summerhaven at Mile 25 and Ski Valley at Mile 27. Depending on which option you choose, you will climb 6,000 - 7,000 feet.

Most locals only make the journey up to Windy Point at Mile 14 because temperatures above 7,000 feet are typically much cooler. The climb offers spectacular views on pristine pavement and travels through several microsystems from desert to high alpine.

Mt Lemmon might be the most famous climb in Tucson, but the area has plenty of other rides worth your time. To the South, you have Madera Canyon; to the East, Saguaro East; to the West, Gates Pass and Kitt Peak; to the North, San Manuel & Oracle. Most of the riding in Tucson has a decent amount of climbing, so finding a flat ride can be difficult. Navigation to rides is very easy, but if you're interested, you can jump in with some sort of group ride that is offered most days of the week.
For those looking for a more stress-free cycling vacation, there are plenty of businesses dedicated to delivering a stress-free, plush, cycling vacation. Tucson has plenty of hotels, limited camping and a few good options for a fully catered training camp.
The Cycling House offers fully inclusive cycling vacations at a great value. The Cycling House has been hosting cyclist in Tucson for 8 years from January-April and has a very good reputation. A plush house, professional chef and ride support are just a few of the amenities The Cycling House has to offer.

Many other cycling vacation options exist in Tucson but client testimonials with The Cycling House speak for themself. Regardless, if you are looking to mountain bike, road bike, by yourself, with a group, or as part of a stress-free, fully catered training camp, Tucson is well worth the trip; I definitely suggest adding it to your getaway list of potential winter cycling destinations.

Courtesy Owen Gue, The Cycling House