May 10/19 11:39 am - Dorel Reports Improvements in Cycling Division for Q1 2019

Posted by Editoress on 05/10/19

On Friday, Dorel Industries Inc. released results for the first quarter ended March 31, 2019. Revenue was US$625.6 million compared to US$642.3 million a year ago. Reported net loss was US$8.3 million, or US$0.26 per diluted share, compared to net income of US$4.7 million or US$0.14 per diluted share last year.

Despite lower revenue in the Sports division, which includes Cannondale and Caloi under the CSG banner, Dorel reported a profit for Q1, compared to a loss the previous year in the same period. The company is still dealing with the impact of the liquidation of Toys"R"Us in the U.S.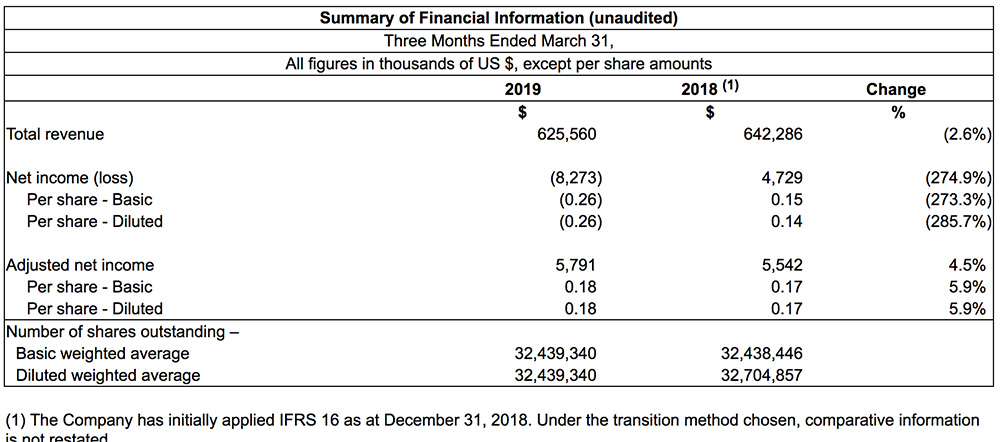 "Despite not exceeding prior year earnings, we are encouraged by the progress being made across our business segments. The wide-ranging actions we are taking to respond to the changing needs of our consumers and to re-build shareholder value are gaining traction. Dorel Home continued its revenue growth trajectory and Dorel Juvenile rebounded strongly from its poor performance over the past three quarters. Dorel Sports' Cycling Sports Group (CSG) businesses had a very good quarter in all of its markets, with only Pacific Cycle showing declines at mass, a trend that has already reversed in April," commented Dorel President & CEO, Martin Schwartz.

In Dorell Sports, first quarter revenue decreased by US$22.1 million or 10.7% to US$184.5 million. Excluding foreign exchange rate changes year-over-year and the divesture of the performance apparel line of business [Dorel sold off Sugoi to Garneau], organic revenue decreased by approximately 5.2%. Operating profit was US$4.5 million compared to an operating loss of US$0.8 million last year. The prior year's first quarter included a US$6.6 million impairment loss recorded on Toys"R"Us trade accounts receivable and a US$1.5 million operating profit related to Toys"R"Us shipments prior to the U.S. bankruptcy.

Excluding the impact of foreign exchange and the performance apparel line of business divestiture, CSG posted higher sales in all major markets. This was driven by new products and increased sales of e-bikes in Europe and growth in the U.S. independent bike dealers (IBD) channel, challenging the industry's negative trend. In Brazil, Caloi revenue grew significant double digits in local currency due to several factors, including a better mix, sales to the country's bike sharing program and price increases implemented last year. The bulk of the operating profit in the quarter was derived from CSG, which posted its fourth consecutive quarter of improvement, excluding impairment losses on intangible assets and property, plant and equipment, and restructuring and other costs, with the Cannondale line demonstrating excellent momentum.





Offsetting CSG improvement was Pacific Cycle which accounted for most of the revenue decline and reduced the increase in operating profit for the segment as a whole. This was due to high retailer inventory remaining from the fourth quarter and poor weather in certain regions. April sales have rebounded with strong POS at all retailers. This will be reflected in the second quarter results as two-thirds of the first quarter revenue loss in the mass channel was already recouped in April.