May 20/21 13:00 pm - Running a Bike Shop in a Pandemic - One Owner's Perspective

Posted by Editor on 05/20/21

The IBD [Independent Bicycle Dealer] sector is struggling, with many dealers having blown through their entire inventories early last year, and little in the way of replacement bikes arriving for this season. We spoke with Brian Travis of Forks Bike Shop in Owen Sound, Ontario, who talked about his experience during the pandemic and associated bike boom.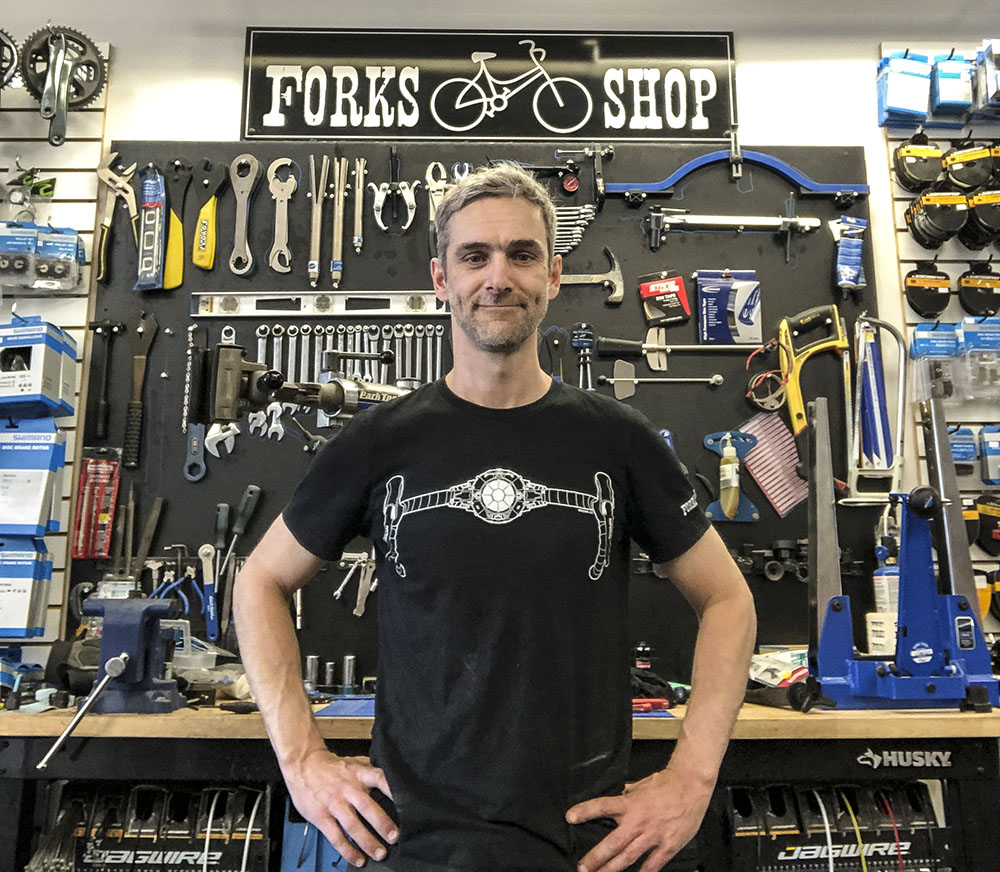 Brian is a multiple time Canadian Cyclist Best Bike Shop award winner, and his shop is now going into its 11th season. His anchor brands are Specialized, Norco and Cannondale. Forks is a full service family bike shop, selling everything from kids bikes, BMX and hybrids, to high end mountain, gravel and road.

Here is his description of what happened in the early part of the pandemic and lockdowns, last year [2020].

"The pandemic started, in all honesty in January [2020], when we all started to get whispers from product managers and chatting with other bike shop owners, and we started to get rumours that there were going to be problems with supply chain further into 2020, when the pandemic hit China first. Most of us, myself included, didn't believe it or appreciate the magnitude of what was going to occur.

"When the first lockdowns happened in early March, it seemed to be a nice edge that bike shops were deemed essential. I was actually anticipating losing the business when the first lockdown happened if we hadn't been deemed essential. If we hadn't been allowed to open, most shops, including myself, would have had a full year's worth of inventory on the floor and a full year's worth of invoices waiting to be paid.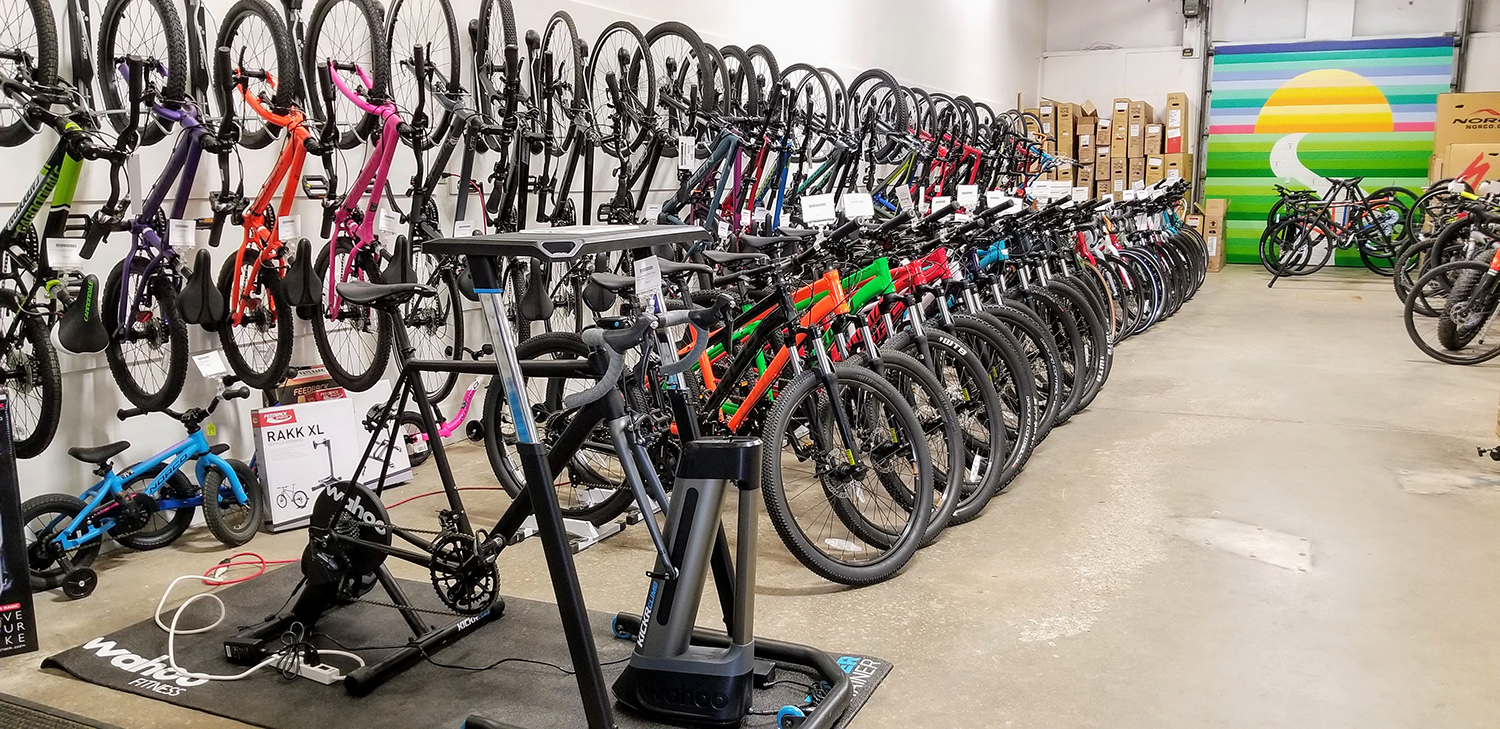 Bike Shop sales floor in early 2020
"Then things went, for lack of a better description, crazy. We were allowed to stay open and cycling was one of the few things people could actually do. So through March, April, May and June - 70 days - most bike shops did a full year's worth of sales, myself included. The phone just rang off the hook. You couldn't keep up with anything, and you sold literally anything that you had that wasn't nailed down.

"I've been in a bike shop since I was 14-15, I've worked in small shops and big shops like Sporting Life and Wheels of Bloor, and I've never had the phone ring off the hook like it did. After a while, I just gave up on trying to answer the phone, to be honest. That was the crazy world we were living in.

"Then, by the end of June and July, all of a sudden, most of us were scratching our heads, going 'there's nothing on the floor'. The true scale of the disruption of the supply chain was then becoming apparent, with your vendors saying 'it's going to a 12 to 18 month lead time on bicycles'. By that point most of us were seeing the writing on the wall, that the next 18 months was going to be what it is now, with almost no supply.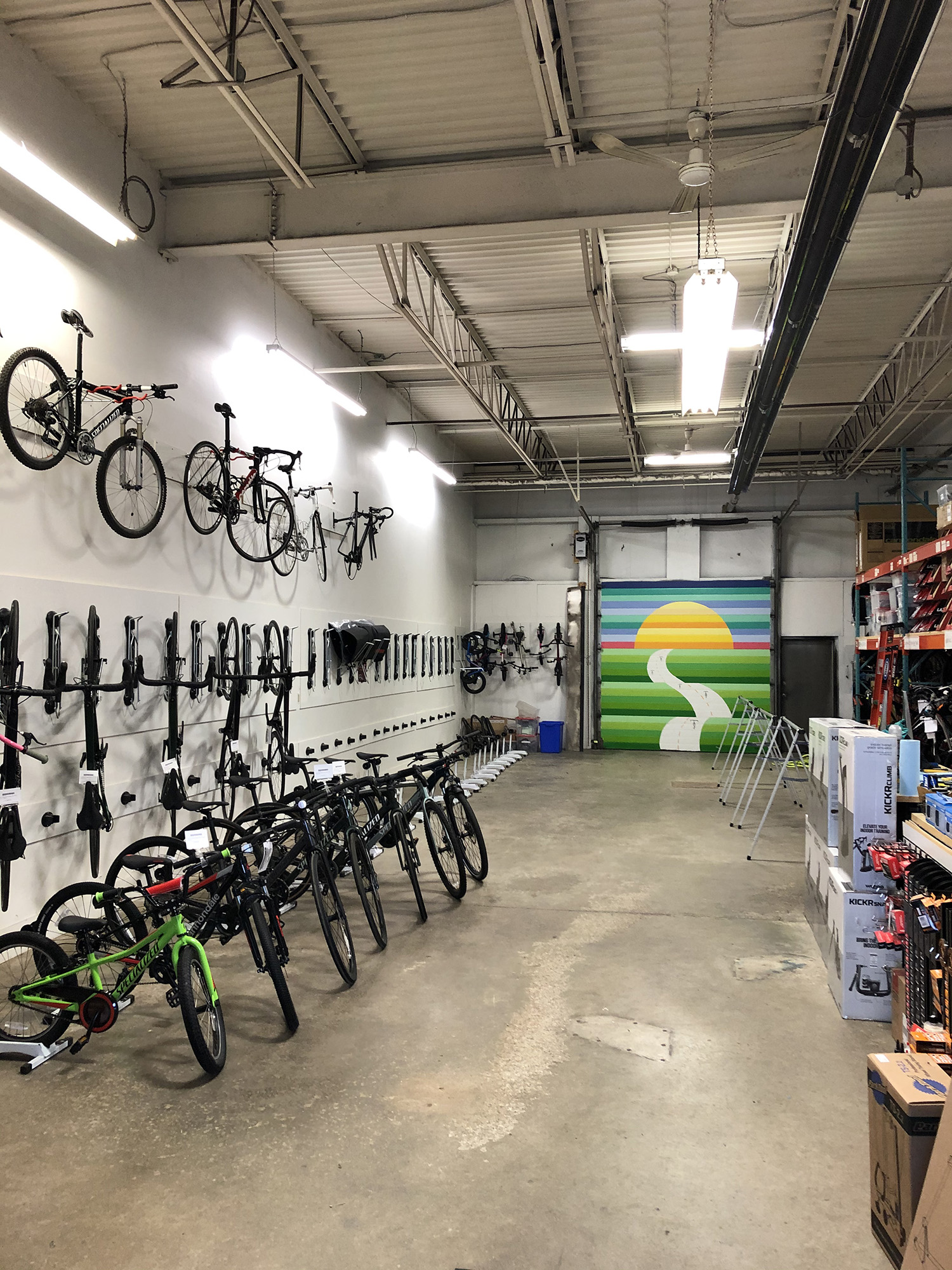 Current sales floor
"One of the amazing things at the beginning was that B.C. and Alberta didn't see the same challenges [a huge sales surge] we saw in the East. I remember the Cannondale national sales rep, they were actually contemplating getting big trucks and driving them across the country stealing all the bikes in British Columbia and driving them back across the country because of the disparity in inventory levels.

"Long story short, by June-July, most of us [bike shops] in Ontario had discovered that this going to be long lasting. I remember talking to a couple of other guys [shop owners] in August and thinking that if you could make it to December-January, then you would have made it, you had weathered the storm. Now, our understanding is that this [May 2021] is half time and you have another 12 months before the bike industry will see the ship righted.

Now, a year-plus in to the pandemic, Brian says things are not improving.

"So, since last June-July, we've been on fumes, to be honest. In terms of inventory, you can't get your hands on anything. Most of the bikes we ordered in August and September of last year still haven't arrived. Even worse, you are now having conversations with major brands where they are negotiating with you on the bikes you've ordered - which ones you are going to get and which ones they are going to have to cancel, because they literally missed the boat [shipping from Asia].

"Canada's bike industry is subject to seasonality; there are two times of year that you get inventory. You get it in the Fall, just before Christmas, and then you get the remainder - at least bicycles - by March. By June, the warehouses were empty, in terms of re-orders. Usually, there aren't that many bicycles in system, anyway, in July.

"The real issue was that anything we would have seen in the Fall didn't show up because it didn't get assembled in China. [Asia]. Most bike shops were ready to rock and roll, but it was all gone, and now we are just sitting here tapping our feet, waiting for something to arrive.

Leaving aside bikes themselves, Brian said accessories - shoes, helmets, clothing, etc. - had hit-and-miss issues with availability.

"That's where it got weird, in terms of the market. The first thing was that bicycle sales of anything under a $1000 was worth it's weight in gold and evaporated quickly. And, it was all new customers you were servicing. My regular customers, for a whole host of reasons, were staying away from the shop. They had a bicycle and didn't need a bicycle.

"Initially, there wasn't much pressure on soft goods, so getting access to shoes and helmets and gloves and clothing last year was still okay. What I noticed was that you didn't have any races - no O-Cup, no triathlons, all that stuff had stopped. The Paris 2 Ancaster and other events would usually drive my regular customers to a new pair of shoes or a new helmet, but that quickly disappeared.

"It was strange - I use Garmin as an example of something you would assume would fall into the same inventory pressures, because someone buying a bike would also buy a Garmin GPS unit ... but last year if you wanted to buy a GPS unit they were in stock, and inventory on things like power pedals was rather robust.

"What I'm saying is, the $4000, $5000, $6000 bike market saw very little change from previous years, you could still get those bikes well into July and August last year. The people buying those bikes likely already had one, so they could just ride that one. And because there wasn't much racing going on, the demand wasn't there either.

"But that's all fallen into the same bucket now. Even finding shoes ... one funny thing is that the Peloton tsunami [indoor trainers] hit us as well. So you had husbands and wives walking in saying 'I need a pair of shoes and a pair of shorts'. Currently if you are looking size 40 or 41 women's indoor cycling shoe, it's impossible. I've sold more women's size 40 and 41 SPD shoes then I ever have.

"So now I would say we are all in the same boat whether it be a bike, a pair of gloves or shoes, or a helmet or sunglasses. Tubes and tires are another one - rubber being what it is, it has been diverted to PPE, which a lot of us didn't realize would be a huge issue. I've had some popular gravel tires on backorder for nine months now.

"Everything is under pressure and you are forced to horde things, like the proverbial toilet paper issue. So when you order tubes now, you order in a magnitude that would suffice for a year, and probably longer. My guess is that everything will be under pressure until at least next Spring.

"Part of me wonders if there will be a major glut next Spring. My reality is that I am looking to most of my bikes from my major suppliers showing up in the Fall, and most Canadian retailers would likely agree with me that most Canadians buy bikes from Easter to Labour Day. And so what I'm worried about is that you are going to have most of these bikes show up this Fall, along with the 2022s, and in the Spring of 2022 you have two years worth of inventory on the floor.

"To guarantee delivery for 2022, most brands were forcing you to put orders in by February of this year. You hadn't even received your 2021 inventory and they were saying if you wanted inventory for next year it's a 12 month lead time.

"So I didn't take deposits on bicycles, and one of the reasons is that, you take a deposit for a 2021 bike, and then [the customer] sees a review online for a 2022, and you don't have their 2021 for them ... so, the natural thing is that they are going to want to roll their order over to a 2022! So there are going to be a lot of bike shops that are going to have to have uncomfortable and frustrating conversations with customers: 'You know that bike you had on order and put a deposit down on last year so that your child has a bike this Spring? It's not here and it's not coming'.

"So at the moment, I don't think I'll have a full sales floor on bikes until the Fall of 2022. Even a full size range of a model. The bikes are coming in in a trickle. Right now I have one bike in a 54 [centimetre]. I think it will be about 18 months before you'll be able to walk into a bike shop and be able to expect to buy a bike like normal.

"What was delivered on time was the high end stuff, so your Ultegra and Dura Ace equipped bicycles, the $4000-$5000-$6000 plus bikes were delivered on time. If you wanted to buy a Di2 gravel bike, I have that bike on the floor. But very few people are looking to spend $7500 on a bike right now.

"What I've seen in the last 12 months is that the brand equity has evaporated. Literally, 'I just need a bicycle, I don't care what it looks like'.

Brian also said the shortages have spilled over into the service department as well.

"Last year was a challenge; it was the year of the shed bike. I had one guy come in and say he needed three bikes for three boys, and I didn't have anything in stock. I said, jokingly, check garage sales to hunt down something. This gentleman went to the dump and pulled three bikes out of the dump and brought them to me and said 'fix these three bikes'.

"In terms of my service department, all of the parts and all of the tubes, all evaporated. At one point I realized that I was going to run out cable housing, something that I order in thousands and thousands of feet. Something that you can't even comprehend running out of. So service last year was incredible because of all the shed bikes.

"This year is different. You are still struggling with the same amount of service, but you are struggling with not even having the parts to fix bikes. You can't assume you have the right brake pad, or cassette, or rotor in stock. There's a lot of stuff that you would have never thought about keeping in stock, you would just build a weekly order with Norco or Lambert, for the odds and ends you needed for service bikes.

"Last year, you were forced by Shimano, or whoever your parts suppliers were, to horde things. For myself, being a little guy, that was a big challenge. It was like going to the grocery store, and if you wanted coffee and cream for the next 12 months, you had to buy it all today. Then you are struggling with having enough space to store it all, and do you have enough money to purchase it all?

"So I was looking at buying rotors and chains and everything to an order of ten times what I would normally do. If this lockdown hadn't happened, I was anticipating being sold out of chains and cassettes by May, and being dead in the water when it came to service. At one point, I was not selling service parts to the public, meaning if dad came in and wanted chains and brakes pads to fix the kids' bikes on the weekend himself, I had to say 'I can't sell you that chain, because then I won't be able to service bikes'. Do not break your bike this year is what I have told people.

"I've been guilty of stripping down my personal bikes for customers. A random Ultegra left front shifter ... I've been telling customers that I can get them one in six months. That [Shimano] SLX cassette you ? Nine months. Forget the magnitude of the number of bikes you are servicing, now it's just the reality of having the parts in stock."

Finally, we talked about what are the biggest challenges Brian is currently facing as a local bike shop owner?

"For me right now, number one is trying to secure financing and be prepared for there being a glut of bicycles, and sales reps calling up and asking if I want bikes. One of the things that happened is that I sold roughly 18 months of inventory in four months, but your lines of credit with your vendors are not nearly big enough to restock that quickly.

"I'll use Norco as an example - I might do $150,000 wholesale with them in a year, but I only have a $50,000 line of credit because you only have 90 day terms. So all of sudden, when you sell everything and you have to put an order in for $120,000 , they say 'that's great Brian, but you can't do that', and Specialized and all my other vendors are in the same boat. So, for me right now, the main thing is working with the BDC [Business Development Bank of Canada] and banks to find alternative ways of financing, because the only way I'm going to get those bikes back on the floor is to order $50,000 , pay it off immediately and get them to ship me more bikes.

"After that, it's staffing and how can I grow my business. I'm still bullish on the market and believe cycling is growing in Canada, but it is an issue to find staff. This year, all the co-op kids won't be showing up because of the state school is in, and then hunting for staff when you have no bikes on the floor and you don't know how 2021 is going to turn out ... I know every shop is looking for a bike mechanic right now, let alone sales staff.

"Also, trying to be patient with vendors ... I'm surprised at how many shops quickly departed from their house brands - you've never sold X, and now you are selling X. I'm trying to be patient with my brands and stay true to those brands so that we can keep consistency in the shop. Dare I say, offer a little loyalty and hopefully we can all make it through.

"If I can finish off with one note - just be thankful that I am still open. Being very lucky that we are still open ... seeing all the restaurants and talking to someone who owns a dojo or a dance studio, and having the perspective to see that we were lucky that we could stay open. We are doing okay, when all is said and done."