September 17/09 12:50 pm - Opus Cervin

Posted by Editoress on 09/17/09

There is a certain style of bicycle that you see regularly in European cities. It has the mud and chain guards, rack and kickstand that appear on the type of bike that in North America is normally referred to as a 'City' or 'Commuter' bike, however, it has a certain sense of style that elevates it beyond a mere piece of transportation to that of a fashion statement. Opus introduced a pair of such bikes to their line up for 2009, under the well-named category of Urbanista.

The Classico offers seven speeds, while the Cervin provides 24. We tested the Cervin around town, for light duty trips to the ice cream parlour and the grocery store, and it suited admirably, even with a steep climb up to our house at the end of every ride.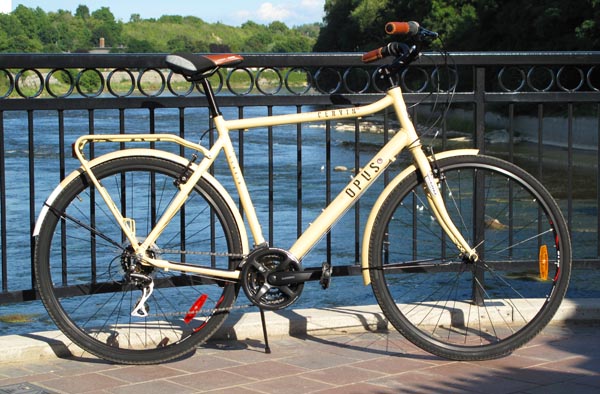 Opus has married a classic bike frame design with a curved top tube (a dropped tube on the Cervin) and oversized down tube. The frame is 6061 aluminium - providing strength without an enormous weight penalty - and the fork chrome molybdenum steel. The Cervin comes in at a respectable 14 kilos (31 pounds). The frame, fork, mud/chain guards and rear rack are all colour coordinated in a matte ivory cream (Opus calls it Sand). Pretty much everything else is black - tires, rims, spokes, bar and stem, seat post and crank - except for stitched brown leather accents on the grips and nose of the saddle. All in all, a very pretty package.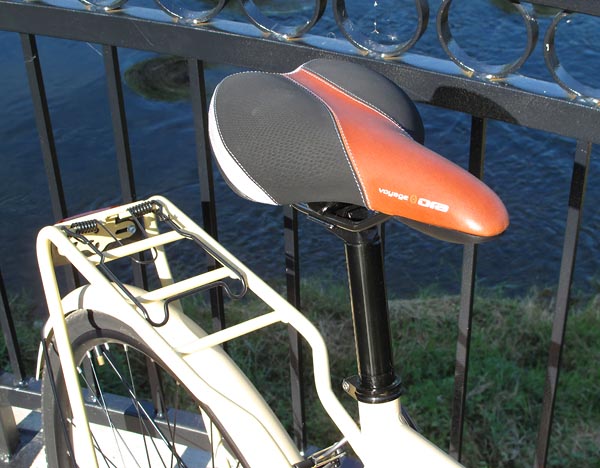 The drivetrain consists of SRAM MRX twist grip shifters married to Shimano derailleurs (Tourney/Altus) and a Shimano M191 crank. None of it is high end, but it does the job just fine for the type of riding this bike is likely to see. The 700x35c CST Touring tires are more than adequate for both road and hard pack gravel bike trails. The only product spec I would quibble with would be the Tectro brakes, which are pretty flexy and can squeal like a banshee under heavy braking.

The sitting position is upright, with back-swept bars - don't even think about aerodynamics! This is a bike for a cruise along the bike path, or a leisurely ride to the market; not for working up a sweat pounding along the pavement. In that respect, it performs well, with good comfort and stability, and can even handle a climb with aplomb.

This is not the bike for a hard core fitness rides, but if you are looking for something in a more relaxed, lighter vein, that still offers good quality at a reasonable price ($610), then the Opus Cervin will not disappoint.

Check out the Opus line at www.Opusbike.com