September 10/15 10:11 am - Review: Norco Search 105

Posted by Editor on 09/10/15

While Norco has a long history with road bikes - including sponsoring the Symmetrics team in the past and H&R Block currently - they are best known as a mountain bike company. This makes them well positioned to enter the new category of Adventure bikes; sometimes called Gravel bikes.

This category is designed for the rider that is looking for a versatile bike that will allow them to ride both paved and gravel roads, and even some light trail riding. Adventure bikes need to be light and responsive enough to not be sluggish on the asphalt, while simultaneously stable and forgiving for rougher and looser surfaces.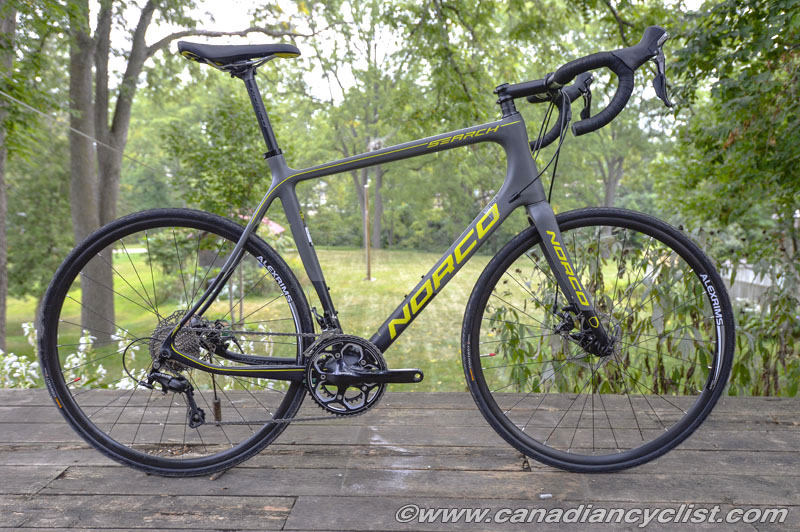 Norco's answer to these demands is the Search series; with six models - three carbon and three aluminum (model tested was the 2015 model year, see note below regarding 2016 models). We tested the $2500 Search 105, which comes equipped with a mid-modulus carbon monocoque frame and carbon fork. The frame is the same on all three models, with the component spec changing as you move up the line.

The multi-shaped tubing incorporates Norco's ARC (Applied Road Compliance) technology, with curved stays and fork providing vertical shock absorption, while at the same time the stiffness required for efficient power transfer. I'm a fan of ARC, having tried it on other models, and can attest that it does soak up some of the road shock without feeling soft or spongy.
The Search 105 is the entry level carbon bike, and comes equipped with Shimano's excellent 105 drivetrain - cranks, derailleurs and shifters. Moving up the Search line takes you to Ultegra, but 105 is a solid system.

Brakes on the entire line are disc, with the two models above our test bike getting Shimano hydraulic discs, while everything below uses Hayes mechanical/cable versions. The mechanical brakes work just fine, but without the modulation and smoothness of the hydraulic version.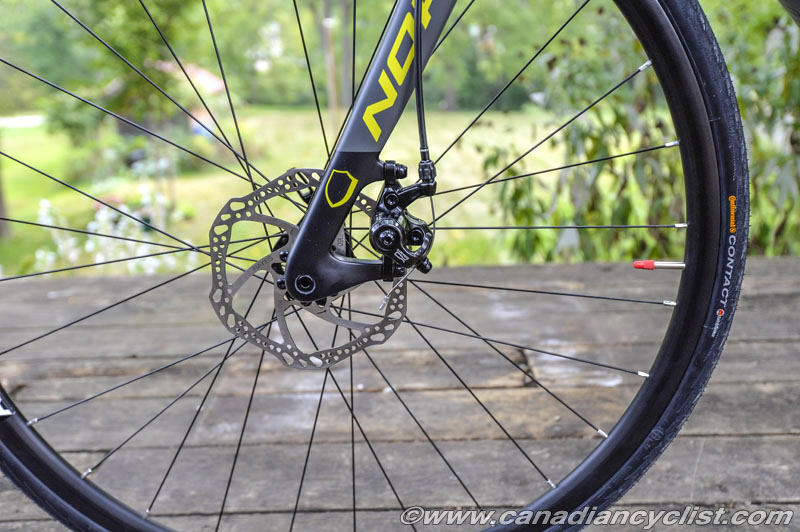 The wheels are a deep cross-section Alex ARD470, which should hold up well under rough use, shod with Continental Contact 700x28c tires. The Conti's are a very good tire, but I would have preferred a wider tire, given the intended use.

One area where Norco's mountain bike background is apparent is in their decision to use through-axles front (15mm) and rear (142x12mm). I think this is an excellent decision; the extra strength and rigidity are important for the planned use, especially with disc brakes.

All-in-all, this is a very well spec'd package, but the proof is in the ride, and Norco delivers here as well. On the road, the Search 105 is smooth and capable. It is not a fast accelerating sport bike, but I would have been surprised if it had been. It carves corners dependably and climbs easily. It would be perfectly at home doing a Gran Fondo type ride.

In rougher conditions it also performs well. I have some gravel roads in the area that gave it a good test, with a mix of smooth hard dirt, stutter bumps and loose gravel sections. The Search 105 soaks up the rough stuff better then a stock road bike and is more stable in the loose stuff; where a faster handling road bike would be sketchy it provides confidence.

The Adventure bike category isn't for everyone; if you want that fast acceleration and tight steering that a pure road bike offers then you will find this type of bike sluggish. However, for the cyclist that wants a 'go anywhere' bike that they can ride all seasons, then the Search should be on your list to check out.

Note: Norco will be making a few changes to the Search line for 2016. There will be four models - two carbon and two aluminum. The Search C.105 will replace the model we reviewed, and will have a couple of upgrades - the ones I wished for: wider (35c) tires and hydraulic disc brakes. However, given the state of the Canadian dollar, this will also likely push the price up.

www.norco.com


Specifications
| | |
| --- | --- |
| Make | Norco |
| Model | Search 105 |
| Sizes | 48, 50.5, 53, 55.5, 58, 60.5 |
| Frame | Mid Modulus Carbon |
| Fork | Mid Modulus Carbon |
| Crank | Shimano FC-RS500 50/34T 11spd - Black |
| Rear Cogs | Shimano 105 CS-5800 11-32T 11 speed |
| Front Derailleur | Shimano 105 FD-5800 |
| Rear Derailleur | Shimano 105 RD-5800-GS 11spd - Black |
| Shifters | Shimano 105 ST-5800 11spd - Black |
| Brakeset | Hayes CX Comp Mech Disc w/160mm rotor |
| Brakelevers | Shimano 105 ST-5800 |
| Hubs (front/rear) | Alloy Thru-Axle |
| Rims | Alex ATD470 Disc 28h - Black |
| Tires | Continental Contact II 28c w/Safety System |
| Pedals | none |
| (SR) Price | 2495 |