November 30/16 11:01 am - Review - 2017 Norco Optic C9.2

Posted by Editoress on 11/30/16

Every bike elicits personal opinions from riders, but the Norco Optic C9.2 was unique in that our reviewer Mike Badyk and our Editor had rather differing views after each spent some time riding the Optic. So, we have included both opinions below. The technical aspects of the bike - specifications, geometry - are straightforward; it's the ride characteristics and the intended rider where the difference in opinions lies. So, you decide.
The Optic line is new for Norco, with the emphasis on making a great full suspension trail bike. There are two main species of the Optic, one with an aluminum frame and the other with a carbon main triangle and aluminum rear. Following that are two sub-species for each of the above, those with 27.5/650B wheels and those with 29" wheels. Then each sub-species has varieties based on the same frame but different components. The aluminum frames each have two varieties or models, and the carbon have four.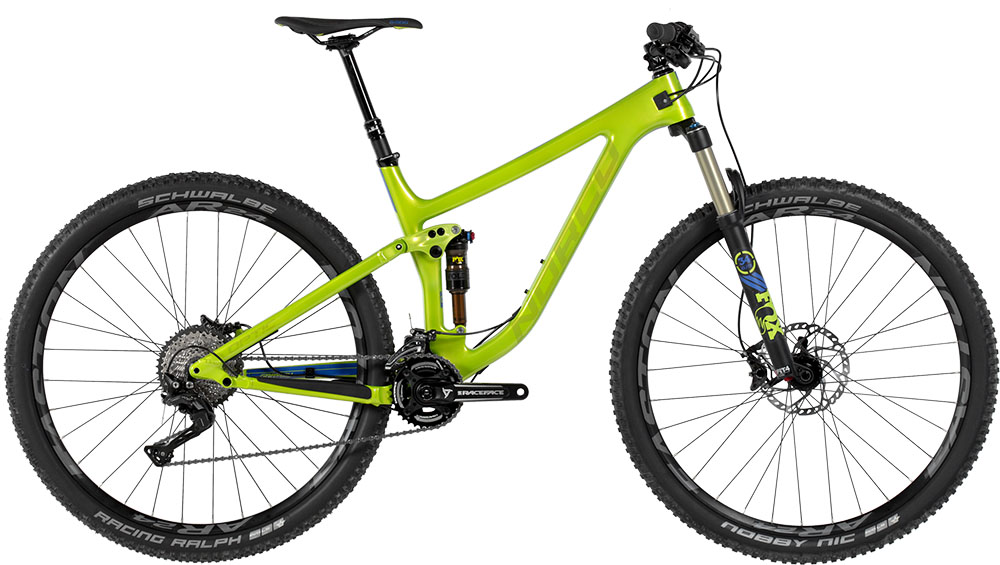 Nocro Optic 9.2
Translated, our Optic C9.2 model name means carbon main frame, 29" wheels and second model up of the four available. The top of the line bikes, the C9.1 and C9.1 Eagle have a MSRP of $9699 CDN, and the entry level C9.3 is $4899. The C9.2 fits in the middle at $6299. The frame is the same throughout with nicely executed multi-shaped tubing, and 110mm of travel for both front and rear. This is a higher end bike overall with a really nice mix of components

Mike's Take:

And that last sentence is why I have done a lot of soul searching over this review. I've ridden the bike multiple times in a variety of different trails. My conclusion is that I'm still not sure about it. Over 6 grand for a bike? If you're like me you've spent less on cars than that. For that much money I would expect to be really inspired by the C9.2 but I'm not. If Norco gave me the bike I'd keep it and ride it, but I don't think it would be my "go to" bike.

I'm a bigger person so 29" wheels were an immediate hit with me when they first came on the market. I've got three of them in the household fleet. I haven't bought a 29" full suspension though. If the trail is really tight and really rough I still opt for my 26" wheeled full suspension with 150mm of travel front and rear. So the first thing with the Optic is I wish there was more travel. 110mm just doesn't seem to be enough when you really want to play. Don't get me wrong - the quality of the suspension on the C9.2 is excellent. The Fox Fox Float DPS Performance Elite EVOL rear shock is a technological marvel. The FOX 34 Float Performance Elite 29 Boost fork is likely the most responsive fork that I've ever had the pleasure of riding. It is just that even for a trail bike, as compared to an all mountain or enduro bike, I'd like more travel.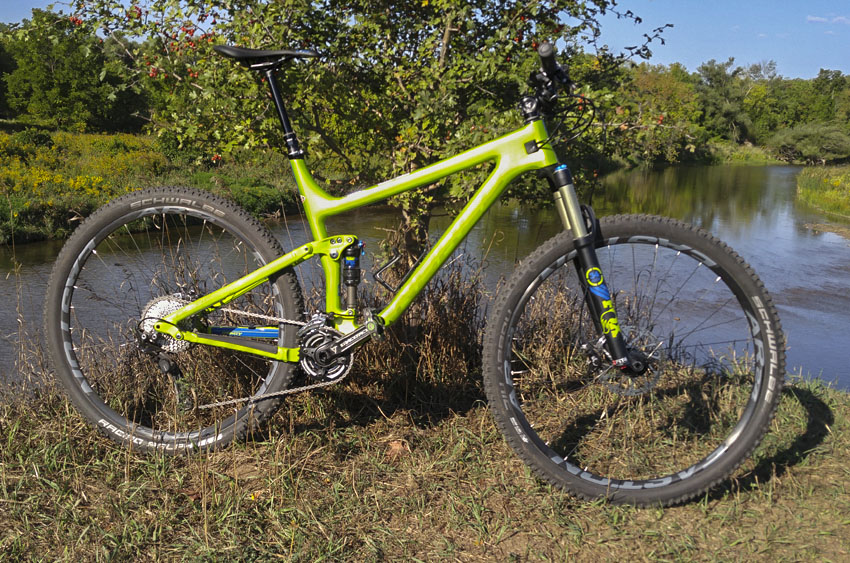 The XL Optic 9.2 was the bike both Mike and Rob rode
From the Norco web site - "The Optic Carbon 9 is a fast-pedaling 29" trail bike that rides with just the right mix of cross country efficiency and all mountain playfulness. Progressive trail geometry has been carefully tuned across each frame size to give every rider the same optimal fit and ride quality, while A.R.T. suspension delivers both efficient climbing and lively, capable descending."
As I mentioned above, I'm not a small guy so our test bike was an XL. Everything about it is generously sized. The fit was good with an ample top tube and lots of room to move around on it. The first thing that struck me though is that from the cockpit the front wheel is a long way out there. The Front Centre (distance from the centre of the bottom bracket to the centre of the front axle) is a huge 769mm. My personal hard tail 29er has a FC of only 675mm. It makes a big difference when you want the bike to be nimble. The C9.2 didn't take well to really tight trails as a result. Combine the long front centre with a 68.5 degree head angle and it wasn't comfortable picking its way through my usual trails. I would be interested in riding the 27.5" wheeled models, which, by the way, have another 10mm of rear travel and 20mm front, just to see if they have more agility.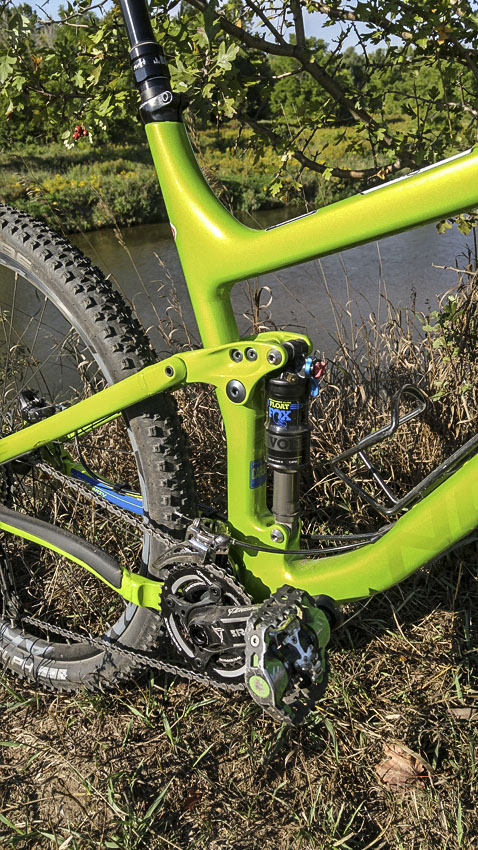 Fox Fox Float DPS Performance Elite EVOL rear shock is a technological marvel.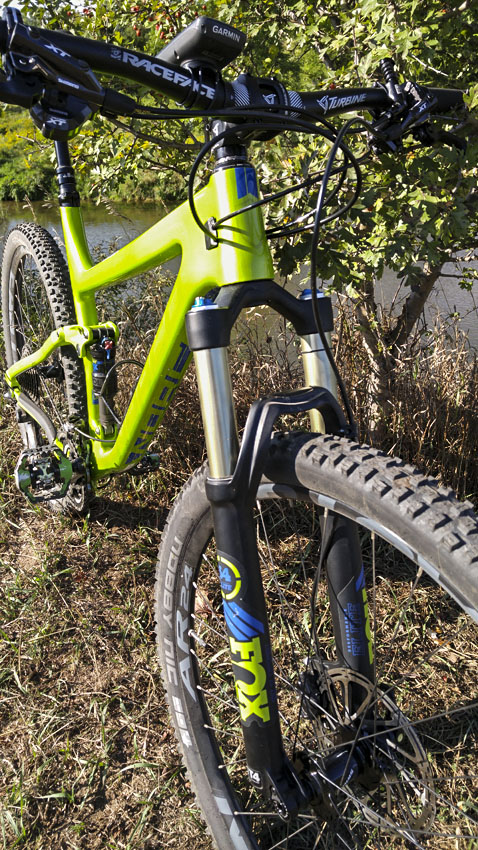 FOX 34 Float Performance Elite 29 Boost fork is a very responsive fork


With the long front centre and fairly slack head tube the C9.2 is much more comfortable descending. You can get way back and it tracks very well at speed. My personal feeling is that Norco has gone more towards the descending aspect than they should have. It would likely be fine on flow style trails but those are in short supply around here. It just wasn't right on the twisty turny single track close to home.

The other result of the geometry is that climbing is what I would describe as sedate. I found myself locking out the front fork and flipping the rear shock setting to firm to improve the climbing. You'll get there with the wide range of gears, but you won't get there in a hurry. As is to be expected with a big bike the weight is up there with a measurement of 13.43kg (29 lbs 11oz) with pedals (large platform clipless - not included with the bike). That doesn't contribute to the climbing either.

What is the shame is that Norco has really done their work on the components. I really couldn't find fault (just one minor quibble) with the component mix. The drivetrain is mostly Shimano XT 11 speed. A 11-40 or 11-42 cassette is used with 2 speed front shifters. The crank is a Race Face Turbine 36/26T Boost. Norco makes it easy to convert the C9.2 to a single front ring, as they include a 30T ring in the box. That's awesome and a tip of the hat to them for that.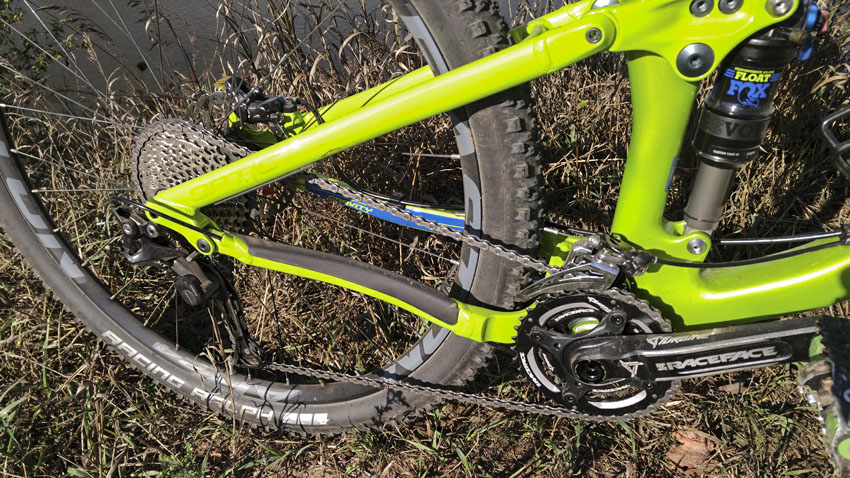 Bang on component selection
The 15mm front hub is from SRAM, the 12x148mm rear hub is from DT and double butted spokes lace to Race Face AR 24 rims. These are shod with Schwalbe Nobby Nic 2.35 tires which are very good. Race Face Turbine bar and stem are used with an SDG Circuit saddle. A nice touch is a Rock Shox Reverb internally routed dropper post. It worked great. Brakes are Shimano XT with a 180mm front rotor which is appropriate for this big bike.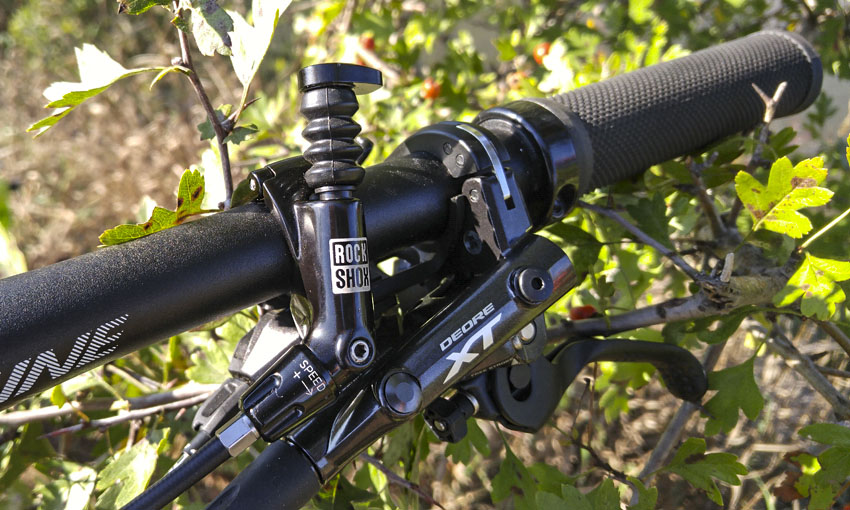 The unified Shimano brake and shift levers was a problem for Mike, but not Rob
The quibble - this is my first experience with Shimano brake and shift levers unified on the same bar clamp. I couldn't get the shifters far enough away from my hands. I set the brake levers up where I wanted them, and then moved the shifters on the mount as far inboard as I could. I still kept hitting my thumb knuckle on the ends of the shift levers. I have big hands, typically XL or XXL gloves, and this was annoying after a long ride. If you went single chainring half of the problem would be gone. It might not be an issue for you but it is worth considering.

After living with the Optic C9.2 I still find myself in a quandary over it. Am I that spoiled? Do I want more? I have ridden $10,000 bikes. I would expect close to perfection from a bike worth that much. Still, $6000 is a lot to spend and I would expect to be pretty close to perfection. I came away expecting more, for a lack of a better word, "inspiration" from this bike. It is fully competent with great components but I was expecting something more. I suggest that you try it first. You might disagree with me completely.

Rob's Take:

I purposely didn't read Mike's review before riding the Optic because I wanted to come in without any pre-conceived notions.

When the whole trail/enduro style of bike was introduced I found that many offered some of the benefits of a bigger hit gravity bike but suffered from too much weight and slow-steering geometry to really be a bike that you would want to ride up hills or on tight and technical trails. They may have been suitable for some bike parks or west coast riding, but on the east coast trails, with short, sharp climbs and narrow, tight single track, they didn't cut it. This was a case of compromise not making anyone happy.

However, the idea of a bike that offers both fully suspended downhill capabilities and can climb reasonably well is one that I can definitely get behind. It is something that is likely impossible to achieve perfectly - given the differing requirements to meet each goal - but the Optic C9.2 comes closer to that ideal than most.

The Optic hews closer to the gravity range than that of a cross-county bike, which is why Mike and I agree that it descends well and inspires confidence. However, we differ on the technical aspects and the climbing capabilities.

Within 20 minutes on my first ride I was already comfortable with the handling on our narrow trails; with the only drawback the width of the bars in a few really tight sections. The suspension even made me faster on some rough rooty sections that can buck you around at speed.

There is no denying that there is a weight penalty; that's to be expected with a big-wheeled full suspension unit like this. However, I found the Optic to be a well planted climber - the only thing that limited my ability was fitness (too much time on planes in the last couple of months...). It is never going to accelerate up the climbs, but you will make it to the top given the well-planned gearing.

Regarding Mike's quibble about the brake/shift levers ... his "mitts" are too big, because I had no problems.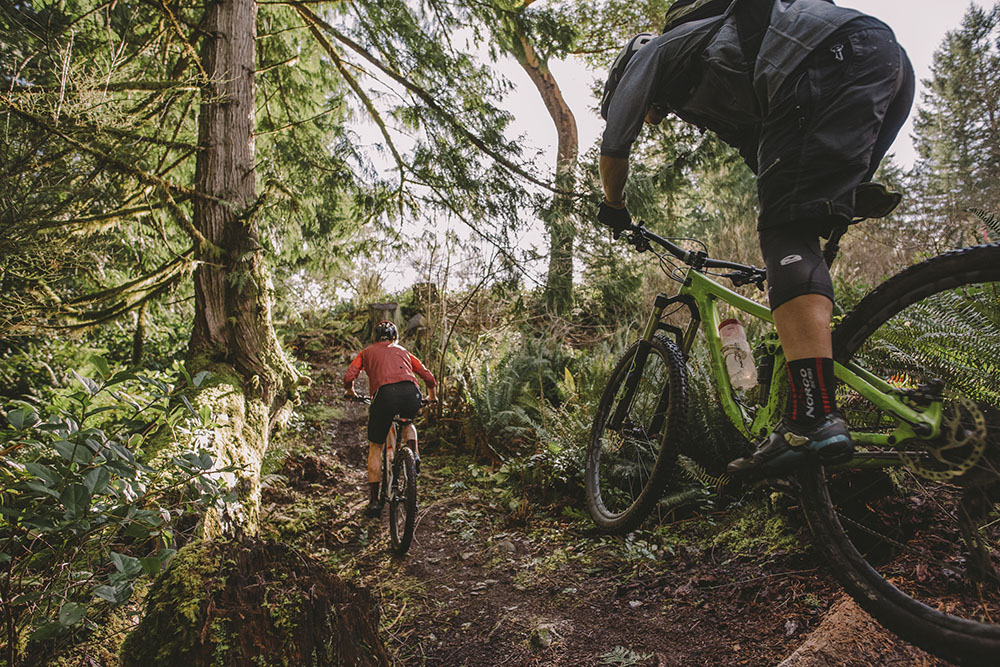 As to who this bike would suit, I would say that a rider who prizes light weight manoeuvrability above all else probably wouldn't be happy with the Optic. However, someone who likes bike park type riding, moderate downhilling AND wants to be able to ride proper cross-country trails will find the Optic meets their needs. This is a compromise I can definitely support.


To view all of the Norco bikes go to www.norco.com