February 9/17 12:21 pm - Jakroo Custom Clothing

Posted by Editor on 02/9/17

It used to be that custom clothing didn't make sense unless you were a racing team or a very sizable club. The required minimums in terms of jerseys and shorts, plus the whole design process added up to a significant investment of time and money.

As with many other manufacturing areas, improved technologies and online ordering processes have streamlined this industry, and a custom cycling kit has become an affordable option, with numerous companies now offering the option of ordering as few as a single unit in a custom design.

One of those companies is Jakroo Canada, the Canadian division of U.S.-based Jakroo, which has its headquarters in Vancouver and is led by former Canadian Olympian and road pro Ron Hayman.

Ron contacted us last year to see if we would be interested in taking their custom ordering system out for test drive, and we interested to see how the process had changed from the old days of hand-sketched designs and multiple choice order forms.

Jakroo has their own dedicated factory, so they boast turnaround times of as little as two weeks from the time an order is placed (less than 25 pieces of any given item), and only a week more for larger orders.

While Jakroo does not have some of the proprietary materials that companies such as Giordana, Santini or Castelli have developed, they do offer a broad range of excellent quality moisture-wicking performance fabrics and laser-cut, shaped chamois for shorts.

Our ordering process began on the jakroo.ca website, where we began by building our jersey design. Jakroo offers four short sleeve jersey models, long sleeve and sleeveless versions, plus three mountain bike models. There are also up to three different fit options, ranging from a body-hugging pro fit to relaxed fit. We chose the mid-level Tour.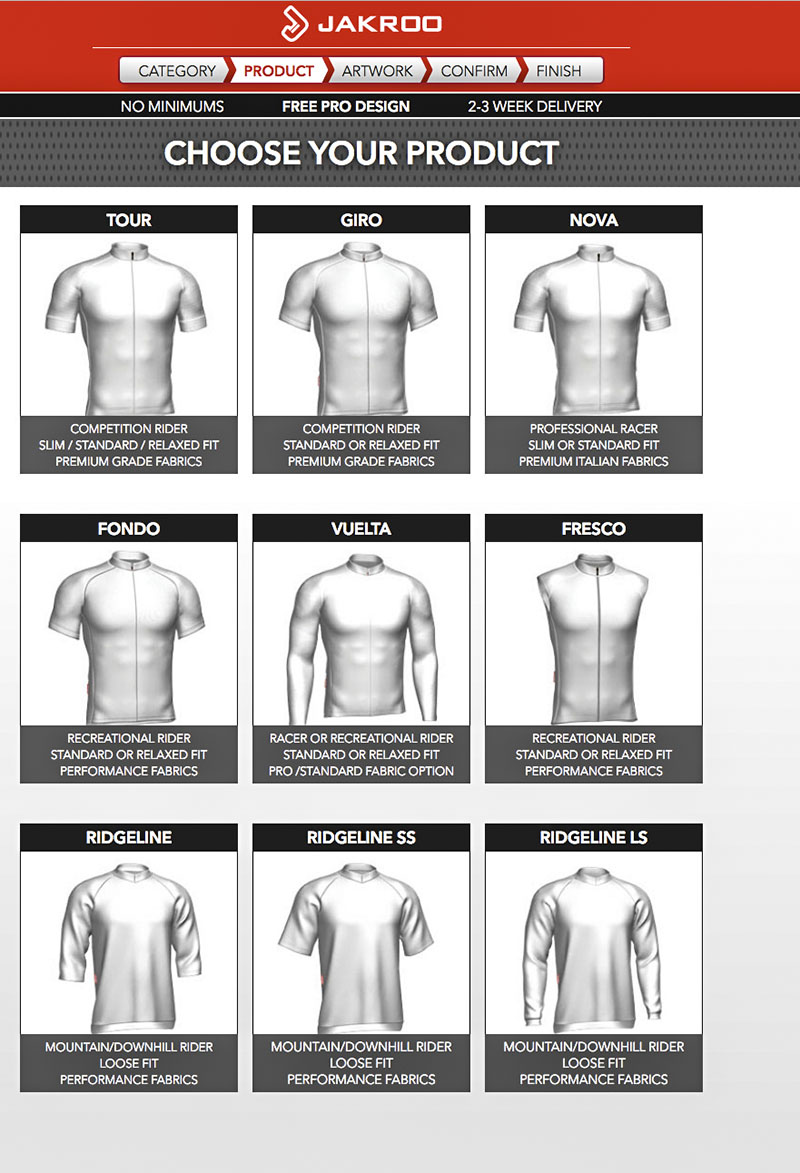 Choose a jersey model
You then are taken to a page where you select from three 'styles' - Classic, Edgy and Extreme. We went with Edgy, and were led to a colour selection page, where you choose the main colour and accent colours (up to three) of your design (you can also specify a specific Pantone colour during the process).

At this point, you can also upload artwork and logos and then select the quantity, at which point Jakroo takes all this information, puts together your design and sends you a mockup to look at within a few days.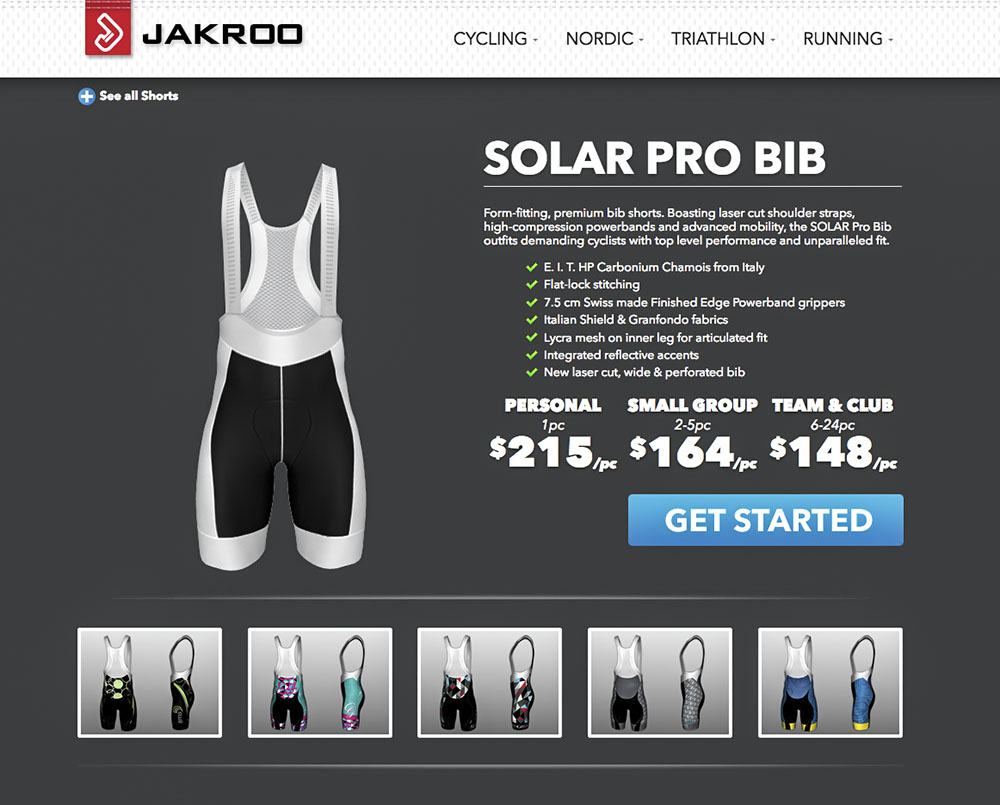 Once you have chosen the model work on the design
The process for shorts, if you are adding those to the order is basically the same, with six models offered in shorts and bib shorts variations (we went with the top-of-the-line Solar Pro bib). There are also multiple skin suit options, plus outwear (vest, jacket, knicker and tights) and accessories (caps, arm warmers, leg/knee warmers, gloves and shoe covers).

We received an email from Jakroo with a link to the mockup and, once we had approved the design, it went into the system and we received our order less than two weeks later, as promised.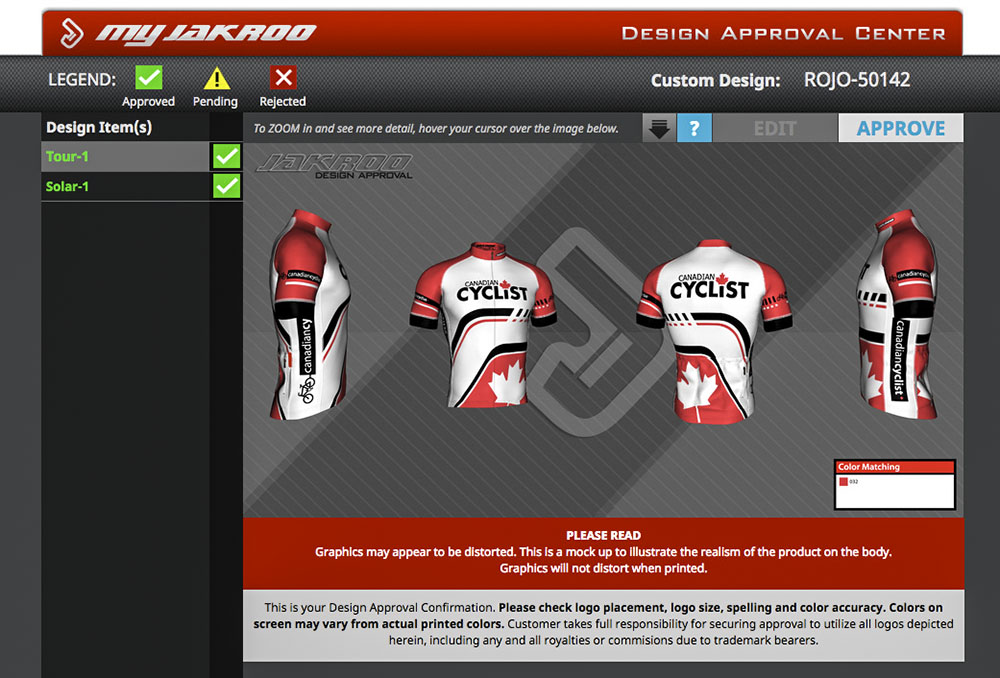 Jakroo sends a mockup of your design for approval

I must say, I was impressed with how it turned out. The quality of the artwork was excellent, and the workmanship very clean and tidy. Shoddy work usually shows up in things such as logos that aren't properly placed, graphics that are shifted and don't line up properly, zippers that aren't aligned, etc. Our Jakroo stuff had none of those problems and looked pretty smart.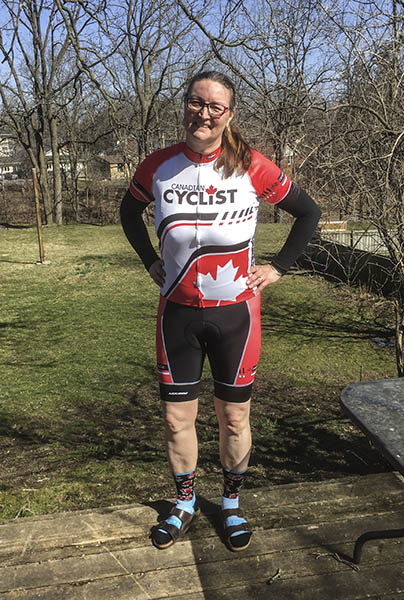 In terms of quality, the fabric fits well and wicks moisture efficiently. The silicon grippers at the waist of the jersey and the legs of the shorts are a very nice touch. The chamois is not up to the standard of some really high end (read: $300+) shorts, but it is good quality; well what you would expect to see on a $200 pair of shorts.

Our test order was for four jerseys and four pairs of bib shorts; in other words, a couple of sets of kit each for two people. The pricing at this level was $119/jersey and $164/shorts. Add in less than $15 for shipping. For the quality, this was very reasonable.

So maybe it's time to think about personalizing your ride.
Visit jakroo.ca.