May 4/17 14:58 pm - Review - Louis Garneau Klondike Shoes

Posted by Editor on 05/4/17

I have a long history of battling cold feet while cycling. In the 1970s, it was silk socks under heavier socks, and possibly a pair of woolly socks over the top of my shoes with a space cut out for the cleats. If it was dry and not too cold, this worked okay.

As we moved into the latter 1980s, more effective booties started to show up, with materials such as neoprene. The booties did a better job of handling the wet, but most breathed very poorly, so your feet would sweat and then get cold.
In the 2000s, dedicated cold/wet weather footwear began to appear, but most of them were, to be blunt, poor. Oh sure, they would keep your feet dry and maybe even warm, but the construction left a lot to be desired. They often consisted of booty-like material attached to an existing shoe model, they didn't fit well and would dig into your ankles and, especially for off-roading, were not very great to walk in.

Enter the Garneau Klondike, and I can say, without hesitation, this is the first cold/wet weather cycling shoe I have tried that actually does the job.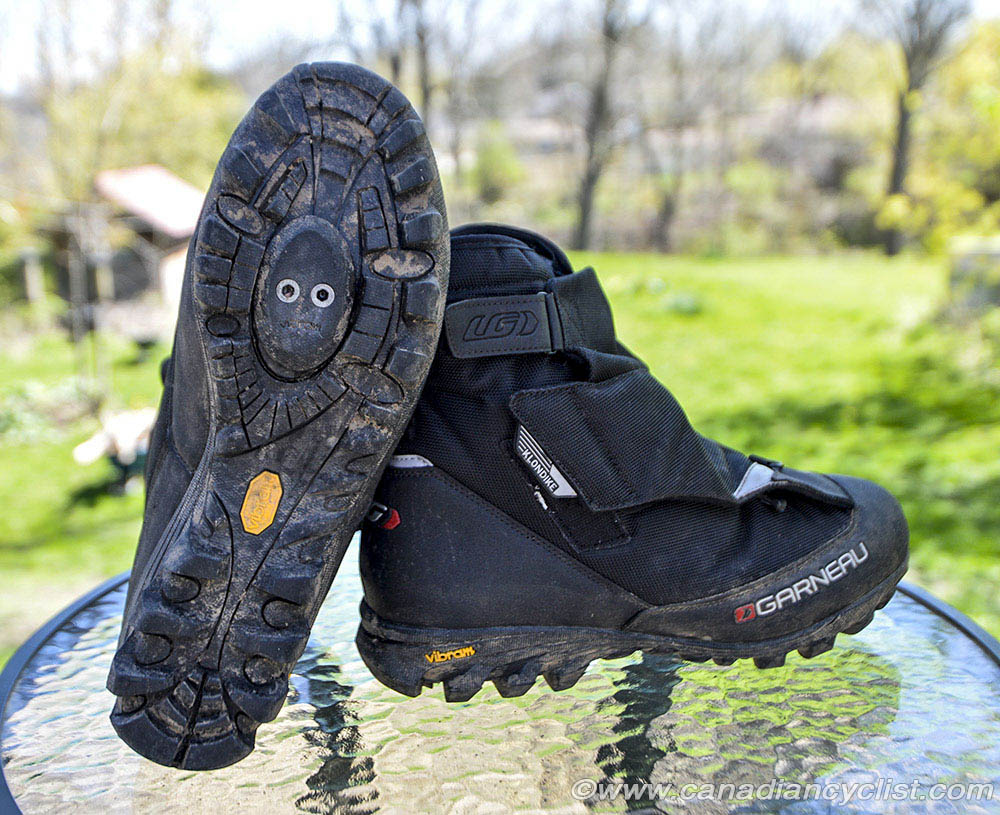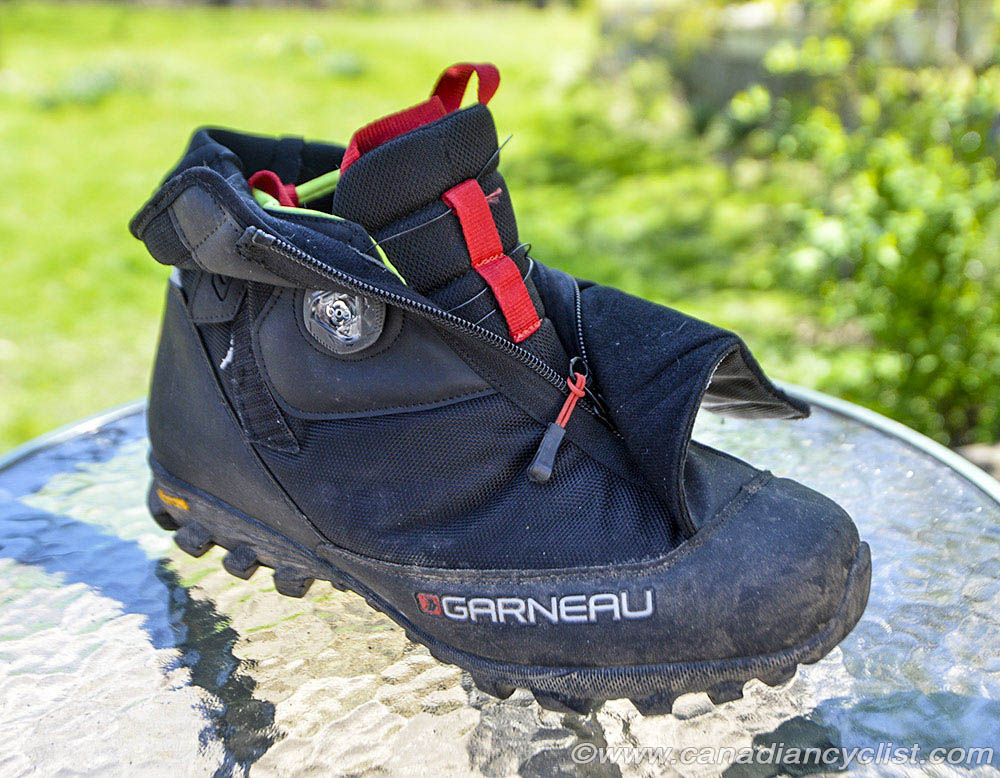 Cordura nylon outer fabric with Thinsulate underneath and a neoprene cuff to stop moistu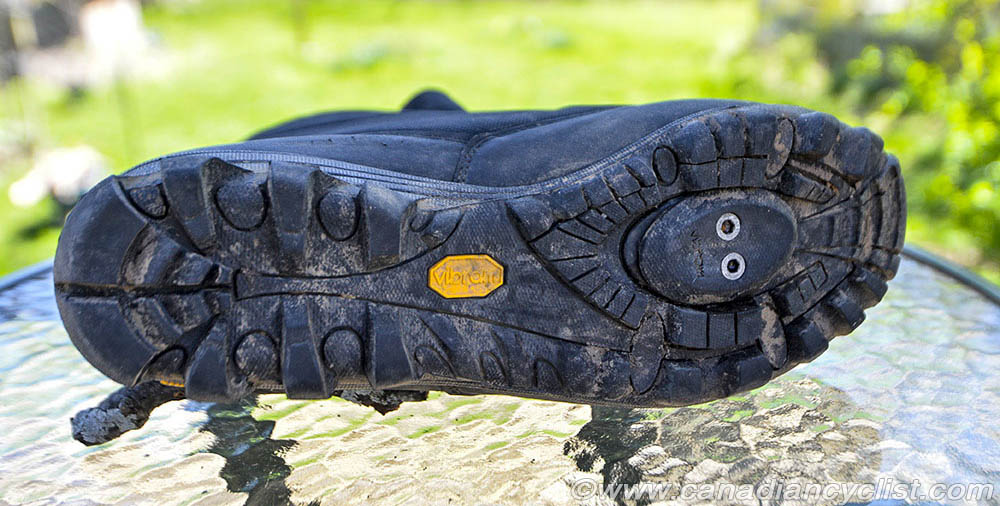 The sole is Vibram with a rugged tread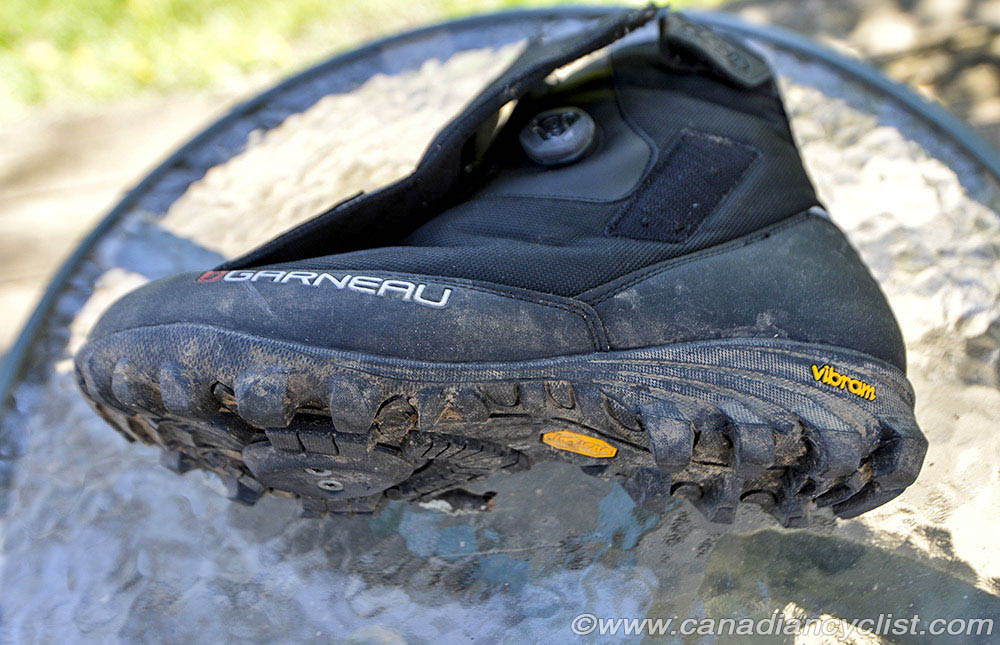 The construction is integrated - along the lines of a cross-country ski boot - so the fit is excellent. The sole is Vibram with a rugged tread for excellent traction. It accepts SPD-style cleats and comes with a cleat cover, so that if you aren't using cleats, cold and moisture can't get inside the shell.

The lower part of the upper is moulded and rubberized, allowing no moisture in. Above that is a Cordura nylon outer fabric with Thinsulate underneath and a neoprene cuff to stop moisture coming in from above.

The retention system consists of three parts. You slide your foot in like it's going into a sock, then cinch down with the Boa system used by many manufacturers. Over that you zip up the front of the boot and then, over that, the outer Cordura layer is velcroed in place.

It sounds complicated, and the first couple of times you try it you will struggle a bit, but after that the entry/exit is pretty straightforward. The difference from other multi-layer systems, is that this one doesn't constrict or feel bulky; you are just wearing a pair of shoes. The Klondike might feel loose if you wear it with regular socks, because it is built on a wider/taller last so that you can wear thicker socks.

I rode in many conditions, from sloppy, wet mud, to cold crisp snow. Riding - or getting off the bike and pushing - these shoes felt as comfortable as any good pair of cycling shoes, with no compromises for the extra materials and layers.

My feet remained dry, even when I was hose washing the bike at the end of rides - the only time they got wet was full submersion.

Cold prevention wasn't quite as successful - the Thinsulate is too light to really provide that level of insulation in really cold conditions (below -10C) or on extended rides. However, there are lots of options for warming socks, and the interior volume will allow the use of them.

I've talked about the Klondike primarily in terms of off-roading, but it works perfectly well on road bikes as well, with good clearance. One caveat is that it does not appear to work with Look-style cleats, just the SPD-style.

Pricing on the Klondike is $324.99, which I think is fair for a shoe that you will get multiple seasons out of.

garneau.com