May 21/11 18:06 pm - GP Gatineau report

Posted by Editoress on 05/21/11

World Champion Bronzini Wins Grand Prix Cycliste Gatineau Road Race

By Sarah Moore

World Champion Giorgia Bronzini, riding for Colavita Forno D'Asolo won the eleven-lap, 103.4km Grand Prix Cycliste Gatineau today, edging out Laval, Quebec resident Joelle Numainville (TIBCO/To the Top) and her Colavita teammate Theresa Cliff-Ryan. Team Canada riders, Leah Kirchmann and Clara Hughes, finished fourth and eighth.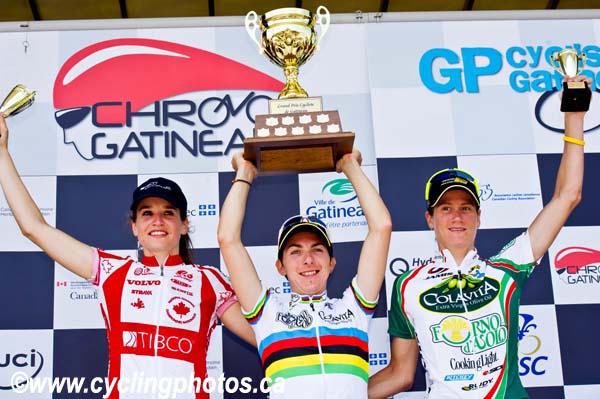 podium: Joelle Numainville, Giorgia Bronzini, Theresa Cliff-Ryan
"With Georgia here, one of the best sprinters in the world, and me, an up and coming sprinter, we really wanted to work to get it into a sprint today," said Cliff-Ryan after the race.

It was an aggressive day and from lap three of the race, Colavita riders made their presence known, with two of their riders, Barbara Guarashi and Cliff-Ryan, off the front in a breakaway group of eight riders. Erinne Willcock (TIBCO/To the Top), Leah Kirchman (Team Canada), Lesla Kalitovska (Ukraine National Team), Karol-Anne Canuel (Vienne-Futuroscope), Moriah MacGregor (Team Juvederm-Specialized) and Stephanie Skoreyko (Kallisto/Wheels of Bloor) were also part of the first breakaway.

"We thought that it was likely that it would come down to a sprint finish because it's not a super selective course but there still were breakaway attempts and I was excited that we could have Canada represented in the break," said Kirchman.

The eight-rider group dropped down to seven during lap four as Skoreyko was absorbed by the peleton, but the group continued to lead the race until the beginning of the eighth lap. Then Denise Ramsden (Team Juvederm-Specialized) attacked and took the lead. Kirchman attempted to go with her but was unable to bridge.

"Denise attacked and then Clara [Hughes] attempted to chase but all eyes was watching her and so everyone went but then Clara sat up and so I went," said Kirchmann. Hughes said that she did feel like everyone was watching her today.

"I was quite marked. I had a shadow all day of the World Champion. So whenever I tried something Bronzini was with me. But I respect that. I'll take that as a compliment," said Hughes.

Since Hughes' every move was being watched, Kirchman was the Team Canada rider who attempted to catch Ramsden as she went off the front.

"I thought maybe some people might come with me and help chase her down but then I was just alone in trying to bridge," said Kirchman.

Unable to bridge the gap on her own, Kirchman then rode with the rest of Team Canada in the peleton, while Ramsden stayed ahead of the peleton on her own for laps eight, nine and ten, leading the peleton by almost 50 seconds for two of those laps.

"It's pretty long off the front, a little bit harder than just sitting off the back, but it was fun being off by myself coming through the start and finish with so many people cheering," said Ramsden.

Anna Solovey (Ukraine National Team), Julie Beveridge (Vienne-Futuroscope) and Catherine Cheatley (Colavita Forno D'Asolo) attempted to bridge to Ramsden before being sucked back by the peleton.

"I saw the three coming across and I was kind of hoping that they would catch me. I didn't really want to end up off the front by myself but once I had the gap I had to keep going. I was hoping people would break off with me when I went," said Ramsden.

At the beginning of the final lap the wind picked up a bit and the peleton soon caught a tiring Ramsden. The peloton then rode as one group for the final lap, a situation which Colavita Forno D'Asolo was happy with. Bronzini said that her tactic was to remain with Hughes throughout the race and make sure that she didn't attempt a breakaway like she did during the Pan American Championships.

"She is so strong. But when she saw me on her wheel she stayed calm the rest of the laps," Bronzini said.

Bronzini knew that her team was capable of setting her up for the final sprint and she was relieved when Hughes didn't attempt to attack on the final lap. Numainville, also a talented sprinter, was happy that the race came down to a sprint but a little disappointed with second place after winning the race last year, especially since she felt she was boxed in by Bronzini for the final sprint.

"I knew I had to be around the corner first to win but I was second. Hopefully next year I'll be first," said Numainville.

The position is sure to be fiercely contested after the huge success of this year's event.