July 2/13 9:10 am - BC Bike Race: Day 2

Posted by Editoress on 07/2/13

Campbell River, 54 km

The BC Bike Race takes Canada Day Seriously and showed the world through it's international riders what they Canadian's have to be proud about. A trail network that seems boundless. Day Two of the BC Bike Race Presented by CLIF Bar rolled into the town of Campbell River with its merry travelers after an early departure from the quite streets of Cumberland. Originally renowned for it's Salmon fishing, the trails of the now famous Snowden Demonstration Forest surrounding the town saw a different type of angling as riders got hooked on a new trail experience. Less climbing and more speed had riders pumping and flowing their way back to base camp at Willow Point Park. For Day Two the sun continued to shine on the race but the old growth forest kept racers cool beneath it's verdant canopies. With trails like Lost Frog, Mudhoney Pass and Boxed Lunch, it seems British Columbia's most vibrant industry is the production of trails worth traveling the world to ride.

There are no separate courses for elite riders or for the weekend adventurers. Some finish and look at their times while others say they don't care, but, curiosity usually gets the best of them and they sneak a peek "Just to know". To see an almost five hour gap between the first rider and the last is proof that it's doable for many levels. It's worth marveling at the perseverance at the back of the pack and the strength at the front.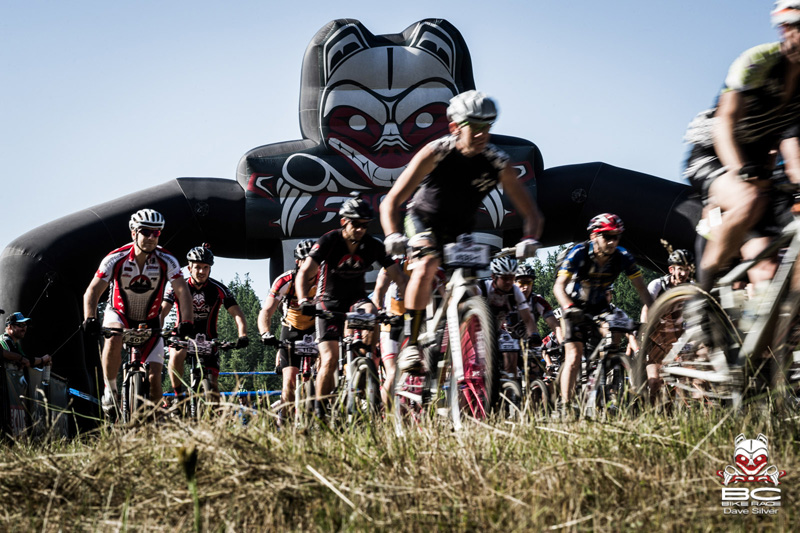 Despite the percentage of people who claim they are not racing there is still a serious cut-throat battle happening at the front. For the second year in a row a stage finished in a three-man sprint between the current race leader and those vying to take control. Essentially tying, Kris Snedden (Kona) and Neil Kindree (Specialized/ Corsa Cycles) sprinted across the line for the same time after a drag-strip show of power over a wheel sucking stretch of grass. Spencer Paxson (Kona) held the wheels of the two riders till almost the end but finished a second behind the dueling duo. Matt Hadley riding for Xprezo pulled in seven seconds behind and the red-bearded Dane, Erik Skovgaard (Racing29ers), held tight all day and even lead through sections of the trail Mudhoney, only to fade 45 seconds in the end.

The men's race really shifted to team tactics when race leader Snedden burped a tire. His teammates Cory Wallace and Paxson were in the group with Skovgaard, Hadley, and last years champion Kindree. When it was apparent Snedden was catching back up, Wallace waited for Snedden and proved his brass by working to bring him back towards the lead group for 15 or 20 minutes to the start of the first Enduro Stage. Snedden gapped wallace and made his way back to his main adversaries. Paxson, Wallace and Snedden played a classic "Zone Defense" according to the American Paxson. "Cory Drilled it probably harder than I would have gone by myself." Kindree is definitely continuing to be a marked man.

Wendy Simms brought Kona their third podium of the day with a Kim Hurst (Mud Cycles) and Trish Grajczyk (Deadgoat Racing) trailing in five and 11 minutes back. Simms switched back to her dual suspension for the rest of the week after thinking her lack of training would be boosted by a hardtail on day one. It's the Women's race that represents the most countries in the top five with riders from New Zealand, Switzerland, Norway and Canada showing how international the BC Bike Race has become.

Tuesday the race visits Powell River for the the fourth time in BCBR history. Situated on the banks of the Georgia Straight, this stage has become one of the riders favorites. Last year racers were greeted with bagpipes and the town ringing cowbells as they departed the BC Ferries and walked to camp. Andreas Hestler, BCBR's Media captain sees Powell River as another jewel in the week for the riders "The community is really into it, the trails are amazing, and it's an incredible base camp sitting right on the beach. It's the triangle of power." It'll be a full body workout despite the deceptively small amount of climbing on the course profile. No matter how the day goes for racers they'll have an opportunity to rest their legs and minds while watching the sun set from their tents.

RESULTS
Report by Harlan Price
Photos: Margus Riga, Dave Silver, Eric Peterson, Todd Weselake
Fatal error
: Uncaught Error: Object of class PDO could not be converted to string in /home/canadiancyclistcom/canadiancyclist.com/public/modules/news.php:528 Stack trace: #0 /home/canadiancyclistcom/canadiancyclist.com/public/modules/news.php(517): getrelatedgallery() #1 /home/canadiancyclistcom/canadiancyclist.com/public/dailynews.php(58): getDailyNewsArticle() #2 {main} thrown in
/home/canadiancyclistcom/canadiancyclist.com/public/modules/news.php
on line
528