July 19/16 23:50 pm - Betouigt-Suire Takes Overall Lead at Abitibi After Stage 1

Posted by Editoress on 07/19/16

Stage 1 of the 48th edition of the Tour de l'Abitibi finished with a field sprint in the host town of Rouyn-Noranda, taken by French rider Clément Betouigt-Suire (André Cycle Kaycan Raycan RDS). Charles-Étienne Chrétien (Team Canada) finished second and Hayden Strong (Team New Zealand) was third.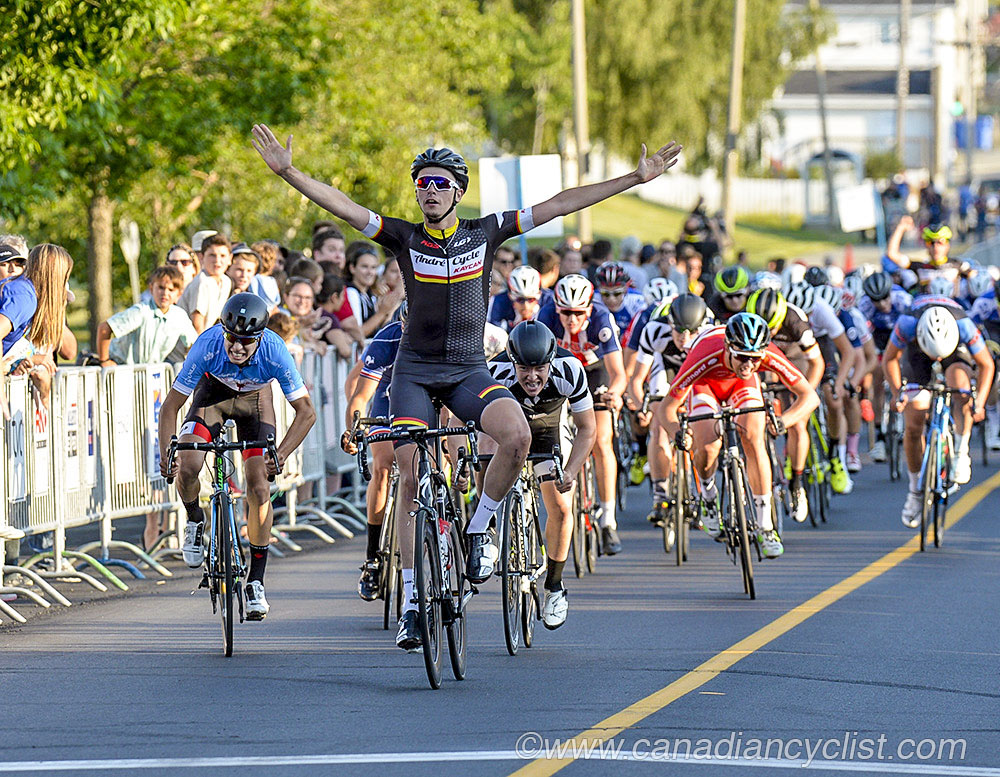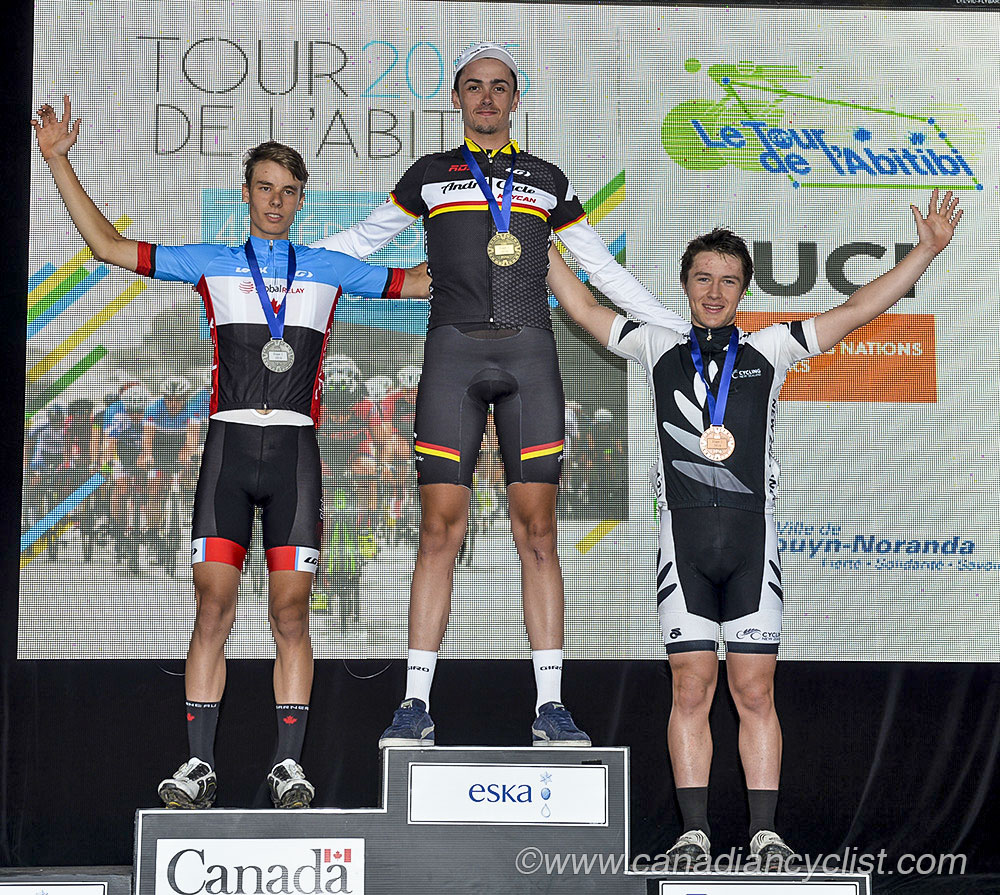 The 113 kilometre stage started in the town of Amos - the hometown of second place finisher Chrétien. While temperature was a pleasant 20C, there was strong and gusting wind, which would prove to be a factor in the race. After a 102 kilometre route to Rouyn-Noranda, the field did three laps of a 3.7 kilometre finishing circuit, with a slight uphill kick to the finish line.

Multiple breakaways were attempted, but none got as much as a minute up the road before the wind took its toll. There were also a number of crashes in the first 20 kilometres that split the field and caused a lot of chasing, plus a few in the final kilometres. The most dangerous breakaway consisted of Canadian national champion Thierry Kirouac Marcassa (Team Canada) and Jules Gilliam (Team USA), heading into the final 30 kilometres. However, Betouigt-Suire's team mates went to the front to pull it back.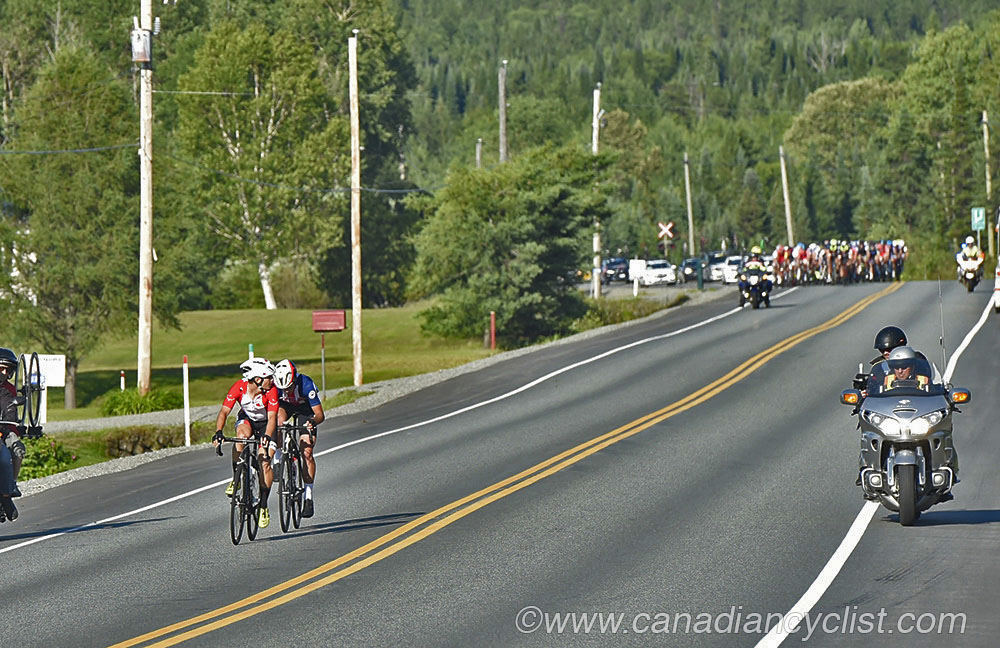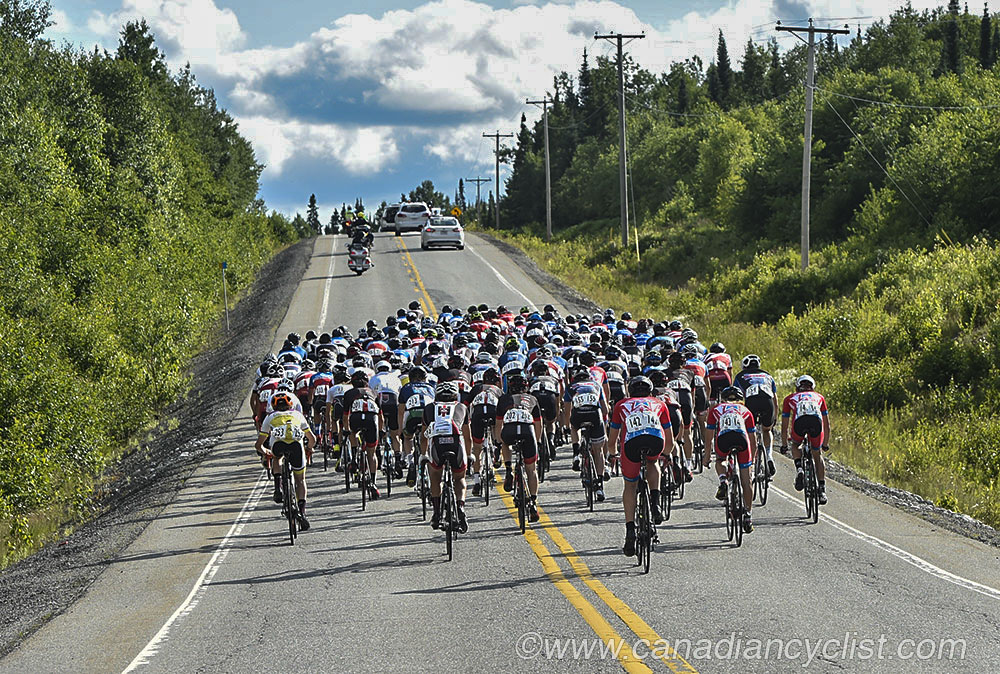 Coming into the circuit the peloton was all together, and it remained so to the final straight, with Betouigt-Suire going to the front a long way out and holding off Chrétien at the line.

With his win, Betouigt-Suire became the overall race leader and the Points leader, while Strong took the Climber's Jersey and Chrétien the Blue Jersey of top Abitibi rider.

Stage 2 will see the riders cover 116 kilometres - the longest stage of the race - from Val d'Or back to Rouyn-Noranda.
Fatal error
: Uncaught Error: Object of class PDO could not be converted to string in /home/canadiancyclistcom/canadiancyclist.com/public/modules/news.php:544 Stack trace: #0 /home/canadiancyclistcom/canadiancyclist.com/public/modules/news.php(533): getrelatedgallery() #1 /home/canadiancyclistcom/canadiancyclist.com/public/dailynews.php(58): getDailyNewsArticle() #2 {main} thrown in
/home/canadiancyclistcom/canadiancyclist.com/public/modules/news.php
on line
544